August 2012
August 28, 2012

The New DaCast Player
To celebrate our new player, DaCast is unleashing a brand new newsletter as well. Read up the new player, another success story with Mishka Productions' live event programming and more in the relaunch of our newsletter.
New Feature – Player
A new DaCast player is available for all users. The player is a drastic visual update, much more sleek and transparent to better fit your site.
The new player can be customized with watermarks and different colors through player themes.
Read our blog to learn more
Revamped Streaming Newsletter
The DaCast newsletter went through a visual update to celebrate our new player launch. Expect highlights, new features, special offers and more each month
Success Story – Mishka Productions
For over ten years, Mishka Productions has been doing life-changing events to audiences in excess of 12,000.
Through using DaCast, Mishka Productions is able to offer, for the first time, live broadcasting through a player that has an integrated payment system.
Monthly Webinar – Getting Started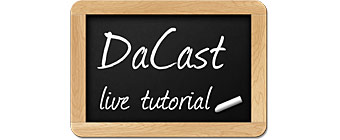 Every Tuesday, DaCast hosts live tutorials where you can interact with the staff and quickly learn the basics.