December 2014
December 18, 2014
annual plans: 1 month free
The final newsletter of the year, the December 2014 newsletter for the DaCast live streaming services announces a new feature, the addition of auto file transcoding. This will improve compatibility over multiple devices. Additionally, DaCast is still running its best and most popular promo for a few more weeks, which gives an extra month free on the annual. A shout out is also given for embedding live video content on Facebook and why you should be doing it. Finally, we also highlight 1545 Media who is using the unlimited channels to provide top of the line streaming to several high profile clients.
Feature – Auto File Transcoding
To increase cross device compatibility, DaCast has introduced auto file transcoding for on demand. An optional process, auto transcoding will encode uploaded video files to optimal settings for playback over all devices using the DaCast player.
Offer – Free month of streaming
Through December 31st, get a free month of streaming when you sign up for an annual plan. This offer is good at the Starter, Pro and Premium levels. To redeem, send an email after your purchase to support@dacast.com with FREE ANNUAL MONTH as the subject title.
Focus – Why you should embed to Facebook
Have you been streaming video just on your own website? If so, you are leaving viewers on the table. Read our quick guide on why you should embed your live video streams to Facebook and tips to be successful. This feature is available at all plan levels for broadcasters to take advantage of.
Monthly Webinar – Getting Started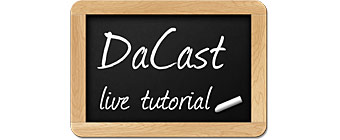 On January 6th, tune in for our live tutorial on the best practices for using DaCast for live streaming video. Includes on demand and monetization features in the tutorial as well. Plus, the webinar includes an opportunity to talk about more features like Packages. Participate in our Q&A to talk directly with the DaCast specialist presenting.
Spotlight – 1545 Media Case Study
 Using DaCast, 1545 Media provides live streaming services and development of small video projects to clients. With unlimited channels and support for numerous encoders, 1545 Media successfully caters to clients such as Kaiser Permanente, Dove Hair Care, LA Fitness, Loyola Marymount University and more.
Background:
This is the December 2014 newsletter, the last of the year. Typically newsletters announce new features, with this one touting auto encoding. Offers are also often included, like the 13 months for 12 offer that is cited in this newsletter. Although not referenced in this newsletter, support advice is also often added in too. A mainstay is a shout out to a webinar as well. Webinar topics can range from the unique to routine, with this particular webinar being a live tutorial. At this point in time, live tutorials are hosted every other month and alternate between unique topics.
DaCast will also highlight broadcasters in the newsletter too. This one highlights 1545 Media, who uses the service to help out high profile clients with their streaming needs.
Not receiving the newsletter? If not, sign up for a DaCast account and you will automatically be added to the newsletter list.