February 2013
February 28, 2013

Special Wirecast Offer
Special, limited time offer for the multi-camera capable Wirecast encoder. Also includes a GB offer for community participation and highlights the Lake Junaluska Conference & Retreat Center.
Special Offer – Wirecast Encoder
To get a special 20% discount, purchase any version of Wirecast from Telestream's site and enter the coupon code AFDACASTNEWS20. 

This coupon code is good until February 22, 2013.
Upcoming Feature – iOS Compatibility
Long awaited, a major service upgrade will allow live streams to reach mobile devices, such as iPhones and iPads. 

Due to complexity, we will be looking for beta testers. A future email will be sent with details about signing up.
Success Story – Lake Junaluska

Since 1913, the Lake Junaluska Conference & Retreat Center has been home to thousands of events.

Using DaCast, Lake Junaluska provides live broadcasting to a very large and growing audience.
Monthly Webinar – Getting Started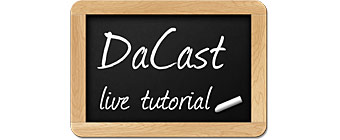 DaCast conducts live tutorials every other Tuesday where you can interact with our staff and learn the basics.