February 2014
February 25, 2014
New analytics are here
For February 2014, DaCast has updated and expanded analytics. The updated analytics have been added to all accounts. In addition, special coverage of how school's are transforming education with video streaming. Plus celebrating the success of CDFL's live video streaming.
Feature – Updated Analytics
DaCast has released its new analytics on all accounts. A new look, new metrics and new options.

Analytics give more ways of collecting data. This includes viewership broken into hits (reoccurring) and visitors (unique) along with a detailed geographic map.
Spotlight – Education Streaming
Did you know that more than 65% of teachers believe that video content stimulates class discussion? That those same teachers also believe it increases student motivation?

Check out our market report on education and find out how online video is transforming learning.
Success Story – CDFL

Tapping into DaCast, the CDFL has opened doors to new forms of revenue and to offer seamless live streaming to a wider audience.

Using the built-in Pay Per View, the CDFL can sell their football games to viewers from their own site.
Monthly Webinar – Getting Started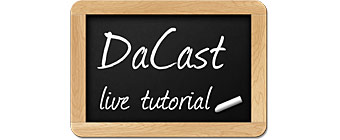 On March 4th, we will host a live tutorial on using the DaCast platform for video monetization with PPV.
Register now to attend the live event. Participate in our Q&A to talk directly with the DaCast specialist presenting.
Background:
This is the February 2014 newsletter on video streaming from DaCast. Many newsletters will often feature a limited time offer, although in this case the cover story is a major new feature. Broadcasters will often get highlighted as well in newsletters. This particular newsletter covers the football organization CDFL. Want to get mentioned yourself in a newsletter? If so please sign into chat and talk about your application of the DaCast service. This will be reviewed and a possible case study created. Beyond greater recognition, this also will have a major boost on your site's SEO.