January 2013
January 28, 2013

It's time: the new DaCast
2013 sees a new version of the DaCast platform, shown off here. Covers basic features and details for the platform, coming in a few days. Also highlights the success of Television Mobile Resources.
New Feature – The New DaCast
It's here. DaCast release it's third, and latest version of the all-in-one Streaming as a Service platform.
The new platform boasts additional features, support for advanced live encoding and more.
New Feature – Time Zones
One of the exciting new features being released as part of the new platform is the ability to select your time zone.
While users can keep the old method of GMT, the latest lets you pick a time zone for easier content scheduling and more precise control.
Success Story – TV Mobile Resources
Television Mobile Resources has been doing video for 15 years, working with firms like Disney and NASA.
With DaCast, they found a flexible, professional solution to reach both large and smaller organizations.
Monthly Webinar – Getting Started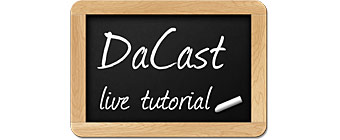 DaCast conducts live, video tutorials every other Tuesday. Interact with staff and learn the basics of the platform.