January 2014
January 22, 2014
Closed captions for video on demand
Just released for January 2014, DaCast adds closed captions as one of the features available to video hosting platform content. In addition, our new support site continues to build while we seek out more new clients to highlight. We also tout our ongoing best bandwidth offer.
Feature – Closed Captions for VOD
Just released, DaCast has published an update to our system that allows closed captions on VOD files.

Using SRT and VTT files, broadcasters can add subtitles in a variety of languages to on demand content even for already uploaded material.
Offer – Winter Bandwidth Referral Bonus
Second month of our largest bandwidth bonus offer to date to every broadcaster that refers a new account this Winter season.

Check our blog post for full details along with how to redeem this special offer. The program runs through February.
Case Study – Highlight Yourself
It's a new year, and DaCast is looking to highlight our broadcasters through case studies.

Doing something unique with our service? Blown the roof off your viewership? Sold a big Pay Per View event? Contact anthony@dacast.com to get promoted.
Monthly Webinar – Getting Started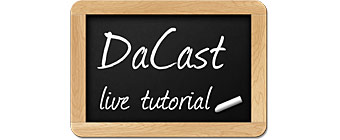 On February 4th, DaCast will be hosting a live tutorial on using the DaCast platform as a white-label video solution. This will range from live and on demand streaming.
Register now to attend the live event. Participate in our Q&A to talk directly with the DaCast specialist presenting.
Background:
This is the January 2014 newsletter for broadcasting and video services. DaCast newsletters are released monthly, although vary when during the month they are released. They are typically tied to a cover story which will often be a new feature or special offer. Special offers will generally be very limited in their scope, often valid only for the month. Make sure you are signed up for the newsletters to make sure you are able to take advantage of new offers.