Discount on Wirecast encoder
Its midsummer and DaCast is teaming up with Telestream to offer a special, limited time discount on their popular Wirestream encoder. Click for more details on the offer. The success of Cowhead TV, a video radio broadcaster over DaCast, is also given the spotlight this month while mention of the new public APIs, that are now available for all users, and our weekly tutorials are covered as well.
Special offer for DaCast Users – Wirecast Encoder
DaCast is teaming up with Telestream to offer a discount on their popular Wirecast encoder. Wirecast is a professional, software based encoder that allows for many additional features that can benefit your streaming over DaCast. This includes support for IP cameras, camera switching, desktop streaming (PowerPoints and other programs) and more.
To receive a special 20% discount, purchase any version of Wirecast from Telestream's site and enter the coupon code DACASTROCKS during the checkout process. The coupon code is good until August 9th, 2012.
Did You Know? – Public APIs
In the past couple of weeks, DaCast debuted a wide range of APIs, found after signing into your account and clicking the APIs link next to Help. These range from allowing the use of different players, such as Flowplayer and JW Player, to a full Broadcaster API that lets you build custom web pages allowing you to resell DaCast Streaming as a Service under your own brand.
Take a look, and interact over our DaCast Streaming Community for advice or see how others might be using the new Public APIs.
Success Story – Cowhead TV
Cowhead TV (http://www.cowheadtv.com) has been doing live streaming since 2009 to deliver video radio programming, having moved away from traditional multimedia access points and the expenses associated with it.
Through using DaCast, Cowhead TV is now broadcasting from a CDN (Content Delivery Network) to a potential worldwide audience with reliable delivery. The Streaming as a Service, automated approach of DaCast allows for any last minute changes for Cowhead TV, letting the company provision new live streams or make any alterations to their program on their schedule without having to call in.
Built-in analytics also give a quick snapshot of each show's success, letting Cowhead TV celebrate after every program's closure without having to download and upload CSV or other files to see how they did.
Monthly Webinar – Getting Started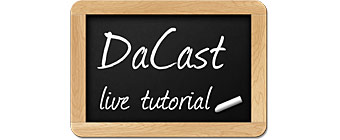 Every week, DaCast either runs a gold label webinar on a unique topic or conducts one of our weekly live tutorials. The live tutorials provide the most effective way to understand and learn the platform, from live streaming to video on demand monetization. Conducted every Tuesday, the live tutorials include a detailed question and answer portion that allows viewers to interact with the staff and get the most out of the experience.
Visit our webinar page for scheduling: http://www.dacast.com/webinar.html