HTML5 is here
Introducing the public beta release of DaCast's HTML5 services for mobile devices, including support for Pay Per View over HTML5. Also highlights DaCast partner ComeSeeTv and a special offer for Teradek's VidiU encoder.
New Feature – Public HTML5 Beta
The doors are open, and a public HTML5 beta for mobile delivery is now available on all accounts.

Live or on demand, the HTML5 Beta gives expansive content reach across devices plus the option to sell over mobiles after you re-embed your content.
Offer – 5% off Teradek's VidiU encoder!
Through August 9th, buy a Teradek VidiU encoder and get 5% off when using the code: DaCastVidiU13

Perfect for sports and on location live streaming, the VidiU gives you the freedom to broadcast live video directly to the web without having to use a PC.
Success Story – ComeSeeTv
ComeSeeTv is a DaCast partner, reselling services in Dominica and the entire Caribbean region.

By using DaCast, ComeSeeTv is able to provide rich features like Pay Per View while delivering video content reliably from a CDN.
Monthly Webinar – Getting Started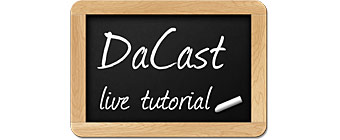 DaCast conducts bimonthly interactive live tutorials to help you learn the basics of the platform on Tuesdays.