double storage, double fun – go annual
DaCast unveils a new offer that will double your streaming video hosting on annual plans for the month of July. In addition, we highlight the next video in our Broadcaster series: how to embed streams on your site. We also look at HD live streaming tricks of the trade and our upcoming webinar on selling Pay Per View to a mobile audience.
Video – Embedding to your own site
The next entry in our Broadcaster video series, we talk about embedding your live and on demand video content to your site or social network. Embedding options are available at all plan levels and embeds auto update with any setup changes.
Spotlight – HD live streaming and broadcasting
Doing live streaming? Interested in what it takes to present high definition video to your viewers? Read our detailed article to see the benefits of HD video streaming and more importantly how to successfully broadcast in high definition yourself.
Offer – Double storage with Annual Plans
Starting July 8th through the end of July, get double storage for video file hosting when you purchase at any annual plan level. Double your storage, double your embedded videos and double the Pay Per View possibilities with this offer.
Monthly Webinar – Getting Started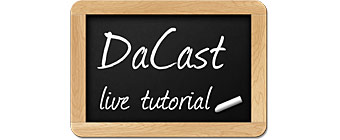 On August 5th, a special webinar will showcase advice on using a video paywall when reaching mobiles. This includes Pay Per View and video subscriptions. Participate in our Q&A to talk directly with the DaCast specialist presenting.
Background:
This is the July 2014 newsletter for broadcasting and live streaming. Released monthly, newsletters cover new features at DaCast. They will also host offers for broadcasters for bandwidth or third party services. The newsletters are also an excellent way to keep up with the webinar schedule, which are conducted monthly as well. At the moment webinars alternate between live tutorials and featured webinars. The featured webinars go in-depth on an aspect of the industry.