meet the new DaCast
DaCast releases its new website and latest pricing in June 2014. The pricing drops the monthly and annual prices at the Pro level, introducing our lowest prices yet. Event plans have also been introduced, which replaces Pay As You Go pricing and still gives broadcasters flexible options for video streaming services.
Spotlight – New DaCast website
DaCast has just launched a new site. The appearance is a stark departure with a mobile friendly look. Check out our new bandwidth calculator, browse case studies or just learn more about the DaCast team. Feel free to leave feedback on blogs as well.
Video – Broadcasting Analytics
The next entry in our Broadcaster video series, we detail the video streaming and broadcasting analytics that are available on all accounts. This covers the demographic data available and detailed information found for Pay Per View buyers
Spotlight – New, lower pricing
DaCast is lowering overall prices. The Pro plan has been reduced in cost at the monhtly level and by almost 24% at the annual level. Event plans also replace Pay As You Go, with lower rates at custom levels that are 7%+ below old costs.
Monthly Webinar – Getting Started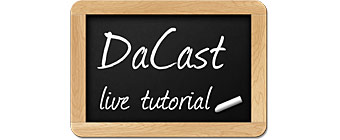 On August 5th, we will host a special webinar on best practices for using a video paywall to reach mobiles. Register now to attend the live event. Participate in our Q&A to talk directly with the DaCast specialist presenting.
Background:
This is the June 2014 newsletter for online video. DaCast newsletters are released monthly. This is the first newsletter published since the new site launched on June 21st, 2014. Once signed up for a newsletter, a new one is brought to your mailbox each month. They include highlighting features and also expert advice on video broadcasting and streaming.