March 2013
March 28, 2013

New Beta: HTML5 Services
Details the beta program for the HTML5 streaming from DaCast for mobile delivery to iOS based devices and more. Includes a highlight of the TV-Polmusic broadcaster who features content worldwide.
Beta – HTML5 and Mobile Services
Starting Monday, March 18th, DaCast will be conducting a limited HTML5 beta that includes mobile support. 

On Monday, please submit a ticket through your account to be eligible. Spaces are limited and prioritized based on account level and history.
Beta – Fast Facts
Not all features will be available for the HTML5 beta. Support for Live and On Demand Streaming are included.

Features such as monetization will not be available over mobile. Check the community for more details.
Success Story – TV-Polmusic
TV-Polmusic offers musical content to a worldwide audience, taking full advantage of the DaCast content delivery network connection.

With an audience in 55 different countries, TV-Polmusic relies on DaCast for secure, global streaming.
Monthly Webinar – Getting Started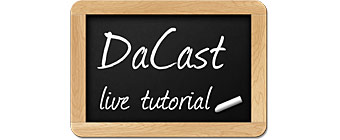 Every other Tuesday, DaCast conducts live tutorials where you can interact with our staff and learn the basics.