HTML5 Services
DaCast is moving to a public beta of our HTML5 services for mobile delivery! In addition, the site is running a referral program for summer for more bandwidth and a case study on Hemingway school.
Coming Soon – Public HTML5
In early June, DaCast will be launching our HTML5 mobile services for all accounts in a public beta test.

Almost all features will be enabled for HTML5 services, while live channels can be offered in HTML5 or legacy Flash.
Offer – Referral Bonus
Through the months of June and July, DaCast is running a summer referral bonus program.

Refer an account and both will get extra bandwidth. Check the program for more details and email contact@dacast.com with accounts you have referred.
Success Story – Hemingway School
Using DaCast, Hemingway Elementary School provides live broadcasting to hundreds of children in a closed network each day.

With DaCast's ease of use, children broadcast directly to their peers without commercials or ads.
Monthly Webinar – Getting Started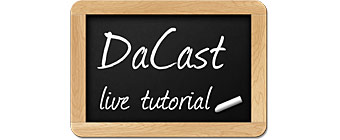 Every other Tuesday, DaCast conducts live tutorials where you can interact with our staff and learn the basics.