go annual get an extra 10%
Our May 2014 newsletter covers a special offer of 10% more bandwidth for Annual plans. Plus the next volume in our video series, tackling Pay Per View monetization, and a look at how SMSA Coptic Orthodox Church cut their costs by 80% through switching to DaCast.
Offer – Get 10% more with Annual Plans
Starting June 1st through the end of the month, get 10% more bandwidth for live and on demand streaming when you buy an annual plan at any level.
Take flight with DaCast, giving yourself ample hours of worldwide streaming all year long
Video – Best Video Monetization Tools
The next entry in our Broadcaster video series, we cover the best video monetization tools available.
Covers basic strategies from adding a paywall with Pay Per View and subscription to ways to promote your monetized streams to increase your revenue
Success Story – SMSA Church
SMSA Coptic Orthodox Church uses DaCast to live stream services from its two churches.
Having used Ustream in the past, the SMSA has reduced their costs by 80% through switching to DaCast and is able to offer even better services.
Monthly Webinar – Getting Started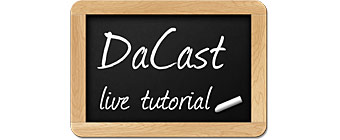 On June 6th, check out our webinar on best practices for paywall selling to make the most of Pay Per View.
Register now to attend the live event. Participate in our Q&A to talk directly with the DaCast specialist presenting.
Background:
This is the May 2014 newsletter for broadcasting online video. Newsletters are released monthly by DaCast and include offers and feature updates. This also will occasionally highlight the success of a broadcasters. Highlighting the SMSA Church case study is a great example of this. Interested in being highlighted yourself? Come into our live chat, located in the bottom right, and begin talking with a chat agent professional. Discuss your use of the system and what makes it unique, and we will consider featuring you on the website as well.