November 2012
November 28, 2012

Winter Promotions
For the holidays, DaCast is introducing a referral program for bandwidth and accounts signed up in December. Furthermore, DaCast has updated storage tracking and highlights the film Dear Lina.
Offer – Give the gift of DaCast
All through December, DaCast is running a holiday referral program. Sign someone up for DaCast and you will both recieve extra bandwidth for broadcasting, including up to 1200 GB in streaming bandwidth!
Check out our community for more details.
New Feature – Storage Tracking
Your DaCast account now fully tracks all storage used by Video on Demand files and multi-bitrates.
Trends and current storage usage are all displayed by clicking "storage" after logging in.
Success Story – Dear Lina
Dear Lina is an independent film produced by filmmaker Finn E. Bugge.
With DaCast, Finn E. Bugge is able to offer high definition streaming of Dear Lina with a Pay Per View for rent approach at a low cost.
Monthly Webinar – Getting Started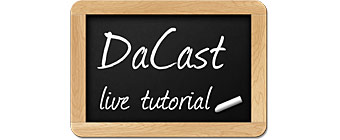 DaCast hosts live, streaming tutorials every other Tuesday. Interact with staff and learn the basics of the platform.