November 2013
November 28, 2013
HTML5 all device video streaming
For November 2013, DaCast has officially launched its HTML5 services out of beta for mobile delivery. Users are now able to broadcast live streaming content with support for iOS, Android and more. In addition, a special offer with a brand new Wirecast 5 giveaway and celebrating Christ's Commission Fellowship's success with DaCast.
Feature – Mobile Video Streaming
Out of beta, DaCast's HTML5 video streaming is available on all accounts to reach mobile devices.

Using our new player, video content from your DaCast account can be streamed to iOS (iPhone and iPad), Android devices and consoles like the Wii U.
Offer – Wirecast 5 Giveaway Contest
Before November 20th, follow @DaCastSF and tweet #wirecast5dacast for your chance to win the brand new Wirecast 5 video encoder from Telestream.

Already have Wirecast? We are also giving away two upgrades that you can win. Click read more for full rules and details.
Success Story – Christ's Commission Fellowship
Christ's Commission Fellowship (CCF) provides live and on demand broadcasting worldwide to all devices.

Using DaCast's dual CDN hookup, with Akamai and EdgeCast, CCF is ensured excellent performance and video quality regardless of audience location.
Monthly Webinar – Getting Started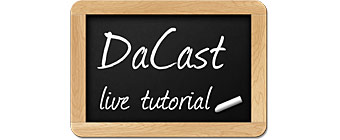 On December 3rd, DaCast will conduct a live tutorial on using HTML5 for mobiles through the video platform.
Register now to attend the live event. Participate in our Q&A to talk directly with the DaCast specialist presenting.
Background:
This is the November 2013 newsletter. Newsletters are delivered monthly and cover topics related to broadcasting and video streaming. Each edition will often have a feature or offer as its cover story. This edition has the largest feature in DaCast's history as its leading story, with the long awaited addition of mobile viewing. Case studies and other components are often mentioned in newsletters as well.