September 2013
September 28, 2013
improved HTML5 paywall
For September 2013, DaCast has released an improved version of our HTML5 paywall for Pay Per View video streaming. Also, just in time for the upcoming IBC, a special offer with Streamstar for their revolutionary Webcast Touch. Plus a gift card offer for Jan Ozer's book Producing Streaming Video for Multiple Screen Delivery.
New Feature – Improved HTML5 Paywall
DaCast has launched an improved version of our revolutionary HTML5 video paywall. This is directed at an all device approach for selling video.

Compatible over mobile devices like iPhones and iPads, the new paywall has enhanced login and logout capabilities.
Offer – Streamstar Webcast Touch Bundle
This month at IBC, Streamstar is launching the world's first completely touch surface controlled streaming solution bundled with DaCast services.

Through September 30th, purchase a Webcast Touch and get a year on DaCast's Plus plan for free.
Offer – Producing Streaming Video for Multiple Screen Delivery
Producing Streaming Video for Multiple Screen Delivery is a comprehensive streaming resource.

Due to popular demand, we are extending our rebate offer through September. Purchase the book from Amazon, forward your receipt to contact@dacast.com and we will send you a $10 Amazon gift card.
Monthly Webinar – Getting Started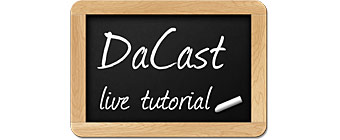 On the first Tuesday of every month, DaCast hosts live tutorials to help you quickly learn the the video platform.
Register now to attend the live event. Participate in our Q&A to talk directly with the DaCast specialist presenting.
Background:
This is the September 2013 edition of the broadcaster newsletter. Newsletters are released once a month to DaCast broadcasters and subscribers. Newsletters will cover new features and also offers. This particular newsletter has two offers, although this is more than usual. Case studies and broadcasting advice pieces are also often included with each newsletter.