September 2014
September 29, 2014
new video uploader
For September 2014, DaCast unveils a new video uploader. With improved upload speed, DaCast is now better than ever for HD video hosting. Plus we cover the success of PCTV in bringing community television online and successfully monetizing it. Finally, we go over how to get started doing live sports broadcasting with ways to earn additional revenue for your efforts as well.
Success Story – Pittsfield Community Television
Using DaCast, Pittsfield Community Television (PCTV) expands from traditional TV channels to online. This allows viewers to watch from their desktop or mobile. PCTV also incorporates a paywall on their live streaming, creating a new form of revenue for their sports broadcasting.
Spotlight – How to live stream sports
Looking to broadcast live sports events, but don't know where to start? Want to earn money doing it? Read our detailed article and learn from start to finish what it takes to stream content. Get encoder advice and more to make your broadcast a success.
Feature – New video uploader
DaCast has released a new video uploader. More mobile friendly, the video uploader is many times faster making the upload of HD content easier. The uploader also comes with a preview option to help ensure the right file is selected before upload.
Monthly Webinar – Getting Started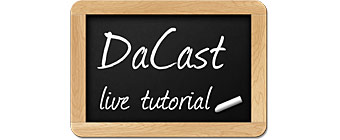 On October 7th, DaCast will host a special webinar on why you should be live streaming your next event. See reports and learn the benefits of broadcasting. Participate in our Q&A to talk directly with the DaCast specialist presenting.
Background:
This is the September 2014 newsletter for video streaming. Newsletters will focus on offers and new features. This particular release covers a new feature as its cover story and highlights a case study. Want to get mentioned in a similar fashion? Reach out to us by email, responding to your account manager or any email you have been sent recently, and note that you want to be a case study. Cite why your use of the system is interesting and we will interview you for a possible inclusion. Benefits include reference in the newsletter and a place on our Case Studies list.