Multi-Content Delivery Networks (Multi-CDN)
Stop losing viewers and money due to lagging streams. Give your viewers the best with Multi-CDN. If your content delivery system goes down, another will automatically take over. Stream worry-free with Multi-CDN for $49/hour.
Seamless Quality Live Streams
Your worldwide viewers deserve high-quality broadcasts, without any drops or lags. Consistent quality is essential to retaining viewers during live broadcasts.
Each time you broadcast live content, content delivery networks (CDNs) are working behind the scenes, ensuring your viewers enjoy a seamless experience. With the Multi-CDN feature enabled during a live broadcast, multiple content delivery systems are working to ensure your viewers experience the highest quality stream.
Avoid Streaming Outages
Eliminate streaming outages. The last thing you want when broadcastings is for your stream to go down. That is frustrating for everyone participating in the event. With Multi-CDN, if one content delivery system conveying your stream goes down, another content delivery system will automatically step up in its place, ensuring streaming outages are a thing of the past.
The Best Experience for Your Customers, No Matter Their Location
The entire point of a live stream is to connect, right now, in the moment, with the viewer. With Multi-CDN enabled, guarantee every viewer, no matter their location, is enjoying a seamless streaming experience.
Multiple content delivery systems are working behind the scenes, ensuring a smooth experience for everyone watching.
Eliminate Latency Issues
During a live stream, you want all the viewers to experience the same thing simultaneously. You don't want a viewer tweeting about your event and another viewer to be reading that tweet and thinking, "I have not seen that yet." You want everyone on the same page.
With Multi-CDN enabled on your live stream, latency issues are almost eliminated so everyone watching will be experiencing the exact same moment at the same time.
Ensure Your Streams Launch
When you rely on a single content delivery system for your broadcast, there is a slight chance your stream may not launch. The network may be down or overloaded. With multiple content delivery systems, your content is guaranteed to go live, no matter what, because you have multiple systems working to support your content.
Get Rid of Buffering
One of the most frustrating things when watching a live stream is to see the little buffering icon. With Multi-CDNs working to deliver your content to your viewers, the best delivery system will be working for each of your viewers, ensuring buffering during your broadcasts are a thing of the past.
Ensure the Quality of Important Livestreams
Some events are more important than others. When hosting an important event and you want everyone engaged in the event, you need Multi-CDNs activated on your stream.
Multi-CDNs will ensure everyone is focused on your content and not on the quality of the video. Your important event, and not video quality issues, will be the star of the show.
Affordable Quality Protection
Enjoy affordable quality live streams with Multi-CDN, available for the straightforward price of $49/ hour.
Avoid unhappy viewers who want a refund because they didn't see the entire event. Avoid missing out on customers making purchases because of server issues during your broadcast. Keep your viewers happy & maintain sales. Straightforward pricing for quality content.
Want to experience how easy it is to connect with a live audience and provide them with the best experience?
Sign up for a Free 14-day Trial Today
Start Free Trial
All your live events. The same seamless quality.
Pull off a Seamless Product Launch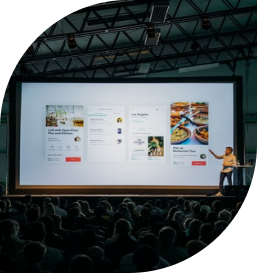 Have a product to launch? Then you need Multi-CDN enabled. With Multi-CDN enabled, all of your viewers will enjoy a quality broadcast where they are focused on your product, not your video quality. When launching a product with Multi-CDN, everyone will be engaged with your product launch. No more lost customers due to poor video quality.
Host an Epic Concert
When hosting a concert, you want viewers to become immersed in the music. With Multi-CDN, the only thing your viewers will be focused on is how epic the music sounds. Host an epic concert or performance event, with a seamless live stream, with Multi-CDN. Ensure satisfied customers.
Hold a Successful Conference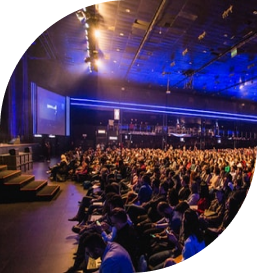 Are you hosting a conference? Want to ensure every virtual attendant can hear the speakers that attracted them to the event? With Multi-CDN, every viewer will feel like they are present in the room, with seamless video quality.
Provide an Engaging Training Event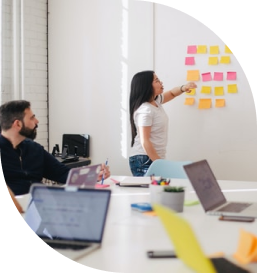 Corporate training events require an investment in the presenters and the new employees. Protect the investment you are making, and ensure everyone receives the training they need with Multi-CDN enabled during your live training event.
Connect with Shareholders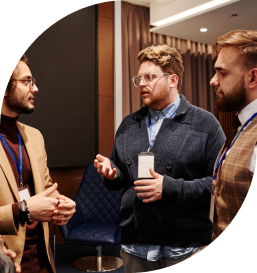 Meeting with important shareholders in your company? You can't risk your broadcast cutting out or buffering; with Multi-CDN, you don't have to. Captivate your shareholders. Make them glad they invested in your company. Invest in Multi-CDN for important events. Provide investors with quality content.
Why Should You Use Dacast's Multi-CDN feature?
No buffering
No dropped streams
Guaranteed quality broadcasts
Higher view satisfaction
Affordable quality at $49/hour
Frequently Asked Questions
What does CDN stand for?
CDN stands for content delivery systems. These are the systems your content passes through on its way from you to your audience. Content delivery systems are the hidden infrastructure that gets your content to the end viewer.
How much does Multi-CDN cost?
Multi-CDN costs $49/hour. Straightforward pricing to ensure a quality stream for everyone.
Can I try out Multi-CDN during my free trial?
Yes! During your free trial, you get to try out everything Dacast has to offer, so when you sign up for a plan, you will know how everything works.
Why can't I just use one CDN?
Content delivery systems have a finite capacity, which means they can only accommodate so much content at one time without slowing down or failing to work. When using one CDN, there is a chance you will run into occasional latency issues or even failure to launch your stream. With Multi-CDN enabled, you don't have to worry about this problem.
Will latency be eliminated with Multi-CDN?
Yes! With Multi-CDN enabled, latency will no longer be an issue for your viewers. They will be experiencing everything live, right when it happens. No frustrating latency or buffering issues.
Will my stream ever fail to launch with Multi-CDN?
No! With Multi-CDN enabled, there will always be a content delivery system that can get your content to your audience when your broadcast is scheduled to go live.