In April 2016, Dacast announced the ability to provision live channels for Roku TV, Apple TV, or any private web TV channels and mobile app. This feature is possible via the generation of an HLS M3U8 media link for any of your live streaming channels.
Please note that this feature is available on Dacast's live streaming platform for Premium plans and above. If you are interested in accessing it, please contact us!
If you are already familiar with the M3U8 link for your Dacast channel and want to know more about how to stream on Roku TV, please click here instead.
Follow this guide to generate an M3U8 link in your Dacast account:
1 Login into your Dacast account.
2 Go into the LIVE CHANNELS section of your account and click on "Create."
3 Select the 2nd type of live channel as shown below:

4 Once your live channel is created, click on it and go under the PUBLISH SETTINGS section.
You will see the direct M3U8 link at the bottom as shown in the screenshot below: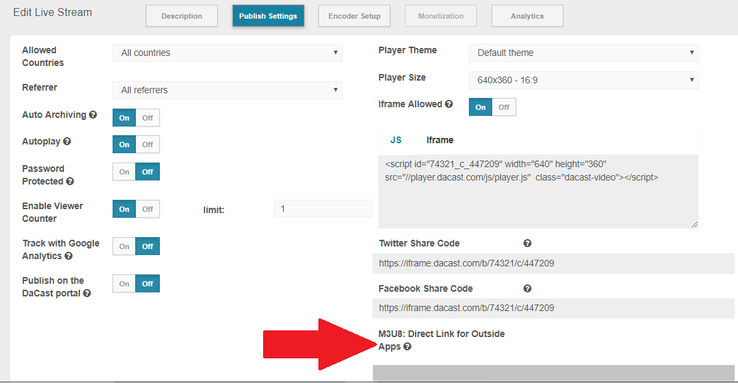 5. The format of your M3U8 should be the following:
//dcuniliveXX-lh.akamaihd.net/i/dclive_X@XXXXXX/master.m3u8
6. Please add "https:" in front of your m3u8 link as shown below.. This will ensure a secure delivery of your stream via the m3u8 link:
https://dcuniliveXX-lh.akamaihd.net/i/dclive_x@xxxx/master.m3u8

Default Live Channels limit
By default you cannot create more than 20 live channels (all types) in your account.
If you wish to create more than 20 live channels in your account, this is totally possible, you just need to contact us first.
How to contact us ?
– via our 24/7 live chat (directly in your Dacast account)
– via email (support@dacast.com)
– via phone (+1 855 896 9300).
Testing your new link:
To test your new link, follow these instructions:
Launch your stream.
Double-check that your live stream is playing correctly, using the preview button in the back office or the share code.
Open VLC.
Click on Media and select "Open a network stream."
Paste your new link into the field.
Your live stream should appear in VLC.