If you are looking to broadcast live footage along with PowerPoint and other desktop applications from your computer over DaCast, the Discover Video encoder offers a quick solution.
To get started, first install the Discover Video encoder to your computer. The software can be purchased here: https://www.discovervideo.com. Once the program is started, you should see a screen like this after the Discover account screen (which can be skipped).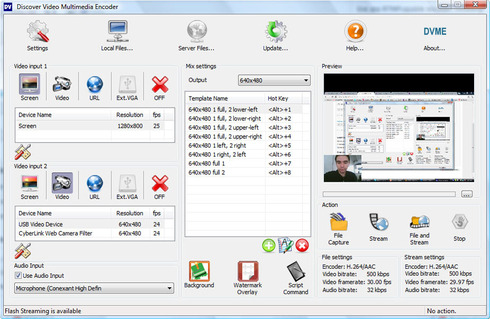 Before setting up your stream, you should get familiar with a few settings, such as the inputs. The first input, "Video input 1", controls the larger portion of the video. If you want to have your desktop content, such as a PowerPoint, be more prominent leave this as "screen".
"Video input 2" is for the smaller video window in the corner. This will let you visibly talk to an audience through your PowerPoint or whatever else is running on your screen. Alternatively, you can also turn this off and just have one large window.
Now is the time to setup Discover Video to stream over DaCast. To do this, click the "Settings" button. A screen will appear with a few tabs such as "Preferences". You will want to click the "Audio/Video Type" tab to get started. If this is your first time using Discover Video, this tab should look like this image on the left: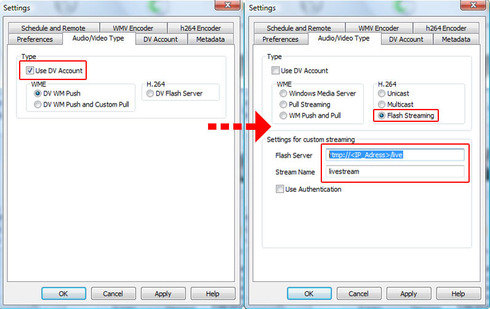 Now uncheck the "Use DV Account". Under H.264 select "Flash Streaming"; this will create two fields for a "Flash Server" and a "Stream Name". It will also add a USE AUTHENTICATION option, which you will need to check. When prompted later, you will need to enter the login and password (a series of numbers) that are found under ENCODER SETUP for your live channel.
To get this and the other information you need, you will now need to login to your DaCast account and either setup a live channel or select an existing channel. You will now want to go to ENCODER SETUP. As a stream source, choose "Other RTMP Encoder". This should produce a field like this:

So enter the "Stream URL" into the "Flash Server" area and Stream name to the "Stream Name" field in the settings for Discover Video. Now click APPLY and then OK.
You will be returned back to the front of the Discover Video encoder. You are ready to click Stream to begin.

You can now successfully broadcast PowerPoint presentations and other on screen applications. If you choose to have two inputs, it will look like the thumbnail here where there is a PowerPoint with a small video window in the corner.