To request a payout, click after logging into your account. There is a tab here called "Request Payment". Click this to launch the process: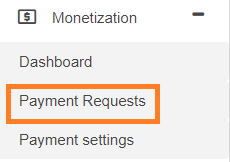 The page requires that you enter an amount and select a payment method. These methods include:
PayPal funds transfer
Check
Money transfer to your US bank account
International money transfer to your bank account
Each payment method has a different minimum requirement, also listed on this page.
If your are looking for how to set up your payment settings in the new BackOffice, follow this link.
If you want to check your received payments in the new Back Office, follow this link.
Note that payment requests are on USD only.