This will guide you through upgrading your account.
1) From a free trial
To remove the limitations of a trial account such as the channel restriction, the 15 viewers limit, and the paying transcoding, you will need to purchase a plan.
To do so, please click on the
 button in the top right of your screen or go in the PURCHASE section of your account: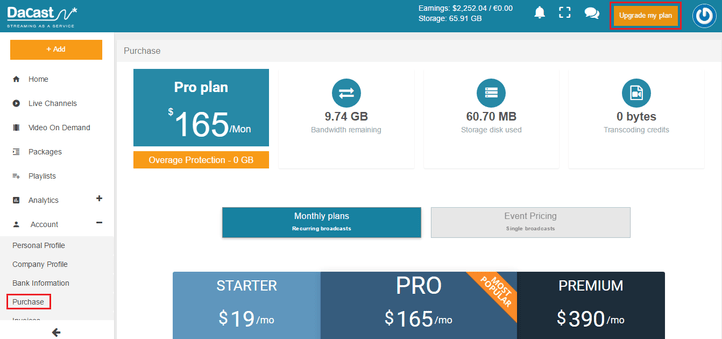 2 types of plans are available:
Monthly/Annual plan which is the best option if you are a recurring broadcaster.
According to your bandwidth consumption, your storage usage and your viewer audience you can choose between:
Discount is provided for an annual pro or annual premium plan because this is a prepaid plan.
If you prefer month-to-month instead (this option is not available for Starter plan) you can select MONTHLY in the drop-down menu as shown below:
2. Event plan which is basically the purchase of additional bandwidth. This is adapted if you are planning to stream a single event.
According to the amount of bandwidth you need, we can provide you with an estimation as shown below:
Please note that all event plan bandwidth expires 12 months (1 year) after being purchased.
2) From a Starter plan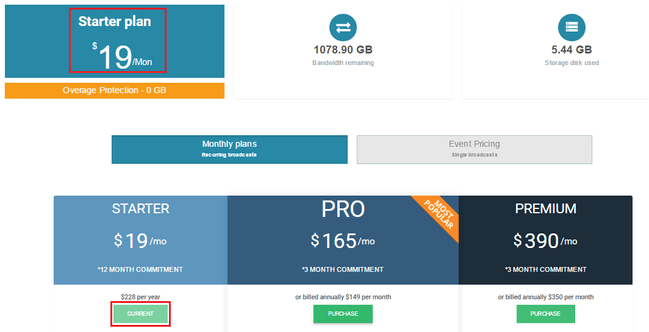 You can decide to upgrade your starter plan to a pro or a premium one anytime.
To do so, you just have to purchase the plan that best suits your needs:
Pro or premium
Annual or monthly (please note that because you already have a plan you won't be required to pay the 3 months' commitment in case of a monthly plan)
Then please call us and we will grant you the prepaid data from your starter plan.
3) From a Pro Plan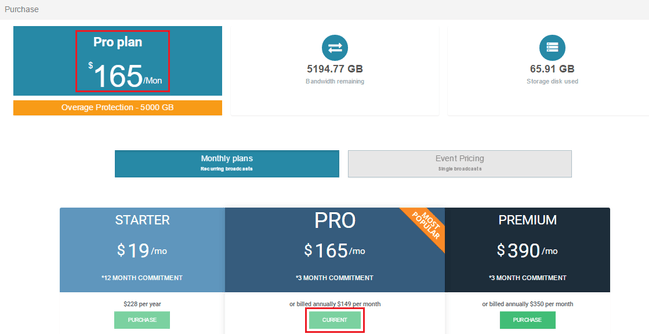 You can decide to upgrade your pro plan to a premium one anytime.
To do so, you can just purchase an annual or monthly premium plan, and then please call us so we grant you the prepaid data from your pro plan.
You also have the possibility to downgrade your plan in case you realize that your needs will be covered by a starter plan.
To do so please call us so they can find the best solution according to your bandwidth consumption.
4) From a Premium Plan 
As for a Pro Plan, in case you change your mind before the end of your commitment, you can always call us to downgrade it. According to your needs and your bandwidth consumption, we will offer you the best solution.