Dacast is completely compatible with flash supporting encoders, including ViewCast's Niagara line.
First, after logging into your Dacast account and creating a Live Channel, select "Other RTMP Encoder" as your acquisition method.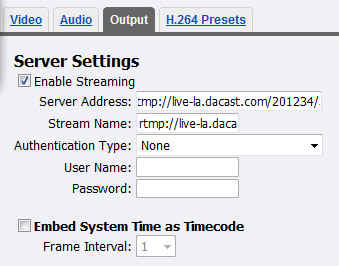 Now login to your Niagara Streaming System and go to the Output tab of your Flash encoding profile. Under "Stream Address" put the "Stream URL", the shorter one, and under "Stream Name" copy the "Stream Name" from your Dacast account found under Stream.
You will also need a User Name and Password. These are the login and password found under ENCODER SETUP. IT's not the email and password you use to login to your Dacast account.
Your encoder is now setup to encode directly to Dacast. If this is your first time streaming to a Flash encoder, or you need additional help getting started, please reference the steps below for a more detailed guide:
1. Log in by entering the IP address of the Niagara in the Address bar of Internet
Explorer.
2. Enter the username and password (defaults are admin / admin).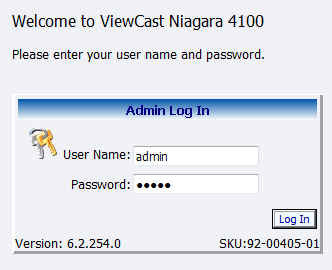 3. Go to Encoders> All Encoders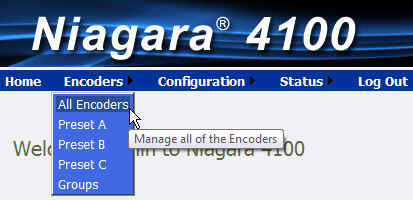 4. You will see a list of encoders that are installed. Some have been provided by default. You can rename, edit or delete these as you choose.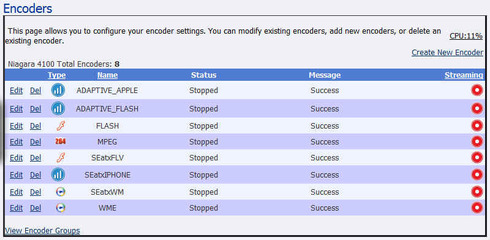 5. To add a new Flash Encoder, click on Create New Encoder.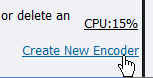 6. On the next page, select Flash Encoder Driver from the drop-down menu. Name the encoder and then click Create New Encoder. You can also clone the properties from another encoder profile if you are only planning on making small changes.

7. On the next page you can set the details of your encoding profile. There are four tabs labeled Video, Audio, Output and H.264 Presets.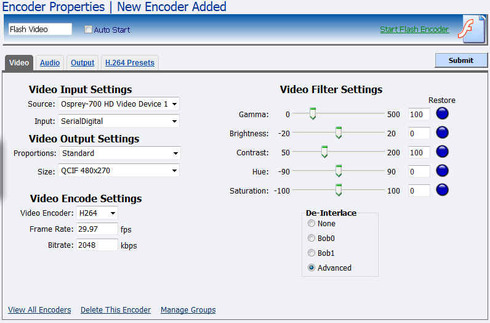 8. Video: Choose Video to select your source inputs, signal type, and resolution. For resolutions not included in the drop-down list, choose Custom and simply type in your desired resolution. You will want to use the same video resolution that you specified during the Dacast channel setup.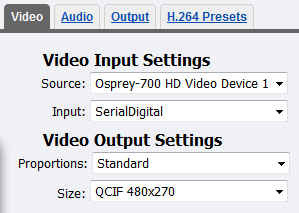 9. Next, set the Video Encode Settings. These include your frame rate and bit rate. You cannot change the Video Encoder. You will want to use the same video resolution that you specified during the Dacast channel setup.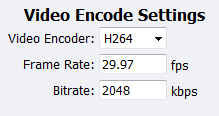 10. You can adjust the Video Filter Settings and choose your De-Interlace method. Most standard video sources would require the "MotionAdaptive" setting.
11. Audio: The Audio tab allows you to select your input source as well as set the audio format, bitrate and encoder type.

12. Choose your Audio Output settings.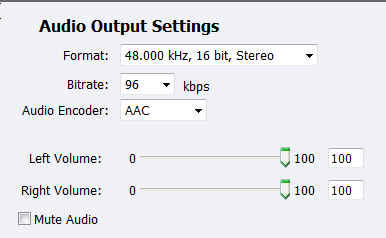 13. Output: On the Output tab, you will set your Streaming Properties. If you wish to save a copy of the file for archiving or On Demand playback, check the box next to Save to file and designate a location and filename. You will want to keep the location D:AV Files. This will ensure that the file is not overwritten if you ever choose to do a Factory Restore. Check the Create Unique File checkbox if you wish to not overwrite the file each time you start and stop an encode.
14. To stream to the Dacast network, you will need to enter the server information provided by Dacast during channel setup. You will find this information in the STREAM step. Choose "Server Without Password" under the Server Type drop-down menu.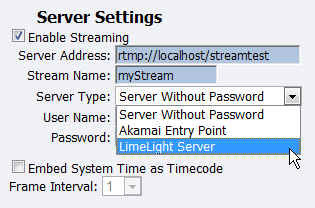 15. The last tab is the H.264 Presets tab. Here you can adjust specific H.264 codec settings. There is a Restore Defaults option at the bottom right of this page if you need it.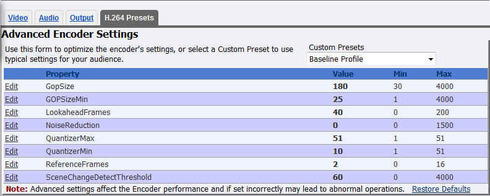 16. There are also a few Custom Profiles included with the system. A best practice is to only adjust the User profiles.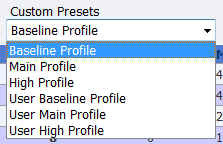 17. When you are done with your selections, click on the Save Settings button.

18. You will see an Operation Successful message. Click on OK.

19. You will be brought back to the Encoders page. To start encoding, click on the Red button next to the profile you wish to start. You will see the encoder start and then receive an Operation Successful message.

20. On the Encoders page, the button will now be blue to indicate it is encoding.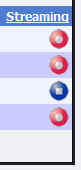 21. To add this profile to a Group, go to Encoders>Groups.

22. Here you will see what Encoder Groups are on the Niagara 4100.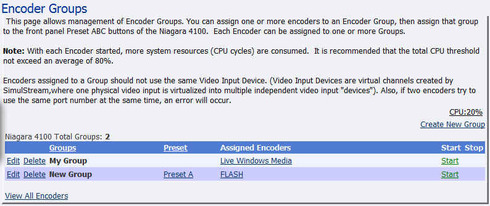 23. To Create a New Group, click Create New Group.

24. Give your new group a name, and select one or more encoding profiles from the list of available encoding profiles. You can choose to make the group active in the drop-down list. Click Submit.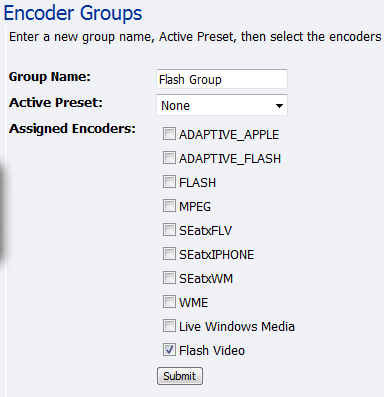 25. Active Group: To program this group to the front panel start buttons, go to Encoders>Preset A, B or C.
26. Next, choose your group from the drop-down menu and then click Submit. Now you can start and stop this encoder by selecting the preset and then the Stream button on the front panel.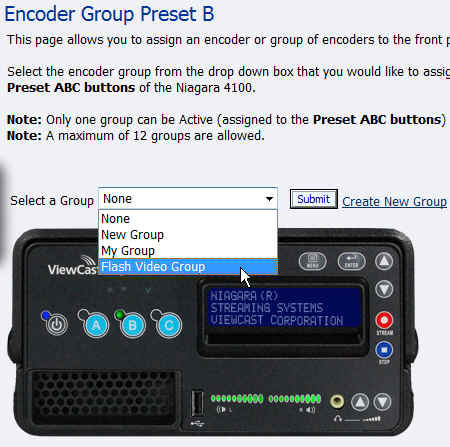 27. You can view now the video stream if you have already set up your Dacast Channel.
28. Finally, if you are streaming through a server or Content Delivery Network, you can add fault tolerance by setting up a 2nd stream and pointing it to the same Entry Point on your server. For best results, you should do this on a secondary system.