This will guide you through streaming from an Android device using Broadcast Me Live Streaming App. 
It requires 3 things:
1. Android phone or tablet
2. The Broadcast Me app
3. A DaCast account
If you're using an Android device, please follow this guide instead.
According to the new BroadcastMe pricing policy and terms note that BroadcastMe offers now unlimited streaming which is paid for by a one-off upfront payment of $5.99 which offers lifetime access. 
This price is for United States customers. Pricing in other countries may vary and actual charges may be converted to your local currency depending on the country of residence.
Broadcast Me
Your first step is to download the Broadcast Me app on the device you want to use.
After installing it, launch the app, log in or if you want to skip this step you can directly click on "Start Live Streaming" at the bottom.
Below is a preview of what Broadcast Me looks like. Please start by displaying the right-side menu as shown below: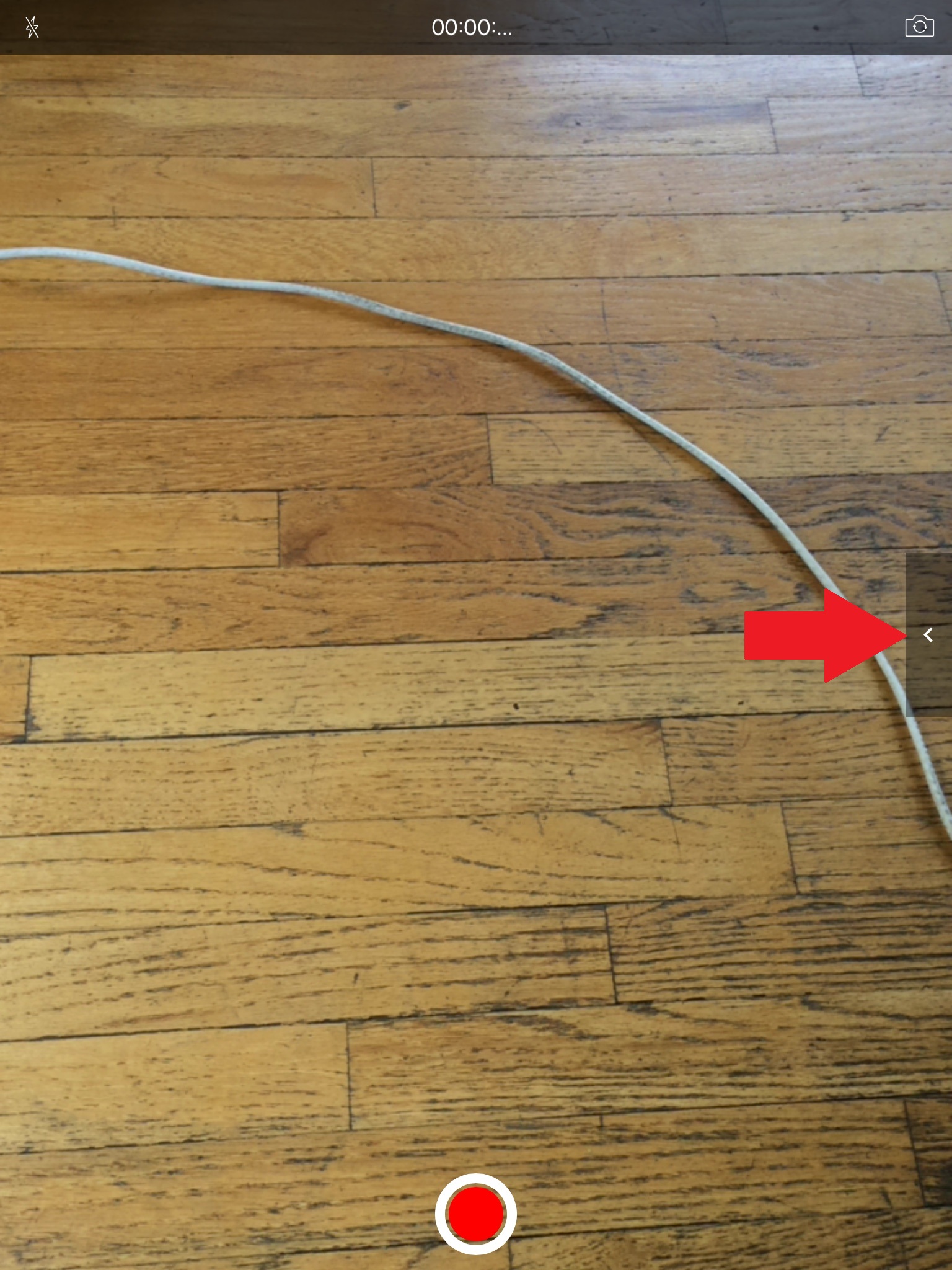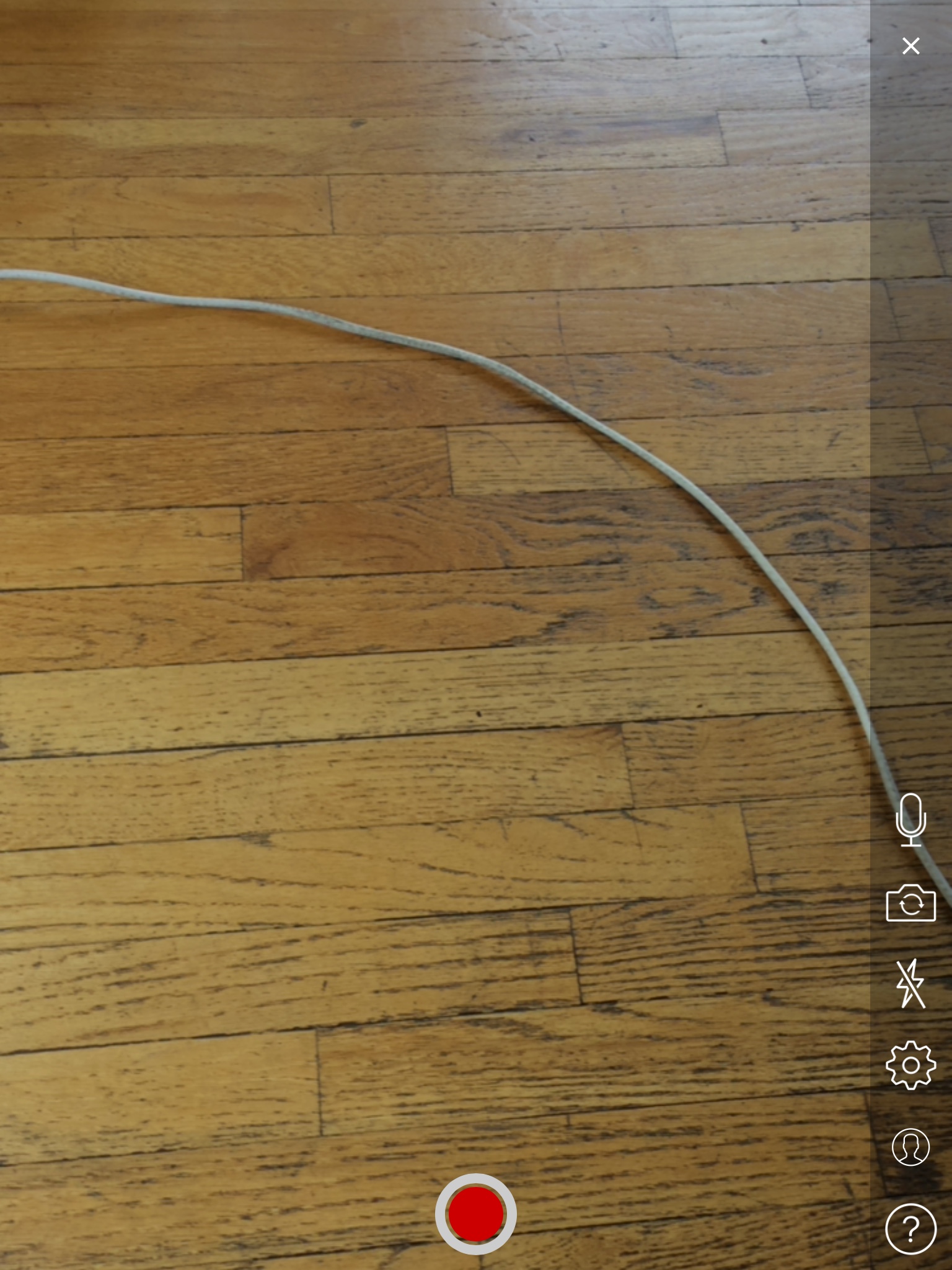 You now have six icons on the right hand side:
1.The first is the ability to mute
2.The second is to change the camera (i.e. use the front or back camera)
3.The third one controls lighting
4.The fourth one is to set up your stream
5.The fifth one is to login to your broadcast me account if you have one
6.The sixth one is the help section
Please click on the gear icon 

 to set up your stream.
This will launch a setup screen where you will be able to set up your stream. Let's start with the information you need to get from your DaCast account.
Get your DaCast live channel
The easiest way is to connect to your DaCast account from the same mobile device you want to stream from so you can easily copy paste your DaCast information. If you haven't already, create a live channel in your account.
Now navigate to ENCODER SETUP. This is a three step process, and note that the bitrate and resolution entered in the first step will be ignored in this instance. So that field can be left at the default values or synced with what you plan to do in the app.
In terms of an encoder, select "Other RTMP Encoder". Once you have fully filled it out it will look like this: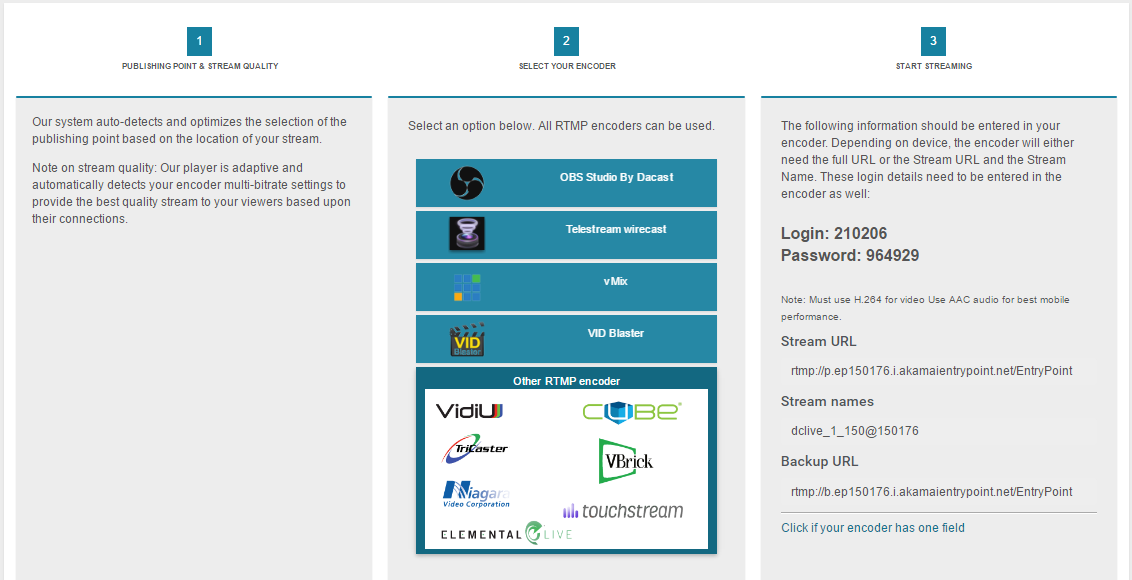 Needed DaCast Channel Information
The Broadcast Me app will need three things from your DaCast account. This is a URL, Username and Password. All of this information is located in the third panel of ENCODER SETUP. The username and password are found in bold on this page under the name of "Login" and "Password". These are a series of numbers that are unique to each channel. It's not the email and password you use to login to your DaCast account. Below is an example:

Next up you will need the URL. This is found under the third column toward the bottom. You are going to need a single URL, so click where it says "Click if your encoder has one field" as seen below.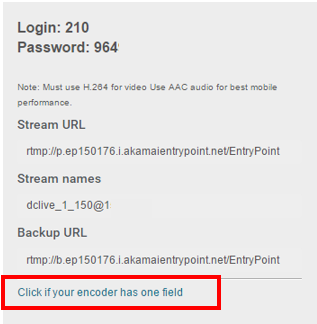 This will produce one, long field called the "Full URL".
For example: rtmp://p.epXXXXXX.i.akamaientrypoint.net/EntryPoint/dclive_X_XXX@XXXXXX
Please copy this URL.
Streaming with Broadcast Me
STEP 1 Enter the Server URL 
This is the first step in the Broadcast Me app. Please click on "Edit" to edit your server URL.
Remove the server URL that is entered by default and paste the full URL you've just copied from your DaCast account. Once you've entered your server URL, please click OK.
STEP 2 Use server authentication
The second step is to enter the login and password of your DaCast live channel. Please click on the cross sign that is next to "Use server authentication". A window will pop up with:
– Username : please paste here the login of the DaCast live channel
– Password : please paste here the password of the DaCast live channel
Once you're done, please click "Done".
STEP 3 Configure your streaming settings
Final step to get up and live streaming. Before the fun begins you will want to configure the bitrate and the resolution that you want to stream at.
a) The resolution is up to preference, although 480p or 720p are typically ideal.
You can click on the field Resolution and select the one you want.
b) The bitrate is important, though, and needs to be changed. By default it's set to broadcast at 1.8 MB per second. For most upload speeds this is too high. The majority of the people reading this will want to change the quality to something between 350kbps to 750kbps.
To best evaluate what you can stream at, go to Testmy.net on the device you plan to stream with and do an upload speed test. Aim for a bitrate that is half or lower of your upload speed. For example, if your upload speed is 800kbps, stream at 400kbps. You will need to factor in other elements like distance from your router and if its a shared network too. Plan to do some tests to see the results, if you get freezing in the feed it means the bitrate is too high.
To change the video bitrate, please click on the field "Bitrate: and enter the video bitrate you want in kbps.
Once you have completed these 3 steps, you are ready to begin! Just click on the red button at the bottom of your screen and your stream will begin!
After approximately 40s, you should be able to see your stream using your share code.
*Example of share code: https://iframe.dacast.com/b/XXXXXX/c/XXXXXX