Please note: the most complex part of Wirecast multi-bitrate live streaming is to first set up your encoder. You will use Dacast to retrieve some information, and then our adaptative player will automatically detect your encoder multi-bitrate settings. This tool allows you to provide the best quality stream to your viewers based upon their individual connections.
In your Dacast account:
Click on your channel and go to the ENCODER SETUP.
In Step 2, click on WIRECAST so you can get:
– Your login and password (a series of numbers; not your email and password to access your Dacast account)
– Your stream URL
– Your stream name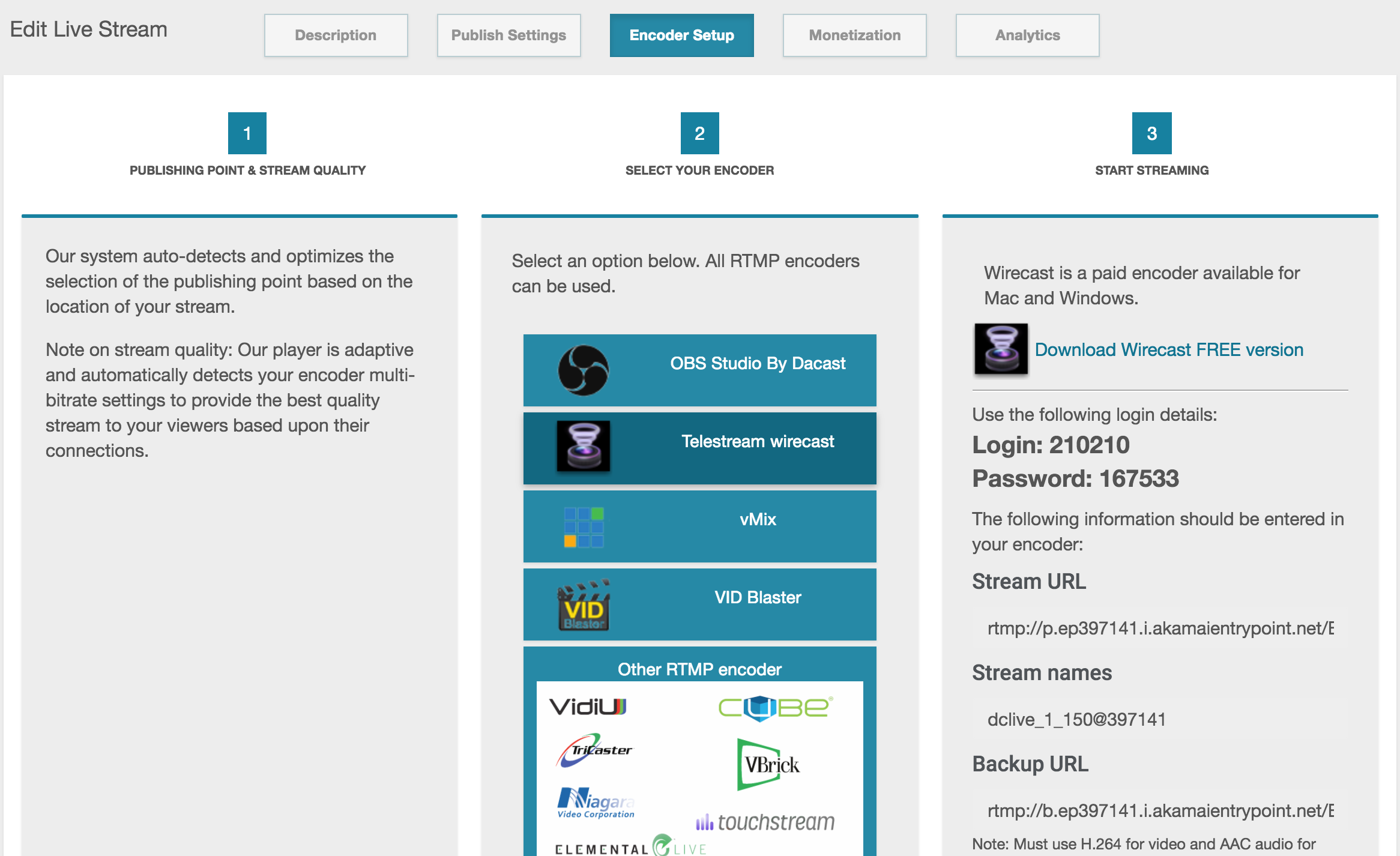 In Wirecast:
Open Wirecast and open the OUTPUT SETTINGS window. To do so you can:
– Click on STREAM, if you have not streamed yet
– Press the keys CONTROL + Y, on PC
– Press the keys COMMAND + Y, on Mac.
When the window opens, you will be asked to "Select an Output Destination". The destination should be "RTMP Server". Click on OK.
Adding the First Stream:

Enter the stream URL and the stream name as shown below. Make sure, that the stream is correctly set up for HTML5. To do so click on the clockwork icon near the ENCODING dropdown and choose EDIT or NEW PRESET.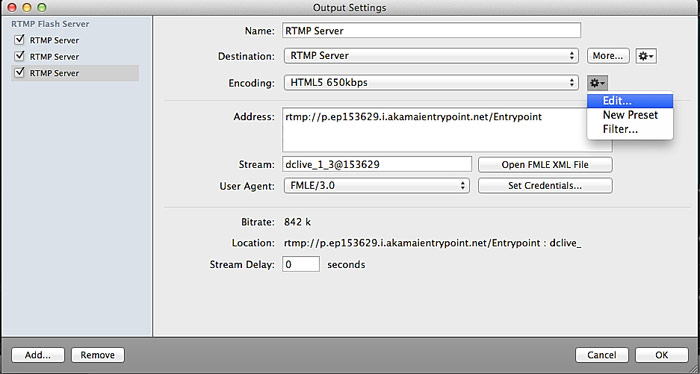 The settings for HTML5 should be the following:
– Output Format: FLASH
– Encoder: H.264
– Width, height, Frames per second, Average bit rate: your choice
– Profile: Baseline
– Key frame every: 2 seconds ( double the size of the FPS )
– Channels: Stereo
– Target bit rate: make your choice
– Sample rate: 48 Khz
Click SAVE.
Enter the credentials in SET CREDENTIALS (6-digit login and password).
Adding Multi-Bitrates:
Important note on your video and audio bitrates settings: 
The default settings in Wirecast 7 are HD settings so make sure to customize your settings in order to offer a low, standard and high definition without running out of bandwidth too quickly. 
As a reminder: 
A standard definition is 480p: 854×480, 500 Kbps – 2 Mbps for video, 128kbps (stereo) for audio
A low definition is 360p: 640 x 360, 400 Kbps – 1000 Kbps for video, 64kbps(mono) for audio
A high definition is 720p HD 1280 x 720, 1.5 – 4 Mbps for video, 128kbps (stereo) for audio
Also keep in mind that your total bandwidth requirements will be the total of all your streams added together, audio and video bitrates. If you plan on recording your stream using our Auto Archiving feature remember that the maximum bitrate is 3.5Mbps in total. 
—
To add more bitrate, click on ADD…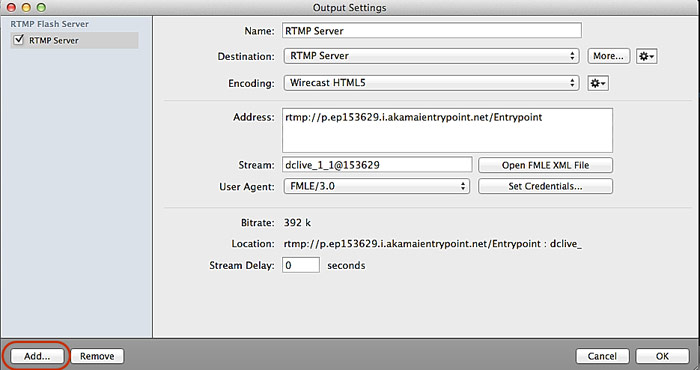 You will be asked again to "Select an Output Destination". The destination should be "RTMP Sever". Click on OK.
The same information as the first stream you created should be entered. You can change the bitrate under ENCODING, by selecting another preset in the dropdown (don't forget to check that the new preset is set for Wirecast as mentioned above).
You also need to edit the Stream name as illustrated below:
If the stream name #1 was dclive_1_1@123456,
Stream name #2 should be dclive_1_2@123456,
Stream name #3 should be dclive_1_3@123456,
Enter again the Credentials for each stream.
Once you have entered all streams, click on OK. You are now ready to stream: click on STREAM.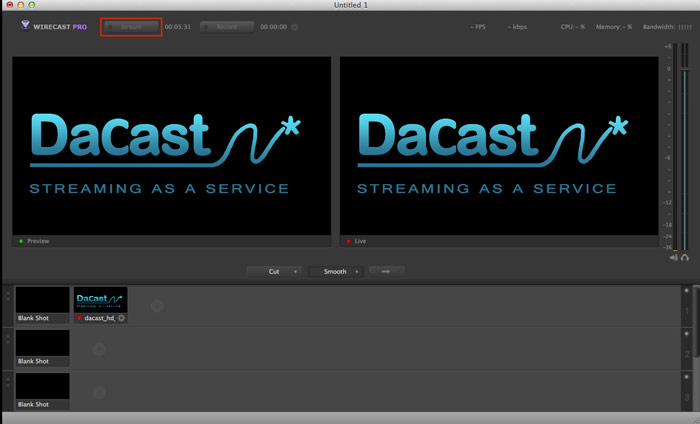 Your viewer should be able to switch from one bit rate to another, by clicking on the HD icon located on the bottom right corner of the player.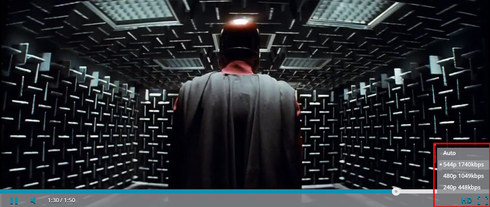 Happy streaming!