Los 10 mejores servicios de streaming OTT (+10 plataformas OTT para crear el suyo propio) 2023
The way we consume entertainment content, particularly video, has changed drastically over the last decade. The number of people turning to the internet for news, entertainment, education, and more has skyrocketed. The online streaming content market is powered by Over-the-top (OTT) video technology. The OTT video services market is consistently rising, predicted to be worth $247 billion by 2027.
Businesses are hopping on this trend to build brand awareness and provide value to their audience. That, in turn, fuels the growing demand for OTT channels that can reliably and securely host OTT streams.
Many companies seize this opportunity to monetize their video content and build OTT broadcasting services and platforms.
Picking the right OTT channel for your organization's needs from all the choices available today is quite a task. Today, we're going to discuss precisely what an OTT platform and OTT streaming are before we compare 10 of the best OTT streaming platform services that viewers use to access their favorite video content.
Then, we will compare over the top 10 best OTT platforms broadcasters use to host, manage, and monetize their online video libraries. We'll cover some of the best OTT video platforms, including Dacast, IBM Cloud Video, JW Player, Vimeo OTT platform, Wowza, and more.
Table of Contents: 
What is an OTT Streaming Service?
The OTT Streaming Industry at a Glance
The 10 Best OTT Streaming Services
What is an OTT Platform
How to Choose an OTT Platform
Comparison of the 10 Best OTT Platforms And Services in 2023
Conclusion
What is an OTT Streaming Service?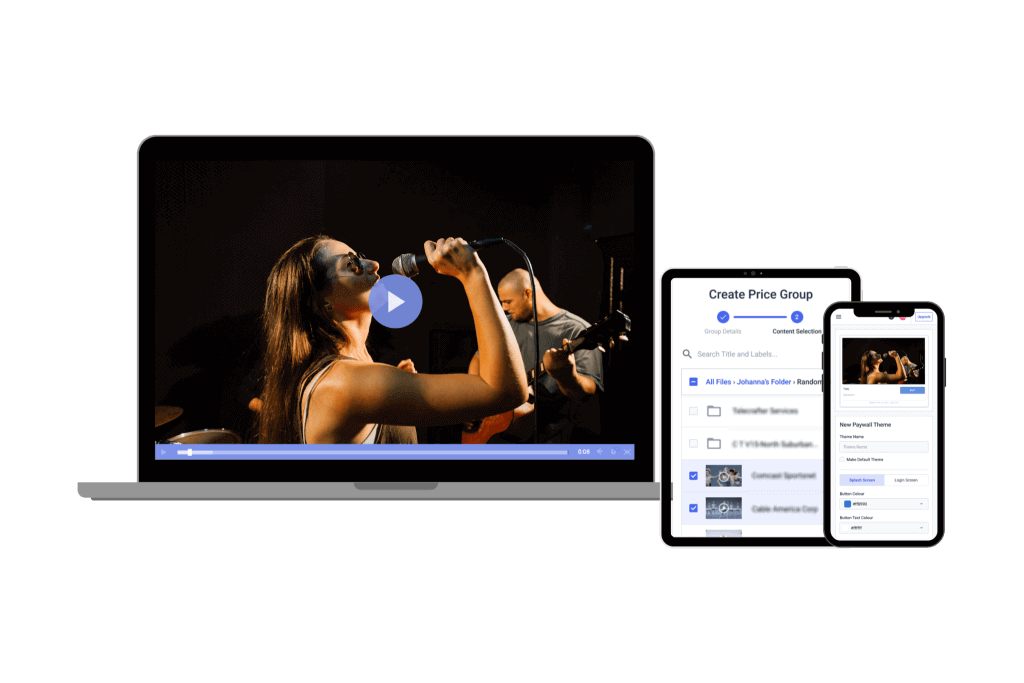 An over-the-top (OTT) streaming service helps content creators bring their content to viewers via the Internet.
OTT is short for "over-the-top,." This method of media distribution serves as an alternative to traditional satellite or cable television.
OTT technology is distributing more and more media each day. In fact, it has redefined our media distribution channels to the extent that most media is not delivered to consumers via the internet. Some industry leaders even advocate that we stop differentiating between OTT and broadcast and cable TV, entirely.
OTT streaming services are apps or websites viewers use to access their favorite programs and movies. These services are accessible on all internet-enabled devices, including smart TVs, gaming consoles, computers, laptops, smartphones, and tablets.
Typically, OTT video streaming services limit access to paying viewers using one of these methods:
TVOD: Viewers pay for access on a pay-per-view basis.
SVOD: Viewers are granted unlimited on-demand access to the platform on a subscription basis.
AVOD: Broadcasters monetize their content with sponsored advertisements, making the content free.
The OTT Streaming Industry at a Glance
OTT streaming platforms are more popular than ever since it puts more control in the hands of both viewers and broadcasters. Thanks to OTT platform technology, both the creators and consumers are free from the regulations and restrictions of television networks.
Here's a snapshot of some of the top trends in OTT streaming:
Streaming on smart TVs and CTVs is on the rise as more viewers cut the cable cord
The OTT marketing is forecasted to be worth $1.039 trillion by 2027
As more OTT platforms enter the market, UX is more important than ever
Over half of OTT revenue comes from advertisements
Nearly a third of OTT subscriptions in the United States go to Netflix
Live streaming only accounts for 24% of OTT streaming around the world
Check out our dedicated OTT trends post to learn more about this industry's direction.
The 10 Best OTT Streaming Services of 2022
There are many OTT video streaming services on the market. Some of these are niche-specific services, and others have broader offerings and are geared toward a more general audience. Some focus on OTT live streaming, and others only offer on-demand content. Most offer free content, premium content, or a mix of both.
What all OTT streaming services have in common is that they all use the same internet connection to deliver video content.
With that in mind, let's look at some of the most popular OTT streaming services.
1. Netflix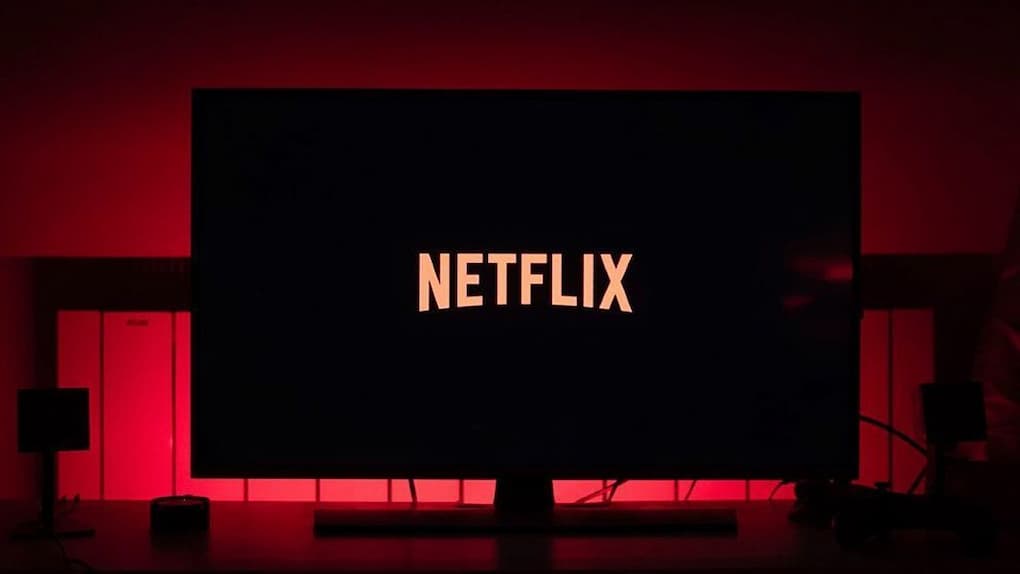 Netflix is one of the original OTT streaming servicesIt started as an online DVD rental shop. Its quick adaptation as live streaming technology began to surface is part of its success.
Today, Netflix is one of the largest on-demand streaming platforms on the internet, featuring over 15,000 titles. Netflix features titles from other production companies and original content that is only available on its platform.
Another attribute that makes the OTT video platform popular among people who enjoy "binge-watching" is that it uploads entire seasons of television shows at a time.
Netflix offers three different monthly pricing plans that include unlimited, ad-free streaming. Plans range from US$6.99 to US$19.99 a month.
2. Disney+
Disney+ is an OTT streaming service that offers access to films and TV series that The Walt Disney Company owns. These include programs by Disney, Pixar, Marvel, Star, National Geographic, and Star Wars.
Disney+ costs $7.99/month or $79.99/year for unlimited, ad-free streaming access.
Disney+ can be bundled with other streaming services, including Hulu.
3. Hulu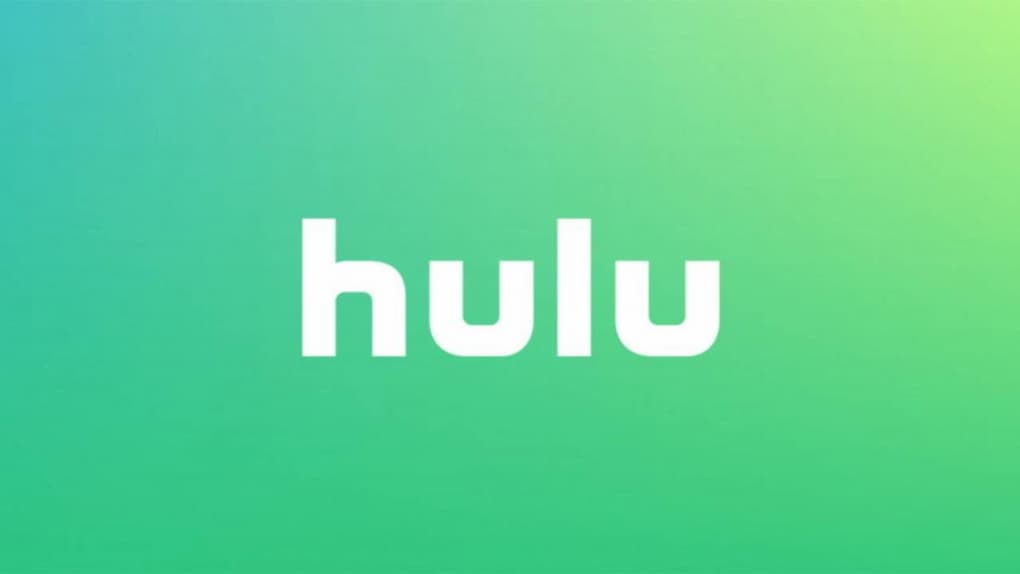 Hulu is another popular OTT video service. Hulu is a bit different from Netflix, as new episodes are typically uploaded the day after they air.
Hulu offers four pricing plans, including
Hulu: 7.99/month
Hulu (No-Ads): $14.99/month
Hulu + Live TV: $69.99/month
Hulu (No-Ads) + Live TV: $75.99/month
In addition to these plans, Hulu offers add-ons and bundled packages that give viewers access to other collections of content, as well.
4. ESPN+
ESPN+ is an OTT streaming service dedicated to sports streaming. This service is a little bit different from the others we've covered because it focuses on live video OTT streaming.
ESPN+ offers the following plans:
It can be purchased as part of a bundle with Disney+ for $13.99/month.
5. Prime Video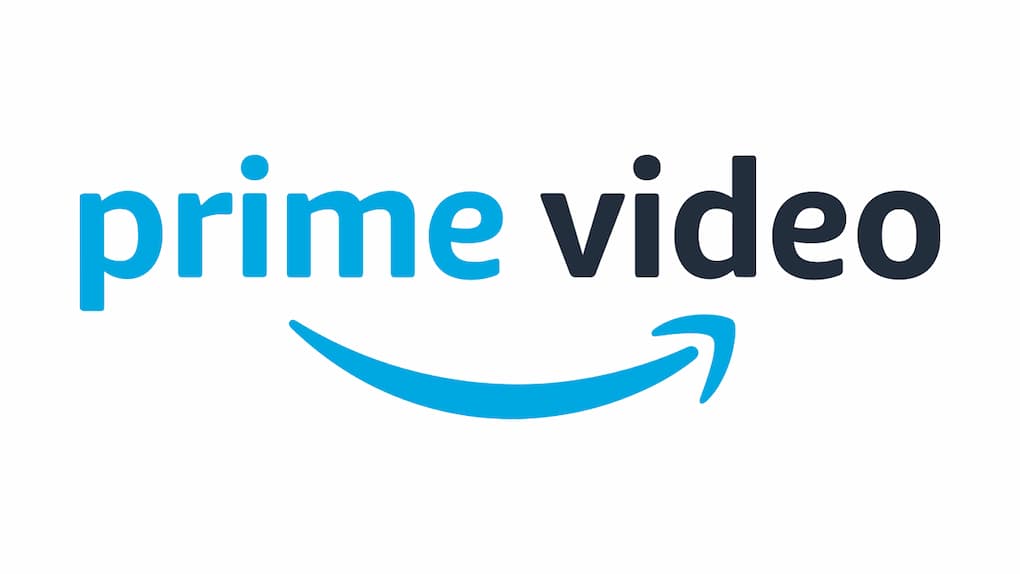 Amazon's own service, Prime Video, offers unlimited access to a library of video content with a subscription, and it also has additional content available for rent or purchase.
One unique feature of this OTT video platform is that users can purchase access to films that are still in theaters. Prime Video also has access to live programming, like sporting events.
Prime Video is included in the Amazon Prime membership.
6. HBO Max
HBO Max is an OTT video streaming service that mainly offers content from HBO's parent company, WarnerMedia.
An exciting aspect of HBO Max's OTT service is that it offers access to movies that are still in theaters at no additional cost.
HBO Max comes in two pricing tiers:
Streaming with ads costs $9.99/month
Ad-free streaming is $14.99/month
7. YouTube TV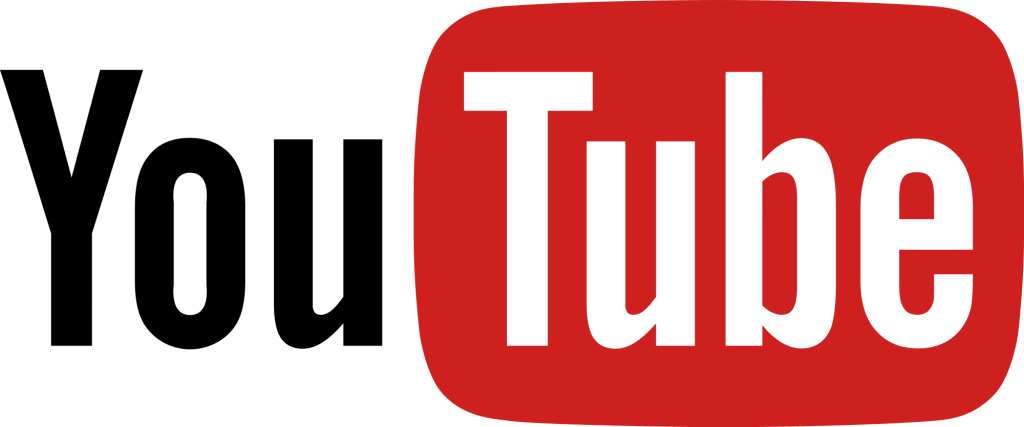 You're likely familiar with YouTube as a free online streaming platform, but did you know that YouTube has a premium offering, too?
YouTube TV offers both subscriptions for unlimited streaming and pay-per-view for accessing individual pieces of content. YouTube TV offers live streaming access from over 85 television channels and is popular with video gamers, similar to the Twitch streaming platform.
This OTT service costs $64.99/month or $500/year.
8. Starz
Starz was originally a television network, but the content available from the network is now available on a dedicated OTT service.
Users can log into Starz with the credentials to their account with their television providers. Users without a television or cable subscription can get an online subscription for $8.99/month or save about $32 by paying $74.99 per year.
9. Sling TV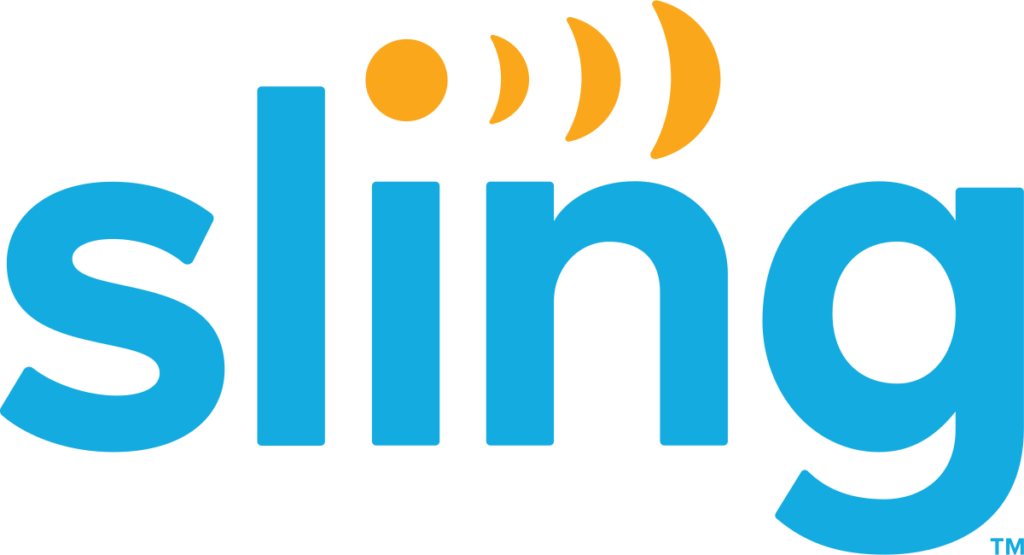 Sling TV is another OTT streaming service that originated as a television network. It combines the traditional live television experience with the more modern internet-based, video on demand on-demand streaming experience.
One unique aspect of SlingTV is that it provides access to local stations.
Sling TV has raised its prices and will start charging $40/month for its Sling Blue, or Orange plans individually or $55/month if you purchase both. The new prices will go into effect from 3rd Dec 2023.
10. Peacock
Peacock a rising star among newer OTT streaming services, is owned by NBCUniversal, which is a subsidiary of Comcast. Peacock features many different types of movies and television series, including titles owned by NBC and some Peacock originals.
Users can start streaming on Peacock for a free trial. Upgrading to Peacock Premium for $4.99/month or $49.99/ year opens access to a larger content library. $7.99/month gives access to the same content library with ad-free streaming.
What is an OTT Platform?
An OTT platform is the software broadcasters use to host their online video content. Most professional OTT platforms are equipped with tools for storing, managing, and delivering content to viewers over the internet and mobile devices.
Professional OTT platforms range from $10/month to over $1000/month. To create an OTT streaming site like Netflix and the other sites we mentioned, you'll need the support of a well-equipped
How to Choose an OTT Platform
There are dozens of OTT platforms on the market, so you'll have to do some research to find the one that will help you reach your OTT streaming goals.
Features of the Best OTT Platforms: What to Look For
Wondering what are the best OTT apps and platforms out there among all the OTT service options? Here are a few specific OTT features to look out for as you compare options, including content delivery, monetization, API access, and pricing.
Content delivery
Live streaming features
VOD hosting capabilities
Video monetization
Video API
Reliable security tools
White-label streaming
Global content delivery via a Video CDN
Data analytics
User-friendliness
User support
Video library management
Content delivery is important to consider as it impacts your video quality and the audience you can reach. You'll want to choose the best OTT platform that works with a reliable, global
Ideally, OTT platforms for businesses should include features such as live streaming functions, video on demand, and professional video hosting.
If your goal is to live stream, you'll need to select an OTT video hosting platform that supports live streaming.
Next on our key features list is API access. Video API provides programmatic access to video platform functionality. Broadcasters use video APIs in many different ways. You should choose an OTT platform with the video API you need to customize your video content management system (CMS) to your liking.
Player API access is another valuable tool. It works similarly to video API, but involves customizing the video player instead of the video CMS.
Monetization is another major feature of broadcasters. There are three main ways to monetize content:
One-time events like sports are perfect for , and subscriptions are perfect for recurring content. Ads are a great option for content designed to build brand awareness.
Lastly, live streaming pricing should come into play. Your budget should be determined by your available resources and your expected return on investment. There are OTT platforms and services with a wide range of price points, but you want to look for one with consistent pricing and low bandwidth costs instead of a pay-as-you-go model.
Comparison of the 10 Best OTT Platforms for 2023
Before we look at some of the best OTT platforms and streaming services available to professional broadcasters, it is important to note that different features are required to reach different broadcasting goals
For example, monetization tools are a must if you are building a live streaming software service to generate revenue. However, monetization tools aren't a deal-breaker if you're using your OTT platform to host and deliver internal content.
With that in mind, let's look at the top 10 OTT Platforms in the world for video streaming.
1. Dacast
Many professional broadcasters turn to Dacast as their only other original OTT streaming services and live streaming platform of choice since it offers both live streaming and VOD hosting.
Dacast is a unified streaming platform that offers VOD and live streaming services. It has a wide spread of powerful, full OTT content and technology features that are well-suited for professional broadcasters. This platform is password protected and easy to use to distribute video content to viewers around the world securely.
Key Features
Pros
Cons
A large range of features require a bit of an initial learning curve
Upload Guidelines and Specs
Minimum dimension: None (but 240p is the recommended minimum)
Maximum dimension: 1080p or 4K (depends on the user's hardware and internet)
Video aspect ratio: No restrictions (but 16:9 is the default)
Max file size: None
Max video length: None
Total file storage: 10-1000GB (depends on plan)
Compatible video formats: MP4 (preferred), MOV, M4V, M2V, AVI, MPG, FLV, WMV, MKV, WEBM, OGV, MXF, ASF, VOB, MTS
Pricing
Dacast's live streaming pricing plans begin with the Starter Plan, and include the following:
Starter Plan: $39/month (includes 1,000 GB of bandwidth & 50 GB of storage)
Event Plan: $63/month (includes 6 TB of bandwidth upfront and 50 GB of storage)
Scale Plan: $188/month (includes 24 TB of bandwidth per year and 1 TB of storage)
However, Event and Scale users can also purchase custom plans for greater bandwidth needs ad free content. Dacast is one of over the top five leading OTT live streaming media services platforms globally.
2. IBM Cloud Video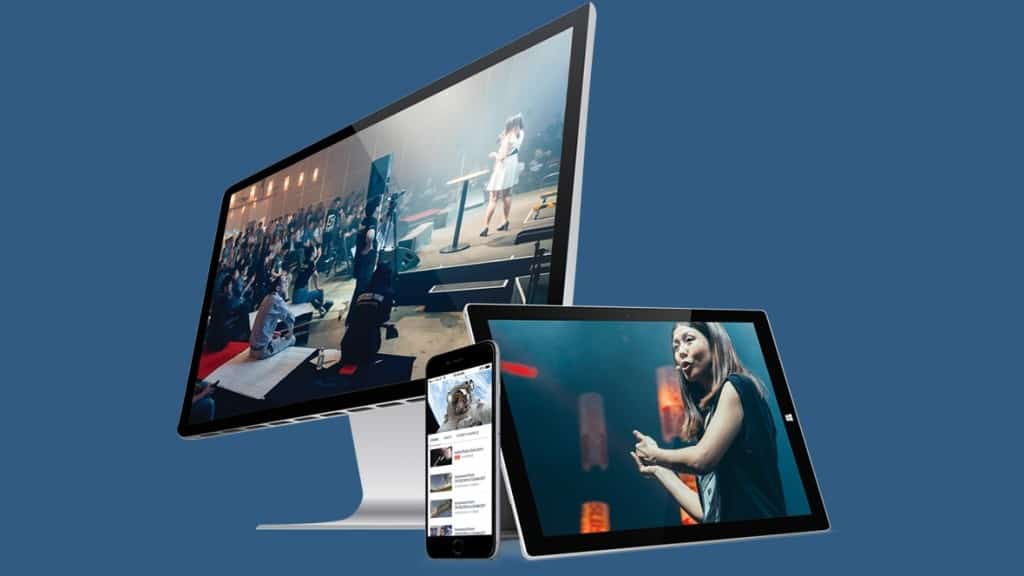 IBM Cloud Video's biggest setback is its lack of monetization features.
IBM Cloud Video is another competitor worth mentioning in our best OTT platforms comparison. This platform is part of IBM, which is a leader in the technological world. IBM Cloud Video offers video hosting for both live and on-demand content.
One previous setback of IBM Cloud Video was that the OTT platform did not offer monetization options. However, they have recently added these tools, making it an acceptable solution for broadcasters who aim to generate revenue with their content.
Key Features
Powerful video analytics
Tools for boosting user engagement (including polling)
Auto-archiving
Powerful content delivery
Tools for video monetization
Pros
Tools suited for business use
Customer support
Hong Kong video hosting
Cons
Extra fees for streaming at high resolution
Limited tools for accessibility (minimal closed captioning support)
Upload Guidelines and Specs
Minimum dimension: 480p (480 x 270)
Maximum dimension:  4K (3840 x 2160)
Aspect ratio: No published aspect ratio
Max file size: 4 GB
Max video length: No published limits
Total file storage: 1TB – 5TB (depends on plan)
Compatible video formats: MKV, MP4, MOV, FLV, AVI, WMV, MPEG2, H264, H263, MPEG4, VP6, VP8, THEORA, WMV, MP3, AAC-LC, NELLYMOSER, PCM, SPEEX, VORBIS, WMA
Pricing
IBM pricing plans range from $99 to $999 per month and include the following:
Silver: $99/month
Gold: $499/month
Platinum: $999/month
Custom: Please contact IBM Cloud video for custom plan pricing as well as payment plans.
3. JW Player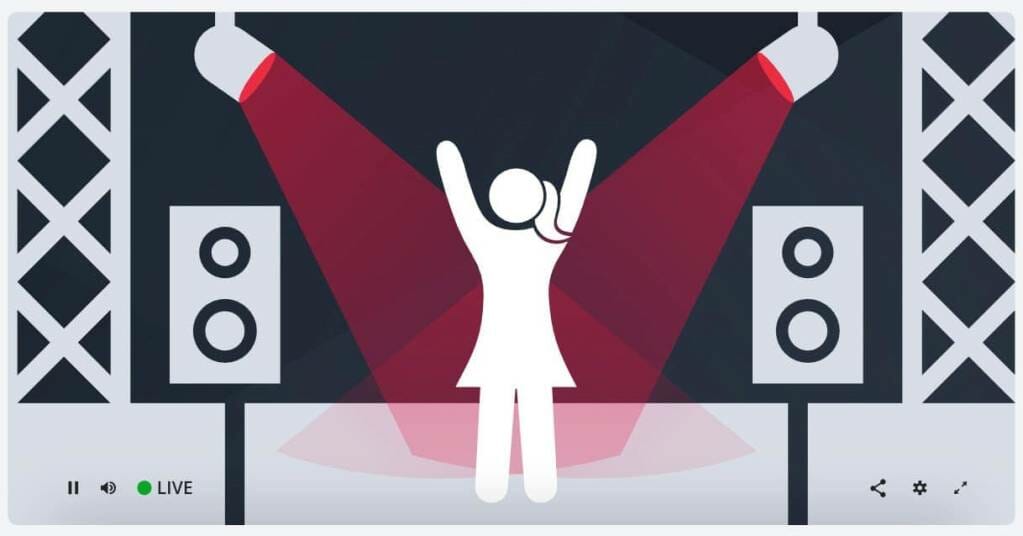 JW player is a veteran in the video streaming game.
JW Player is most well-known for its popular video player. The code for this video player was used as part of the first YouTube video player code. However, they recently launched a live streaming service as well.  JW Player includes a full suite of powerful tools, including an HTML5 video player that supports the latest technologies such as the MPEG-DASH protocol, multi-bitrate streaming, simulcast to Facebook Live, DRM, and more.
Key Features
Global content delivery
Video API access with all plans
Ad-based monetization
Multi-bitrate and adaptive streaming
Some technical support is available
Pros
High-quality video player
Clean user-interface
Cons
Limited monetization options (Only supports AVOD)
Limited tech support
No China delivery
Upload Guidelines and Specs
Minimum dimension: 360p (640 x 360)
Maximum dimension: 1080p (1920 x 1080)
Aspect ratio: 16:9, 4:3, 2.39:1
Max file size: 25GB
Max video length: Not available
Total file storage: 25GB to 500GB (depending on the plan)
Compatible video formats: MP4, WMV, AVI, MOV, 3GP, FLV
Pricing
With JW Player, live streaming support begins at a free trial level. There are 3 pricing plan tiers:
30-day free trial subscription which includes full API and SDK access, and a non-commercial license, with 25 GB hosting bandwidth and 75 GB streaming.
Starter pricing plan for $10 per month, which includes an HTML5 Video Player and video gallery, with 150 GB hosting bandwidth and 500 GB streaming (50,000 plays) per month billed annually.
Enterprise plans are available with custom pricing for high-volume storage and streaming. Enterprise plans support live streaming, while lower-tier plans only support VOD.
4. Vimeo Livestream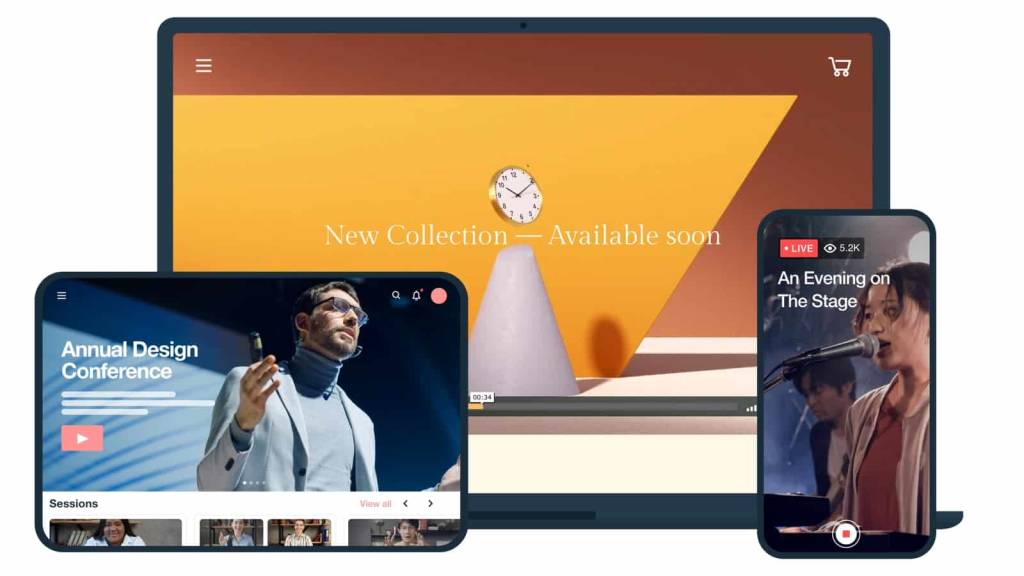 Vimeo has a variety of hosting solutions for different and popular, OTT streaming platforms, services and content providers' video streaming needs.
After many years as a streaming service, Livestream was acquired by Vimeo in late 2017. Today, both businesses operate OTT video streaming services under Vimeo's name. Vimeo has integrated an OTT solution into its services. Let's take a closer look at Vimeo's OTT services.
Key Features
Simulcasting and multistreaming support
Viewer engagement tools (polling and chat options)
Powerful security tools
Custom video gallery pages
In-house content delivery
White-label video player
Pros
Global content delivery
Customization for on-brand streaming
Tools for promoting interaction and engagement
Cons
Support required to access some features
Upload Guidelines and Specs
Recommended dimension: 720p (1280 x 720)
Aspect ratio: 16:9, 4:3
Max file size: 3GB
Max video length: Information not available
Total file storage: Information not available
Compatible video formats: MP4 (recommended)
Pricing
Vimeo Livestream offers three main pricing plans, including:
1) Vimeo Premium:
Premium pricing: $75/month
Their Premium plan includes both live streaming and VOD support. This plan is the best option for professional broadcasting on this platform.
2) Vimeo Enterprise:
Enterprise Pricing: Please contact Vimeo for custom pricing information
The Enterprise plan includes white-label service, monetization, and video API access. It also includes branding control and added security features.
3) Vimeo OTT:
Starter Pricing: $1/subscriber per month
Growth Pricing: starting at $500/month
This OTT-specific pricing package comes with the Vimeo.com relationship. These plans include all the basics for starting your web-based OTT channel, as well as growing your OTT business online.
5. Wowza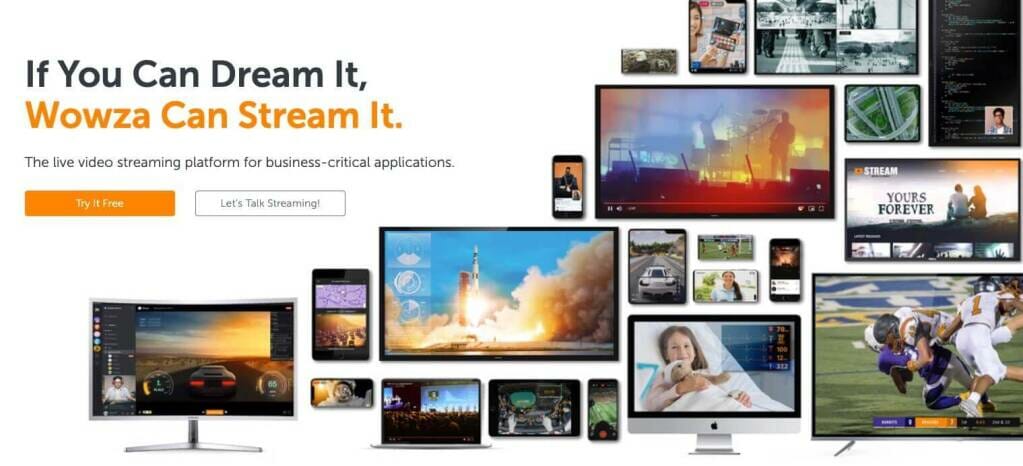 Wowza is more than an original. the OTT services are service providers of streaming services and video platform. They offer streaming-related hardware, as well.
Wowza is another fully capable OTT platform geared toward professional broadcasting. Wowza allows broadcasters to build highly customized streaming workflows using third-party integrations, APIs, and other advanced features.
The major downfall of this OTT service is that it does not support video monetization, which makes it an unsuitable OTT platform for businesses. However, Wowza is ideal for internal business use but makes it an ineligible candidate for streaming as a service.
Key Features
Cloud transcoding
Support for live streaming and VOD
White-label video player
All-device streaming with an HTML5 video player
API access available
Reliable customer support
Pros
Brand customization tools
Auto-archiving
Powerful video CMS
Ultra HD streaming (4K)
Wide range of security options
Cons
No simulcasting tools
No support for video monetization
No reliable video analytics tools
Upload Guidelines and Specs
Minimum dimension: 240p (320 x 240)
Maximum dimension: 4K (3840 x 2160)
Aspect ratio: 16:9, 4:3
Max file size: Not available
Max video length: Not available
Total file storage: 250 GB (depends on the plan)
Compatible video formats: MP4, FLV, MP3, SMIL, AMLST, ID3, NGRP
Pricing
Wowza recently overhauled its pricing plans and added several options. These are split into two main tiers: Streaming Cloud and Streaming Engine.
The Wowza Streaming Cloud offers four distinct pricing plans and services. Live Event Pricing, monthly plans include:
Pay As You Go: $25/month, with a 3-month minimum; flexible OTT streaming with low startup costs
Basic: $99/month; includes 20 hours of live OTT streaming and 1000 viewing hours based on video resolution of 720p
Annual: $1560/ per year
One Month Event: $149 one-time purchase; includes 20 hours of live streaming and 1000 viewing hours also at 720p
Plus: $499/month; includes 150 hours of live streaming and 7000 viewing hours based on video resolution of 720p
All the Live Event plans reflect rates when paid monthly and include full brand control, multi-bitrate streaming, and UHD and HD streaming
The Wowza Streaming Engine has its own pricing plans. These professional-grade streaming plans are billed annually and include:
Basic: $175/month + $195/month for each additional instance and $125/month for each additional prepaid instance
One Month Event: $295/month + $295month for each additional instance
Enterprise: Please contact Wowza directly for access to their custom-tailored high volume enterprise solutions
6. Kaltura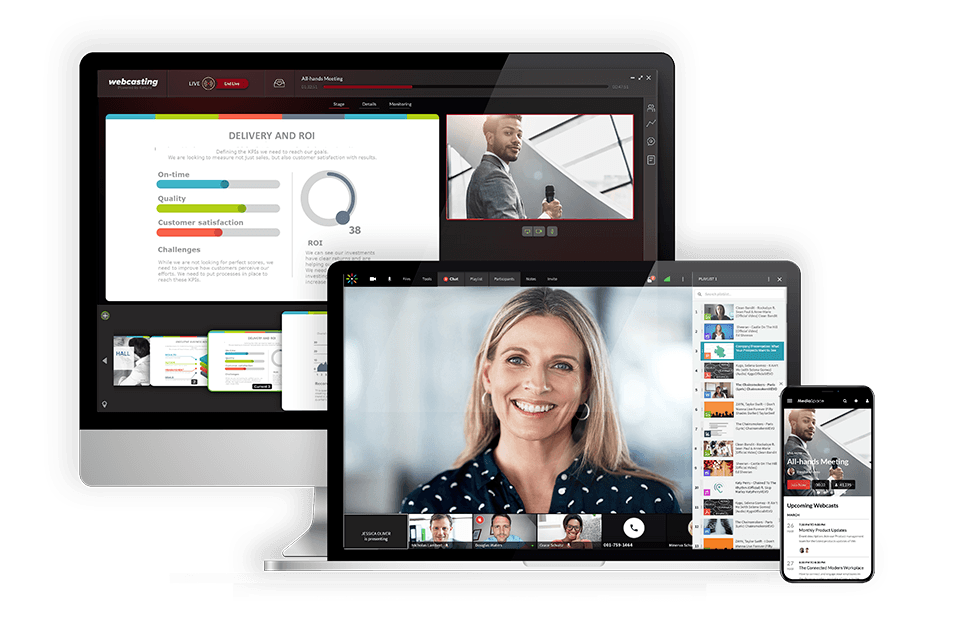 Kaltura is a cloud video access and full access OTT content and services and content streaming solution geared towards large institutions.
Kaltura is open-source software that offers a unique OTT streaming technology platform that focuses on educational institutions. It is perfect for hosting large content libraries and delivering it with a branded video player. What makes Kaltura's OTT service unique is that it is customizable thanks to various integrations. Kaltura also provides cloud-based hosting and streaming services as a base for these customizations. With its open-source foundation, Kaltura is highly customizable and extensible. Companies can build their own integrations and add-ons to meet specific needs.
Key Features
Multi-bitrate and adaptive video streaming
Monetization options (SVOD, AVOD, and TVOD) via integrations
Powerful security features
Total video and player API access
Pros
Completely customizable
Very few limits on features thanks to integrations
Well-suited for advanced broadcasters
Cons
The "pay-as-you-go" structure often makes it more expensive to use
Complicated platform
Not cut out for beginner broadcasters
Slow-to-respond tech support
Upload Guidelines and Specs
Minimum dimension: 180p (320 x 180)
Maximum dimension: 1080p (1920x 1080)
Aspect ratio: 16:9, 4:3
Max file size: 2GB
Max video length: Not available
Total file storage: 10GB to Unlimited (depends on the plan)
Compatible video formats: MOV, MP4
Pricing
Kaltura's pricing is based on a "pay-as-you-go" model and is very flexible. Please contact their sales team for a custom quote.
7. Vidyard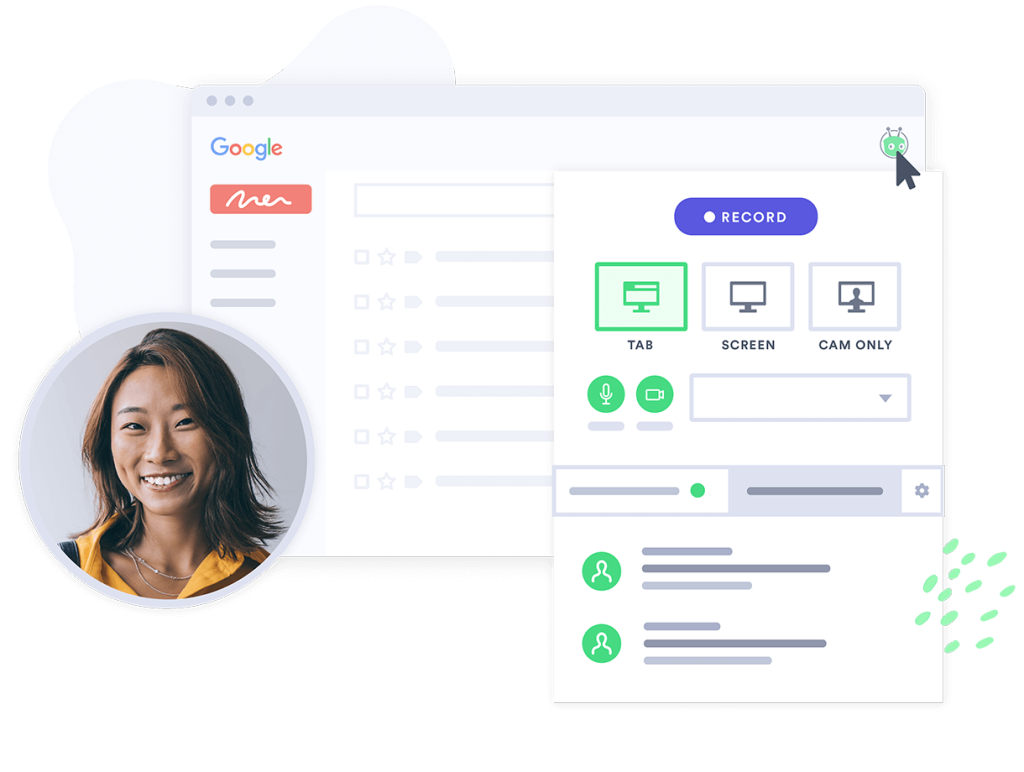 Vidyard is a business-focused mobile and OTT platform and devices platform.
Vidyard is a reliable OTT platform for businesses that provides users with many unique tools and features. This video streaming platform is geared towards marketing and sales since its features are designed to turn viewers into customers. The Vidyard platform includes tools to improve audience reach and viewer engagement so broadcasters can use it to generate qualified leads.
Key Features
Marketing tools (SEO, lead generation, email capture)
Tools that promote viewer engagement
Advanced video content management
Gold-standard security
Pros
Tools for an advanced broadcasting experience
Powerful video analytics
Reliable technical support
Cons
Inconsistent positive user reviews
No support for China video delivery
Upload Guidelines and Specs
Minimum dimension: 360p (480 x 360)
Maximum dimension: 4K (3840 x 2160)
Aspect ratio: 16:9, 4:3
Max file size: 5GB to 16GB (depending on the plan)
Max video length: 1 hour (live stream)
Total file storage: Not available
Compatible video formats: WEBM, MP4, MKV, MOV
Pricing
Vidyard pricing plans come in four tiers, split between two categories: Individual and Teams. All plans are billed annually:
Individual: $300/month

Free: $0/month
Pro: $19/month
Teams

Teams: $300/month
Business: $145-$1250/month
Check out Vidyard's pricing plans for more information.
8. Wistia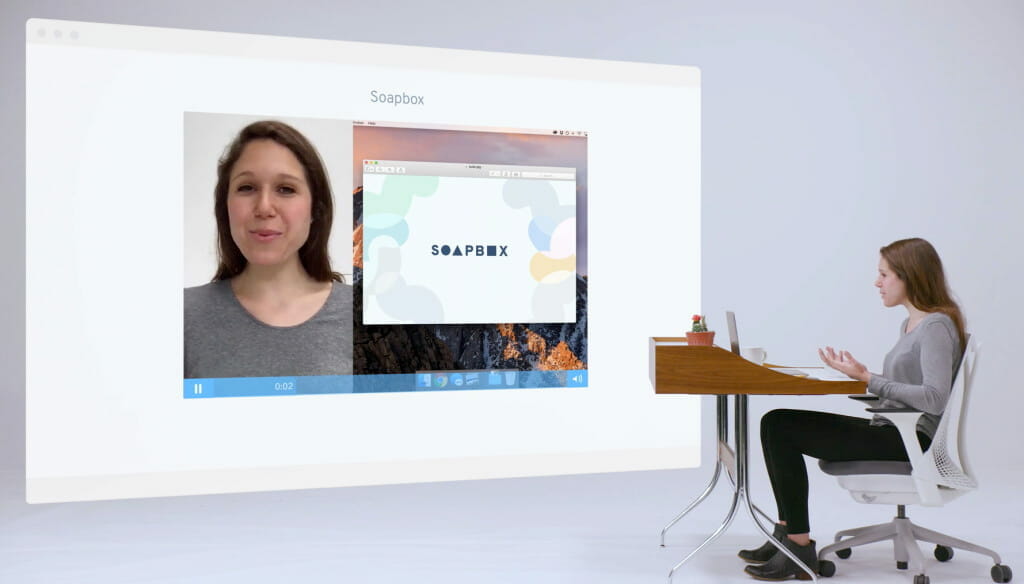 Wistia is another great option for the OTT industry for media services and distribution.
Wistia is a video hosting solution and excellent OTT platform for businesses serving the video hosting and media distribution industry for over a decade. Students created it to primarily serve educational institutions and businesses.
Key Features
Support for marketing (SEO and engagement stimulators)
Top-tier customer service
CRM integrations for a streamlined broadcasting experience
Pros
Insightful video analytics
Marketing team collaboration is possible thanks to CRM integrations
Professional-looking video player
Cons
Limitations on brand customization
No China delivery
Upload Guidelines and Specs
Minimum dimensions: None
Maximum dimensions: Maximum of 4K (3840 x 2160)
Supported aspect ratios: Any
Maximum file size: 8 GB
Maximum video length: 2 hours
Total file storage: Up to 10 videos with the pro plan ($99 per month), $0.25 per month for every extra video
Accepted video formats: MP4 (recommended format), .MOV, .AVI, .WMV, .FLV, .MKV, 3GPP
Pricing
Wistia has four pricing plan tiers:
Free: No cost to use; up to 250 subscribers and three videos; cannot remove Wistia's branding from the video player
Plus: $19/year, up to 20 videos a year.
Pro: $79/month; 10 free videos with additional videos for $0.25/each; white-label video player
Advanced: custom pricing; 100 free videos with additional videos for $0.25/each; multiple channels, 250+ subscribers
9. SproutVideo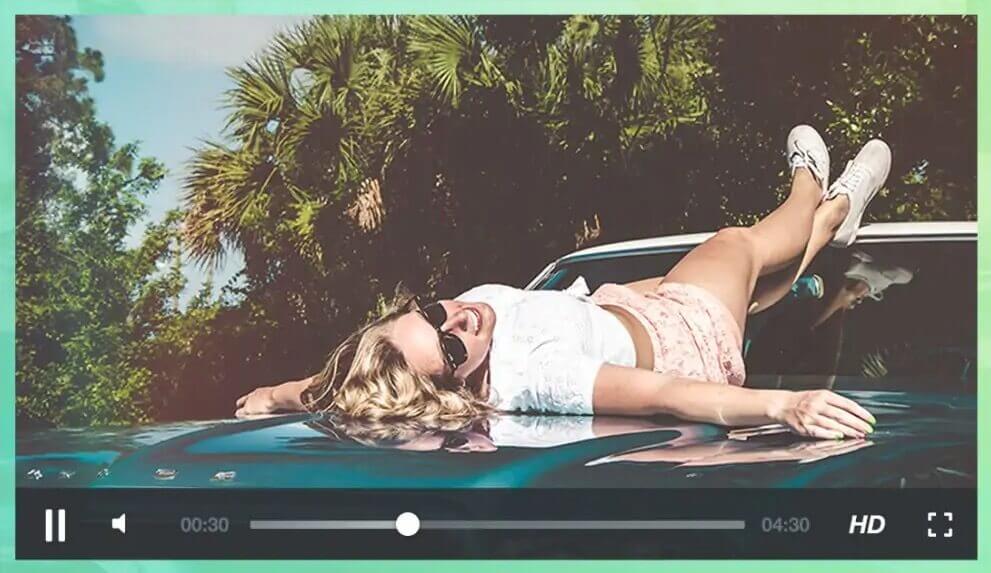 SproutVideo has been serving the broadcasting community for a decade.
SproutVideo is a Brooklyn-based business OTT platform equipped with top-tier marketing tools. It supports both the top five OTT content providers and business apps for live streaming and on-demand video hosting.  This OTT service is designed primarily for business broadcasting.
Key Features
Total API access
White-label HTML5 video player
Support for both VOD and live stream hosting
A full suite of marketing tools
Custom video portals for an on-brand viewing experience
Pros
Wide range of pricing options
Customizable video player
Video analytics
Cons
Premium support on expensive plans only
Effective security only available with top-tier plans
Upload Guidelines and Specs
Minimum dimension: None
Maximum dimension: None
Supported aspect ratios: Any
Maximum file size: Up to 100 GB
Maximum video length: Unlimited
Total file storage: 500 GB
Accepted video formats: MP4, MOV, AVI, WMV, FLV, MKV, 3GPP
Pricing
SproutVideo offers four pricing plans to target different budgets. They include:
Seed: $24.99/month
Sprout: $59.99/month
Tree: $199.99/month
Forest: $499.99/month
Check out SproutVideo's pricing plans for more information.
10. Brightcove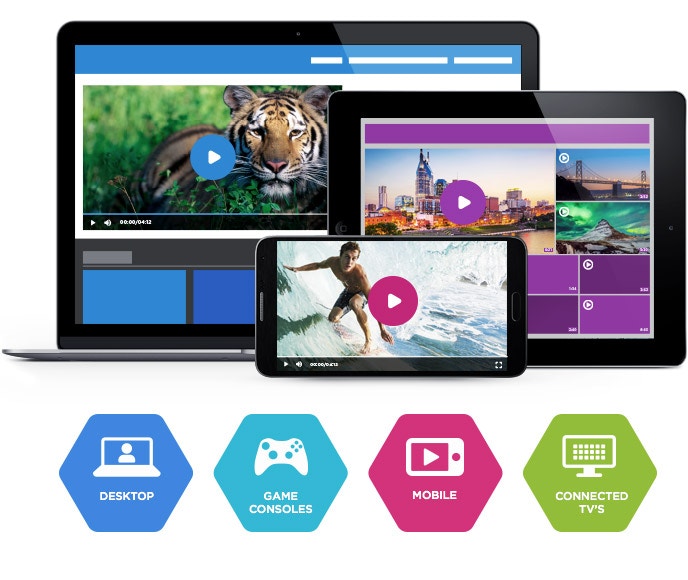 Brightcove is a Boston-based mobile and OTT apps, services and devices platform that is both reliable and capable.
Brightcove is another trusted solution in the OTT video platform. Its cloud video hosting suite is equipped with everything broadcasters need to succeed over the top and in online video hosting. Brightcove is primarily geared towards business video hosting use, but you can build custom packages to include all of the tools broadcasters need to create a streaming media platform.
Key Features
Access to top-tier CDNs for global content delivery
Multi-bitrate and adaptive bitrate streaming
Video API access
Basic tech support
Advanced security features
Monetization tools
Pros
Custom video player landing pages
CRM integration available
Wide range of professional broadcasting features
Cons
High pricing
No China video delivery
Upload Guidelines and Specs
Minimum dimension: Determined by user
Maximum dimension: Determined by user
Aspect ratio: No restrictions (since Brightcove uses a responsive player)
Max file size: No limits on files size
Max video length: No published limits
Total file storage: Varies by plan
Compatible video formats: MP4, MOV, FLV, AVI, WMV, MKV, 3GPP
Pricing
Brightcove offers several pricing plan levels to meet each broadcaster's unique OTT content hosting needs. These include the following:
Starter: includes 50 to 200 videos, up to 100,000 plays, and 2-5 users
Professional: unlimited videos, 100,000+ plays, and no overage plays, with +10 users
Enterprise: unlimited videos, 100,000+ plays, and no overage plays, with 10+ users, unlimited upload, and analytics-only users
Brightcove doesn't publish its pricing plans for Video Cloud live streaming services online. For a customized quote, you need to contact them directly to discuss your specific business needs.
Conclusion
Watching subscription-based OTT video services is already a daily habit for 60 percent of adults in the US. As a broadcaster, tapping into this market means utilizing the best tools for the job.
Given the size of this industry, and the potential it holds, now is a great time to involve yourself in this trend. One of the first steps in getting started is choosing an OTT platform or video platform to host, manage, and monetize your streaming service.
The best way to choose an OTT platform provider is by taking advantage of free trials. That way, you can test out all the features and ensure that the platform is equipped with everything you need to reach your OTT streaming goals.
If you are still deciding between OTT platforms and want to try Dacast, we recommend signing up for our 14-day free trial. That way, you can test out all of our features before committing.
Lastly, did you find this article helpful, or do you have other comments or feedback? Let us know what you think via the chatbot below. We love to hear from our readers! For exclusive offers and regular live streaming tips, you can also join our LinkedIn group. Thanks for reading and, as always, good luck with your broadcasts!