Pay-Per-View Video Streaming: What It Is and How It Works [2022 Update]
Have you ever needed to access the internet in a cafe or restaurant? It could be an urgent message, location information, or an email you've been waiting on. What usually happens when you walk into a cafe and ask them for their WiFi password? They ask you to first purchase something from their menu before granting you access to their internet connection.
That might seem like a win-win situation. You get limited-time access to a facility you need, and the cafe makes a sale. That's exactly what pay-per-view video streaming is. It's a win-win situation on the video streaming and video-on-demand frontier.
Pay-per-view video hosting is a way to monetize your content and generate a new revenue stream for you.  For your viewer, it's a chance to sample the type of content you're offering without committing to a full subscription.
Creating video content is not free or even cheap. Whether marketing content, educational videos, or entertainment, it takes days of planning, recording sessions, and editing to put good quality content out there that adds value to its viewers.
There are many avenues available that can help monetize your content and get more returns on your investment.
One popular method for monetizing your video content is pay-per-view video streaming. With pay-per-view, viewers are paying to access a specific piece of content. 
Pay-per-view is often used for one-time events, such as:
Sporting events

Concerts

Conferences
It is often used for events that, if hosted in person, people would pay to purchase a ticket to the event. 
Professional video streaming platforms make it easy to host, create, and monetize pay-per-view events virtually. Pay-per-view events are often live streamed, but you can also create and monetize pre-recorded content, known as videos-on-demand, using pay-per-view monetization methods as well. 
Pay-per-view events also allow you to share content seamlessly without having to depend on advertisements that interrupt the content for revenue. Pay-per-view provides another way, outside of using advertisements, to make revenue from your content or event. 
Today, we will walk you through how pay-per-view video hosting works. Then, we will explain a few things to consider when setting up pay-per-view streaming. We'll share some tips to help you reach your broadcasting goals. 
To wrap things up, we will take a look at a few of the top pay-per-view video platform options on the market.
Please note that pay-per-view platform technology changes regularly. By updating the post with PPV video hosting steps and adding a pay-per-view platform comparison, this post reflects the most accurate information as of September 2022.
Table of Contents
What is Video Monetization?

Pay-Per-View Video Streaming: How does PPV work?

How to Price Pay-Per-View Video Content

What is Pay-Per-View Video Hosting?

Pay-Per-View Video Platform Considerations

Top Pay-Per-View Video Platform Options

How to Create a Pay-Per-View Video Website

Conclusion
What is Video Monetization?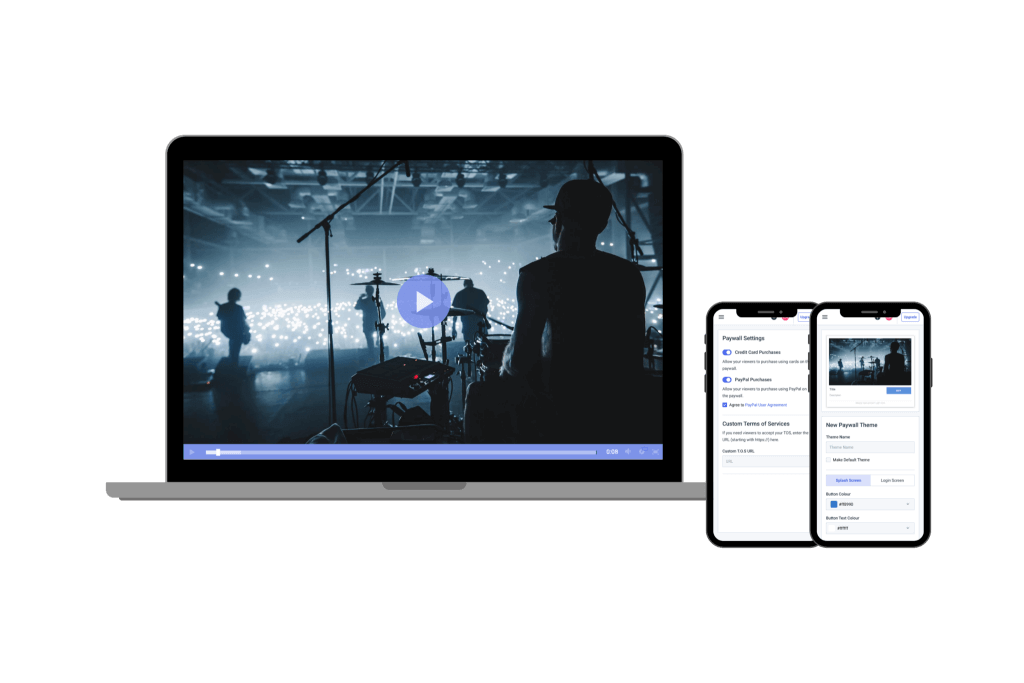 Let's start by reviewing what video monetization is. The various strategies used for generating income from any video content you produce are called video monetization. Whenever a viewer watches your videos or downloads them, you get paid.

Each pay-per-view hosting provider gives it's content creators a different percentage of revenues generated from their videos. These numbers can also vary depending on which video monetization models you utilize.
Most professional broadcasters use one of the three following: 
TVOD

: transactional video-on-demand, also known as pay-per-view

SVOD: subscription video-on-demand
AVOD

: advertising-based video-on-demand
Even though each of these advertising methods contains the term "video-on-demand," they can also be used with live streams. Each of the three primary video monetization methods serves a different purpose and is valuable for various reasons.
Pay-Per-View (TVOD)
TVOD, which stands for "transactional video on demand", is more commonly known as pay-per-view. With TVOD, the viewer pays directly for the specific piece of content they want to watch. 
Pay-per-view is a great monetization method when viewers only want to access and pay for a specific piece of content. With pay-per-view, viewers generally have access to that content for a particular amount of time or an exact number of views. 
For example, a streaming service that rents video content uses pay-per-view monetization. Or a streaming service selling tickets to a live virtual concert uses a pay-per-view monetization method.
Subscriptions (SVOD)
SVOD formally stands for "subscription video on demand". With subscription-based monetization methods, viewers purchase access to your video library for a set amount of time. 
Subscriptions tend to be run either weekly, monthly, quarterly, or annually. It is common for subscription services to offer a free trial period to entice viewers to pay for longer access to your video library.
Advertisements (AVOD)
AVOD, formally known as "advertising-based video on demand", refers to ad-based monetization. With ad-based monetization, you will run ads before, during, or after your video. Sponsors pay for the advertisements. The sponsors, via their advertisements, are essentially paying for your content. 
This allows viewers to watch your content for free without paying you directly. Technically, the viewers pay you by watching the advertisements that run with your content. You can work with an established advertisement network or seek out independent advertising partnerships. You can use Ad-based video monetization on its own. Or you can use ad-based monetization together with pay-per-view or subscription-based monetization, creating a hybrid monetization model.
Pay-Per-View Video Streaming: How does PPV work?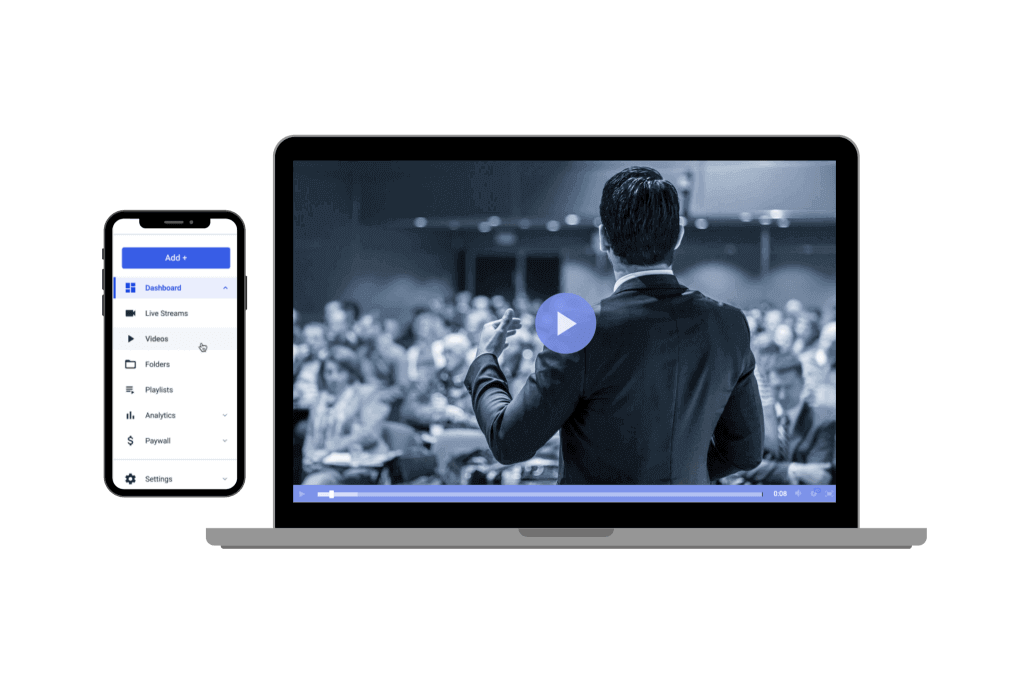 Pay-per-view video hosting allows you to make money by charging for access to a specific piece of content. There are multiple ways to charge for pay-per-view content. You can allow viewers to "rent" the content for a set number of hours. Or you can allow viewers to "buy" the content, giving them unlimited access to that content. 
With pay-per-view monetization, you don't have to run advertisements on your content. This can allow you great control over your viewer's experience. 
With pay-per-view monetization, you use an integrated paywall to collect payment. It is a very easy way to generate revenue. 
One of the biggest challenges with pay-per-view video hosting is having a well-developed video monetization strategy.
How to Price Pay-Per-View Video Content
There are many different ways to charge for pay-per-view video content hosting on a video platform. The type of content can also impact what you charge. 
Access to a Singular Video
If you are trying to charge for access to a specific video, we recommend starting low, charging around $2 for one to two days of access. You can also upsell, offering one-day access for $2 or unlimited access for $8. 
This allows you to make more money from people who don't want the pressure to access and use your content in a set amount of time. Many viewers find this more valuable. 
Access to a Special Event
If you are charging for a special one-time event, such as a concert, play, or conference that's normally held in person, you may want to base what you charge on the in-person event's price. 
Keep in mind that most people expect to pay less for virtual access. 
So if you have an in-person event that you are charging $50 for, you would want to charge $25-$30 for virtual access to the event. That way, you can earn while reducing the expense of hosting people while still providing value to your customers.
Access to Educational Content
Educational content has been gaining traction with the masses ever since Covid-19 shut down universities and schools around the globe. You can sell access to a series of video courses that teach a specific skill. For an educational event, you will price based on market value for that educational content. You will want to research what others charge for similar courses and price your course competitively. 
General Pricing Guidelines: 
When it comes to pricing and access to pay-per-view content, there are a few general guidelines you should follow. 
Make the access longer than the content:

If the content is two hours long, give people at least four hours to view the content. Access should be at least double the run time of the video. That way, if a viewer has technical issues viewing the content or gets interpreted and has to return to the content, the access is long enough to allow for that.  
Be clear about access time:

Second, you need to be clear about how long someone has access to the content. It should be easy for your viewers to know what they are purposing, when they can access it and how long that access will last. 
Compare pricing:

Third, you should research your competitors and make sure that your pricing is competitive and offers a higher value. 
You may have to adjust your pricing, and that is okay. You must find the right price point for your audience and your business. That can take some trial and error.
What is Pay-Per-View Video Hosting?
Pay-per-view video hosting enables you to charge users every time they access your content. This requires the support of a streaming platform with TVOD monetization capabilities. You will need to invest in a professional solution because free platforms like YouTube are not equipped with pay-per-view hosting tools.
Professional streaming solutions range from less than $100/month to more than $1000/month. Which you choose will depend on your budget, streaming goals, and the features you need to make those goals a reality.
Dacast is a great solution for broadcasters that need pay-per-view hosting support. Our platform makes it easy to set up TVOD monetization in a few simple clicks. We also support AVOD and SVOD, so you have the flexibility to modify your monetization strategy if you see fit.
Our platform is one of many professional video hosting tools available. We invite you to check out our streaming platform comparison post to see how Dacast stacks upagainst pay-per-view hosting solution like Livestream, Brightcove, IBM Cloud Video, and more.
Pay-Per-View Video Platform Considerations
As you compare software options for PPV hosting, there are several things that you should consider: the reliability of the software's CDN, if they support mobile streaming, how much the software will cost, the content management system used, scalability, privacy, and more. Of course, these considerations are in addition to the platform's support for PPV monetization.
Let's take a look at a little more context for some of the major considerations you'll need to take when selecting a pay-per-view video platform.
1. Content Delivery
The best pay-per-view video hosting platform enables the smooth, glitch-free delivery of your content to your global audience. We recommend choosing a streaming service that uses a high-quality, global content delivery network (CDN). 
A CDN uses a server network to distribute your content around a geographic region. Ideally, you'd want a CDN provider with servers around the world. 
Dacast, for example, partners with the top-tier live streaming CDNs, such as Limelight and Akamai, that are designed to increase the speed of your content delivery, reduce buffering and maximize streaming quality. When your viewers request content from a globally connected CDN, it automatically routes them to the closest available server.
2. Mobile Streaming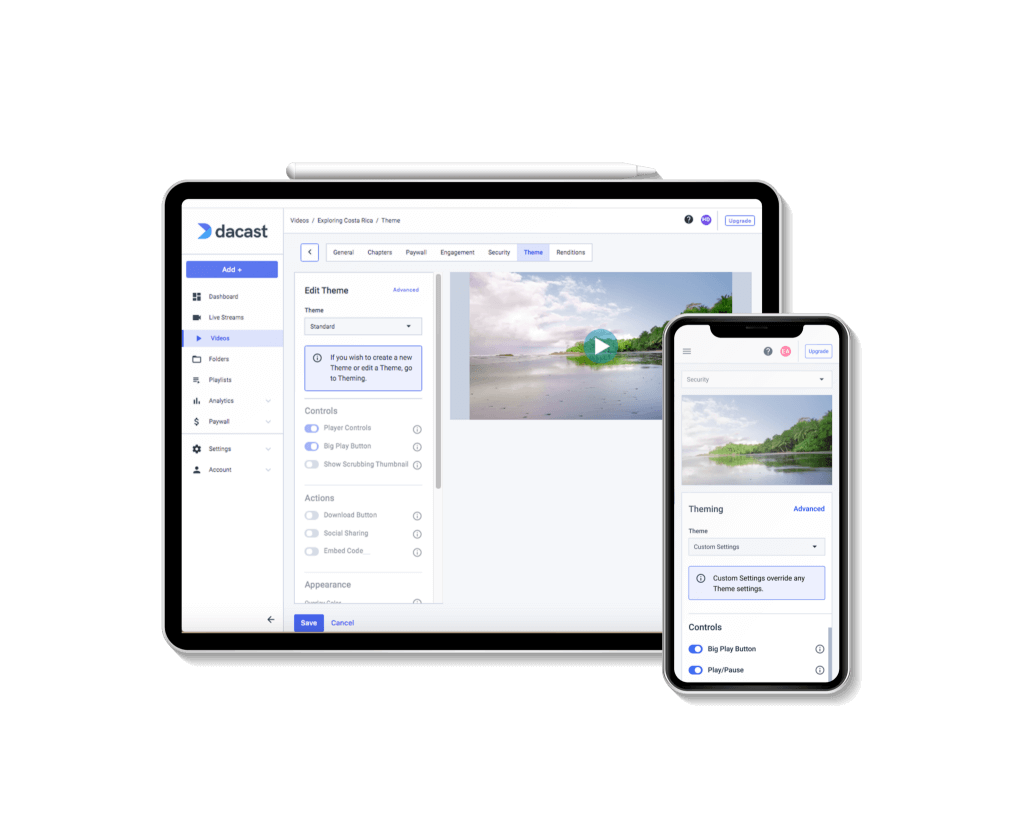 Another thing you want to consider is whether or not your video hosting software supports mobile streaming so that your viewers can access your content via multiple devices. These days, most customers prefer a platform where they can stream pay-per-view live on apps from their smartphones, tablets, smart TVs, and computers.
An all-device HTML5 video player with a fully integrated paywall will do the trick.
One pay-per-view service that masters all device access is HBO GO. It offers access via multiple consumer mobile platforms including Xbox 360, Smart TVs, Roku, tablets, and more. 
This diversity of access has contributed to its #1 ranking in domestic pay television service in the United States back in 2013 when this trend was just on the rise. 
Think of the audience you could reach and the money you could make if you utilized an all-device video player like the one offered by Dacast.
3. Fees
The cost of using a pay-per-view hosting provider will depend on the software you select. The software you select will depend on your internet latency, streaming needs, and the features you're looking for. Most services use tiered pricing to help you pay for only what you need, although there are other pricing models as well such as a system of purchasing and redeeming credits.
The next section will take a closer look at real pricing examples. It's important to consider what your actual need for PPV streaming services is right now, and how quickly you'd like to scale that need.
4. Video CMS
A PPV streaming service is only as good as its content management system. If it's not easy or intuitive to access your company's content, that becomes a barrier that limits your reach. A CMS should make it easy to organize, access, and manage to monetize your content as well.
5. Scalability 
In the beginning when a company is first learning how to set up pay-per-view video, they need a smaller price tier that lets them experiment and learn to manage their content. As they grow, they need a pay-per-view streaming platform that grows with them. You'll want to avoid working with a company that locks you into too much service that you need before you need it.
6. Free Trial Availability

Reading reviews, comparing features, and thinking about pricing simply doesn't prepare you to implement pay-per-view streaming services. The only thing that can show you whether you have the best pay-per-view video hosting for your organization is to actually try it out. That's why it's so critical to consider whether the PPV platform you consider has a free trial period.
Top Pay-Per-View Video Platform Options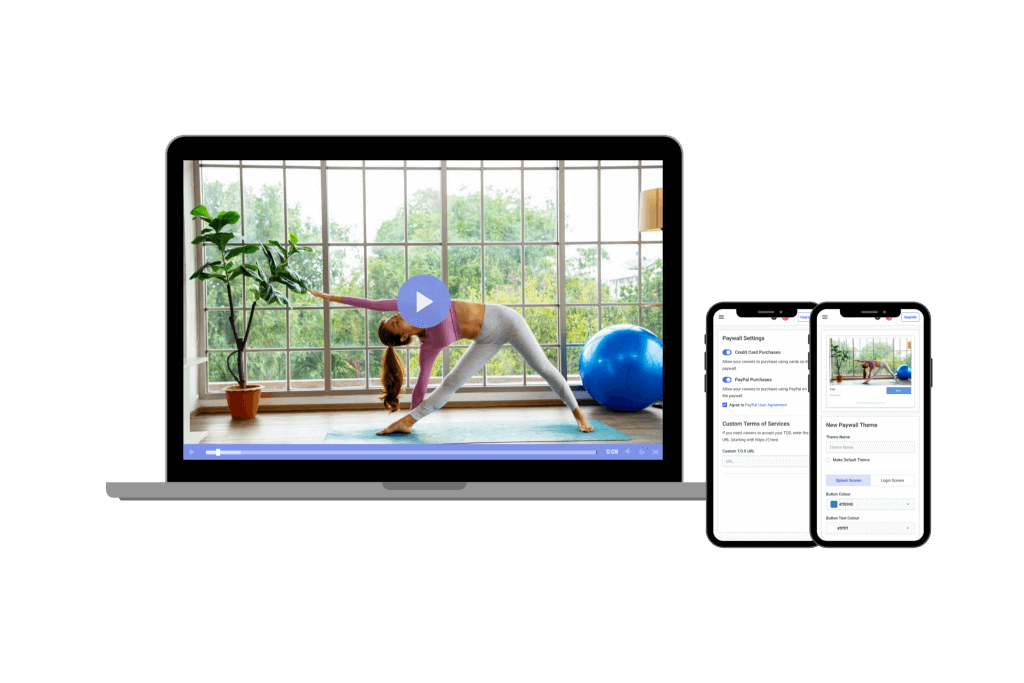 Finding an online video platform that supports pay-per-view video streaming can be difficult. Some professional platforms only support ad-based monetization or subscriptions. Other platforms lack monetization support altogether.
We've gone through some of the top video platforms on the market and pulled out the best pay-per-view hosting options. Let's take a look at some of the best pay-per-view platform options for hosting.
1. Dacast
Dacast is a great choice for broadcasters who are looking for a reliable pay-per-view platform. Our platform uses a secure paywall that is built into the video player. This way, both you and your viewers can rest assured that each transaction is safe.
In addition to pay-per-view, the Dacast platform supports ad-based and subscription-based advertising. This gives broadcasters some flexibility in their monetization options. They even have the option to use a hybrid model that uses multiple monetization options in one.
Some other useful monetization features from Dacast include promo codes, group pricing,  and currency conversation. This helps broadcasters to successfully reach a variety of audiences.
Aside from the monetization skills, Dacast is known for its powerful HTML5 video player that is secure, universal, customizable, and easy to embed in any website, app, or workflow. Dacast is partnered with powerful CDNs that you can trust to deliver your content all around the world, even video hosting in China with our ICP license.
Pricing:
Dacast offers four plans for professional broadcasters, including:
Starter: $39/month (billed annually); ideal for newcomers with 1,000 TB of bandwidth and 50 GB of storage per month
Event: $63/month (or $750/year); ideal for organizations that would rather not sign a contract, and want to purchase bandwidth separately to live stream an event; 6 TB of bandwidth upfront, 50 GB of storage; additional data and storage can be added as needed
Scale: $188/month (billed annually); includes 24 TB of bandwidth per year, with 1 TB of storage; add phone support, monetization paywall, an M3U8 online player for live channels, ad insertion, white-label video player, and video API access
Custom: Custom-priced; designed for enterprises with high-volume streaming needs
Dacast offers new users 14-days to test drive the software and figure out which service tier meets your needs.
2. Vimeo OTT
Vimeo is a longtime player in a video streaming game that was originally intended for consumer use. However, Vimeo acquired Livestream in 2017 and now offers premium plans under that branch of the business. 
Vimeo OTT is a Livestream offering that supports PPV monetization. This offering is designed for broadcasters that want to create OTT platforms, like Netflix, Hulu, or Disney+. 
This platform uses an HTML5 video player, so it is fully capable of all-device streaming. As for content delivery, Vimeo uses Akamai, CloudFront, and others for a multi-CDN approach.
Pricing:
Vimeo offers basic video hosting plans that are suitable for content creators and startups. These include:
Basic:

30-day free trial

Starters: $1 per subscriber, per month; Free access to your web app (TVOD and SVOD), web payments, Pay as you go, Bandwidth is included

Growth: Starting at $500/month, billed annually; $1/subscriber per month, unlimited live events, Live pay-per-view, Live DVR player, 1 Vimeo Premium license, Livestream analytics, 60TB bandwidth, 200 upload hours

Enterprise:

Custom-priced, custom-built plans for advanced streaming needs
All plans are billed annually. The Plus plan can be billed monthly at an increased rate of $12/month.
3. Kaltura
Kaltura is an open-source video content management platform that is totally customizable. This means that users can use APIs to integrate any program they like. That means that you can integrate programs that support pay-per-view and other monetization methods to build a pay-per-view video hosting platform of your own.
Kaltura is a great option for broadcasters with unique requirements since it has all of these customization options.
Like Dacast, Kaltura uses an all-device HTML5 video player. When it comes to content delivery, users can rely on Kaltura's many CDN partnerships.
Pricing:
Kaltura uses a credit-based pricing system. Broadcasters can buy credits to spend on bandwidth and access to features and integrations. Price per credit is reduced when you buy in bulk, but there is also the option to pay as you go.
4. Muvi
Muvi is an OTT video platform that supports pay-per-view streaming. The main functionality of Muvi is building scalable OTT streaming services, comparable to Hulu or Netflix, relatively easily. 
Muvi uses an HTML5 video player, which means that you can reach your viewers on any type of device, browser, or operating system.
Pricing:
Muvi prices its plans at the following five levels:
Standard plan: $399/month (+ $299/month per app + infra fees), allows 2000 concurrent viewers, 1TB each of bandwidth and storage, and API access.
Professional plan: at $1,499 per month (+ $499/month per app + infra fees) increases limits further and adds premium support.
Enterprise plan: $3,900 per month (+ $499/month per app + infra fees) adds a dedicated server with auto-scaling.
Ultimate plan: $8,900/month (+ $499/month per app + infra fees) doubles the bandwidth and storage of the enterprise plan and adds your own CDN and unlimited API calls.
Black plan: this is a custom solution and includes everything in the Ultimate plan plus premium services and project management.
5. Uscreen
Last but not least, Uscreen is another reliable pay-per-view video platform.  This platform is known for its wide range of monetization tools. In addition to pay-per-view, Uscreen supports video rentals, subscriptions, free trials, bundles, and lifetime access purchases.
Uscreen's video player syncs with Stripe, PayPal, and other well-known payment processing tools which makes its paywall reliable and trustworthy. Another interesting aspect of Uscreen's monetization is that it supports affiliate management to pay commissions to people who refer new viewers.
The HTML5 video player on Uscreen is capable of full high-definition streaming, which means that you can deliver high-quality video content to viewers on any device. 
As for content delivery, Uscreen uses Akamai primarily but gives users the option to bring their own CDN.
Pricing:
Uscreen has three different pricing plans for broadcasting, including:
Basic:  $79/month + $0.50/subscriber
Growth: $159/month + $0.50/subscriber
Uscreenplus: Customizable plans for enterprise users with greater needs
How to Create a Pay-Per-View Video Website
If none of the options above are clicking, you can always DIY your pay-per-view hosting solution by creating a pay-per-view website. Do keep in mind, though, that this approach is definitely more challenging than signing on a pay-per-view hosting provider that does the hard work for you.
Creating your website is now simpler and requires less of a financial commitment than it used to in the past. Launching your website might be the next step if you've out-gown popular hosting platforms and want to scale up.
We don't recommend setting up your pay-per-view video hosting website if you're less experienced and just starting out. In that case, selecting a pay-per-view video hosting platform will be the safer bet.
Here's a step-by-step guide on how you can create a pay-per-view website:
Choose the video provider: The first step is to select a video provider that matches your requirements. You should look for scalability options, the level of security they offer, and their charges.
Choose your domain name and website host: Your website's URL will contain your domain name. Make sure you select one that best represents your brand and vision. Next, research and select your website hosting service based on its speed and content management capabilities.
Set up WordPress for pay-per-view video hosting: This will include integrating your video player and website and adding any necessary plug-ins.
Set up your pay-per-view video hosting platform: The last step is the configuration of PPV settings. You can now select a currency, upload media, set a price, and fill in any other details for your viewers.
The work isn't done yet, you still have to fill in all the pages on your website and create media content. You can even schedule video streaming for later or release free video clips for viewers to catch their interest.
Conclusion
Pay-per-view video hosting is valuable for broadcasters who want to monetize their video content without distracting ads. It is generally quite easy to set up with the help of comprehensive PPV hosting software.
For further information on the process of setting up this monetization method, we recommend checking out our pay-per-view video walkthrough. Once you have a Dacast account, your customers can be streaming PPV in a matter of minutes.
To test Dacast's pay-per-view video hosting tools and other amazing PPV features, we encourage you to take advantage of our 14-day risk-free trial. All you have to do is sign up today. No credit card is required. This way, you can try out all the Dacast features to see if it's a good fit for you.
Subscribe Now
Stay up-to-date with the latest features and product releases. Cool tips, expert advice and more.