OTT Broadcasting – What Every Broadcaster Needs to Know in 2022
Over-the-top (OTT) technology is shifting the way broadcasters distribute content. By bypassing the constraints of traditional media networks, OTT platforms offer better access to the content audiences want and allow them to access it at their leisure. What is OTT broadcasting? It is all about providing viewers with the specific content they want. 
OTT broadcasting amplifies the power of media delivery by giving professional broadcasters the unprecedented ability to interact with live audiences. OTT video on demand also represents a unique opportunity to reach a growing user segment becoming less interested in traditional media outlets.
What is OTT media? It is media that is designed to fit the needs of a specific audience. 
In this post, we are going to cover everything you need to know about OTT broadcasting. We will start by defining OTT and describing what OTT broadcasting is used for. From there, we'll break down some different types of OTT broadcasting, including live streaming and VOD.
To give you some more insight on how broadcasters can use OTT broadcast technology, we will discuss what an OTT media delivery service is and compare a few of the top OTT media services on the market. To wrap things up, we will cover a few important OTT trends in 2022.
Table of Contents:
What is OTT Broadcasting?

Benefits of OTT Broadcasting

How Does Over-The-Top Broadcasting Work?

Types of OTT

Broadcasting

What

is an OTT Media Delivery Service?

Popular OTT Media Delivery Platforms

OTT Trends in

2022

Final Thoughts
What is OTT Broadcasting?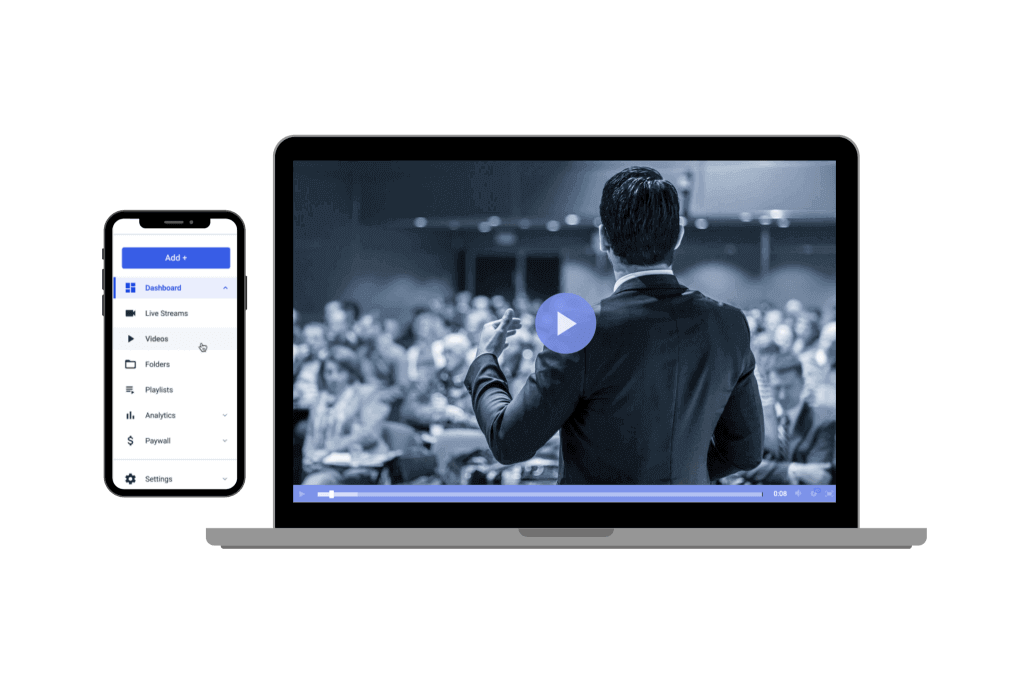 Before we dive into OTT broadcasting and the related technology, let's define "OTT." 
Over-the-top, or OTT for short, is a media distribution method that delivers content outside of the "closed" networks used by traditional cable and satellite TV providers. In essence, OTT broadcasters use the internet to go over the top of long-standing media gatekeepers. OTT media is about providing different content to more specific audiences. 
Rather than having to use proprietary networks or hardware, OTT content can be streamed to any compatible device with a stable internet connection. This represents a stark contrast to the expensive equipment required by traditional telecom vendors. 
OTT creates a technology-agnostic experience with content delivery available to a wide range of devices and operating systems. Almost any internet-enabled device capable of receiving and displaying a video signal can be used for OTT streaming. That means no matter what device someone is using, they can access your content with OTT delivery working behind the scenes.
Over-the-top platforms deliver video content directly over the web without the hassle, frustrations, or high costs associated with traditional broadcasting. With the market for OTT services expected to reach over $158 billion by 2024, now is the time to join in. OTT broadcasting isn't the future; it is happening right now. 
Just like with traditional broadcasting, the process of delivering content to viewers via OTT technology is referred to as "streaming." The terms OTT broadcasting and OTT streaming are referring to the same process. 
Benefits of OTT Broadcasting
Cable and satellite providers began offering video on demand (VOD) content in the mid-90s. However, content options were often limited and relatively expensive. The Internet's explosive growth and the development of OTT have unlocked entirely new paradigms for media delivery.
Where OTT broadcasting excels is in removing many of the limitations associated with conventional broadcasting. 
As we mentioned, with most telecom providers, users are locked into using the hardware and software supplied by the vendor. They are also limited to viewing programs based on the provider's predetermined schedule. The setup of OTT technology allows broadcasters to override all of that.
OTT broadcasting simplifies and improves the content delivery process. As long as viewers have a compatible device and a stable internet connection, they can access the content regardless of location, time of day, or network provider. This allows for a larger audience to access your content whenever they want using OTT media solutions.
As consumers continue to embrace over-the-top streaming, the lines between them and traditional broadcasting will eventually blur. Many users have already adopted a hybrid combination of the two with others utilizing OTT as their only source of programming and content.
The providers of OTT content include many of the major traditional broadcasters, as long as numerous independent OTT broadcasting providers. This allows for a deep array of OTT content to be produced. 
How Does Over-the-Top Broadcasting Work?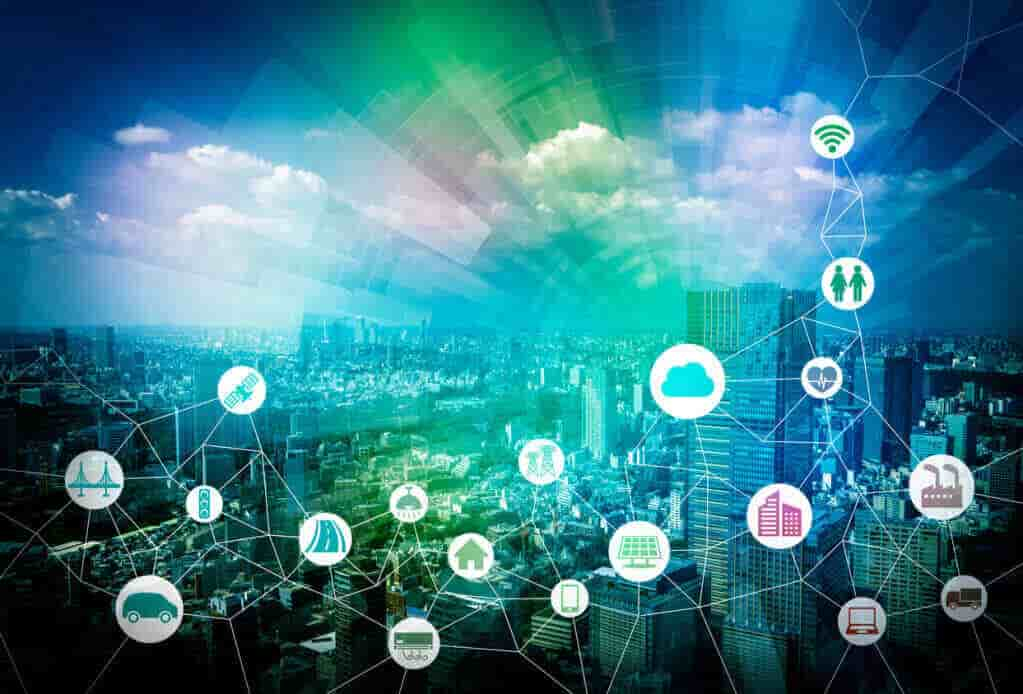 OTT broadcasting works with the support of dedicated online video platforms (OVPs). These specialized software options provide hosting for online video content.
OVPs manage the back-end communications required for content delivery to compatible user devices. OTT-compatible equipment includes everything from smart TVs and gaming consoles to mobile devices and personal computers.
Viewers can browse a digital content library and choose the files they want to view. That's when the OTT broadcasting process begins. The hosting server automatically selects the best content format for the requesting device based on the viewer's operating system, connection type, and available bandwidth.
Video files are very large. Thus, transferring them and providing a smooth playback experience for subscribers can be difficult. To overcome this, video files must be compressed and broken down into smaller chunks known as packets. 
Streaming files are sent to users a packet at a time. As these packets are received by the requesting device, streaming protocols reassemble the data into a single video file presented to the user. 
OTT broadcasting provides incredible flexibility and convenience to audiences. Videos can be delivered to thousands of different devices such as smart televisions, mobile devices, and streaming media boxes (like Apple TV, Google Chromecast, or Amazon Fire TV). 
Multi-bitrate and adaptive bitrate streaming are key since they make it possible for OVPs to include multiple versions of the same content but in different file sizes, compression types, and data formats. This is what allows broadcasters to transmit the best possible signal to users at all times. Working with an OVP is essential for setting up a successful OTT media platform.
How this works is complex algorithms measure individual network conditions and adjust streaming responses in real-time. These safeguards increase data reliability and reduce video buffering.  
Users with slower connections receive smaller file sizes with lower resolutions. Faster links get HD formats with bigger download requirements. This type of auto-link adjustment optimizes performance and ensures a quality user experience.
Finally, rather than using proprietary infrastructures, content is delivered over the Internet through associated content delivery networks (CDNs) and a multitude of telecom and mobile device networks, all that are interconnected to reach end-users.
There is a lot that goes on behind the scenes in order to all an OTT content to reach the end-user viewing the content on their device. 
Types of OTT Broadcasting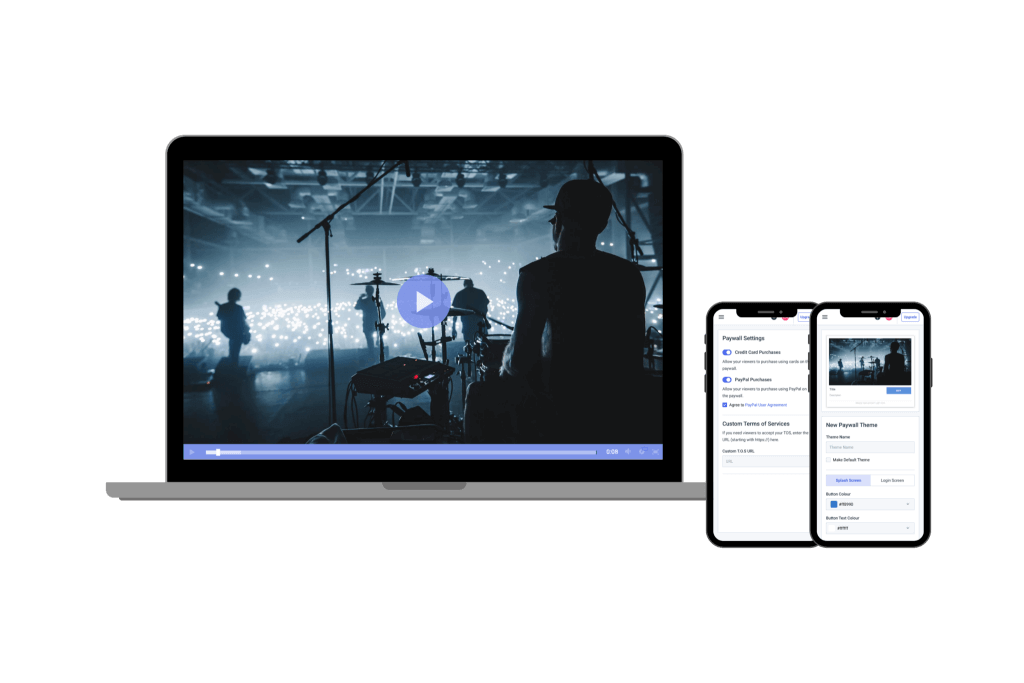 Now that you understand the mechanics of OTT broadcasting, let's take a look at the two main types of OTT streaming: live and on-demand. Both OTT live and OTT on-demand content are in high demand. 
1. Video on Demand
Video on demand, or VOD for short, is video content that viewers can access on their own time. VOD streaming offers a stark contrast to traditional TV programming in that audiences can watch content whenever and wherever they choose as opposed to viewing on the broadcaster's schedule only. 
It is worth mentioning that video on demand is for pre-recorded content only. There are no live streams or real-time performances involved. That generally means that the content has a more scripted and planned feeling to it compared to live streams, although that is not a rule.
The main benefit of video on demand is the flexibility and convenience it provides to viewers. VOD is also simpler from a broadcasting standpoint as there are less equipment and overhead involved. Even smartphones can be used to create quality videos that can be easily uploaded to a hosting provider for distribution.
VOD can make up the majority of your OTT content if you want it to. 
2. Live Streaming
Live streaming is the act of broadcasting events as they play out in real-time. It is a unique way to create interactive experiences with audiences in ways that on-demand content simply cannot. 
Broadcasting events in real-time makes viewers engage more because it helps them be part of something as it unfolds. Using chat and other tools, they can also ask questions and provide feedback to hosts. OTT content that includes live streaming is likely to create a more engaged and dedicated audience than one that relies only on VOD content.
Research shows that quality is the most important aspect of live streaming, so choosing the right streaming setup is essential. 
Live streaming is more difficult to implement as it requires specialized hardware and software to create a high-quality online video. You need an OVP that supports live streaming. However, viewers find live streaming highly engaging, making it worth investing in this type of OTT content. 
Live stream data must be broadcast in smaller chunks than with VOD, which results in more frequent transmissions and additional overhead to manage the process. This is because the complexity of reassembling larger data blocks efficiently induces buffering and degrades the overall streaming experience.
This makes an encoder essential for this process.
Live streaming requires extra steps to broadcast compared to VOD content; however, it also increases view engagement, which is essential when starting on OTT media platform. 
What Is the Difference Between VOD and Live Streaming?
The difference between VOD and live streaming is that VOD is pre-recorded and can be accessed on-demand, and live streams are recorded and streamed in real-time.
Video on demand is what most audiences are accustomed to with service providers like Netflix, Amazon Prime, or Hulu. Users choose from pre-recorded shows, movies, or content through apps or web browsers and gain immediate access. They can pause, rewind, or fast-forward content. VOD is perfect for a large number of entertainment and e-learning formats.  
Video on demand is also a great option when events are not time-sensitive and can be delayed in the publishing schedule. This leeway is advantageous as it gives broadcasters time to review and edit their videos before releasing them to users. This helps provide the best possible product for their audience. VOD usually represent high-quality content as they undergo an editing process before being released on OTT broadcast media platforms.
Another benefit of VOD is that it doesn't require encoders, stream settings, or the additional bandwidth required for live broadcasting. It is simpler from a technical standpoint.
The value of live streaming over VOD is that it is useful for hosting virtual events that benefit from real-time participation from the audience. In general, live video content is more engaging since it helps the viewers to feel more involved.
Live streaming is popular for sporting events, church services, webinars, conferences, and product demos. Live streaming is great for creating the feeling of an emotional connection with the viewer. 
What is an OTT Media Delivery Service?
As we mentioned, online video platforms are essential OTT broadcasting providers. The products that these platforms sell are OTT media delivery services. 
An OTT media service refers to any provider that offers professional content hosting and delivery as a standalone product. Although frequently applied to online video platforms, OTT media services can also refer to audio, messaging services, or internet-based phone solutions.
OTT media services provide greater flexibility than traditional communication outlets. With cable and satellite broadcasters, consumers are forced to purchase channel packages they do not need or want. Subscribers are also locked into long-term contracts with stiff penalties for early termination or cancelations.
With OTT, viewers choose the specific content they want to receive – at a fraction of the cost of using mainstream providers. Over-the-top media services bypass traditional gatekeepers and make watching video content simple and reliable.
Popular OTT Media Delivery Platforms
When it comes to choosing an OTT video delivery provider, there are many platforms to choose from. Although each provider offers different options, there are a few core elements you will want to consider for each. 
Price is important, but you should also look at other factors such as:
That said, let's take a look at a few of the top platforms in the OTT media delivery space. That way, you can choose the best platform to start your own OTT broadcasting company. 
1. Dacast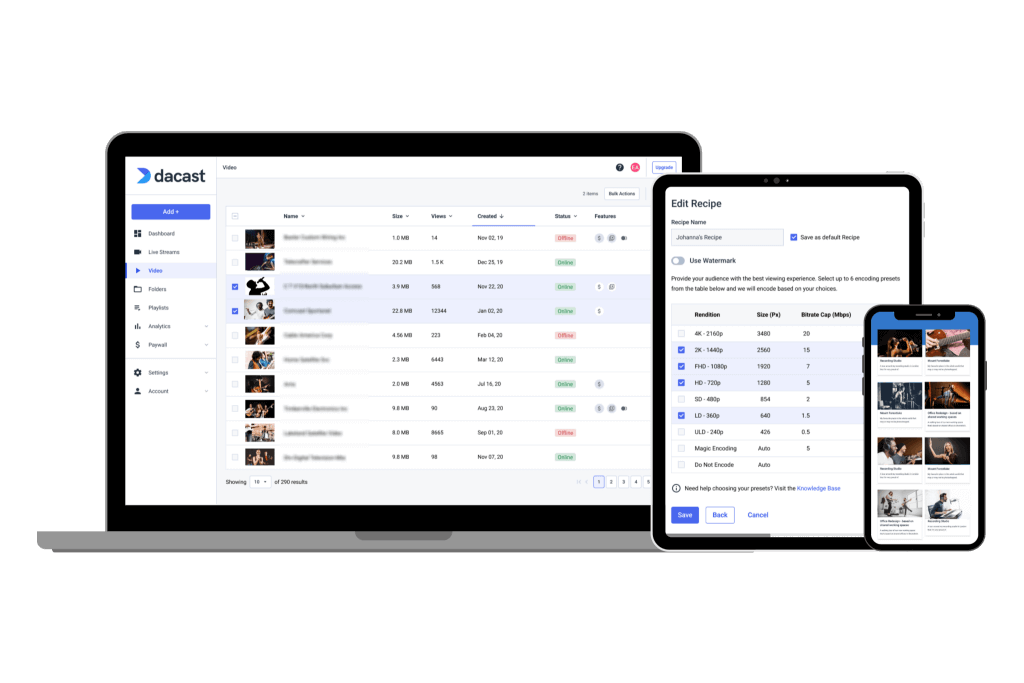 The Dacast streaming platform offers enterprise-grade features at an affordable price. Our OTT solution provides support for hosting both live streaming and video on demand for broadcasters around the world. 
Dacast partners with several top-tier CDNs for media distribution and supports both native and external monetization solutions. Their video API access makes the solution customizable with a plethora of integrations.
With 24/7 support, white-label branding, and dozens of five-star reviews, our OTT platform is ranked as one of the best in the business.
Pros:
Cons:
A large collection of features requires a bit of a learning curve
Upload Guidelines and Specs:
Minimum dimension: None (but 240p is the recommended minimum)

Maximum dimension: 1080p or 4K (depends on the user's hardware and internet)

Aspect ratio

: No restrictions (but 16:9 is the default)

Max file size: None

Max video length: None

Total file storage: 10-1000GB (depends on plan)

Compatible video formats: MP4 (preferred), MOV, M4V, M2V, AVI, MPG, FLV, WMV, MKV, WEBM, OGV, MXF, ASF, VOB, MTS
Pricing:
Dacast's live streaming pricing plans begin with the Starter Plan, and include the following:
Starter Plan: $39/month (includes 1,000 GB of bandwidth & 50 GB of storage)
Event Plan: $63/month (includes 6 TB of bandwidth upfront and 50 GB of storage)
Scale Plan: $188/month (includes 24 TB of bandwidth per year and 1 TB of storage)
Dacast also has Custom plans for greater bandwidth needs.
Dacast has a video API that you can use to create a custom OTT broadcasting platform, with built-in paywall integration that supports world-wide currencies, and 24/7 support you can count on. Dacast is a strong contender for one of the best broadcast media platform hosting solutions.  
2. JW Player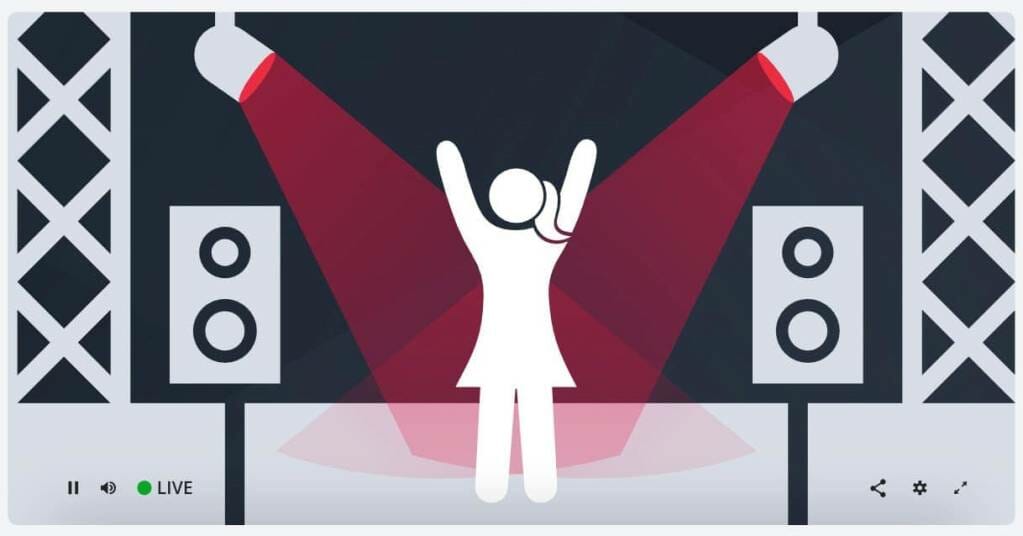 Known for their historic video player, JW Player recently moved into the live streaming market as well. JW Player includes advertising monetization features but does not support pay-per-view or subscription services.
They offer API access for a customized broadcasting experience. Content is delivered via their internal network.
Pros: 
Powerful video player

All-device HTML5 video player

Clean user-interface 

API access for customization 
Cons:
Limited monetization support (AVOD only)

Limited tech support

No China delivery
Upload Guidelines and Specs:
Minimum dimension: 360p (640 x 360)

Maximum dimension: 1080p (1920 x 1080)

Aspect ratio: 16:9, 4:3, 2.39:1

Max file size: 25GB

Max video length: Not available

Total file storage: 25GB to 500GB (depends on the plan)

Compatible video formats: MP4, WMV, AVI, MOV, 3GP, FLV
Pricing:
With JW Player, live streaming support begins at a free trial level. There are 3 pricing plan tiers:
30-day free trial subscription which includes full API and SDK access, and a non-commercial license, with 25 GB hosting bandwidth and 75 GB streaming.

Starter pricing plan for $10 per month, which includes an HTML5 Video Player and video gallery, with 150 GB hosting bandwidth and 500 GB streaming (50,000 plays) per month billed annually.

Enterprise plans are available with

custom pricing

for high-volume storage and streaming. Enterprise plans support live streaming, while lower-tier plans only support VOD.
If you want to create an OTT broadcasting platform that relies on monetization via advertisements, JW Player could be the right media hosting solution for you. 
3. Wowza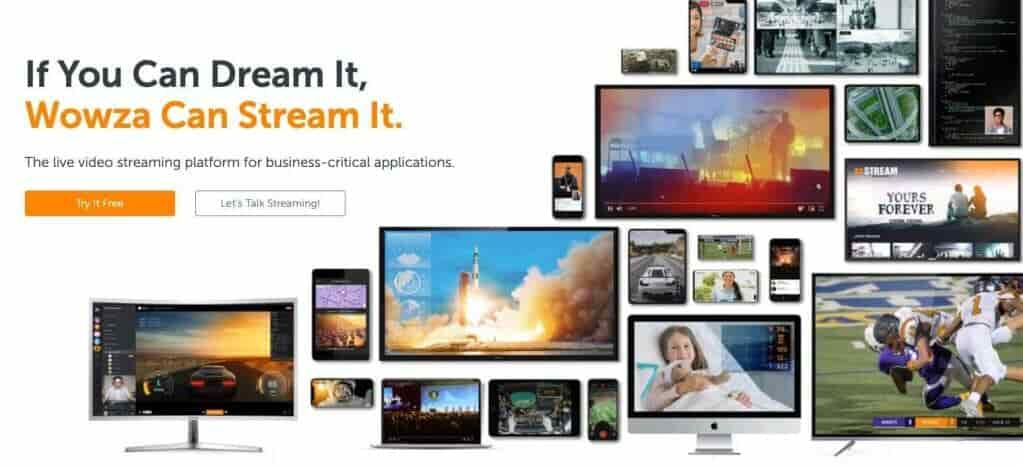 Wowza is an OTT broadcasting platform that has been around since 2007. It uses the powerful Akamai CDN network for content delivery. API access is included for a customizable OTT streaming experience.
The only major downside of Wowza is that it does not offer any native monetization support. Third-party integrations are required if this is your goal.
Pros: 
Brand control and customization

Auto-archiving for on-demand playback

Easy to use video content management

Ultra HD and 4K streaming

Reliable video security 

Integrations through API for more features
Cons:
No native support for simulcasting 

Does not support video monetization 

Unreliable analytics and reporting
Upload Guidelines and Specs:
Minimum dimension: 240p (320 x 240)

Maximum dimension: 4K (3840 x 2160) 

Aspect ratio: 16:9, 4:3

Max file size: Not available

Max video length: Not available

Total file storage: 250 GB (depends on the plan)

Compatible video formats: MP4, FLV, MP3, SMIL, AMLST, ID3, NGRP
Pricing:
Wowza offers several different packages. These are split into two main tiers: Streaming Cloud and Streaming Engine. 
The Wowza Streaming Cloud offers three distinct pricing plans and services. Live Event Pricing, monthly plans include:
Basic: $99/month; includes 20 hours of live streaming and 1000 viewing hours based on video resolution of 720p
One Month Event: $149 one-time purchase; includes 20 hours of live streaming and 1000 viewing hours also at 720p
Plus: $499/month; includes 150 hours of live streaming and 7000 viewing hours based on video resolution of 720p
Pay as you go: $29/month; three month minimum with additional fees for usage
All of these Live Event plans include full brand control, multi-bitrate streaming, and HD and UHD streaming. 
The Wowza Streaming Engine has its own pricing plans. These professional-grade streaming plans are billed annually and include:
Basic: $

175/month + $195/month for each additional 

One Month Event: $

295/month + $295/month for each additional instance

Enterprise: Please contact Wowza directly for access to their custom-tailored high volume enterprise solutions
Wowza offers professional broadcast support for your OTT content; however, you will need to use a third-party integration to monetize your content if you use Wowza for your video hosting needs. 
4. Livestream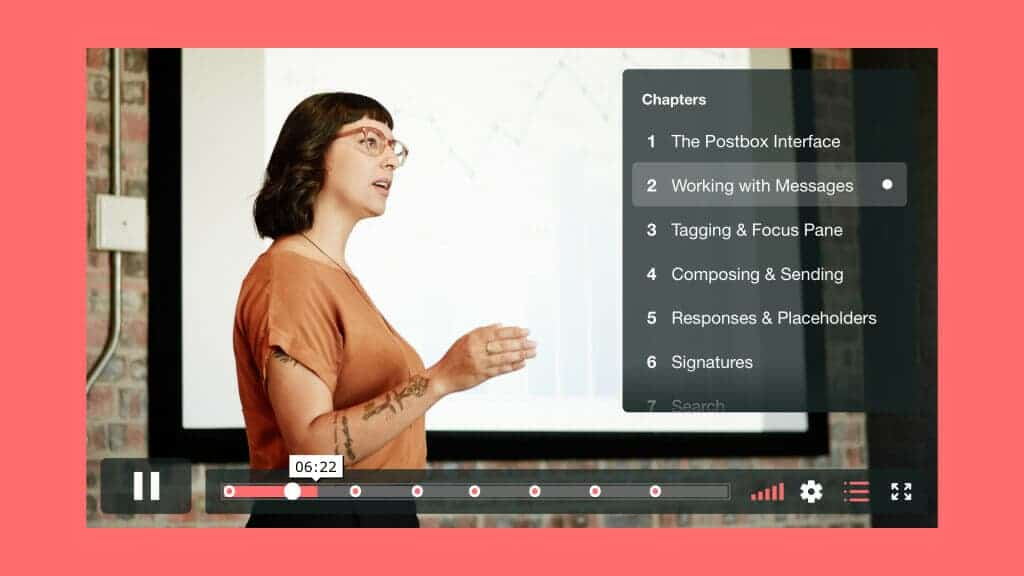 Originally a video hosting provider, Vimeo bought Livestream in 2017 to expand its capabilities. Vimeo live hosts its own internal servers for content delivery and offers several different OTT monetization options.
Livestream offers a dedicated solution for OTT video distribution called Vimeo OTT.
Pros:
Global content delivery

Brand customization

Tools for promoting interaction and engagement

Monetization support
Cons:
Some features are too complex for beginners
Upload Guidelines and Specs:
Recommended dimension: 720p (1280 x 720)

Aspect ratio: 16:9, 4:3

Max file size: 3GB

Max video length: Information not available 

Total file storage: Information not available

Compatible video formats: MP4 (recommended)
Pricing:
Vimeo OTT uses a bit of a complex pricing structure. There are three base OTT plans:
Starter – $1/subscriber per month

Growth – $500+/month

Enterprise – Please contact Vimeo for Enterprise pricing.
The Vimeo OTT page mentions a pay-as-you-go structure but does not provide information about additional costs and fees. Please contact them directly for more information.
Vimeo is a great OTT hosting platform to use for your OTT content if you have an advanced team of video professionals producing your content. 
5. IBM Video Streaming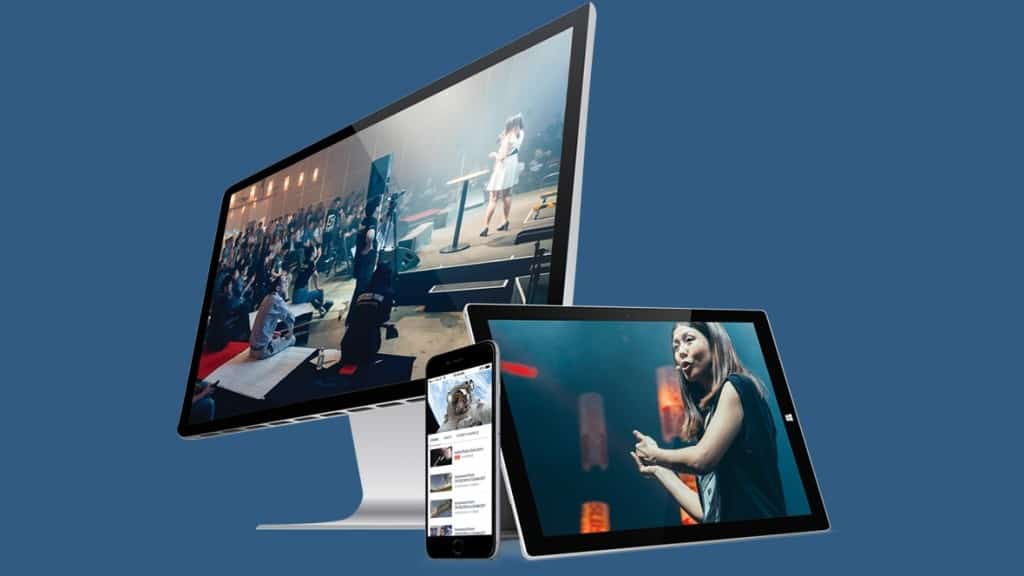 A trusted name in technology, IBM Video Streaming is based on the UStream platform that IBM acquired a few years ago. Content is distributed via their proprietary CDN, and the platform supports several monetization methods, including advertising. 
IBM Video Streaming does provide API access, but again, only on their most expensive packages. 
Pros:
Built for enterprise use

Accessible customer support

Global video delivery 

Supports streaming to Hong Kong
Cons:
Streaming at high resolution costs extra

Limited tools for accessibility (such as closed captioning)
Upload Guidelines and Specs:
Minimum dimension: 480p (480 x 270)

Maximum dimension:  4K (3840 x 2160)

Aspect ratio: No published aspect ratio

Max file size: 4 GB

Max video length: No published limits

Total file storage: 1TB – 5TB (depends on plan)

Compatible video formats: MKV, MP4, MOV, FLV, AVI, WMV, MPEG2, H264, H263, MPEG4, VP6, VP8, THEORA, WMV, MP3, AAC-LC, NELLYMOSER, PCM, SPEEX, VORBIS, WMA
Pricing:
IBM pricing plans range from $99 to $999 per month and include the following:
Silver – $99/month

Gold – $499/month

Platinum – $999/month

Custom – Please contact IBM Cloud video for custom plan pricing.
IBM Video Streaming is a solid and trusted content delivery platform for your OTT media content. They can support larger videos and help them reach a global audience. 
6. SproutVideo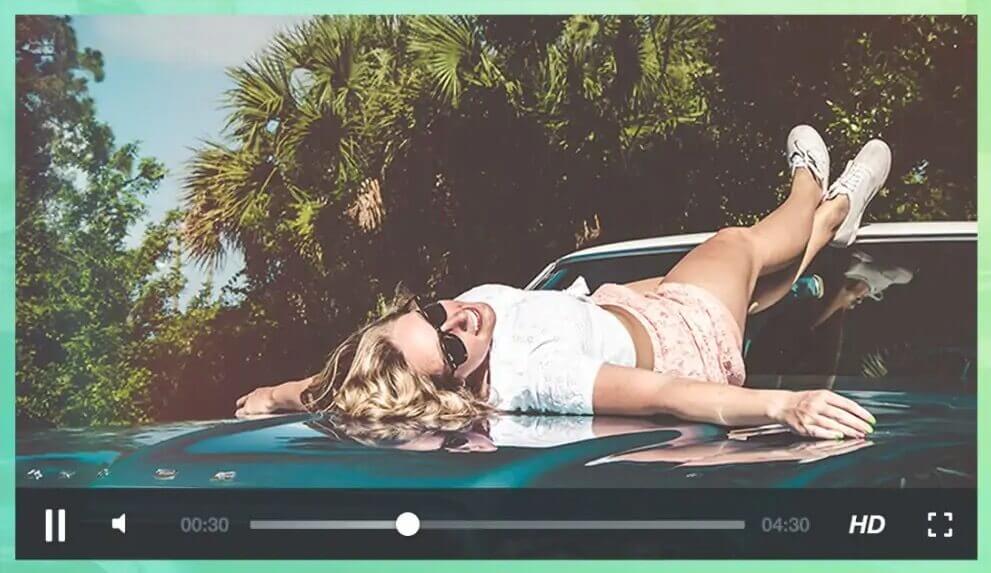 SproutVideo is an OTT video distribution platform that supports both live and on-demand video hosting. This software is designed specifically for business and enterprise broadcasting since it is equipped with special tools for marketing.
What's nice about SproutVideo is that it offers a variety of plans in a wide range of price points. This makes it a great option for OTT broadcasters that are starting small and want room to grow.
Pros:
Live streaming and VOD hosting

OTT streaming 

Access to powerful marketing tools

Customizable viewer-facing video galleries
Cons:
Limitations on tech support 

Limitations on security
Upload Guidelines and Specs:
Minimum dimension: None

Maximum dimension: None

Supported aspect ratios: Any

Maximum file size: Up to 100 GB

Maximum video length: Unlimited

Total file storage: 500 GB 

Accepted video formats: MP4, MOV, AVI, WMV, FLV, MKV, 3GPP
Pricing:
SproutVideo offers four pricing plans that are suitable for many different budgets. These plans include:
Seed: $24.99/month; no viewer accounts + 3 team accounts

Sprout: $59.99/month; 125 viewer accounts + 5 team accounts

Tree: $199.99/month; 500 viewer accounts + 15 team accounts

Forrest: $499.99/month; unlimited viewer accounts + 50 team accounts
SproutVideo is aimed more at business looking for an OTT media hosting solution with a distinct marketing focus. 
7. Wistia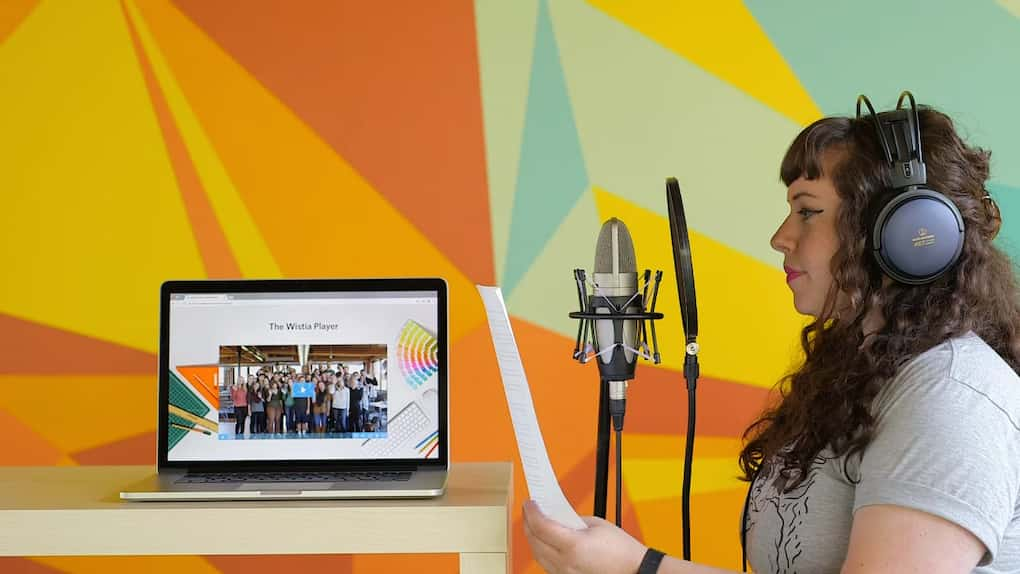 Wistia is another OTT broadcasting platform that is geared towards marketers. It is known as a reliable solution since it has been serving the online streaming industry for over a decade.
This platform offers a variety of tools for video marketing including video SEO, engagement stimulations, CRM integrations, and video analytics.
Wistia offers free OTT streaming plans which are great for broadcasters that are still learning the ropes.
Pros:
OTT streaming

Reliable customer service

Powerful video player
Cons:
Limitations on brand customization

No China delivery 
Upload Guidelines and Specs:
Minimum dimensions: None

Maximum dimensions: Maximum of 4K (3840 x 2160)

Supported aspect ratios: Any

Maximum file size: 8 GB

Maximum video length: 2 hours

Total file storage: 3 videos with the Free plan, 10 videos with the Pro plan, 100 videos with the Advanced plan; $0.25 per month for every extra video

Accepted video formats: MP4 (recommended format), .MOV, .AVI, .WMV, .FLV, .MKV, 3GPP
Pricing:
Wistia has three pricing plan tiers. These include:
Free: No cost to use; up to 250 subscribers and 3 videos; cannot remove Wistia's branding from the video player

Pro: $99/month; 10 free videos with additional videos for $0.25/each; white-label video player

Advanced: custom pricing; 100 free videos with additional videos for $0.25/each; multiple channels, 250+ subscribers
Wistia will provide you with custom analytics and SEO analysis that you can use to connect with your audience. They are a good OTT delivery solution. 
8. Brightcove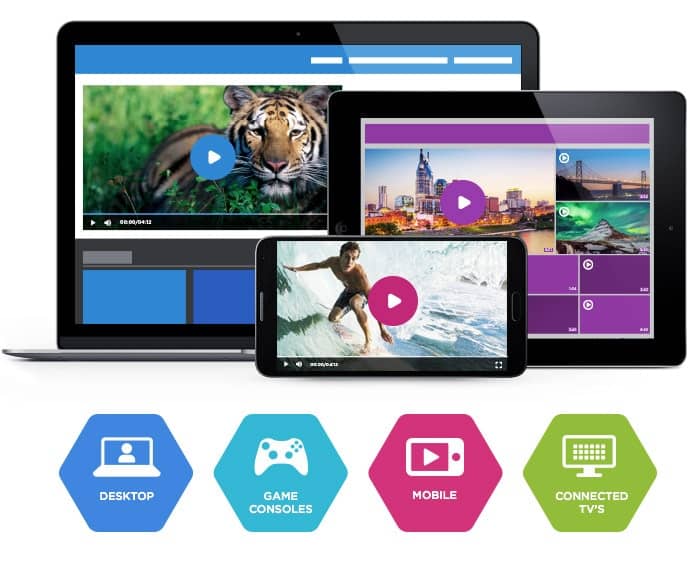 If you are looking for a more advanced OTT broadcasting solution, Brightcove could be the answer for you.
Brightcove is an online video platform that includes all of the tools that businesses need to host and manage their online video content. While enterprise video hosting is Brightcove's main focus, broadcasters can build custom packages that include tools for building an OTT streaming service.
Pros:
OTT streaming

Large collection of professional tools

Reliable content delivery

High-quality streaming 

Customizable streaming experience via API access 

Advanced video security 
Cons:
Prices are high

Tech support is very basic

Does not support China video delivery
Upload Guidelines and Specs:
Minimum dimension: Determined by user

Maximum dimension: Determined by user 

Aspect ratio: No restrictions (since Brightcove uses a responsive player)

Max file size: No limits on files size

Max video length: No published limits

Total file storage: Varies by plan

Compatible video formats: MP4, MOV, FLV, AVI, WMV, MKV, 3GPP
Pricing:
Brightcove offers several pricing plan levels to meet each user's unique OTT broadcasting goals. These include the following:
Starter: includes 50 to 200 videos, up to 100,000 plays, and 2-5 users

Professional: unlimited videos, 100,000+ plays, and no overages plays, with +10 users

Enterprise: unlimited videos, 100,000+ plays, and no overages plays, with 10+ users, unlimited upload, and analytics-only users
Brightcove doesn't publish its pricing plans online anymore. Interested users must contact them directly to discuss specific business needs. Brightcover is an OTT delivery platform that is gears towards higher-budget OTT broadcasters. 
9. Kaltura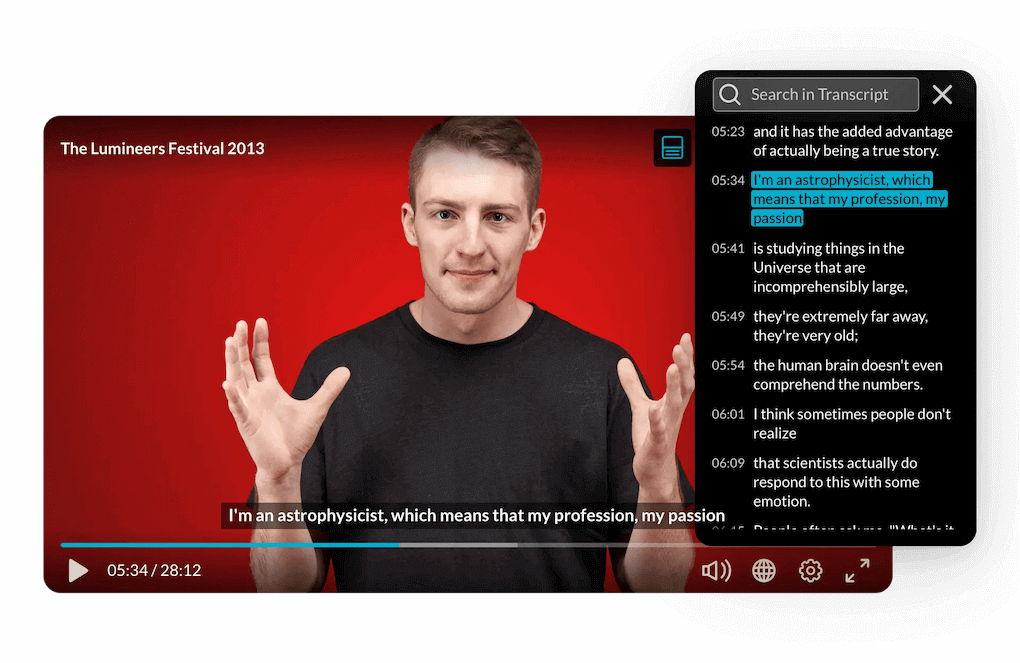 Broadcasters that are looking for a totally customizable OTT streaming experience should consider Kaltura.
Kaltura is an open-source option that offers a unique streaming setup. It is perfect for large institutions, such as enterprises and universities, that have sizable libraries of video content to host and share.
With its open-source foundation, users can integrate just about any feature or functionality. 
Pros:
Customizable OTT streaming

High-quality streaming

Large collection of available features 

Secure streaming
Suitable for advanced OTT broadcasting
Cons:
Complex pricing

The platform can be tricky to use

Slow customer support
Upload Guidelines and Specs:
Minimum dimension: 180p (320 x 180)

Maximum dimension: 1080p (1920x 1080)

Aspect ratio: 16:9, 4:3

Max file size: 2GB

Max video length: Not available

Total file storage: 10GB to Unlimited (depends on the plan)

Compatible video formats: MOV, MP4
Pricing:
Kaltura's pricing is unique. Users can purchase credits to spend on usage and access to features. Please contact their sales team for a custom quote.
Kaltura's open-source nature makes it a great OTT delivery platform for OTT content providers who want an extremely custom solution. 
10. Vidyard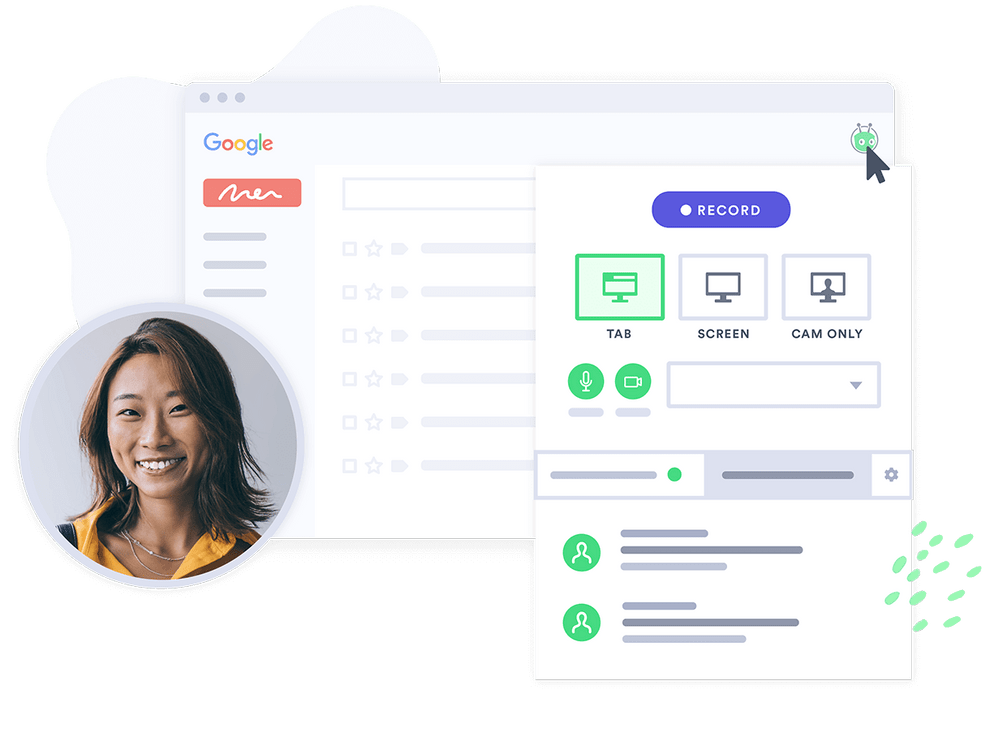 Vidyard is another great OVP with powerful OTT broadcast technology. This platform offers video streaming tools for businesses of any size. In fact, Vidyard has a wide range of pricing plans, starting at free and going up to $1250/month.
Vidyard is specifically designed for marketing and sales since it has dedicated tools for turning viewers into customers. 
Pros:
OTT streaming for business

Business-focused tools

Secure streaming 
Insightful video analytics

Reliable customers support
Cons:
Inconsistent reviews from past users

No China video delivery
Upload Guidelines and Specs:
Minimum dimension: 360p (480 x 360)

Maximum dimension: 4K (3840 x 2160)

Aspect ratio: 16:9, 4:3

Max file size: 5GB to 16GB (depends on the plan)

Max video length: 1 hour (live stream)

Total file storage: Not available

Compatible video formats: WEBM, MP4, MKV, MOV
Pricing:
Vidyard has pricing plans for all budgets. They come in four tiers, split amongst two categories: Individual and Teams. All plans are billed annually and are broken down as follows:
Individual 

Free – $0/month

Pro – $15/month
Teams

Teams – $300/month

Business – $1250/month
Check out Vidyard's pricing plans for more information.
Vidyard is a great OTT delivery system for businesses of all sizes that are looking for insightful customer analytics. 
OTT Trends in 2022 
Before we wrap things up, let's take a look at some interesting OTT trends in 2022. Not only is the industry booming, but the industry is becoming more creative and innovative.
Here are a few of the things that are influencing the OTT industry this year:
5G is changing the way that people approach OTT content

Immersive streaming is making its way into sales, marketing, and more

Media giants (including Disney, HBO, and NBC) have entered the scene and have begun to take over

Tight competition and subscription fatigue are calling for more innovation and creativity in OTT broadcasting and monetization

Growth inspired by COVID-19 proves sustainable 

CTV continues to become more popular

Content fragmentation becomes more important 

Broadcasters are prioritizing user experience to stand out from the competition

Smart TVs are becoming more popular streaming devices than smartphones, laptops, and tablets
To learn more about these and other OTT trends, please check out our dedicated OTT trends post.
Final Thoughts
With a focus on speed, convenience, and value, OTT is the future of media delivery, especially video broadcasting. OTT broadcast technology helps organizations deliver the content audiences want without traditional broadcasting scheduling, equipment, or network constraints.
In general, OTT broadcasting provides a more convenient viewing experience since all viewers need is a stable internet connection and a compatible streaming device. Since most broadcasters aim to enhance and optimize their viewers' experience, it's a win-win.
Whether it's live streaming for real-time events or hosting VOD content to catalog or archive recorded performances, OTT broadcasting is simply the best vehicle for modern content delivery.
Are you looking to use OTT broadcasting for your brand? Dacast makes getting started easy. We offer a 14-day free trial to test our online video platform for yourself. There is no obligation and you can cancel at any time. No credit card is required to get started.
If you found this article helpful, or have additional thoughts or feedback, reach out in the comment section below. We love hearing from our readers! For additional exclusive offers and regular live streaming tips, consider joining our LinkedIn group.
Thanks for reading and, as always, good luck with your broadcasts!