What's the best camera choice for live streaming? As you might imagine, that's not a simple question. Live streaming cameras vary widely in quality, price, and the details of how they connect to your system.
Some are more flexible than others, some are more user-friendly than others, some provide a higher quality image than others. As with so many other questions involved in how to broadcast live, much depends on exactly what you want to do.
Do you want to simply stream live video on your website via your online video platform? Have plans to do professional live streaming in a business context? Do you have other live streaming goals and needs in mind? These will also influence your choices.
Let's dive into the topic of live streaming cameras.
Table of contents
Types of cameras used in live streaming
Webcams
IP cameras
Professional-quality cameras
Our recommendations
Conclusion
Types of cameras used in live streaming
There are several different kinds of cameras for live streaming. Let's start with the most basic and inexpensive streaming solutions, and then work our way up.
Webcams
Smartphones
IP Cameras
Professional-Quality Cameras
Webcams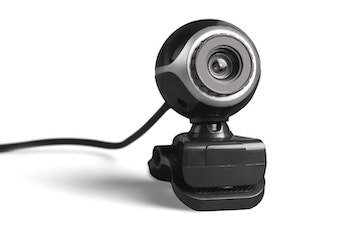 Webcams are cameras that are connected to a computer. These days, they're built into most computers. However, some are external and connect to the computer via USB. A webcam doesn't have its own internet connection, so a computer is required to connect to a network and process the image into a format suitable for streaming.
The advantages of webcams are simplicity of use and price. You can find a decent-quality webcam for around $100. The controls are simple, the direct connection to the computer means you don't have to worry about power sources, and no capture card is required. Using a webcam for live streaming is very straightforward.
On the other hand, webcams don't generally deliver high image quality. Most come with built-in microphones, but the sound quality is not high. You'll need a separate mic and sound channel if you want professional sound quality. Most webcams are very simple in their controls, which is as much a liability as an asset. Typically, they lack zoom capability, variable focus, and any ability to customize the image.
Whether any of that is important depends on what you are trying to do. If you just need to embed video of a conference or lecture to provide information to viewers, webcams might provide all the power you need. For serious professional-quality video, though, you should consider other options.
If you need a recommendation, the Logitech C922x Pro Stream is generally regarded as one of the best webcams of 2019. It costs less than $75.
Smartphones
Today, smartphones are ubiquitous. With built-in video cameras, microphones, internet connections, and the ability to run apps, a smartphone can be an all-in-one device for live streaming.
It's possible to get a decent stream quality from a smartphone. That's especially true of those phones with the highest image quality.
However, many of the same drawbacks experienced with webcams apply here. Sound quality is generally poor. The camera is not portable. Image quality suffers in low-light conditions. Zoom and other image customizations are generally absent or basic.
In general, a smartphone is fine for basic consumer-level streaming. But professionals will be better off with an IP camera or dedicated professional-grade camera.
If you need a smartphone recommendation, most reviews put the Google Pixel 3 as the best camera phone on the market (as of spring 2019).
IP Cameras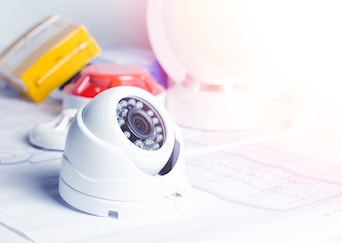 An IP camera has an IP address and its own ability to link to the Internet separately from a computer.
Using IP cameras is a little more complicated than using webcams. But they are much more versatile.
Because they connect via Ethernet, they can be positioned anywhere you need them. Because many IP cameras include power over ethernet (PoE), you can run them 24/7. This combination makes them ideal for many uses. IP cameras are common for 24/7 streaming, permanent installation in churches or conference rooms, etc.
Using IP cameras with streaming video is a little more complicated than using webcams. It requires an encoder because the protocol most IP cameras use isn't suitable for live streaming. You're also looking at a pricier camera. Costs vary quite a bit, but a good IP camera is likely to run at least $800.
An IP camera is a good choice of live streaming camera if you need a lot of flexibility in where the camera is located relative to the computer processing the image. Provided the camera has access to the Internet over a wireless network, it can be located literally anywhere.
If you need an IP camera recommendation, I recommend checking out the PTZOptics product line.
Professional-Quality Cameras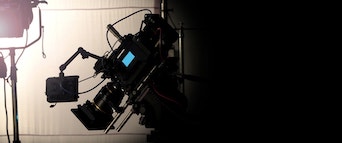 The best quality option for live streaming cameras is to use a professional-quality HDMI or SDI camera.
Professional cameras offer more flexibility and power than any of the cheaper options. You can change and upgrade lenses, use zoom, and wide-angle focus, and do all of the things you'd expect from a professional camera.
This includes the ability to use external monitors, hot-swap storage and batteries, use filters, and so on. Another major advantage is support for XLR audio (the professional standard).
While not as portable as a webcam or IP camera, they're fairly easy to transport and use on-site. For more polished productions, a high-quality camera is necessary to achieve real professional-quality videos. Of course, versatility and ease of use generally don't go together. Professional video cameras aren't as simple to use as a webcam. If you don't already have experience with them, you may face a learning curve.
This option requires a "capture device" to facilitate using the camera for live streaming. A capture device is either installed inside a desktop computer or connected via USB. It converts the video signal from your cameras into a form that can be used for live streaming. It's also important to ensure that your capture card will work with your camera's input. Check the particulars of the card and accompanying software before buying.
Aside from this, the only downside to professional-grade cameras is the cost. A good quality HDMI camera will run you at least $600 – $700, while the price for a top of the line HD-SDI camera runs into the thousands.
One of the best selling professional-grade HDMI cameras currently is the JVC GY-HM170UA. It costs around $2,000. For SDI, the top-selling camera at the moment is the Sony PXW-Z190, at just under $4,000.
Our recommendations
Alright, let's cut right to the chase. As of last updating (March 2019), here are our recommended cameras for live streaming.
Conclusion
Recommending specific equipment is always hard. Depending on your specific needs, a camera that's wonderful for another user may be unacceptable to you. Hopefully, this post has introduced you to the range of cameras on the market today.
As with everything else involved in how to broadcast live, knowing your audience and the purpose of your production is crucial to making this decision. Whether you plan to stream live video on your website, do live streaming of sports or business events, or anything else, there's a camera out there for you!
For regular live streaming tips and exclusive offers, you can also join our LinkedIn group. Not yet a Dacast client and ready to give our platform a try? Click the button below to sign up for our 30-day free trial (no credit card required). You can test out all our great features for yourself!
As always, thanks for reading and good luck with your broadcasts.