Continuous Streaming: How to Produce a 24/7 Live Stream
For many businesses and organizations, live video streams are often used to broadcast short series or one-time events. This could include concerts, business conferences, product announcements, a social Q&A, or any other event that has a beginning and end.
However, as people continue to "cut the cord" on cable, the demand for continuous online live streams becomes greater.
That's why many businesses and organizations are turning to linear video production, which is more commonly known as 24/7 live streaming.
In this post, we're going to discuss what exactly over-the-top (OTT) live streaming is and the five steps for launching a successful 24/7 live stream. We will touch upon choosing an online video platform, required equipment, video monetization, and more.
To wrap things up, we will cover a few tips that you can follow to ensure a successful linear live stream.
Table of Contents
What is OTT Streaming?

Cutting the Cords on Cable: The Birth of Linear Streaming via OTT

How to Do a 24/7 Live Stream in 6 Steps 

Choose the Best Online Video Platform

Consider Bandwidth Costs

Explore Equipment Requirements and Redundancy

Plan and Produce Video Content

Monetize Your 24-Hour Live Stream

Adapt with 24/7 Streaming Real-time Analytics

Comparing YouTube With A Streaming Service

Pros of 24/7 Live Streaming on YouTube
Cons of 24/7 Live Streaming on YouTube

Tips for Successful Linear Live Streaming

Leverage Pre-Recorded Content
Create a "Plan B"
Keep the Audience In Mind
Prioritize Content Quality Control
Recycling Great Content
Measure Engagement with Analytics
Experiment and Try New Things

Conclusion
What is OTT Streaming?
Before we dive into linear live streaming, it is important to understand what OTT technology is and how it is different from traditional cable.
OTT is short for "over-the-top" and it describes a streaming method that bypasses the need for cable or satellite technology. OTT streaming technology uses wireless internet to transmit video content rather than physical connections.
Traditionally, if you were going to watch a tv show, you'd turn on a television connected with cable or satellite to a broadcast provider. OTT is the method that allows people to watch tvs on any device over the internet.
One of the main values of OTT streaming is that it works on all devices, such as smartphones, tablets, laptops, gaming consoles, and computers. This is different from satellite and cable which are typically only compatible with televisions that are connected to a box from a provider. This makes broadcasting more accessible both for broadcasters and content consumers.

Cutting the Cords on Cable: The Birth of Linear Streaming via OTT
Over 32.1 million U.S. households cut the cord on their cable subscriptions in 2020 alone and are opting for online video instead. Last year, 2.38 billion people watched streaming or downloaded online video content across all devices, and more than 75% of them used a mobile device.
Despite the rise in cord-cutting, the demand for linear video is still alive since some people still want to watch "regular" TV channels without having to select the content each time around. Sometimes people want something playing in the background while they focus on other things, or would rather have someone else pick the "lineup" for them.

Linear live streaming is the model that many television networks have used for decades. Different programs air at set times. Some are being broadcasted in real-time whereas others are pre-recorded.
OTT linear live streaming that is delivered over the internet is becoming a bit more popular. This is different than the on-demand streaming we've slowly become accustomed to, but it is also different from a regular TV station. It uses TV-style streaming via internet-based OTT delivery.
As content distribution continues to move online, OTT linear streaming will become more important. In fact, it's predicted that most households will ditch traditional TV subscriptions by 2024.
Also, major TV broadcasters from CBS to ABC, PBS, and NHK have launched online 24/7 stream options, and more outlets are following in their footsteps.
This new OTT distribution model is a blessing for content producers. In the past, live linear streaming was restricted to a few large businesses and public television. Now, it's possible to launch a live linear 24/7 stream with a reasonable budget and a small team.
With modern technology, it is relatively simple to deploy an OTT linear broadcast. As long as you have enough content, it's perfectly reasonable for one or two people to coordinate and operate a 24/7 live streaming channel.
How to Do a 24/7 Live Stream in 6 Steps
Linear live streaming via OTT technology is commonly used by independent networks. This streaming setup can be used for news, sports, entertainment, and other similar types of content.
Let's look at a few of the important steps for setting up 24/7 live streaming. In particular, we'll review how to bypass common issues and ensure a smooth 24/7 stream for your viewers.
1. Choose the Best Online Video Platform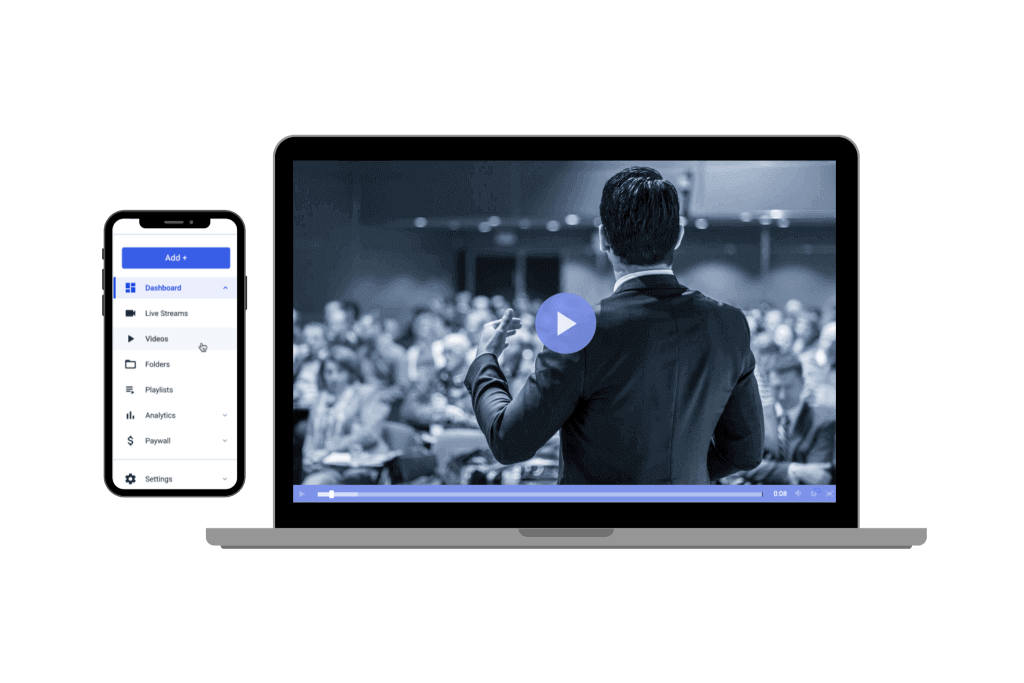 In order to launch a 24/7 live stream, you'll need an online video platform or OVP for short.
An OVP hosts and delivers your content to viewers. Typically, online video hosting providers also provide tools for security, monetization, analytics, API access for customization, and more.
Since not all OVPs support 24/7 live streaming or any live broadcasting at all, you're going to want to make sure that you choose a plan from a solution that offers this support.
A surprising number of video platforms only offer tech support during business hours. For obvious reasons, this isn't sufficient for a 24/7 live channel broadcaster.  With live linear streaming, you can experience problems at any hour of the day. To bypass this issue, choose an OVP with 24/7 support to ensure help is there when you need it.
2. Consider Bandwidth Costs
Linear live streaming can use up a great deal of bandwidth quickly. Therefore, it's important to consider the bandwidth costs of your chosen OVP.
Some streaming solutions offer bandwidth only at very high prices. Others include unlimited bandwidth but at high prices. This can make the ultimate live streaming pricing costs higher than a streaming platform with competitive per-GB pricing.
Look for a video host that is very inclusive in terms of bandwidth or that offers discounts when you buy bandwidth in bulk.
3. Explore Equipment Requirements and Redundancy
24-hour live streaming introduces new challenges in terms of equipment. You need to make sure that you invest in a video encoder, HD cameras, and other hardware that is able to handle 24/7 streaming.
You also want to make sure your computer and all of the required live broadcasting software are up to date before starting a stream. A computer crashing or requiring a shutdown for software updates is generally unacceptable in a 24/7 production environment.
Given these uptime requirements, 24/7 linear broadcasters should plan on purchasing professional-grade equipment, including hardware encoders. This type of equipment is manufactured with higher tolerances and is suited for 24/7 streaming.
We also recommend that you consider implementing redundancy within your system.
For example, if a camera or encoder fails, you should have a backup already configured and ready to go. This will enable your tech team to quickly make any necessary changes (swapping cables, etc.) and ensure minimal disruption to your stream.
You can learn more about this in our guide to live streaming equipment.
4. Plan and Produce 24/7 Stream Content for Linear Live Streaming
When you first decide to start a 24/7 stream channel, you quickly learn that 24 hours is a lot of time to fill. Every minute must be accounted for so that your viewers can tune in at any time and access whatever content they expected.

Planning your content is an important step. You'll need to figure out exactly what you'll be broadcasting at each specific time. Create a plan to transition and flow gracefully from one program or segment to the next.
Traditionally, television networks run programs in half-hour and one-hour increments. You can follow this format or you can create something different. When it's your channel, you have the flexibility to do what makes the most sense for your content and your audience.
There are two approaches to content for linear live streaming.
Broadcast live video

from a studio or other location (e.g., live TV news, talk shows, or sports)

Broadcast previously recorded video on your linear live channel (e.g., most entertainment, reruns, etc.)
Either of these approaches is great. Live content can be engaging, but it also requires more upfront work and planning. Previously recorded content is easier to broadcast. Modern live streaming allows you to just queue up an MP4 file and let it play.
In reality, most broadcasters chose a mixture of these two approaches. They'll broadcast live from important events and during "prime time" hours. Then, they'll fill the remaining time with pre-recorded content, re-runs, etc.
In addition to keeping things straightened out on your end, having a solid plan makes it possible to publish schedules in advance. This way, if your viewer wants to see a specific segment or program on your channel, they will know exactly when to tune in.
5. Monetize Your 24-Hour Live Stream Linear Channel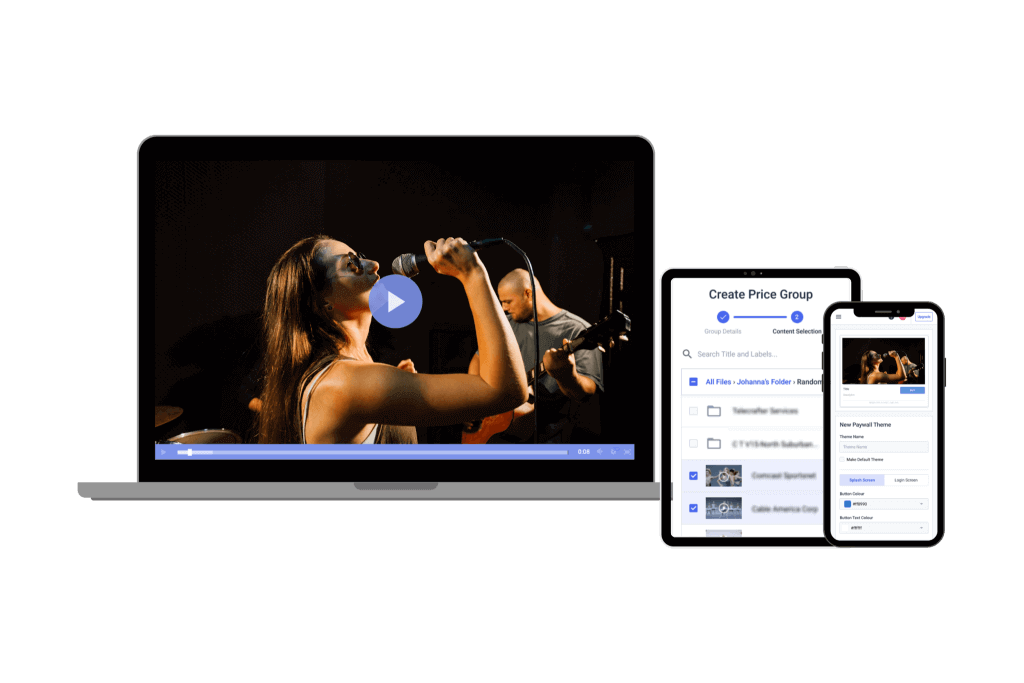 In terms of video monetization, there are several ways to generate revenue from your 24/7 stream.
The best way to monetize your 24/7 stream would be with an ad-based video on demand. Advertising is driving major revenue for various streaming media publishers. This is the least complicated route to go.
It's also possible to use a video monetization paywall in your stream. You could charge a regular subscription fee or use pay-per-view streaming.
Each of these options can be lucrative, especially if your continuous live channel includes streaming popular live events.
Subscription-based monetization is a good idea if you're broadcasting a series of events. For one-time events like sporting events, pay-per-view video monetization may be more suitable.
6. Adapt with 24/7 Streaming Real-time Analytics
With 24/7 streaming, it is vitally important that you understand your audience and their viewing habits. The more information you have about what's resonating with your viewers, the better you can optimize your content. With real-time analytics, you will get feedback as your stream as it happens, allowing you to adjust your programming in real-time.
Three common real-time analytics you can monitor include:
Concurrent viewers by time – The total number of people viewing your 24/7 stream at a time.
Plays by time – The total number of new viewers who start watching your content at a set time.
Plays by location- The locations of the people watching your 24/7 stream all over the world.
Monitoring these metrics can allow you to see how many people are watching, where they are watching from, and how long they watch. This can allow you to adjust your programming in the moment, and create plans for future content.
Comparing YouTube With A Streaming Service
YouTube is one of the most popular places for people to have live channels and there are many reasons why it continues to be popular. However, Youtube is not the solution for every business or organization. If you're interested in learning how to make a 24/7 Youtube live stream, you should consider the pros and cons of that particular option.
Pros of 24/7 Live Streaming on YouTube
There's a reason that so many people are using YouTube to live stream. Three of the biggest reasons are that it's free, easy to use, and already popular.
Free – This is a major motivating factor for many of the content creators on YouTube. You can provide content to your audience without any added costs.
Easy to use – YouTube has a user-friendly interface that makes it easy to get started without a lot of fanfare, which meets you where you are and gets your content available faster.
Popular – The audience is already built-in and YouTube will help great content get more exposure. This can be a support to your existing marketing efforts.
A platform as popular and widely used as YouTube also means there are tons of tips and information available online to help you accomplish your goals. There are so many resources to learn how to create 24/7 live streams on YouTube, so you are likely to find support any time you run into a problem.
Cons of 24/7 Live Streaming on YouTube
The biggest reason that live streaming on Youtube might not be right for your organization is the general lack of control the platform gives you. Here are some specific issues that might be important to your company:
Limited monetization options- YouTube is ultimately in charge of how ads are handled on your content. Although they do offer a few options for ads, Youtube is ultimately in charge of how your content will be monetized.
Who owns the content? – Maybe people learning how to stream 24/7 on YouTube for free aren't aware that they are actually paying to use the service. They are paying with their content, which Youtube will use as they see fit. This creates a complicated issue of who actually owns the content hosted on their website.
Uninvested marketing- It's a "pro" that YouTube will help direct traffic to your website, but they aren't actually invested in your marketing strategy. Just as quickly as they bring people to your content, they will take them away and show them other people's content.
Few customization options- Overall, broadcasters and content creators simply don't have a lot of options for what their viewers' experiences will look like.
It makes sense that you don't want to commit to paying for a service before you test it out. But if it sounds like a streaming service would be a better fit for your company than YouTube, using a private video streaming service.
Tips for Successful Linear Live Streaming
Now that you know the basics of how to set up a 24/7 stream, let's take your linear live streams to the next level. By leveraging pre-recorded content, thinking about equipment risks, focusing on the user experience, prioritizing quality, measuring engagement, and thinking outside of the box, you can build an engaging and successful network specifically designed to your audience's needs.

1. Leverage Pre-Recorded Content
Although your linear live stream is airing live, it is totally possible to incorporate previously recorded live content. You can incorporate small clips or longer segments. You can truly go as far as your creativity allows.
This is especially helpful if you are using an anchor who presents for long periods of time. Mixing in some pre-recorded content gives them a moment to breathe off camera.
It's important to emphasize how easy pre-recorded content makes it to stream 24/7. At the simplest, you could launch your own linear live channel with just an online video platform.
Using a platform like Dacast, you can launch 24/7 live streaming using channel playlists to queue up content that you already have pre-recorded with minimal effort. If you already have access to a substantial content library, you can launch a live linear channel within minutes.
2. Create a "Plan B"
So, you have a plan in place and all of your equipment set up. However, what happens when a camera breaks or an anchor gets sick? What if technical issues throw a wrench in your highly technical streaming process?
It is important to have a backup plan and backups of each essential piece of technology. Chargers and backup batteries are also a must.
Depending on the scale of your stream, it may be wise to have a generator on hand in the event of power outages. This is a large investment, so it makes more sense for larger organizations, like television stations.
3. Keep the Audience In Mind
Every move you make should be made with your viewers' experience in mind. Prioritize keeping things seamless so that things flow in a fluid motion on your audience's end. While many technological hiccups are unavoidable, do your best to minimize the preventable ones.
When it comes to broadcasting specific programs or segments, consider what times may be best for the specific demographic that you are trying to reach.
Additionally, keep your live streaming channel as accessible as possible. Make it easy to tune in.
4. Prioritize Content Quality Control
As we've said before, 24/7 streaming can be a daunting task. Filling the hours can be overwhelming, but it's important to make sure quality is first and foremost.
There is so much competition for viewers' attention. The beauty of the technology is that anyone can do it without having to fight through the gatekeeping of a traditional broadcast network. If you focus on filling air time without thinking about the quality you're offering, viewers will quickly find something else to watch.
If you're still building up a library of assets, recycle your best pieces for maximum exposure as we discuss in our next tip.
5. Recycling Great Content
When you produce an amazing piece of content, you want to get the most mileage out of your efforts. Rerunning your best pieces is a good way to get more exposure for the work you've done.
Not only do you have a chance to reach a fresh audience of people who might have missed it the last time, recycling content is important for a 24/7 stream that has to account for every minute of the day. Don't risk quality by constantly focusing on fresh productions. Take a more thoughtful approach and reuse the content that does well.
6. Measure Engagement with Analytics
Without analytics, you're just chucking content into the void with no idea how it's landing or with whom. You can learn so much about your audience to inform your content strategy.
For example, you might already be familiar with the "prime time" for viewing in your home market. But if you have a lot of users in other parts of the world, they will be more likely to engage with your content at different hours of the day. With analytics, you can see how these markets behave and adjust your content accordingly.
7. Experiment and Try New Things
Being able to monitor your content with analytics opens doors to experimental programming and features.
One way to experiment is to try new forms of content, like trying a live event versus a pre-recorded feature. You might experiment with different paywall options or by adding tiered pricing.
Learning how to live stream 24/7 can be an overwhelming task at first, but it can also be a forgiving medium. If a piece of your content doesn't seem to land with your audience, there's always something else coming up next. With real-time analytics, you can react in real-time to the signals your viewers are giving you.
Conclusion
Launching a 24/7 live streaming channel is now easier than ever before. With modern streaming technologies, it's possible to launch a professional-grade 24/7 stream within a reasonable budget.
Anyone with a bit of technical knowledge or willingness to learn can begin broadcasting in no time. Since this industry is still on the rise, the opportunities are huge, whether in education, entertainment, sports, politics, news, and beyond.
If you're ready for a professional-grade online video hosting platform for your 24/7 stream, Dacast is a great option to get started. Our hosting platform includes all of the features you need for a professional broadcasting experience.
Take advantage of our 14-day free trial to test all of our powerful features. When you start your free trial today (no credit card required), you can start planning the exact viewer experience you want for your 24/7 live stream channel.

We'd love to hear from you in the comment section below. Let's jumpstart your plans so you can get rolling on the 24/7 live stream you've been working towards.
Reach out if we can help you plan and launch your linear live streaming channel. For exclusive offers and regular live streaming tips, you can also join our LinkedIn group.
Subscribe
Stay up to date with our latest features and product releases