Our Tips & Tricks series educates readers on advanced tricks of the trade for video. The series comes from the expertise of outside experts in the field. This piece focuses on how to broadcast live content through a multi-camera live streaming webcast. Gregg Hall, the author, joins us from Webcast and Beyond, an online video service that researches the best equipment and techniques to produce high-quality yet affordable webcasts. Gregg founded the organization in 2010. You can check out their website (linked above) for more details and background.

Multi-Camera Live Streaming: Intro and Context

One big advantage of live streaming today is the ability to affordably broadcast diverse events to specific audiences.  The availability of low-cost broadcast equipment and video streaming platforms has opened the door for more organizations to produce live content than ever before. Likewise, with an online video platform like DaCast, it's easier than ever before to stream live video on your website, whatever you're streaming!
Despite this greater accessibility and affordability, many broadcasters are still concerned with maximizing production quality and reach while minimizing production budgets. And for good reason! Especially for small-scale businesses and individuals, you want to make sure you're getting the best features for the best live streaming pricing plan with minimal technical complications. The streaming solutions you choose can have a big impact on your reach, your professionalism, and the viewing experience of your users.
In this article, we'll consider one particular approach to broadcasting live video streams. Specifically, we'll talk you through how to set up a multi-camera live streaming webcast–all with a one-person crew!
Before we get started, it's important to note that this approach does not work for every situation. We hope that by reading this article, you'll have a better sense of what factors to consider when deciding whether one-person, multi-camera live streaming is feasible for you. As we'll discuss, however, there are many events for which this approach is not only feasible. In these cases, operating a one-person multi-camera live streaming setup can also support greater business opportunities. For example, by keeping production costs to a minimum, you may be able to free up resources for other projects or goals.
Technical Roles

With the above context in mind, let's take a closer look at the necessary roles and design requirements for successful multi-camera live streaming.
By nature, one-person multi-camera live streaming means that a single person wears several distinct hats. These roles include:
the work of 2 (or more) camera-people
the technical director
the sound engineer, and
the encoding engineer.
Design Specs
To understand the function of these roles, let's outline the design requirements for this one-person webcast system. These design requirements include:
First, your system must be equipped to shoot in HD (high definition). These days, it's easier to acquire affordable cameras that shoot at 1080i and output either an HDMI or HD-SDI signal. I can't overstate the importance of shooting in HD, even when you're streaming at SD (standard definition) bit rates. HD sources have significantly higher visual quality than SD sources, even when encoded at lower bit rates to accomodate a diverse viewership.
Secondly, your system must be portable. By portable I mean one person can transport the whole system alone when traveling by plane.
Thirdly, the layout must be ergonomically efficient. This is important because it enables a single person access to all of the controls.
Equipment Components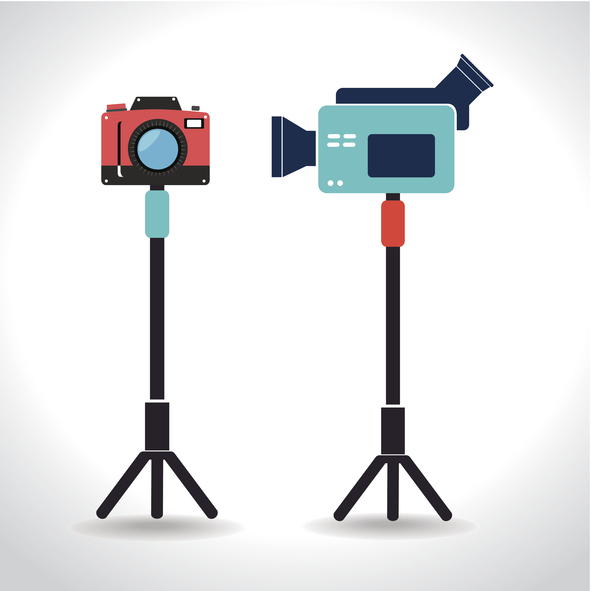 Switching from roles and designs to equipment, the required components for multi-camera live streaming include:
You'll want two or more HD cameras with HDMI or HD-SDI outputs. Many options in the $2k – $5k range are readily available.  For example, check out the Canon XA25 HD camcorder priced at $2.5k. This camera has a 20x zoom lens, XLR audio, HD-SDI & HDMI outputs and is compact enough for travel. Make sure to select fluid head tripods that fold up compactly enough to fit in a suitcase.
Seamless switching between the various cameras–along with the ability to add transitions, effects and graphics–is a must.  Some viable options include software-based products such as Telestream's Wirecast, hardware switchers including the Black-magic Design ATEM Television Studio, or all-in-one streaming boxes such as the Livestream HD500.
For some events, a few wireless mics will be sufficient. More often than not, there will be a live sound system to which you can connect.  I recommend bringing your own small audio mixer to control the level of the feed you receive. With your own mixer, you can also add your own ambient mic. The mic can capture the audience  and venue sounds not picked up by the PA system. Another consideration is maintaining sync between the audio and video. Typically the video switcher introduces a delay of 2-3 frames, which means you want to delay your audio by the same duration. Sometimes the solution is to route the audio output of your mixer through one of your cameras. That way, the audio becomes embedded with the video inside the camera and is brought into the switcher through one of the video inputs. The switcher then maintains the audio/video sync on its own. However, if you bring the audio directly into the encoder, you will need an audio delay unit to compensate for this lag.
You'll need a hardware or software encoder with an HD input to create your video stream and do secure video upload. Options include live stream encoding software and hardware encoders. I prefer software encoders such as Flash Media Live Encoder or Wirecast running on a laptop. Make sure you select the best encoding software settings.  A video capture device with HD-SDI or HDMI inputs will be necessary to bring the video into the computer.  Black-Magic Design and Matrox offer many low-cost solutions for this component.
Set-up and Operation: A Walkthrough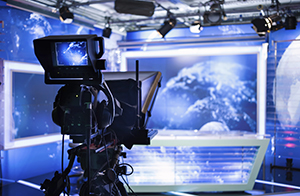 The photo to the right is one of our portable systems deployed at a trade show.  I was the one-person crew controlling the two cameras, switcher, audio mixer, and encoder.
In this configuration, two cameras are connected to a Black-Magic Design ATEM Television Studio Switcher. The switcher is very compact  and affordable with a list price of only $1000. To use it, you employ a laptop as an external control surface and a field HD television as a multi-view monitor. The ATEM has 6 inputs and HDMI / HD-SDI outputs. It also features a real-time H.264 output for recording an archive of the program stream.
The HDMI program routes out to a Matrox O2 Mini external video capture device. This device, in turn, connects to a second laptop, which acts as the encoder. A Mackie 1202 mixer receives a feed from the house PA system. The output then goes to a Behringer DEQ2496 processor. The processor delays the audio 2 frames. Then it converts it to a digital AES/EDU signal for input to the ATEM switcher. Also included in this system is a Matrox DVI convert. This convert transcodes the screen of the host's computer into an HD video signal that you can switch to a video source. A pair of studio headphones monitors the audio from the Mackie mixer and also the encoder laptop. Finally, the encoder laptop also serves to monitor the webcast.
Other Considerations
Operating all of this takes some practice. Once you have it down, however, the end result is quite astonishing. There's one basic camera technique you should keep in mind. Designate one camera as your wide/master shot (the camera positioned in front of the table). Designate the other for your close-ups (positioned just to the left of the switcher).
You'll spend most of your attention framing the close-ups. When you need to change angles, switch to the wide shot until your new close-up is framed properly. You may need to adjust your master shot from time to time. However, you typically use this camera to fall back to when you lose your close-up. The idea is to avoid panning and zooming to cover the action. You should refrain from panning unless you're actively tracking a moving subject. What to do when you need to take your attention off of the close-up (perhaps to make audio adjustments)? It's best to shift to a wider shot until you can resume full attention to the camera work.
In terms of portability, the setup I describe above fits into two suitcases, plus a carry-on for the computers and a carry-on backpack for the cameras. In this case, you will incur checked baggage fees. However, you can travel with all of your gear as opposed to shipping it ahead separately. In some cases, you may need to hire a second camera operator. This may be the reality when there is a lot of arbitrary motion to track. I have found, however, that the one-person approach works exceedingly well in a majority of cases.
Conclusion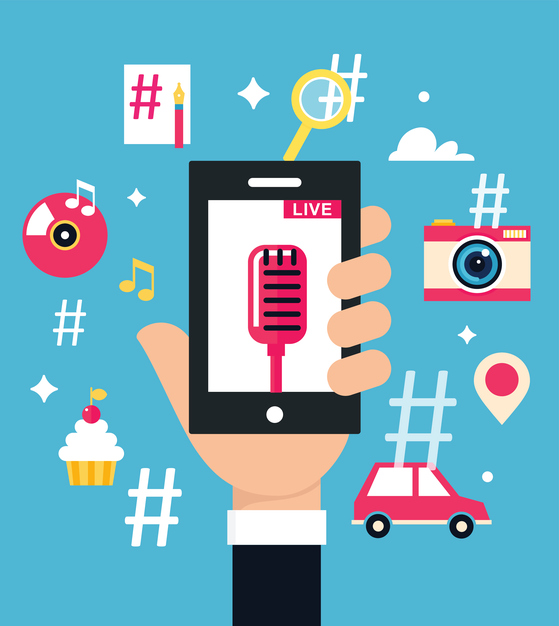 I hope this article has offered you a clearer understanding of how multi-camera live streaming works. Additionally, I hope you now have greater insight into how you can make it happen with a one-person crew. Whether you want to stream live video on your website, broadcast live sporting events, or incorporate live streaming into your business or professional organization, knowing how to do multi-camera broadcasts can take your content to the next level.
Do you have further questions, or comments about your multi-camera live streaming experience? We'd love to hear from you in the comment section below. For regular live streaming tips and exclusive offers, you can join the DaCast LinkedIn group. Whether you need enterprise-grade features, such as China video hosting, or plan to broadcast a one-time event live, we're here to help!
New to DaCast and interested to try out our white-label streaming solutions for yourself? Why not sign up for a 30-day free trial (no credit card required)? That way, you can test out all the features before making a commitment. We'd love to get you set up today!
Good luck with your own multi-camera live streaming setup, and thanks for reading!