How to Set Up a Multi-Camera Live Streaming Webcast [2022 Update]
Live-stream webcasts might seem like the latest trend, but the concept is anything but new. Although with time, the audience's reception of the unofficial golden standard of live-streaming is turning from love to loathe as their viewing choices grow.
Today, viewers expect high-quality cinematic work from live-streaming webcasts. Single-camera, one-shot live streams are no longer enough to stand out among your fellow live-stream broadcasters and keep your audience engaged. 
The answer? Multi-camera live-streaming.
To connect with your virtual audience, you need to know how to set up a multi-camera live-streaming webcast. A multi-camera live streaming broadcast allows you to create an immersive viewing experience, similar to what you would expect from a professional television broadcasting network. 
One factor that keeps a lot of content creators away from multi-camera live-streaming is the preconceived notion that it's expensive and requires an entire team. 
That might have been true a few years ago, but with the multi-camera live streaming equipment available today, you can set up your multistreaming operation on any budget.
Pairing good quality multi-camera live streaming equipment with compatible video streaming platforms lets you create a practical multi-camera setup that works for your situation within your resources. Knowing how to use these gadgets means providing viewers with a better multi-camera live streaming experience in less space and with a smaller team. 
Setting up a complex multi-screen layout that puts a war control room to shame isn't always necessary.  Multi-camera live streaming can just as easily be done by streaming multiple camera feeds on one screen.
Muti-camera live streaming is now within reach of organizations and brands of any size. There are many online video platforms to choose from, each with its price point, pros, and cons. 
Dacast offers multiple options and features to make live streaming more straightforward, whether multi-camera or multi-platform streaming. The streaming platform you choose can make getting the hang of multi-camera live streaming simpler, especially for those just starting.
In this article, we'll take you through the setup of a multi-camera webcast, all with a one-person crew.
Operating and organizing multiple webcam setups can seem overwhelming at first. There's a bit of a learning curve for new broadcasters, but that's what we'll break down for you in easy-to-follow steps in this article. We'll also look at the top features of some multi-camera live-streaming software. 
Ready to architect the perfect multi-camera live streaming set-up that suits your needs? Let's dive right in.
New to Dacast and interested in trying out our live streaming platform for yourself? Sign up today for a 14-day trial to test out all of our features for free. No credit card is required.
Table of Contents
Why Stream with Multiple Cameras?

Challenges of Multi-Camera Streaming

Best Multi-Camera Live Streaming Software

Equipment Requirements for Multicam Live Streaming

Set-Up and Operation 

Other Considerations

Technical Roles

Conclusion
Let's get started!
Why Stream with Multiple Cameras?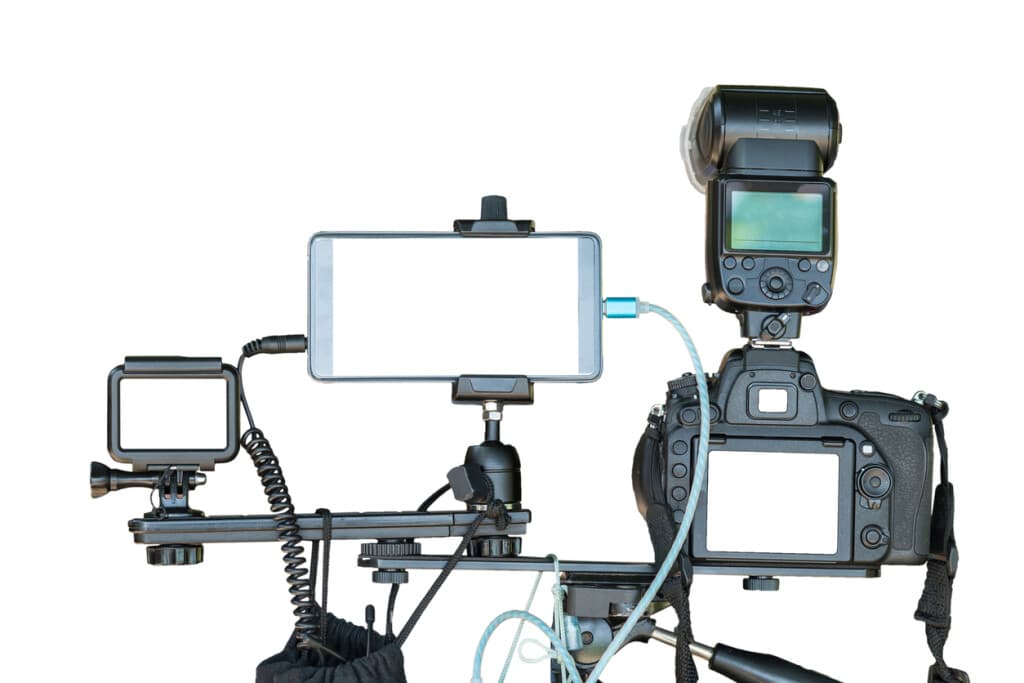 Live streaming is more than just about delivering content. No matter how engaging your content may be, you must make it visually appealing to keep your viewers entertained and interested throughout your live stream. The main goal of using multiple cameras to stream live is to add interest to your content and keep the audience hooked.
Think about it, what would you find more visually appealing? A single camera recording from a single angle or a more diverse mix of wide-angle shots, bird's eye views, and tight shots of when the broadcaster is speaking to the audience?
Streaming with multiple cameras makes video content more exciting. Just look at any professional broadcast on TV or any film. The scene tends to cut between multiple different sources. This setup also helps visually explain your narrative better to your audience with fewer words
News shows, for example, often use three cameras with the following angles:
A wide shot that shows the entire studio

A medium shot that shows both hosts and their desk

A tight shot that shows the head and shoulders of each host individually
This allows the broadcaster to switch in real-time between different views.
The wide shot can "establish" a setting and help the viewer orient themselves. 

The medium shots are ideal for interactions between multiple people. 

And the tight shots capture the emotion and allow one person to take center stage.
This is basic cinematography. Multi-camera filming has been a staple of video production for more than 100 years for a good reason. It's simply more interesting, engaging, and generally a better way to communicate a story.
Almost any television show or movie you have ever watched uses multiple cameras to create a more immersive experience. Just looking at one static image isn't that engaging. 
Online live streaming is no different.
Streaming with split screens or switching between multiple angles is engaging. It can even be done with a single operator using fixed cameras or PTZ cameras.
The biggest benefits of streaming with multiple cameras are: 
More engaging content

Longer audience retention

Less editing 
Multi-camera live streaming works well for a variety of different events, such as: 
News shows 

Tutorials

Product reviews

Music events and concerts

Community events

Live entertainment
Multi-camera live streaming is a great way to elevate your broadcasting level. It can help keep your audience more engaged and contribute to longer view times and increased viewership.
Challenges of Multi-Camera Streaming
Of course, this method of storytelling comes with particular challenges. More cameras equal more complexity. Multi-camera live streaming, using multiple sources, requires linking all the different cameras to one central hub. Then, someone has to decide which shot to switch to at any given moment during the live stream.
More equipment:

With multi-camera streaming, you need multiple cameras and cables to link the cameras to a central hub. You may also have multiple audio input sources.

More staff:

It is possible to engage in multi-camera streaming. However, multi-camera streaming works best when you have a team to manage the different channels and behind-the-scenes work. 

More skills:

You need more advanced skills to create a multi-camera stream. You or your team needs to understand how to do live video mixing. 

More data: Multiple cameras produce much more data. Managing, streaming, and storing all this additional data requires diligence and more computing power.
However, the advantages are worth it; this type of broadcast is getting more accessible than ever. In the past, multi-camera streaming required a significant crew and a television studio. Today, with the best live stream software, you can make a high-quality, multi-camera live stream with one person or a small team within a reasonable budget.
Best Multi-Camera Live Streaming Software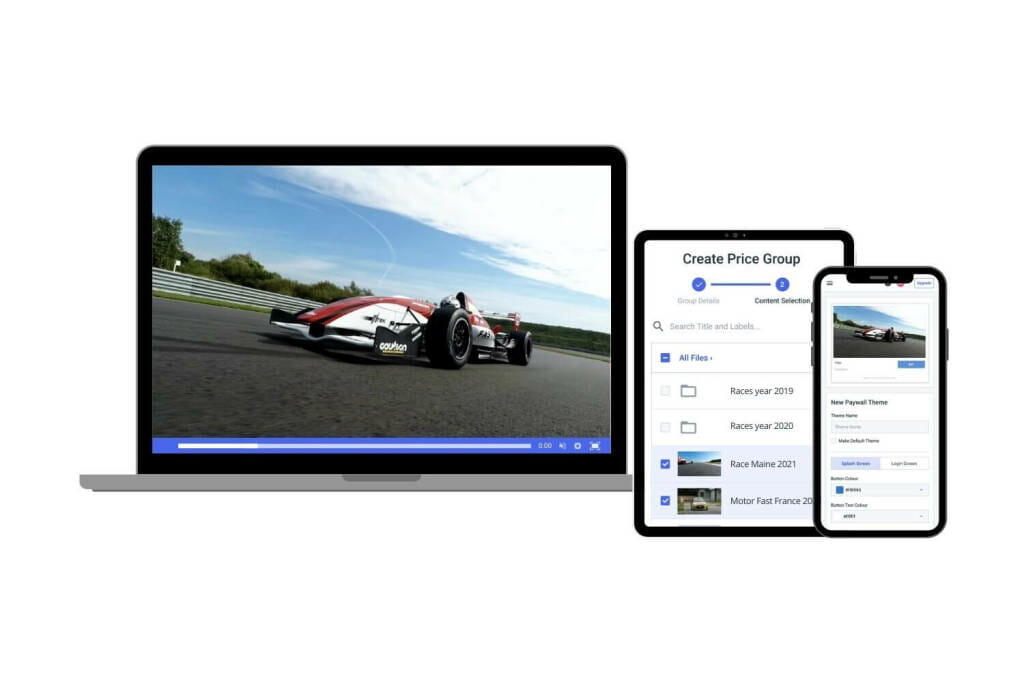 You'll need a hardware or software encoder with an HD input to create your video stream and do secure video upload. Some viable options include live stream encoding software and hardware encoders. 
These software packages are VidBlasterX, Wirecast, and OBS Studio.
1. VidBlasterX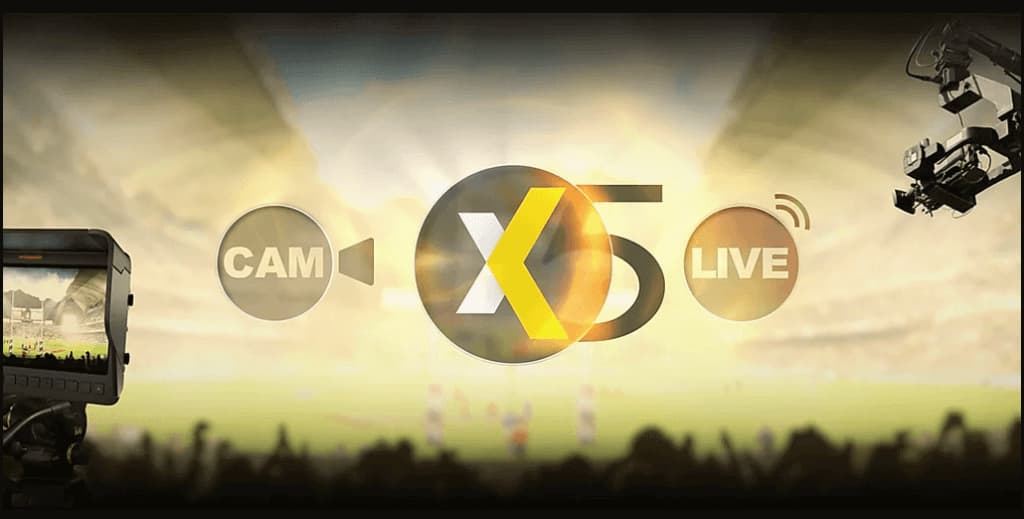 VidBlasterX is Windows-only software, and its unique modular design makes VidBlasterX highly expandable and customizable. It is one of the multi-camera live streaming software solutions on the market that you can use. 
There are different versions of VidBlasterX that you can purchase and use for your multi-camera live streaming needs.
VidBlasterX Home is the base product. It supports up to 7 modules.
VidBlasterX Studio has several features for the studio production of videos (hence the name) and allows for more versatile videos. The Studio version supports HD and full-screen television-quality production and community support. 
VidBlasterX Broadcast incorporates all the features of VidBlaster Studio, adds more module capacity, and is recommended for professional broadcast studios. With Broadcast, you get direct email support from the developer.
Basic Features:
Live mixing tools to switch between multiple sources in real-time

Low latency design using proprietary "SyncLok" feature

Modular audio mixer

Video effects and green screen support

Custom scripting language
VidBlasterX supports multiple cameras via the camera module. More than one camera module can be added to the monitor, making it easy to switch between different cameras.
Key Features:
Modular user interface; everything is customizable
Includes macro and scripting functionality to automate or hot-key actions
Supports overlays and lower thirds
Chroma key support
Live streaming and recording up to 4K resolution
Compatible with social media platforms as well as most OVPs, including Dacast with a direct integration
Audio mixer
Multiview support
Pros:
What makes VidBlaster X stand out is that it is a feature-rich software encoder and video production tool. It is also easy to customize the software to fit your needs. Plus, they have plans for a wide range of budgets. 
Cons:
One of the biggest cons of VidBlasterX is that it isn't compatible with macOS, so if you use an Apple computer, you will need to find a different encoder tool. It is slightly complex, making it ill-suited for inexperienced broadcasters. 
Pricing:
VidBlasterX is available in three versions. Each of the following options is priced with an annual subscription model:
The Home version ($9/year) supports 7 modules.
The Studio version ($99/year) supports 25 modules.
The Broadcast version ($999/year) supports 100 modules. This version also supports multiple recorder & streamer modules in a single profile.
The difference between the versions is the number of simultaneously active modules you can have. The Home editions support up to seven modules, enough for basic live streaming. The Studio edition supports up to 25 modules, and the Broadcast edition supports 50 modules. These higher limits allow professional users with multiple monitors to set up and oversee complex workflows.
Additionally, the Broadcast edition also supports UDP streaming, multiple streaming sources, and recorder modules in a single profile, and includes priority support.
2. Wirecast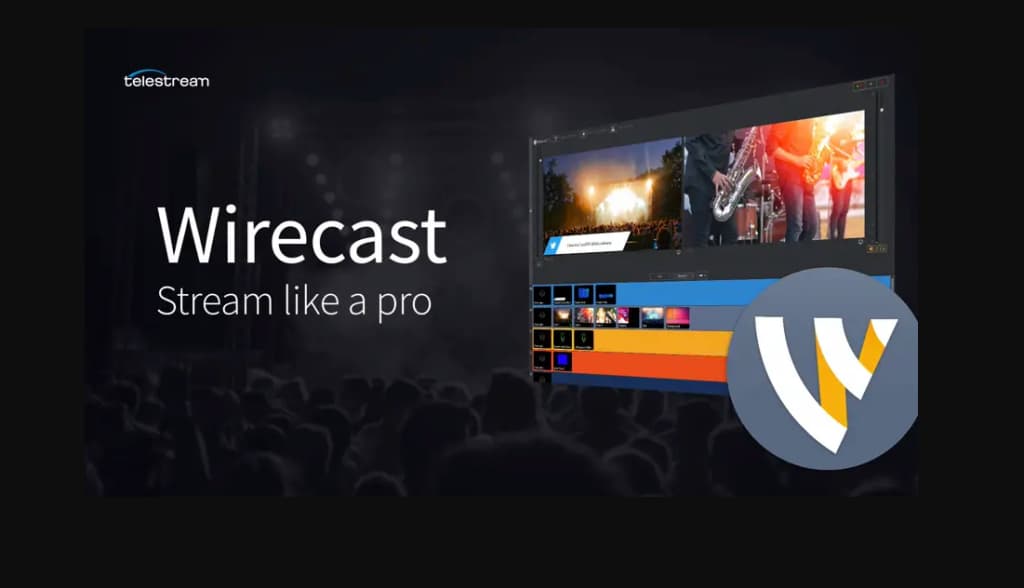 Wirecast is a powerful live streaming software available for Mac and Windows. This live streaming software easily incorporates pre-recorded video content into your broadcast. It also supports encoding HD and SD sources for streams broadcast simultaneously to multiple servers and streaming platforms.
Basic Features:
Support for multiple sources, including cameras, webcams, IP cameras, and NDI sources

Screen share and videoconferencing built-in

Stream and record streams locally

Tool for animating titles and graphics
Key Features:
Input sources from cameras, mics, webcams, IP cameras, capture cards, and desktops
Ideal for sports: instant replay, scoreboards, clocks, and timers
The free wireless camera app allows you to use any iOS device as a video source
NDI support
Graphics and titling tool
Audio mixer and up to 8 audio tracks
Built-in video conference tool
Stream to more than one destination simultaneously
Support for MIDI hardware controllers
Stream and record simultaneously, with re-stream and live captions options
Integrates with Facebook Live and Twitter for sharing comments on-screen
Includes instant replay, scoreboard, and timers for sports
Free wireless camera app turns iOS devices into mobile live video sources
Stream to multiple destinations simultaneously
Integrated video chat via "Wirecast Rendezvous"
Local program output
The latest version of Wirecast is 15.1.2. The newest full version features several enhancements and fixes, including FBLive polling, a re-written WebStream plugin, and Virtual Camera improvements. To know more about it, you can check out its tech specs here.
Pros:
Wirecast is a great encoding option, as it is an easy-to-use and user-friendly platform, making it great for new and experienced broadcasters. It is compatible with most operating systems, so it should work with your computer. 
It is also a fully loaded program with lots of valuable features you can use to enhance the quality of your multi-camera live stream.
Cons:
The biggest drawback of Wirecast is that it has a high price point, making it a tool more for experienced users with big budgets. Also, Wirecast consumes a lot of computer memory, so you need a powerful computer to use this program. 
Also, many of the best features are locked in the "Studio" version.
Pricing:
The software comes in two versions:
Wirecast Studio for enhanced live production & streaming: pricing is $599 for a Lifetime License with a free trial
Wirecast Pro for advanced live production and streaming: pricing is $799 for Lifetime LIcense, which also comes with a free trial. You can also purchase a subscription plan for Wirecast Pro which includes Wirecast Premium Access Support.

1 month for $49/month, billed monthly
1 year, billed monthly, for $39/month
1 year, billed annually, for $420/year ($35/month)
There are two different versions available, with different pricing options. Wirecast Studio costs $599 for lifetime access and supports two guests via video chat.  The Pro version costs $799 for lifetime access and adds support for up to 7 guests via video chat, supports a wider range of capture devices, scoreboards, 3D virtual sets, and more. The Pro version can also be purchased with subscription plans which offer additional support and features. 
Check out this document for some recommendations for using Wirecast with multiple cameras, or click here for a real-life example.
3. OBS Studio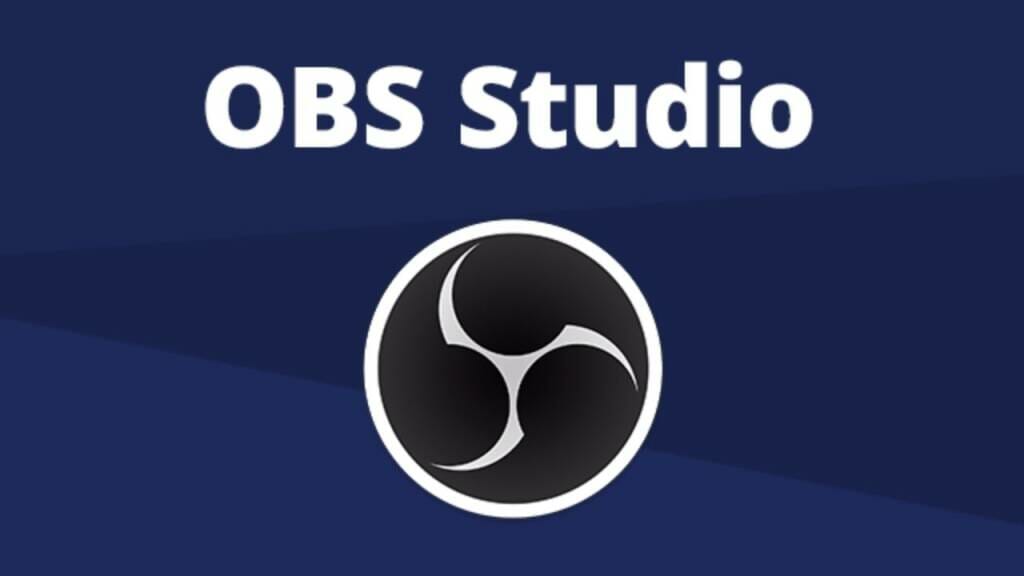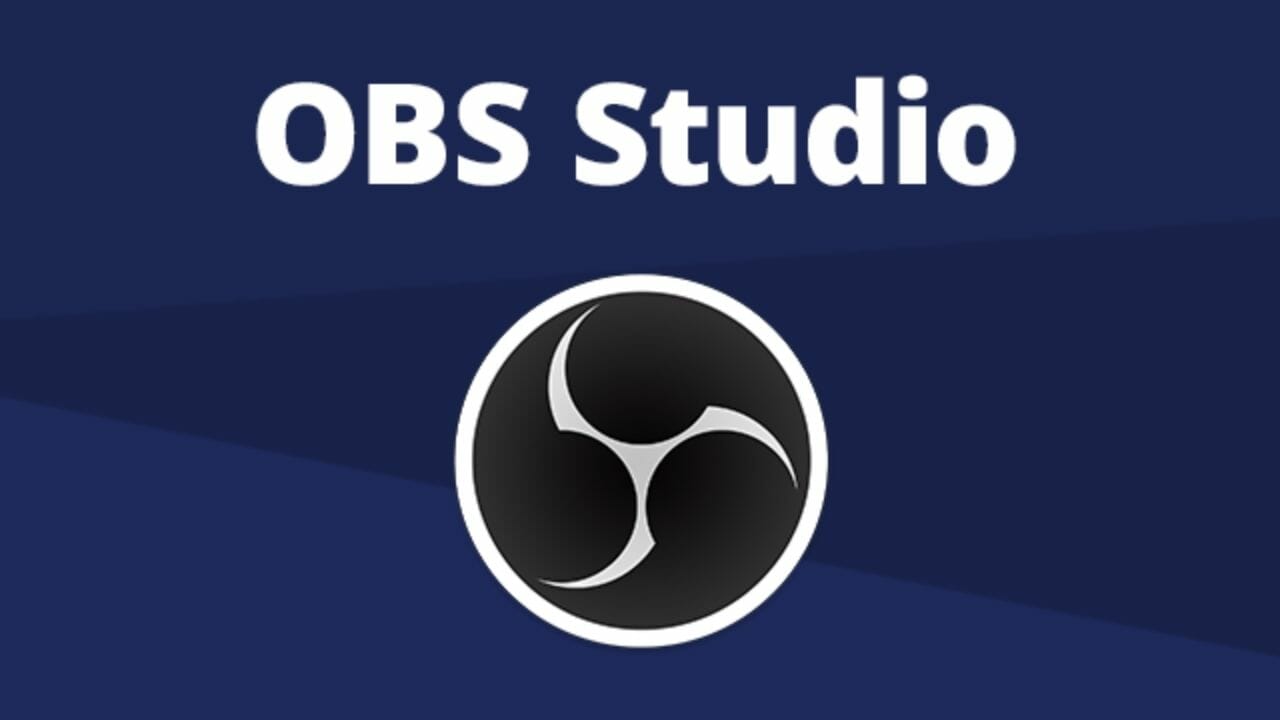 The last of the multi-camera live streaming software options we'll examine here is OBS Studio. OBS Studio is an open-source software application available for Windows, macOS, and Linux. OBS offers many great features for new broadcasters who are just getting the hang of live streaming. The software has a set of OBS-specific settings and system requirements to ensure the most optimal live broadcasting experience.
The latest version of the classic OBS Studio Version 27.1.3 was released on October 4, 2021, and is a free download available for macOS 10.13 or newer, Windows 8, 8.1, and 10, as well as Ubuntu 18.04 operating systems. For the Linux version, FFmpeg is required. 
Basic Features:
Support for a wide range of sources including cameras, audio devices, screen capture, webcams, etc.

"Scenes" feature allows you to preconfigure complex arrangements of graphics, video, overlays, etc.

Audio mixing capability

Video transitions and effects including green screen

Support for a wide range of plugins to add features such as NDI support

Modular user interface
OBS supports multiple camera sources natively. These sources (up to 8 of them) can easily be monitored via the Multiview feature. Multiview also makes it easy to transition to any of them with a single click.
Key Features:
HLS Live streaming and recording functionality
Audio and video mixing, filters, and transitions
Support for hotkeys
Chroma key / green screen support
Scenes allow you to prepare overlays in advance for rapid switching
Support for a wide range of video, audio, and image sources, as well as screenshots
Expandable via plugins to add NDI functionality, remote control via WebSockets, advanced scene switching, and more
One notable negative is that OBS Studio does not offer multi-bitrate streaming
Detailed wiki and highly active user forum for support/help. Many YouTube tutorials are available as well.
Pros: 
There are many reasons to use OBS Studio, with one of the most prominent being that it is free to use. Plus, OBS Studio works with most video hosting platforms, making integrating your video hosting solution easy.
OBS Studio works with Windows 8, 8.1, 10, macOS 10.12+, and Linux. It is also open-source, allowing for ongoing development and crowdsourced improvements. It is a great encoder and video production tool for beginners and advanced broadcasters.
Cons:
OBS Studio does work with macOS but only offers very basic compatibility. You can't access all of the features on a Mac. 
The program is taxing on CPU and memory, requiring a well-equipped rig to run the software. There also isn't a lot of detailed guidance or support.
Pricing:
OBS Studio is free to use and can be modified or extended by anyone via an API, plugins, and scripts.
To learn how to live stream using OBS Studio, check out our dedicated guide to streaming with OBS on Dacast.
Equipment Requirements for Multicam Live Streaming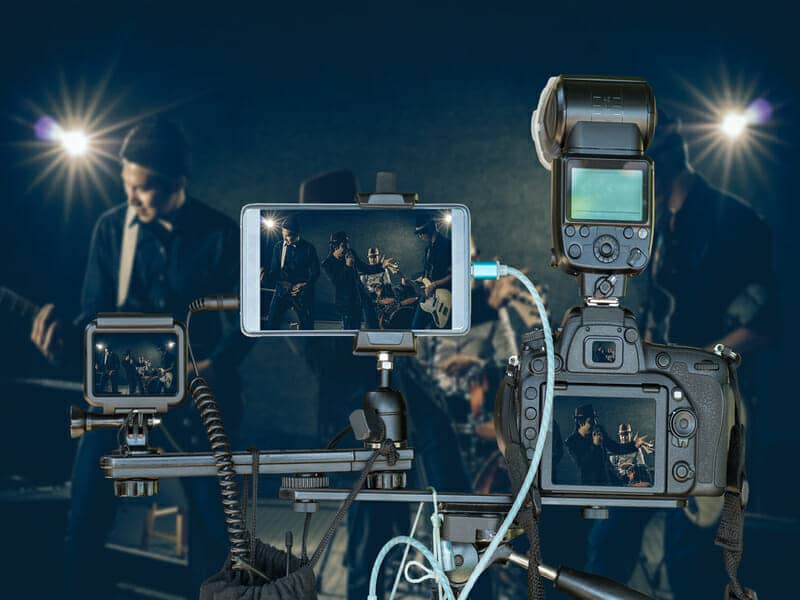 Like any professional broadcast, you'll have to consider the live streaming equipment needs. Multicam live streaming has a few specific requirements.
We've already covered multi-camera live streaming software options, but let's look at the physical equipment needs for a multi-camera set-up, including a camera, switcher, and audio equipment.
1. Camera
You will need two or more cameras for a multi-camera live streaming experience. Your chosen cameras must be equipped to shoot in HD (high definition). These days, it's easier to acquire affordable multiple cameras that shoot at 1080i and output either an HDMI or HD-SDI signal. 
It is very important to shoot in HD, even when streaming at SD (standard definition) bit rates. This is because HD sources have significantly higher visual quality than SD sources, even when encoded at lower bit rates to accommodate a diverse viewership.
For example, check out the Canon EOS C200 4K HD camcorder.
This camera has a 4K CMOS sensor, Dual DIGIC DV 6 Image Processors, an ISO range of 100 to 102,400 dual XLR inputs, and HDMI outputs, and is compact enough for travel. Make sure to select fluid head tripods that fold up compactly enough to fit in a suitcase.
2. Switcher
Seamless switching between the various cameras is a must. In addition, the ability to add transitions, effects, and graphics is key for a multi-camera live streaming setup. 
Some viable switcher options include software-based products such as Telestream's Wirecast, which we mentioned above in our encoder review. 
For hardware switchers, you might consider the Black-magic Design ATEM Television Studio or all-in-one streaming boxes such as the Livestream HD500.
3. Audio
For some events, a few wireless mics will be sufficient. More often than not, there will be a live sound system to which you can connect. We recommend bringing your own small audio mixer to control the volume level of the feed you receive. 
With your own mixer, you can also add your own ambient mic. The mic can capture the audience and venue sounds not picked up by the PA system.
Another consideration is maintaining sync between the audio and video. Typically the video switcher introduces a delay of 2-3 frames, which means you want to delay your audio by the same duration.
Sometimes the solution involves routing the audio output of your mixer through one of your cameras. That way, the audio embeds the video inside the camera. Then, it reaches the switcher through one of the video inputs. At that point, the switcher maintains the audio/video sync. This is one way to achieve live video and audio mixing. 
However, if you bring the audio directly into the encoder, note that you will need an audio delay unit to compensate for this lag.
Set-Up and Operation for Multi-Camera Live Streaming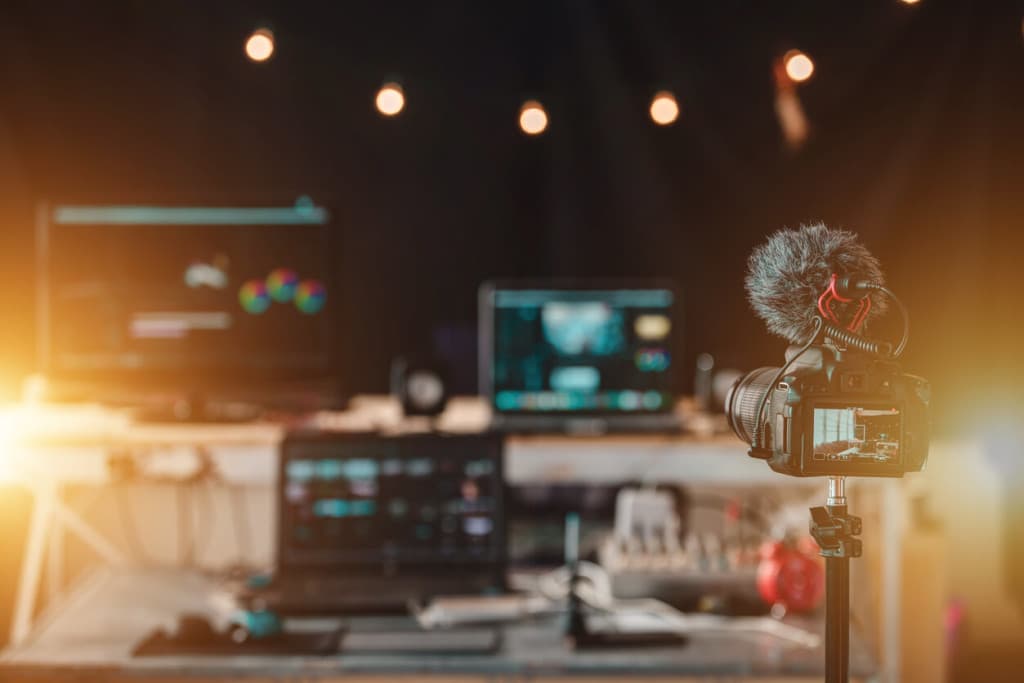 To help put the scope of setup and operation into perspective, we will run through a live streaming success story where a one-person crew controlled the two cameras, switcher, audio mixer, and encoder.
In this configuration, two cameras were connected to a Black-Magic Design ATEM Television Studio Switcher. The switcher was very compact and affordable, with a list price of about $1000. To use it, the operator employed a laptop as an external control surface and a field HD television as a multi-view monitor. 
The ATEM has 6 inputs and HDMI and HD-SDI outputs. It also featured a real-time H.264 output for recording an archive of the program stream.
The HDMI program was routed to a Matrox O2 Mini external video capture device. This device, in turn, connects to a second laptop, which acts as the encoder. A Mackie 1202 mixer receives a feed from the house PA system. 
The output then went to a Behringer DEQ2496 processor. The processor delayed the audio by 2 frames. From there, it converted it to a digital AES/EDU signal for input to the ATEM switcher.
Also included in this system is a Matrox DVI convert. This convert transcodes the screen of the host's computer into an HD video signal that you can switch to a video source. A pair of studio headphones monitor the audio from the Mackie mixer and the encoder laptop. 
Finally, the encoder laptop also serves to monitor the webcast. That is just one example of how 
Other Considerations for Multi-Camera Live Streaming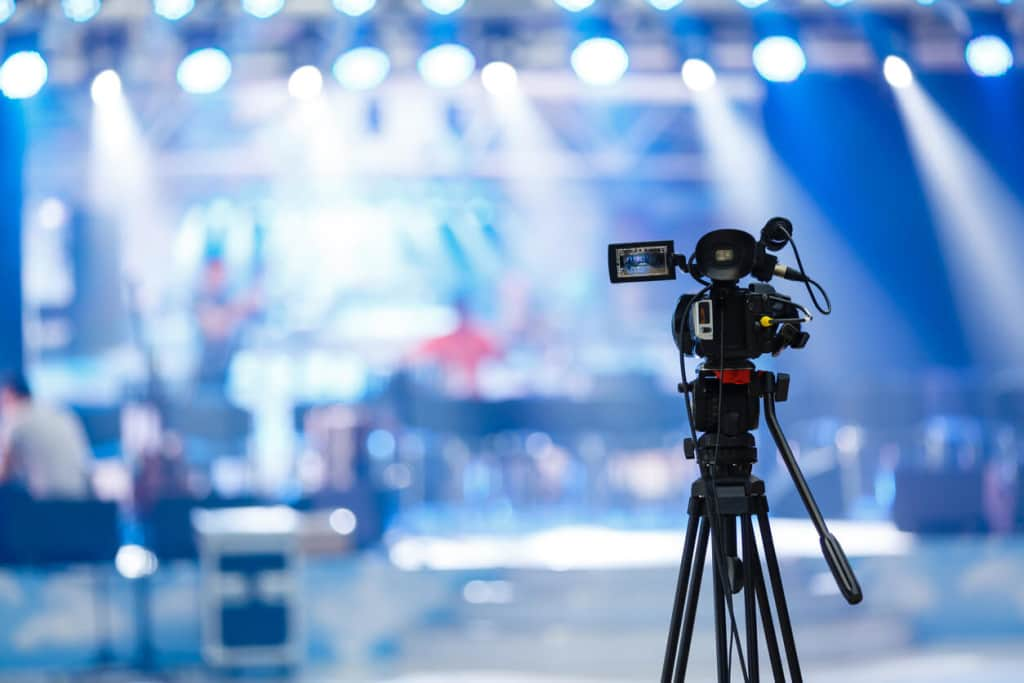 There are a few other things to keep in mind when it comes to multi-camera live streaming. The most important thing is to designate one camera as your wide/master shot and the other for your close-ups.
You'll spend most of your attention framing the close-ups. When changing angles, switch to the wide shot until your new close-up is appropriately framed. You may need to adjust your master shot from time to time. However, when you lose your close-up with multi-camera live streaming, you typically use this camera to fall back. 
The idea is to avoid panning and zooming to cover the action. You should refrain from panning unless you're actively tracking a moving subject.
Additionally, a small camera team is ideal, but you can operate a multi-cam live stream with one person.
Technical Roles

With the above context in mind, let's take a closer look at the necessary roles and design requirements for successful multi-camera live streaming.
By nature, one-person multi-camera live streaming requires a single person to wear several distinct hats. These roles include:
The work of 2 (or more) camera-people
Director of Programming
Technical engineering director
Audio engineers
Encoding engineers
This streaming setup should be enough to get you through your first Multicam live streaming project!
Conclusion
Hopefully, we've helped you clarify some of the questions and reservations you had about multi-camera live-streaming. You should now feel more confident about multi-camera live-streaming with a one-person crew.

Whether you want to stream live video on your website, broadcast live sporting events, or incorporate live streaming into your business or professional organization, knowing how to do multi-camera broadcasts can take your content to the next level.
Do you have further questions or comments about your multi-camera live streaming experience? We'd love to hear from you in the comment section below.
For regular live streaming tips and exclusive offers, you can join the Dacast LinkedIn group. Whether you need enterprise-grade features, such as cloud-based video hosting, or plan to broadcast a live one-time event, we're here to help!
Are you new to Dacast? Interested in trying out our white-label streaming solutions for you and your organization?
Why not sign up for a 14-day free trial (no credit card required)? That way, you can test the streaming and hosting features you'll use most before committing.
Good luck with your multi-camera live streaming setup, and thanks for reading.
This article originally appeared as a part of our Tips & Tricks series, educates readers on advanced tricks of the trade for video, and has been updated with the latest information as of January 2022.
The series comes from the expertise of outside experts in the field, and some parts of this post were written as a guest post by Gregg Hall. He joined us from Webcast and Beyond, an online video service that researches the best equipment and techniques to produce high-quality yet affordable webcasts.
Subscribe Now
Stay up-to-date with the latest features and product releases. Cool tips, expert advice and more.