How to Stream on Twitch: The Definitive Guide to Twitch Live Streaming
Content creation has become a major hobby and career for people around the world. Thanks to the accessibility of the internet, anyone with a smartphone and an internet connection can create a streaming platform to share what they are most passionate about.
Twitch is a very popular site that makes it easy for just about anybody to create a live streaming channel. Twitch is especially popular among Esports enthusiasts, but it is used by creators in other niches.
In this post, we are going to share everything you need to know about Twitch live streaming. We will start with some basic info on what Twitch is and what it is used for before we dive into an in-depth tutorial for streaming on the platform.
We will review how to stream on different consoles, including PC, Mac, Playstation, and more. From there, we will provide some insight on monetizing streams on Twitch and building a loyal audience. To wrap things up, we will discuss some Twitch alternatives and how to simulcast to multiple platforms.
Table of Contents
What is Twitch?

Who Streams on Twitch?

How to Stream on Twitch

How to Stream on Twitch on a PC

How to Stream on Twitch on a Mac

How to Stream on Twitch on a PS4

How to Stream on Twitch on a Smartphone

How to Make Money on Twitch

How to Building a Loyal Twitch Audience

Twitch Alternatives

How to Simulcast a Twitch Stream

Final Thoughts
What is Twitch?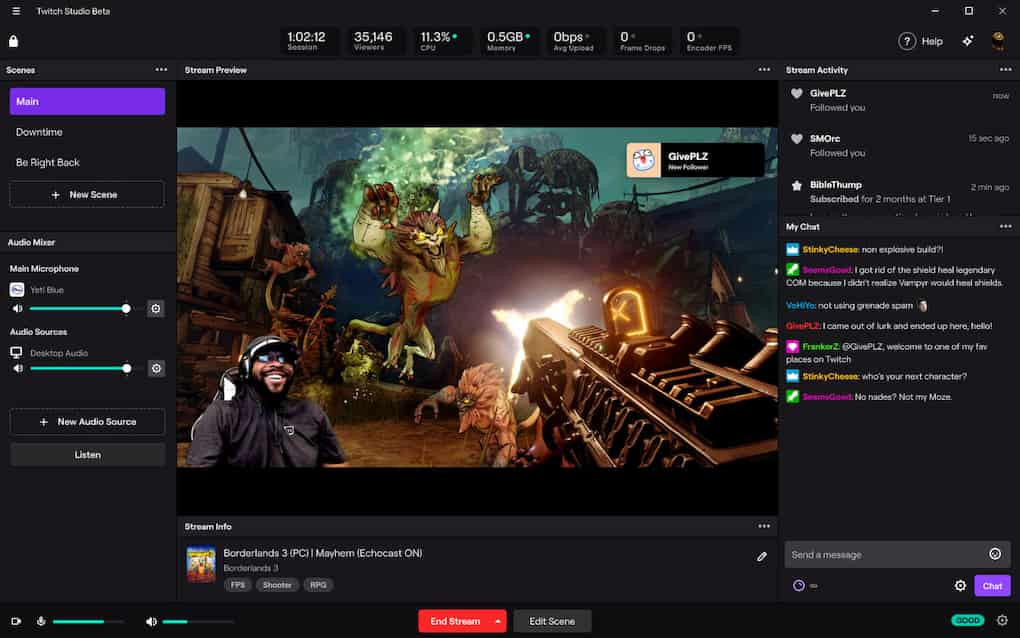 Twitch is a consumer-grade site with social media-like aspects that is dedicated to live streaming. It is very similar in nature to YouTube, but the main difference between the two is that YouTube's focus is on-demand video streaming, whereas Twitch focuses on live video sharing.
Twitch is owned by Amazon, and Amazon Prime members qualify for special benefits on the Twitch site.
Who Streams on Twitch?
Twitch is most commonly known as a streaming platform for Esport gamers, however, it is not limited to that niche. Technically anyone could stream on Twitch, but it's mostly geared towards Esports and music.
Twitch has strict rules about nudity, so Twitch isn't an option for streamers that create sexually explicit content. Some streamers get creative to circumvent these restrictions, but it's not worth the possibility of being banned from the platform. 
How to Stream on Twitch
Does Twitch sound like the right platform for you? Let's shift gears to run through the six steps for live streaming on Twitch.
1. Plan Your Content
Every good live stream starts with a plan, and a Twitch stream is no exception. Start with the basics. What sort of content do you want to stream? Will you be streaming Esports or do you have something else in mind?
If you have an existing audience on another platform, how do you plan on carrying your existing brand over to Twitch? How will you let your audience know?
If you are brand new to content creation and you are starting from scratch, it may be a good idea to see what other creators in your niche are doing.
As you create a plan, it is a good idea to read into the Twitch community guidelines to make sure that what you want to do will work on the platform. There are some specific rules that the platform has in place, and breaking these rules can result in account suspension. 
2. Create a Twitch Account
Now that you have a plan, it is time to create a Twitch account. Creating an account is as simple as clicking "Sign Up" and filling in your credentials. You'll be prompted to create a user name and password. You'll also be asked to provide your email address and date of birth.
Although you can create an account on your mobile device, we recommend using your computer. The reason for this is that two-factor authentication is required for streaming, and two-factor authentication can only be set up on Twitch's desktop site.
3. Choose Your Hardware
Next, it is time to choose your console. Twitch supports streaming from a number of devices, including computers, laptops, gaming consoles, and even smartphones.
If you are gaming, you'll likely already have a computer or gaming console that is powerful enough to stream. If this is not the case, you'll need to invest in a device that has the capacity to process the software required to stream.
Since most streams involve audio and video components, even in situations where screen sharing is the focus of the stream, a webcam and microphone are other tools that you'll need. It's important to make sure that you choose a mic and camera that are compatible with your streaming setup.
Our top webcam recommendations for Twitch live streaming are the Logitech Brio Ultra HD ($199) and the Logitech C922x Pro Stream (under $100). Twitch does not support 4K streaming at this time, so there is not much pressure to invest in the highest quality camera.
As for microphones, we recommend a wired 3.5mm lavalier mic for basic Twitch streaming setups. Upgrading to a high-end 3.5mm microphone, such as XLR microphones, will produce more professional results.
We will provide detailed tutorials on how to stream on Twitch from a PC, Mac, Playstation, and smartphone shortly.
4. Choose Your Streaming Software
Some streams on Twitch require the support of streaming software. In the context of Twitch streaming, you'll likely need streaming software for encoding, production, or mixing. If you're streaming with a webcam, encoding may not be necessary.
OBS Studio is a popular choice for Twitch streamers since it is free and open-source. XSplit Broadcaster and Streamlabs OBS are two other popular options. vMix is a more advanced option that many streamers invest in once they are ready to take things more seriously.
Twitch Studio is a newer offering from Twitch that is designed to eliminate the need for any external software, but it is still in the beta stage. This software is free, so that is certainly a plus.
5. Connect it to Twitch
Once you've established which devices and software you're going to use to stream, it is time to connect your setup to Twitch.
The processes for connecting different devices will vary. We'll get a little more into this in our device-specific tutorials below.
6. Start Streaming
If you're happy with your streaming setup, it is time to start streaming. You'll be prompted to add a description to your stream and select a stream category before you go live.
We recommend that you use the restroom before you get started, and have water handy in case you get thirsty as you stream. That way you can minimize interruptions during your stream.
For your first few streams, you might want to have bullet points of things to talk about, especially if you're hosting a stream that is more on par with a podcast or talk show.
Most importantly, remember to have fun with it. Your audience will feed off of your attitude, so if you are bringing an energy that is positive and upbeat, your viewers will respond well. 
How to Stream on Twitch on a PC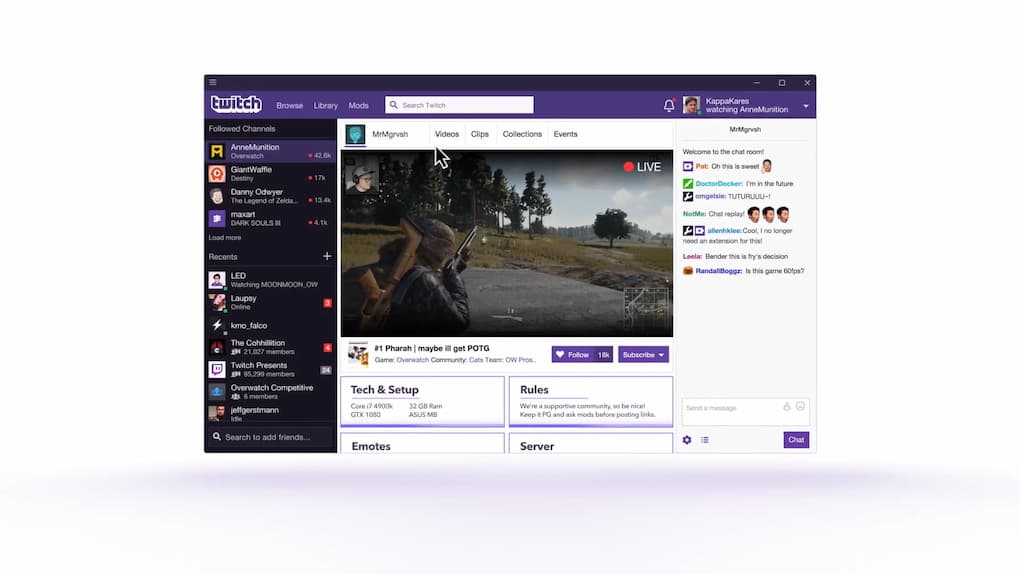 A PC is a popular device for streaming on Twitch, especially among gamers. Let's take a look at some of the best practices for streaming Twitch on a Windows app.
Connecting Your PC to Twitch
Connecting your PC to Twitch is very easy. All you have to do is go to Twitch.tv and click the gray "Log In" button in the top right corner of the screen. If you've already set up two-factor authentication, you will have to confirm your login with the secondary authentication. 
Best Software to Use for PC Twitch Streaming
Most streaming software options will work for streaming with Twitch. Again, our recommended streaming software options include:
Most streaming software on the market is compatible with Windows. What's important is that you choose one that helps you reach your unique streaming needs. Check out our streaming software comparison for some more insight.
How to Stream on Twitch on a Mac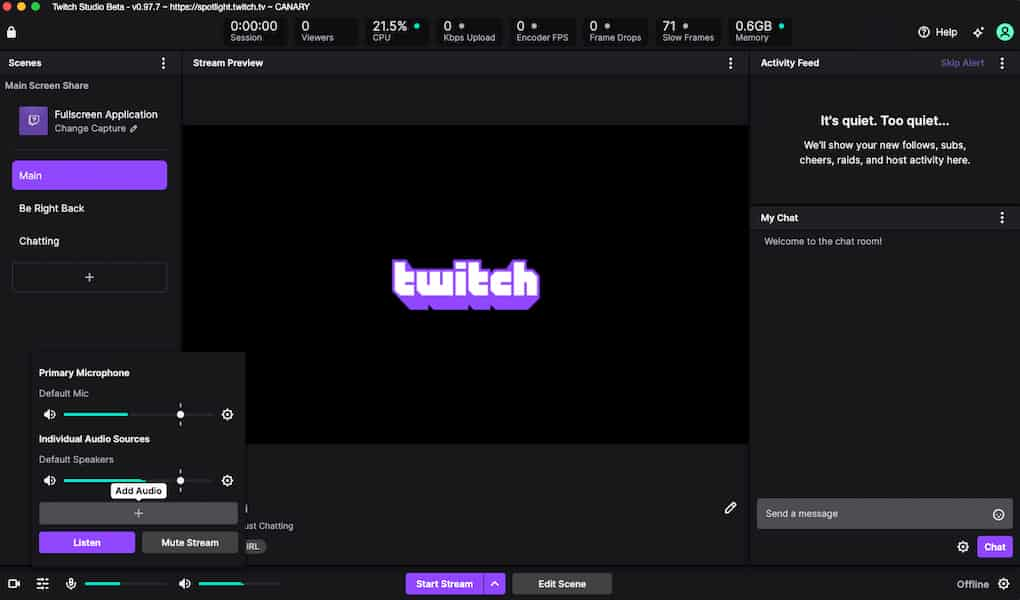 Again, if you're a gamer, you're going to need to make sure that your computer has the processing power to stream and game at once. A MacBook will suffice for streaming in some niches, but it probably won't cut it for Esport streaming.
That said, let's take a look at a few things to know for Twitch live streaming on a Mac.
Connecting Your Mac to Twitch
Just like connecting your PC to Twitch, setting up Twitch on your Mac is very straightforward. All you have to do is go to Twitch.tv and click the "Log In" button. If you've set up two-factor authentication, you'll have to confirm your login with the secondary authentication.
Best Software to Use for Mac Twitch Streaming
The best software options to choose for Twitch streaming on a Mac are OBS Studio and Twitch Studio. Streamlabs, XSplit, and vMix will not run on macOS without Bootcamp.
Many of the top streaming software options are not compatible with Mac, so keep this in mind if you are considering options other than the ones we've mentioned.
How to Stream on Twitch on a PS4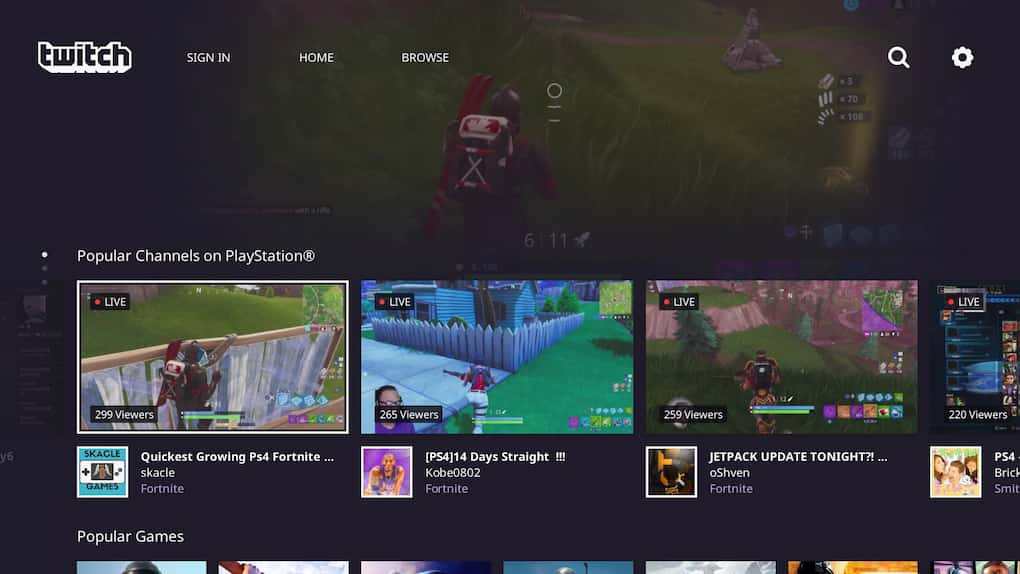 Twitch streaming on a PS4 requires a bit more setup than streaming on a computer, and it is more intense than the general Twitch streaming tutorial that we provided above. However, this console is popular among streamers in the video game niche.
Here's what you've got to do to set up a Twitch stream on your PS4:
Disable HDCP on your PS4 in the System Settings (Settings > System)

Set up your audio devices and Playstation camera in your Device Settings (Settings > Devices)

Enable audio in your Broadcast Settings (Sharing and Broadcast > Settings > Broadcast Settings > Advanced Settings > Audio Sharing Settings)

Enable the chat feature by checking "Display Messages to Spectators and Spectators' Comments" (Sharing and Broadcast Settings > Broadcast Settings > Advanced Settings)

Connect your PS4 to your Twitch account. Click the "Share" button on your controller and select "Broadcast Gameplay," then proceed with the on-screen instructions

Start Streaming
Although this is a bit more complex than the other Twitch streaming setups we've discussed, it shouldn't take much time if you follow the instructions carefully.
How to Stream on Twitch on a Smartphone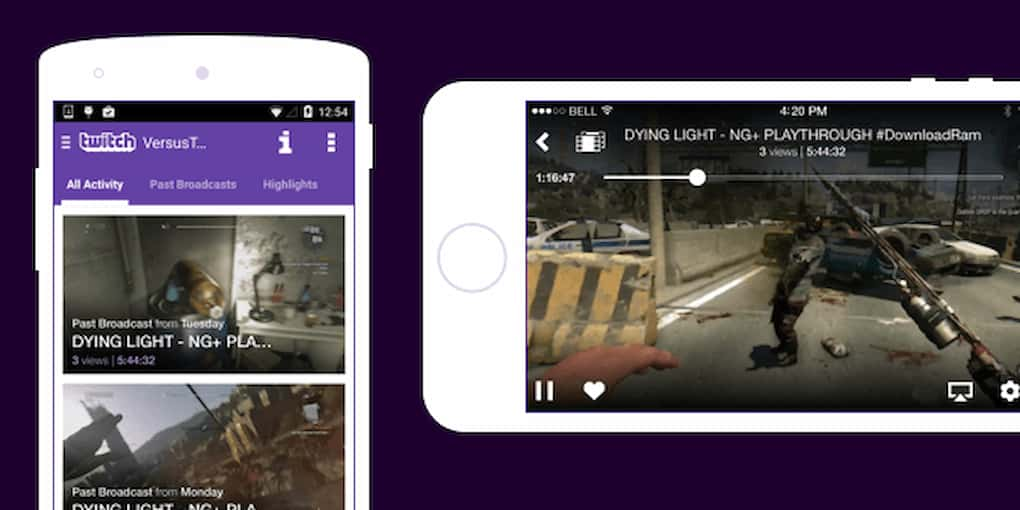 Twitch streaming is super simple on a mobile smartphone. There are two options for streaming from smartphones: Stream Games (beta) and Stream IRL. Stream Games allows you to pick from several smartphone-friendly video games, and Stream IRL allows you to just stream with your phone's built-in camera and mic.
That said, let's review some important information about Twitch streaming from your smartphone.
Connecting Your Smartphone to Twitch
To connect your smartphone to Twitch, you're going to need to download the Twitch app from the App Store or the Google Play Store. It is free to download.
Once you've downloaded the app, you're going to need to create an account or log in to an existing account. Remember that you must set up two-factor authentication in the desktop site, so have your computer accessible.
You do not need to set up any additional software.
How to Start a Twitch Stream on Mobile
After you've logged in, all you've got to do is click the user icon in the top left corner of the screen, and choose "Go Live" when presented with a menu. You'll be asked to choose "Stream Games" or "Stream IRL."
After you've made your choice, you'll be prompted to choose specific settings for your stream. Fill this information out and click "Start Stream."
How to Make Money on Twitch
Many people start streaming to generate revenue on their streams. Video monetization on Twitch is a little different than monetizing video on other platforms. Different types of streamers make money differently.
The three tiers of streamers on Twitch are as follows:
General users

Twitch affiliates

Twitch partners
Achieving each status has different requirements. Let's take a look at how monetization works at each level.
Monetization for General Twitch Users
Every broadcaster has the potential to make money from streaming on Twitch. The three ways that general users can cash in on their viewership are through donations, brand partnerships, and merch.
Streamers can add a donation button to their streams through a third-party integration, and viewers can donate any sum of money that they'd like. This is very common on Twitch even though it is not the norm in other streaming environments.
Brand partnerships can also be secured in niche streams. You can pitch partnerships to brands, or they can pitch partnerships to you. This will vary by brand, but it could include product placement or a scripted advertisement. Some brands pay a flat rate, and others give you a commission on sales made with your affiliate link or promo code.
The third option is to sell merchandise. This is more prevalent among brands with very dedicated followers. You can create t-shirts, stickers, water bottles, or other branded merch to sell to your audience. Viewers who love your content might want to rep your brand in real life.
As you can see, it all comes down to your ability to gather an audience who watches your streams regularly. 
Monetization for Twitch Affiliates
Twitch Affiliate program is an invite-only membership. Streamers who have met a set of criteria within 30-days to be eligible. These criteria include 50 followers, 500 minutes broadcasted, broadcasts on at least seven separate days, and an average of at least three concurrent viewers.
Twitch affiliates can monetize their streams with subscriptions, virtual cheers, and game sales.
There are three subscription tiers: $4.99/month, $9.99/month, and $24.99/month. Each tier unlocks different perks, including special chats, merch discounts, and more. Streamers only receive a portion of each subscription, and the platform pockets the rest.
Virtual cheers are another type of tipping on Twitch. Viewers can buy 100 "bits" for $1.40. Each bit they give their favorite streamers is worth a penny.
Another way that Esports streamers can monetize their streams is by selling access to the games that they are playing. Twitch has a game store, so if you're streaming a game that is available in the store, you can add a "Buy Now" button to your stream. Streamers make a 5% commission on each game sale.
Monetization for Twitch Partners
The highest tier of streamers is Twitch partners. The Twitch partnership program has the same criteria as Twitch affiliates. However, the partnership program is a little different because is application-based, whereas Twitch affiliates are automatically eligible.
Twitch partners are eligible for the same monetization perks as affiliates are, plus partners receive a share of ad revenue.
How to Building a Loyal Twitch Audience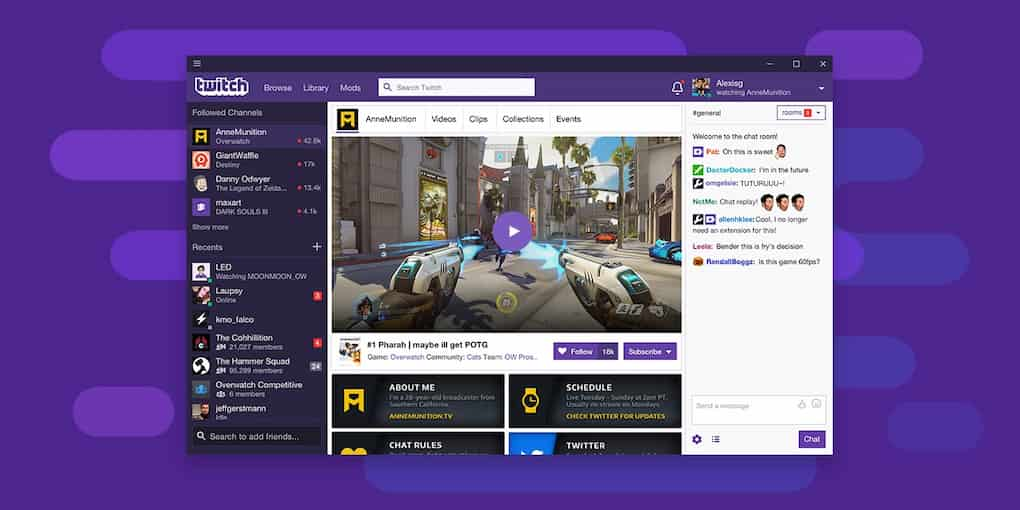 Since how much money you make on Twitch typically depends on how much influence you have over viewers, it's a good idea to focus on growing a loyal following.
There are a few things you can do to build a loyal audience. Let's check them out.
Create Good Content
If you want people to care about your streams, creating good content is a good place to start. Your content should either provide value or entertainment to your viewers if you want people to keep coming back for more.
Stay Consistent
Consistency is absolutely key for building a loyal Twitch following and getting your viewing hours up. This doesn't mean you need to steam every single day, but you should create a general schedule and stick with it.
It will likely take time to build your following, so stay consistent, even if it feels fruitless in the beginning. If you give up too soon, you'll never see the success that you originally set out for.
Focus on Brand Building
Many content creators get started as a hobby, so developing a brand might not be your intention to start. However, if you want to expand your streaming efforts into something that generates a substantial income, it's important to prioritize brand building.
A unique brand name and an eye-catching logo are a good place to start. This gives your audience something visual to remember you by.
You'll also want to further develop your brand in a way that draws in a community. Build a community atmosphere that makes viewers feel like they are part of something. 
Promote on Other Channels
As part of building a brand, you may want to open doors to community building on other channels. You can create social media pages to promote your streams and further connect with followers.
One social platform that many Twitch streamers use is Discord, a site that allows users to create servers for people to chat on. This helps to keep conversations going outside of the Twitch universe, so you can connect with your viewers on a more personal level and they can connect with one another.
Stay Engaged
Another important thing is audience interaction and engagement. Since Twitch has a built-in chat function, many streamers take advantage of this and make their streams a two-way conversation.
For example, streamers might ask questions that solicit a response from viewers. It could be as simple as "how are you doing?" or more in-depth like asking their opinions on a topic. This helps viewers feel less like observers and more like participants.
The sense of belonging that viewers get from that sort of interaction with a streamer will help them feel a more personal connection that will keep them coming back to your streams.
Twitch Alternatives
As we discussed, Twitch is primarily used to stream Esports and music. You can stream content in other niches, but if your target audience is hanging out on other live streaming apps, you might want to consider a Twitch alternative.
Let's take a look at a few popular Twitch alternatives for streaming in all niches.
YouTube Live
YouTube is one of the most popular streaming sites in the whole world. It is a little bit different from Twitch because it mainly consists of on-demand video content.
YouTube is popular among all niches, but they also have an area of the site dedicated to gaming streaming.
While it is possible to live stream on YouTube, this functionality is certainly considered a privilege. To live stream, users must verify their YouTube accounts. Also, YouTube is quite strict with community guidelines, and those who do not comply can be banned from live streaming.
Check out our dedicated guide to YouTube Live for more information on this Twitch alternative. 
Instagram Live
Instagram is a social media app that started as a photo-sharing platform that has evolved to become more video-focused. Instagram users can upload pre-recorded videos to a main feed, IGTV, Reels, or stories. Users can also go live on their stories.
Instagram's live streaming feature is cool because streams can be done right from your phone without any other software or streaming equipment. There is a live chat feature and even some dedicated Q&A tools. Broadcasters can easily add other hosts to the stream, which is a cool bonus.
The downside to streaming from Instagram Live is that there are no tools to support screen sharing, so this might not make sense for all streamers.
Facebook Live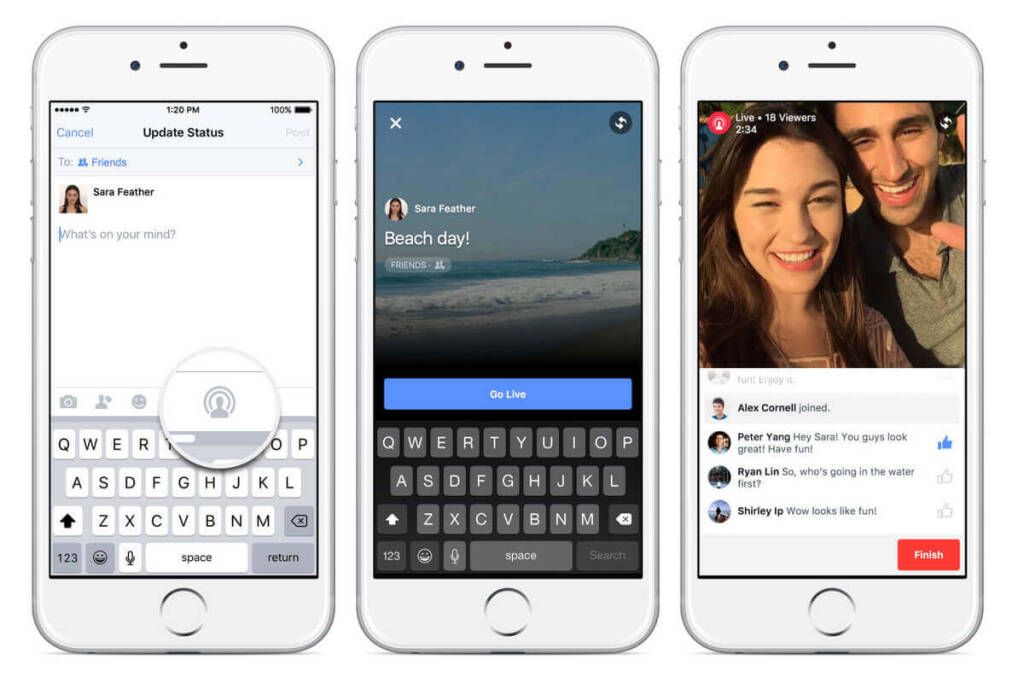 Facebook is another social media app that supports live video streaming. Facebook is primarily a social media platform, and live streaming is certainly a secondary tool.
With Facebook Live, users can host live streams on both personal and business pages. They can also go live in Facebook groups.
The main benefit of streaming on Facebook is that it allows users to build a community where members can freely interact with one another. Followers can "Like" a page to subscribe or "Join" a group. Members of your community can even set notifications so they know when you go live.
Another perk of Facebook is that it is one of the most popular social media platforms, so viewers are familiar with how to use it.
A Professional OVP
A consumer-grade platform might not be a great option for your streaming needs, especially if you're looking for white-label streaming, advanced security, or other professional streaming features.
A professional online video platform (OVP) like Dacast gives you access to all of these features and more. You can customize our white-label video player and embed it into your website or app. We also support simulcasting to platforms like Twitch and Facebook with the help of dedicated software.
This approach gives streamers more control over their content, and it ensures full ownership of every single stream. When you stream on Twitch and other similar platforms, you're actually agreeing to forfeit partial ownership, which is not ideal in all situations. 
How to Simulcast a Twitch Stream
Since there are so many valuable Twitch alternatives, some streamers like to stream on multiple platforms at once. This is called "simulcasting."
Most live video streaming setups require the support of streaming software that is dedicated to simulcasting. The best way to approach this is to host your stream on a professional video streaming platform and simulcast to the social-grade destinations from there.
Our recommended tool for simulcasting is Switchboard Live. This platform supports simulcasting to Facebook, YouTube, Twitch, and more.
Check our dedicated guide to simulcasting for more information.
Final Thoughts
Twitch is a great streaming platform, especially for streamers in gaming and similar niches. There are so many options for Twitch streaming setups since the site is comparable with so many consoles and devices.
Are you looking for a bit of a more advanced streaming solution? Dacast could be an option for you. If you host your streams on Dacast, you can simulcast to several platforms, like Twitch, while accessing professional streaming features.
You can try our streaming solution risk-free with our 14-day free trial. Create a Dacast account today to access your free trial and start streaming in no time. No credit card is required.
For the best broadcasting tips and exclusive offers, join our LinkedIn group.