Streaming live video on your website requires live streaming equipment. When it comes to equipment, the critical elements include a camera, microphone, an encoder of some sort, and an internet connection. However, it would be a mistake to think the story ends there. In fact, producing the best live stream possible means using a variety of equipment.
Also, the equipment you choose will depend on your use-case. Let's think about three different types of users. Our first user is a mobile journalist. They live stream from the field, which means light and mobile gear is essential. Our second user is a business live streamer. Their primary need is to keep the budget under control. And our third user is a professional live broadcaster. They're concerned with quality above all else.
Let's dive into some of the specific live streaming equipment that each of these users might require.
#1: Video Camera
The first requirement for live streaming equipment is a video camera. There are thousands of different live streaming cameras available. Like most types of gear, live streaming video cameras come with trade-offs.
Entry-level video cameras tend to be cheap and lightweight. Video quality can be good, but only if lighting conditions are ideal. They lack manual controls and include only basic connectivity. These cameras also tend to not be very durable.
Example: smartphone cameras, action cameras, entry-level camcorders
Price range: $300 – $700
Our pick: Panasonic HC-VX981K, $647.99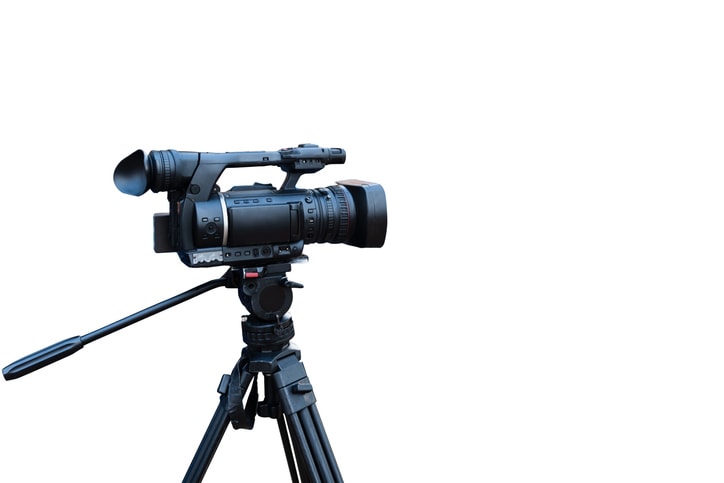 Prosumer video cameras are the mid-range option. Image quality improves at this level, and can even be excellent. Connectivity is decent but not professional-grade, with HDMI being a standard option. There may be a few manual controls, but without the ergonomics and customization of a fully pro-level camera.
Example: DSLR and mirrorless cameras, prosumer camcorders
Price range: $800 – $3,000
Out pick: Sony Alpha a7 III, $1,998
Professional video cameras include pro-connectors like XLR and SDI. They tend to have large, high-resolution sensors which provide excellent image quality, even in poor lighting conditions. Build-quality is higher, with manual controls and they're more durable. Some professional cameras allow the use of interchangeable lenses. They're also heavier, on average, and more expensive.
Example: professional camcorders, EFT cameras, cinema cameras
Price range: $1,500 – $25,000+
Our pick: Panasonic AG-CX350, $3,685
#2: Audio Equipment
Various studies have shown that audio quality is even more important to viewers than video streaming quality. If a live streaming video stutters, the user-experience may be fine as long as audio quality remains high. The lesson? Don't skimp on audio.
There are three basic tiers of audio live streaming equipment:
Low—Medium Quality: For example: the built-in microphone on entry-level and prosumer cameras.
Medium—High Quality: USB and 3.5mm microphones, or built-in microphones on professional live video cameras.
Professional Quality: XLR microphones.
A basic $10 wired 3.5mm lavalier mic can greatly improve your audio quality over the built-in microphones on entry-level video cameras. And upgrading to a high-end 3.5mm microphone can deliver great quality as well. But if you want to maximize audio quality to the highest level, consider XLR microphones. This is the professional standard for quality and durability, and it's been that way for decades.
#3: Mixing Equipment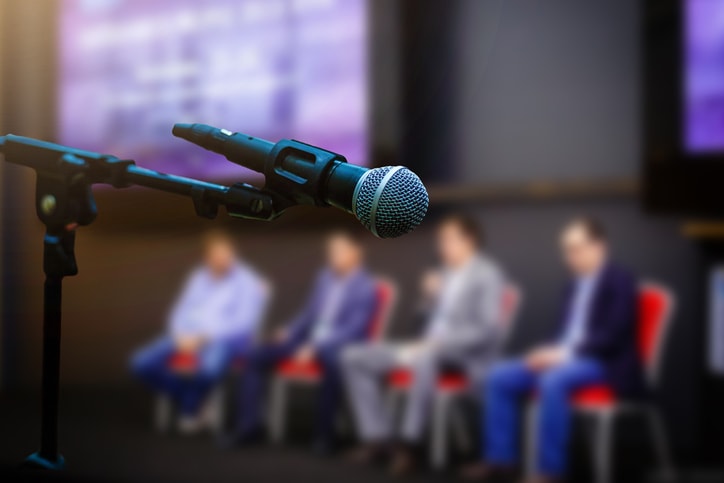 Mixing or switching live streaming equipment allows you to capture multiple video or audio sources, and switch between them during a live broadcast. This is optional. But if you're doing a large multi-camera shoot, mixing is essential.
For video, hardware switchers are ideal when you have a lot of cameras angles. This devices allow you to press a button and easily switch between cameras.  One example of a professional live video switcher is the Blackmagic Design ATEM Television Studio Pro 4K Live Production Switcher ($2,995). This device allows you to connect up to 4 HDMI cameras and 4 SDI cameras (and 8-camera SDI version is also available). Then you can switch between them using software on a connected computer.
For a complex shoot, you'll also end up with multiple audio sources. This will require some sort of audio mixing. If you're using a live streaming encoding software, you may be able to mix digitally on the computer. A more expandable option, however, is to use a separate audio mixer to capture the audio sources. Then, you can adjust levels and other qualities individually, and import a clean sound signal into your encoder.
#4: Encoder
The fourth key piece of live streaming equipment is for encoding. Broadly, there are two types of encoders: hardware and software.
Hardware encoders are best for professional applications. They can support a wide range of sources, but often HDMI and SDI. They're usually built to last and can support 24/7 video streaming without crashing. There are also some specialty hardware encoders on the market that use battery power and 4G LTE connections to stream live video from remote locations.
Though beginnings generally use software encoders, some professionals do as well. A software encoder runs on a desktop or laptop computer. To capture video, they need to be paired with a capture card or other means of connecting your cameras to your computer. A few popular examples are vMix, Wirecast, OBS Studio, and VidBlasterX. These software packages also integrate mixing and production tools.
#5: Internet Connection
The fifth essential element in all this is a sort of live streaming equipment: your internet connection. A solid internet connection is an absolute necessity for live streaming. Ideally, this means connecting your encoder to a wired Ethernet cable. WiFi isn't as fast or reliable for live streaming. However, it can work if you have no other option.
You'll also want to ensure that you have sufficient upload speed for your live stream.
#6: Accessories and Miscellaneous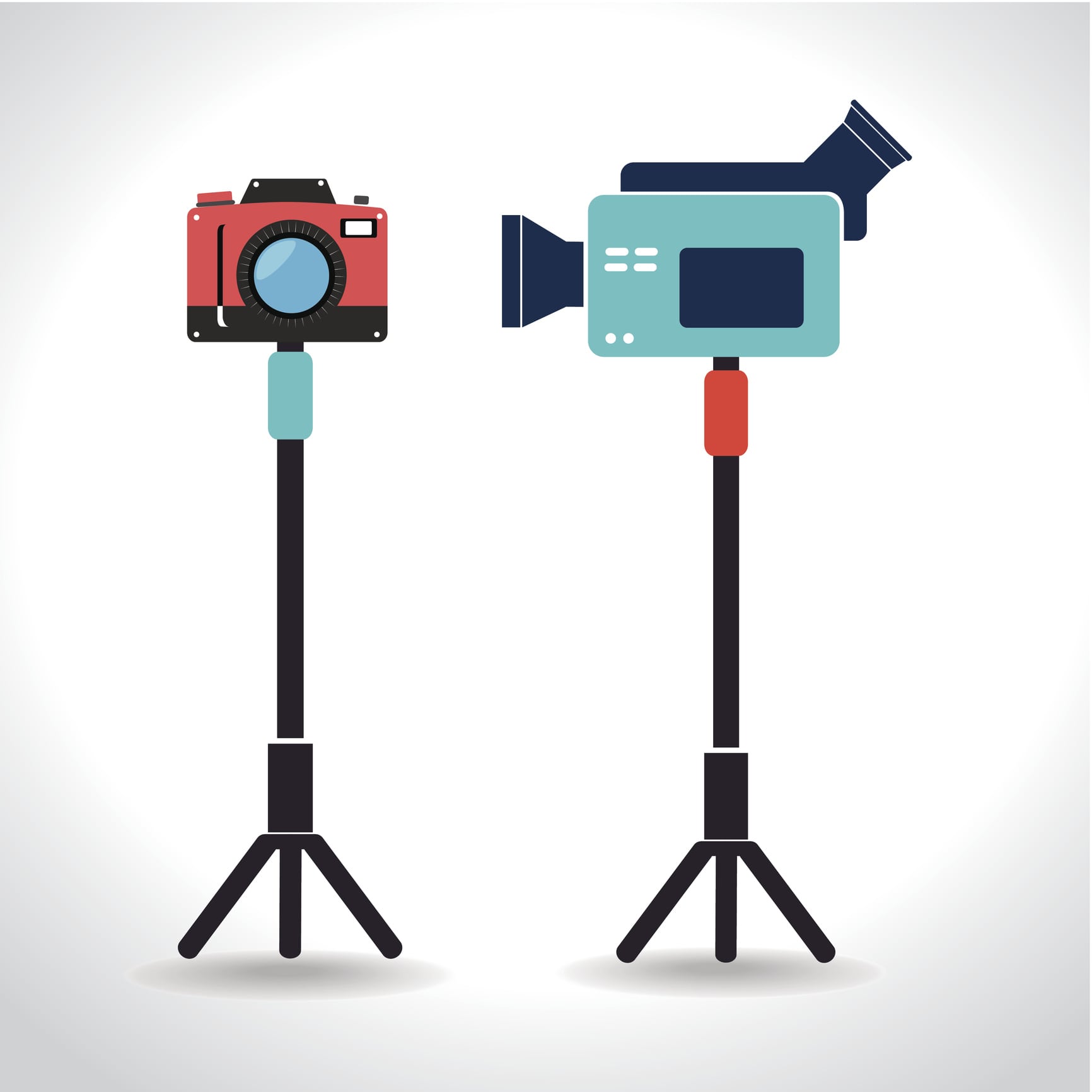 To tie together all your production, you'll need a variety of miscellaneous live streaming equipment. This will include cables, tripods, batteries, and random things like light stands.
#7: Content Delivery
The final critical element in live streaming equipment is a solution for content delivery. You need an effective, professional way to get your content to your audience.
We don't recommend using consumer video platforms like YouTube. They have major downsides. For example, workplaces and universities often blocked these platforms. Content recommendations can include inappropriate or competitive videos. And they're not white label, which is a professional standard.
The alternative is a a professional online video platform (OVP). A quality OVP provides tools for video security, monetization, and customization. All this occurs in a white-label platform that can be customized for your branding, and embedded on your website.
How to Complete your Live Streaming Equipment Set
Here are a few additional articles about live streaming equipment you can consult: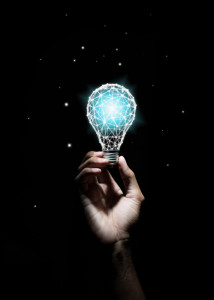 In parallel of your live streaming equipment, you might also want to have a look at those 20 Pre-Production Tips provided by SingleGrain Digital Marketing agency to ensure you're creating the most successful possible online video content.
Conclusion
Live streaming equipment is a broad field that covers video, audio, internet, software, hardware, and more. However, an introduction to one specific part of that field is useful for live streaming newcomers. Hopefully this article has helped demystify the world of live streaming equipment.
What if you're not already using Dacast? In that case, we invite you to sign up for our 30-day free trial (no credit card required).
Any questions, comments, corrections, or ideas? Let us know what you think about this article by leaving a comment below. We love to hear from our readers and look forward to responding to your comments. Thanks for reading!
For regular live streaming tips and exclusive offers, you can also join our LinkedIn group.