Audio streaming is more popular than ever before. Podcasts, internet radio, and other types of audio content are extremely common. There are more than 500,000 active podcasts listed on the iTunes store, with many more on other services like Stitcher. This blog will look at how to choose a live video streaming solution for streaming live audio.
Specifically, this piece will look at the rise of podcasting and online radio. We'll discuss why a live video streaming solution is ideal (somewhat paradoxically) for streaming audio and hosting. After that, we'll look at some of the key features for audio streaming and how to get started.
As of 2018, more than one-quarter of the U.S. population listens to podcasts at least once a month. That's nearly 90 million people. When you consider the global audience, the potential audience size rises astronomically.
Table of Contents:
The Rise of Podcasting and Online Radio
Why a Live Video Streaming Solution is Ideal for Audio Broadcasting
Features for Broadcasting Live Audio
How to Get Started
Embedding Audio / Video to Your Website
Get Your Podcast Listed
Conclusion
The Rise of Podcasting and Online Radio
According to Edison Research, half of all people in the U.S. listen to online radio on a monthly basis, and this figure is still on the rise.
That's a potential audience size of 120 million listeners! This statistic is up 6% from 2012, and a staggering 28% since 2003. Taken at the weekly level, 33% of all internet users listen to online radio.
Given that massive audience size, it's no surprise that we're witnessing a renaissance in broadcasting live audio. All kinds of businesses, organizations, and individuals are broadcasting live audio. Here are a few examples of genres and industries that are taking advantage of this renaissance:
Full-fledged radio stations with diverse programming
News and media outlets
Traditional music-based radio shows
Talk shows
Comedy
Educational podcasts or radio channels
Business and entrepreneurial podcasts and recordings
Sports broadcasts
Religious broadcasts
Entertainment and audio drama
Why a Live Video Streaming Solution is Ideal for Audio Broadcasting
When you're looking for a podcast or radio station hosting service, it's easy to think that an audio-specific solution is best. However, there are multiple reasons that may not be true. A live video streaming solution is usually capable of audio-only streaming, and many organizations find that broadcasting live audio via a live video streaming solution is actually more suited to their needs.
Let's look at a few reasons why this may be the case.
1. Live Broadcasting
Most podcast hosting services are made for hosting and delivering pre-recorded content that isn't time-sensitive. Meaning they aren't well suited for live broadcasts that are scheduled or meant to be running 24/7.
In contrast, a live video streaming solution provides the functionality and power for live streaming, whether it is a scheduled event or a broadcast meant to run continuously around the clock. That includes distribution via a powerful live-streaming CDN (Content Delivery Network) for scaling to reach large, globally distributed audiences without buffering or lag problems. Not every solution has this functionality, however, so make sure to do your research!
2. Audio File Storage and Hosting
Storage space is another of the largest differences. More storage allows you to store more podcasts and reuse them forever. One popular podcast hosting service costs $75 per month for 1.5 GB of monthly storage. In comparison, we offer 50 GB of storage for just $39 per month with an annual Starter plan. If you need more storage, you can upgrade to 1 TB for $188 per month.
3. Monetization
Another major feature is monetization support. A live video streaming solution like Dacast provides an easy-to-use paywall that is integrated into a white label player, offering pay-per-view and subscriptions. Streaming audio makes up an increasing proportion of music industry revenue. This is a substantial revenue stream that you can tap into via monetization tools, ideal for special guests or other types of shows.
Video hosting plans may also include some perks that podcast hosting services don't include. These features include features like analytics, API access, security and access control features, M3u8 playlist support, and more.
Features for Broadcasting Live Audio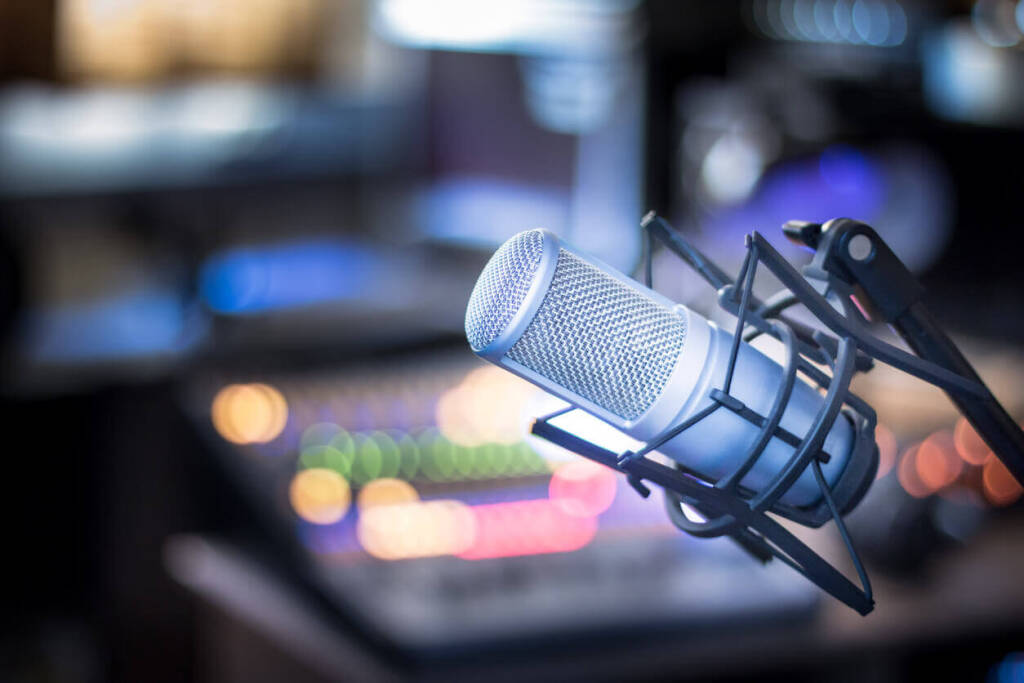 Let's dive a little further into the features of a live video streaming solution like Dacast. Our streaming platform provides the following features for broadcasting live audio:
Broadcast live shows, not just pre-recorded content
Embed players on the website of your choice
Stream packages of pre-recorded music and podcasts, mixed with live video if you want
Broadcast multiple radio stations from the same account, simultaneously
Fast, global delivery via top-tier live streaming CDNs
Detailed analytics
HTML5, white-label player
Integrated paywall
Secure content with geographic and IP restrictions as well as password-protection
How to Get Started
Getting started with broadcasting live audio is relatively simple. All you need is a quality microphone that can be connected to a computer. Most broadcasters use USB mics or XLR mics connected via some sort of soundboard. Once this is set up, you can pull that audio feed into a live broadcasting software application.
Once this is done, you can connect your software to your online video platform. This involves entering the streaming information of your video content (provided by your live streaming solution) and enter your encoder settings.
At this point, you are ready to begin a live broadcast. All you have to do is press the correct button in your live stream broadcasting software to begin the show.
Embedding Audio / Video to Your Website
Of course, another key element is embedding your live stream in the correct location. Most online radio stations embed a player right at the top of their website. You can also embed on the websites of partners/advertisers, individual shows, DJ/host blogs, and so on.
The process of embedding a live feed using Dacast is easy. To do so, login to your account. In your list of live channels, click on the radio channel you want to embed. Remember that you can have multiple simultaneous channels, so choose the right one.
On the next page, click the "Publish Settings" tab. The lower-left section of this publish settings page will provide several different embed codes for you to choose between. There are two main options: iframe and JS (Javascript). We recommend using the JS embed code, especially if you want to use the full-screen option.
For quick sharing among your network, you also have a "share code" which is a simple URL where your followers can directly access your podcast.
Get Your Podcast Listed
If you're hosting a podcast using Dacast or another live video streaming solution, it's easy to get listed on iTunes, Stitcher, and other podcasting services. Before listing, make sure your podcast supports the following specifications:
Feed available via the RSS 2.0 specification
The feed contains artwork between 1400 x 1400 and 3000 x 3000 pixels, 72dpi, JPEG or PNG format, and RGB colorspace
Proper metadata for each episode
More best practices here
Then, you can go ahead and submit your podcast via iTunes podcast connect.
The process is similar for listing on Stitcher and YouTube Music.
Conclusion
Forty-two million Americans listen to podcasts weekly. Many others listen to online radio stations. You can reach that audience if you create compelling shows—and if you have a reliable hosting service.
If Dacast sounds like a live streaming platform you'd like to try, you can sign up for our 30-day free trial (no credit card required) below. That way, you can test out all of our great features before making a commitment, and we can answer any questions you may have during the process.
Do have questions or comments about our service for broadcasting live audio before giving Dacast a try? Let us know in the comment section below, and we'll do our best to respond as soon as we can. For regular tips on live streaming and exclusive offers, we also invite you to join our LinkedIn group.
Thanks for reading, and good luck choosing the right streaming service for your radio broadcasts!