How Do I Enable AES Encryption in my Dacast Account?
Introduction
The core component of the new 'Dacast Secure' delivery is encrypted video streaming. Simply put, the video data that we send from our servers to your embedded players are encrypted so that, even if somebody were able to somehow get their hands on the stream between the server and player, it wouldn't be of any use because they'd be unable, practically speaking, to decrypt the data and get their hands on your video content
It's important to stress that our implementation is all server-level – not browser-level – authentication so that makes it impossible for anybody who goes poking in your page sources to see how it works and somehow circumvent it.
The encryption standard we use is called AES – which stands for 'Advanced Encryption Standard' – and is a widely-embraced standard used all over the world. It's been adopted by the US Government and is approved for use by the NSA for securing 'top secret' data. In short – it's very secure. If you are interested to read the standard itself, it's here:  FIPS 197, Advanced Encryption Standard (AES)
Benefits
AES video encryption can be extremely valuable to anyone who needs to keep the video private. AES video encryption prevents "Man-in-the-Middle" (MITM) style hacking attacks. In this type of attack, someone intercepts network traffic maliciously. He is trying to steal sensitive data.
You may have heard that using public, unsecured WiFi networks can be dangerous. MITM attacks are the reason why.
AES video encryption allows you to halt these types of attacks completely. Anyone snooping on your streams will be stymied by AES encryption. This provides protection against piracy, data theft, intellectual property appropriation, and more.
Who Can Access Dacast's AES?
Dacast's AES is available to users with the following plans:
Free trials (only during the 14-day trial)
Scale plans and above
How to enable it with Dacast?
You can activate this option very easily from your Dacast account. 
You can do it for existing or new videos on-demand:


In this example, we will choose an existing video.  
Click on the "Security" tab of your top menu: 

Enable the AES option as followed: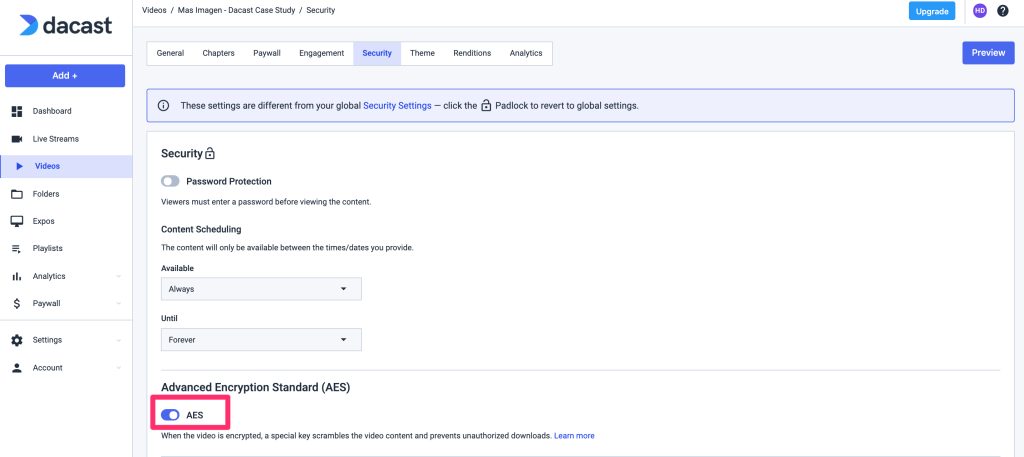 And click "Save"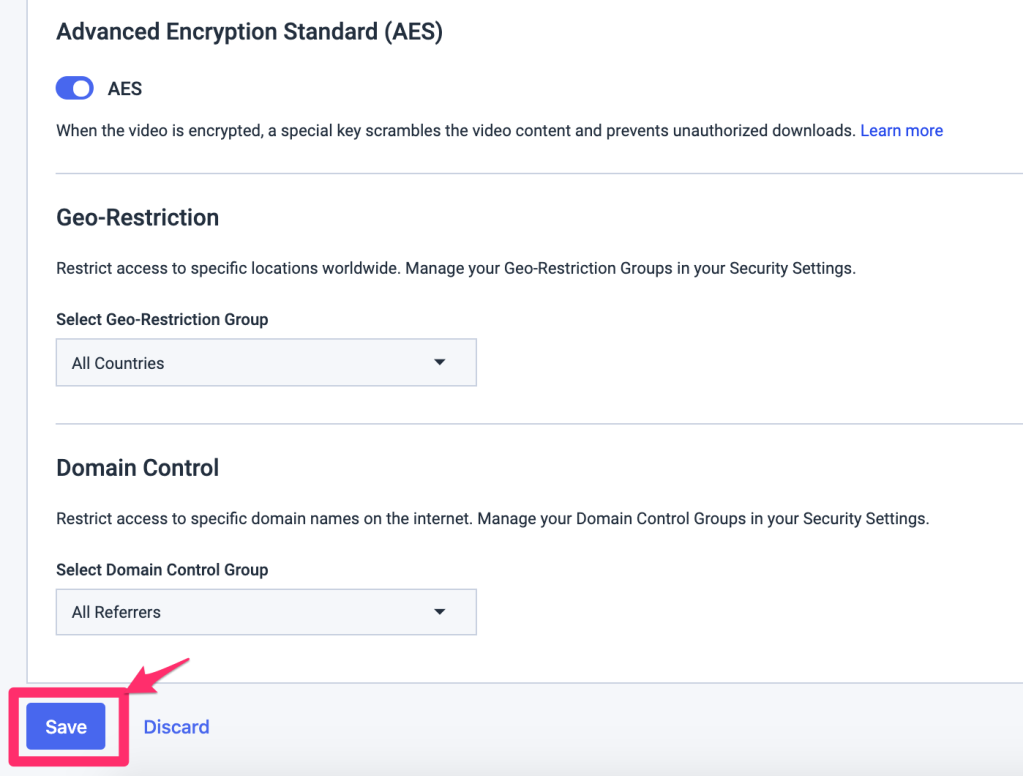 Your video is now protected against unauthorized downloads.
For more information about AES, please see our blog article on this subject. If you have any questions, do not hesitate to contact us.
Not yet a Dacast user, and interested in trying Dacast risk-free for 14 days? Sign up today to get started. No credit card is required.
Additional Resources