How to Embed Live Streaming Video on Your Website [2021 Update]
Thanks to constant developments in video creation and streaming technology, creating and sharing videos is now easier than ever. Recent years have brought an increase in the popularity of video-sharing across hundreds of different platforms. 
This means that more people are sharing live and on-demand videos regularly. Knowing how to broadcast live and embed streaming video on your website is also becoming increasingly important for all kinds of broadcasters.
The same goes for on-demand video content. Whether it is for your business website or your blog, knowing how to embed live streaming content is key to producing successful virtual events, increasing website traffic, or simply gaining exposure for the content.
We've put this guide together to give you some insight as to what video embedding is and how you can embed videos to integrate live video streaming on your website with Dacast.
This post reflects the most up-to-date information on how to embed a live streaming video on your website in June 2021.
Table of Contents
What is Video Embedding?

How Does Video Embedding Work?

How to Embed Live Streaming Video on Your Website

How to Embed Live Videos on Popular Website Builders

How to Embed a Video Player on Social Media

Embedding Video for Mobile Devices and Desktops

Conclusion
What is Video Embedding?
Video embedding is the process of adding a live stream or a video player to your website using an online video platform. For many website building or social media platforms, it is as simple as copy and pasting a link.
You can use free tools like Youtube, but these come with limitations.
Using professional video hosting platforms gives you much more control over your content. You own the content so you can white-label (or remove the host's branding). You also don't have to worry about following any of Youtube's strict guidelines or about your content being deleted without your permission.
Video embedding is fairly easy as long as your website design is compatible with the type of streaming you want to set up.
How Does Video Embedding Work?
Video embedding works by adding a snippet of code, which is referred to as an "embed code," from your video hosting platform to the code of your website. It allows you to integrate and set up live streaming video on your website.
Dacast's video hosting software generates two types of embed codes: iFrame and JS. Which one you choose depends on your unique setup.
The JS embed code is the default embed code for Dacast, and it supports the most features. This includes being responsive if the elements are designed inside is a different size and working with the referrer restriction feature. 
The iframe embed code is the most universally compatible embed code. The caveat is that some features do not work with it. This embed code is not responsive, which means it's a fixed size. The full-screen feature is also sometimes removed. This usually happens only if you are using iframes within iframes. Additionally, the URL-based referrer restriction feature does not work with the iframe embed.
How to Embed Live Streaming Video on Your Website
It is not difficult to embed live streaming video on your website, but it does require a few different tools and a little bit of know-how. 
Let's take a look at how you can embed a video player on your website in 5 simple steps.
1. Choose a Live Streaming Platform
The first step in embedding a live video on your website is investing in a live streaming platform. This tool is used to manage and host all of your video content. Many of these platforms also support monetization, security, and more.
Some of the top live streaming platforms include:
Again, YouTube and Vimeo are two free alternatives. These options are very limited in terms of features and capabilities, but they can be helpful for broadcasters with limited budgets.
For more information on choosing a platform to host your stream, please check out our live streaming platform comparison post.
2. Create a Live Channel
Once you've chosen an OVP, it is time to create a live channel. To do so in Dacast, click the purple "Add +" button in the menu on the left. Select "Live Stream," and when the window pops up, add a title and select "Standard" as your stream type. Click "Create."
3. Generate an Embed Code
Platforms like Dacast give you the option to manually embed streaming content on your website by providing the embed codes that you need to make this possible. Dacast makes it exceptionally easy for users to create embedded players on their sites and broadcast live video streams.
STEP 1: To get started, log in to your Dacast account. Find the video you want to embed and click the "Edit" button:
STEP 2: Navigate to the "Sharing" section under the "General" tab and copy the "Embed Code":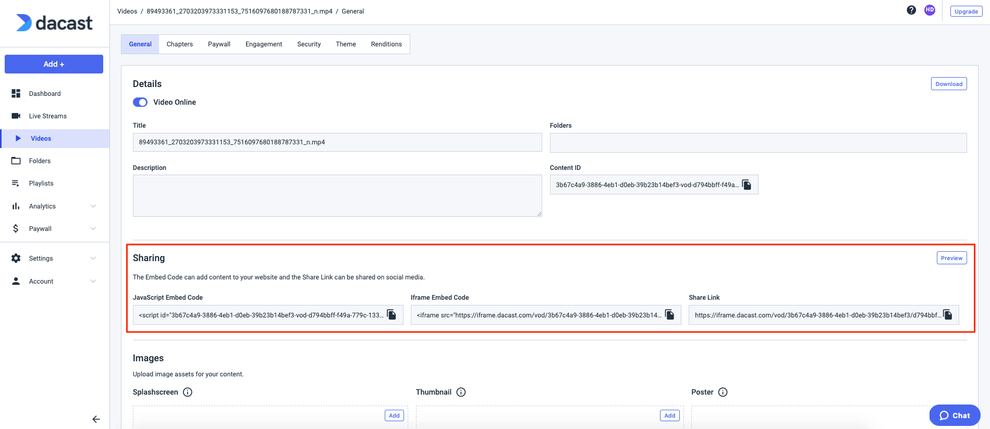 There are two types of embed codes available: JS (Javascript) and iframe. We recommend using the JS embed code because it's more universally compatible with the full-screen feature.
The JS embed code is also a requirement in order for the URL referral restriction feature to work (which restricts content based on the websites allowed to host it). That said, the iframe embed code is more compatible with and/or required for some frameworks, including WordPress and WIX.
STEP 3: Once you have selected your embed code type, the last thing you have to do is insert it into your website. It will not look the same for everybody, but assuming you have access to edit at the HTML level it will look something like this:
You can change the width and height parameters, as well. The parts for the code that you must change to do this are highlighted in red above.
If you go to the "General" tab and navigate to "Sharing," you will also see a "Share Link" option.
This is not an embed code but a link that will allow you to share directly with viewers or to your social networks. 
If you have any questions about video embed or need help with this Dacast feature, feel free to contact us directly.
4. Paste the Embed Code
Find the place on your site that you'd like to embed the video player. Open the HTML editor, and paste the embed code that you copied from your OVP.
Preview the changes to make sure the code is working properly.
By either using domain restriction or signed embed codes, you can also share videos privately to ensure that your videos are only accessible on websites you own. This feature is available with many professional video CMS platforms, protecting your content even when you use a third-party platform.
5. Save Your Changes
Save the changes, and publish the page or post that you've edited. Again, test out the live site to make sure that your video player has been properly embedded in the site.
It is a good idea to do a test run of the live stream before your broadcast is slated to start.
How to Embed Streaming Video on Popular Website Builders
You can embed videos on your website quite easily if you are using a drag-and-drop website builder. Embedding videos on platforms like Wix, Weebly, WordPress, or Yola only takes a few steps.
Here are step-by-step instructions on how to embed live streaming video on popular website-building platforms.
1. Wix
Wix is a website building platform that is used by many people who take a DIY approach to create their website.
You can embed a video on your Wix site with just a few simple steps.
Click the Wix App Market icon on the left side of the editor

In the app search, type "HTML embed"

Click "Add to Site"

Click on the HTML app 

From the pop-up menu, click "Settings

Under "Mode" choose "HTML Code"

Under "HTML/Embed Code," paste the code that you generated on Dacast

Click "Update"
Take a look at the published site to make sure everything looks how it is supposed to.
2. Weebly
To embed on Weebly, all you need is the embed code for the content you want to post onto the site. The Dacast iFrame embed code is ideal. Copy it to your clipboard.
Once you have copied the embed code from Dacast. Drag and drop an "Embed Code" element to the place where you'd like your video to be. Click inside the Embed Code space and paste your code.
If the video doesn't show up in the editor, don't worry. Try to hit publish, and it should show up for you.
3. WordPress
WordPress has recently updated its platform, so embedding a video is as easy as ever.
Here's what you've got to do:
Copy your embed code from Dacast

Open the page or post where you want to add the video

Click the plus sign in the top left corner

Search for "Video" in the element menu

Drag and drop the video element where you'd like the video to be

Click the three dots at the top of the element and click "Edit as HTML"

Paste your embed code

Click "Update"
In order to add videos to the old version of WordPress, you would need to switch from "Visual Editor" to "HTML Editor" and paste the embed code.
4. Yola
On Yola, you can add videos to your website from other video-sharing sites. With your Dacast embed code, follow these steps.
Copy the code provided.

Go to site builder, then click "Widget"  

Select "Popular"

Drag and drop the "HTML code" widget onto your page

Paste your code in the HTML editor 

Click "Save"
It's always a good idea to preview the published page to make sure everything will look okay for your viewers.
5. Google Sites
Google Sites is part of the Google app tool suite. It's a free service that allows you to create your own website. The service was created to allow groups of individuals to create and edit a website together from different locations. 
To embed on your Google Sites page, follow these steps:
Copy the Dacast embed code for the video

Locate the page where you want to embed the video

Click "Edit Page" 

Place your cursor where you want the video

Go to "Insert Menus"

Click on "More Gadgets" 

Now select "Featured" and then find the "Embed Gadget"

Once you've selected the "Embed Gadget," paste the embed code

Click "OK" to save your page
That's all you've got to do. Now, you'll have the video embedded straight onto your Google Sites website for viewers to see.
How to Embed a Video Player on Social Media
The ability to embed live stream content onto social media is vital in today's world. With the likes of Facebook and Twitter, to name only two, people both watch and stream videos that can reach broad audiences. Despite its live streaming limitations, social media is considered a tried-and-true way to gain viewers and grow a following for your broadcasts.
You can share one of these identical share codes on Facebook and Twitter in order to give access to your live broadcast or video-on-demand. You can locate this code in the "PUBLISH SETTINGS" section of your video content.
Please note that Facebook has been restricting its option to live stream directly on the Facebook platform. Therefore, if you want to live stream on the Facebook platform, please check out this tutorial for information on working with all encoders supporting multi-destination streaming.
Embedding Video for Mobile Devices and Desktops
With Dacast and most other video streaming platforms, broadcasters don't have to worry about learning how to write the correct embed code because the software generates a code for you. 
You can copy and paste the iFrame or JS embed code directly into the HTML of your website. This method works well for both mobile and desktop sites. This is definitely a perk because watching videos on mobile devices has a rocky history. 
For many years, Adobe's Flash Media Player was the standard for playing videos. This trend shifted with the advent of smartphones, specifically the iPhone, in 2007. Apple's iOS operating system has never supported—and likely will never support— Flash technology. 
Steve Jobs released a public statement about the technical flaws of Flash Media Player. He noted these flaws as the reason why he didn't use Flash for Apple's iOS. This announcement created controversy and heavy speculation. There were many theories about Jobs's motivations. However, shortly thereafter, Apple launched the HTTP Live Streaming Protocol to coincide with the debut of the iPhone 3.
Flash has been on the decline ever since, especially for mobile operating systems. A few years later, Android followed suit by ditching Adobe Flash, as well. As a result, Dacast and other live streaming platforms now integrate HTML5 into our embed codes. This feature helps you to create embedded players with compatibility across most devices.
Conclusion
It's fairly simple to embed live video on your website, whether you're tech-savvy or brand new to live streaming technology.
Here at Dacast, we provide embed codes that are easy to copy and paste into your website's editing platform. Most online website creators will have unique ways of embedding videos onto your website, but if you follow the instructions we've provided, it is easy to figure out.
Now that you've learned about how to use Dacast's streaming solution for embedding live stream and on-demand video content onto your website and social media pages, it's time to show off your content. 
When you use Dacast to host your video content, generating embed codes, and adding your videos to your site will be a breeze.
Interested in giving Dacast a try? Why not take advantage of our free 30-day trial (no credit card required).
From secure video upload of your valuable content to reliable top-tier CDN content delivery to viewers, we've got you covered!
Subscribe
Stay up to date with our latest features and product releases