Last Updated On March 16, 2019
A Better User Experience, and more data
3 THINGS TO KNOW ABOUT YOUR ANALYTICS DASHBOARD
1/ Timezone of the analytics section
Please note that your analytics data of "dashboard" and "viewership" are provided in your local time (for example: if you are in NYC, it will provide data in EST).
The tab Analytics per content however provides data in UTC.

2/ Start date of the Data collection for the new graphs
Among the changes are new graphs with new metrics. These new graphs have started to collect data since 07/29/2018. This is specified under each graph affected . Please take that into account when analyzing a longer time period.
3/ Data collection and player
The new graphs collect data via DaCast default player only. If you are using DaCast M3U8 live channels, a custom player or if you are playing your content via a TV set-up box or a mobile app that is not based on DaCast SDK, the data won't be tracked.
This is specified under each affected graph.

If you are using a custom player or playing your content via a TV set-up box or a mobile app not based on DaCast SDK, you will only access the consumption of data per time.
HOW TO READ YOUR VIDEO ANALYTICS DATA
You can access your video analytic data in 2 different sections of your DaCast account :
1/ in the analytics sub-section of any video content hosted on the DaCast platform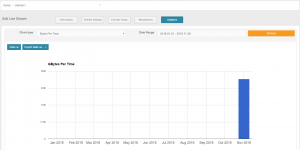 2/ in the main Analytics section of your account:

Access your data in a much faster and easier way:
Use the new filters to access the time range you want:

Expand the graphs/maps, switch your graphs/maps to tables, export to CSV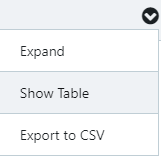 Dashboard
The dashboard provides you with data of your overall contents. To get your data per content, go to the section viewership (part 2/ Viewership) or go to the channel/VOD settings, and click on the tab "analytics".
The dashboard provides you with the following information:
Consumption per time
Plays and viewers per time
Consumption per device
Top content
Consumption per location
Here are all the graphs presented one by one.
Now you have explored the dashboard, let's dive into the real time analytics section.
2. Real Time
Get your analytics in Real Time, and get access to:
Concurrent Viewers Per Time

New Playback Sessions Per Time

GBytes Per Time

Consumption Per Location
Follow the walkthrough to make the most of your real time analytics.
The next section presented will help you to analyze your viewer engagement.
3. Viewership
The viewership section will help you to understand your viewers' engagement.
Option 1 – Compare your contents: Select up to 5 contents with the selector of contents and click save.
Option 2 – Get an overview of all your contents: do not select any content, and click refresh.
The viewership section will provide you with the following information:
Data consumption

per time
per content
per city
per device
per domain

Average time watch

per content
per city
per device

Average number of concurrent playback session

per time
per content
per city
per device

Plays and viewers