Comparing the Top 10 HLS Streaming Software for Live Broadcasting [2022 Update]
Broadcasting live streaming video requires a variety of specific tools. There are several types of streaming software, including encoders, live switchers, simulcasting tools, and more.
Each of these tools plays an important role in enhancing the live streaming experience. HLS streaming software, in particular, is used with live streams that are delivered with HLS technology.
In this post, we're going to look at several of the best HLS streaming software offerings. We will review some of the top software in the live streaming game, including Wirecast, Switchboard Live, and Restream. What each of the tools has in common is its compatibility with HLS streaming to an HTML5 video player.
Before we get into our comparison, we're going to discuss the basics of HLS streaming and compare ingest and delivery in the context of live streaming. 
Table of Contents:
HLS Streaming: The Basics

Delivery vs. Ingest in Streaming

What is HLS Streaming Software?

Comparing the Top 10 HLS Live Streaming Software 

Conclusion
HLS Streaming: The Basics
HLS, which stands for "HTTP Live Streaming," is a video streaming protocol that was developed by Apple to deliver content to an HTML5 video player.
This protocol became essential in the industry-wide transition from Adobe's Flash Player to more modern HTML5 video players. To put it into perspective, HLS is to HTML5 as RTMP was to Flash.
As an adaptive bitrate streaming protocol, an HLS streaming server delivers the best available video quality to viewers at any given time. HLS solutions make it possible for every viewer to get the best viewing experience. 
Over the past several years, HLS has become the most widely used live streaming protocol. Smartphones, desktop and laptop computers, tablets, smart TVs, gaming consoles, and many other devices, all support HLS.
The biggest benefits of HLS streaming are improved security and nearly universal compatibility. If you want to reach a big audience with your audio and visual content, you need to use an HLS solution.
Delivery vs. Ingest in Streaming
Before we get into our HLS streaming software comparison, it's important to clarify the roles of HLS and RTMP encoding in delivery and ingest, respectively.
In most cases, live streaming involves sending data from your capture device to an online video platform (OVP), with a few stops in between. OVPs either use their own content delivery network (CDN) or partner with a CDN to deliver streams to your viewers. 
It is also possible to send the data via your own live streaming server, but this requires more equipment and technical knowledge.
This process of sending the stream from an encoder to the online video platform is known as stream ingestion, or simply "ingest." Stream ingestion usually occurs using RTMP.
RTMP stands for "Real-Time Messaging Protocol." As we mentioned, RTMP was previously used to deliver content to the Flash video player. RTMP ingest should not be confused with RTMP delivery.
It is also possible to use HLS for ingesting, but this is not yet widely supported. HLS is used primarily for HLS delivery, whereas RTMP is for stream ingestion.
If you'd like to learn more about RTMP servers and how the two protocols work together, we recommend checking out our dedicated RTMP ingest guide.
What is HLS Streaming Software?
There are several types of software for HLS streaming. Typically, these tools specialize in a specific function that is related to live streaming, but it's also fairly common for one software to include support for multiple functionalities.
What makes them "HLS streaming software" vs. "streaming software" (which we discuss in other posts) is that they are specifically set up for streaming to an HTML5 video player via HLS delivery.
Some of the main types of HLS streaming software include encoders, switchers, and simulcasting tools. Let's break these categories down.
Encoding Software
Encoding software is probably the most important HLS streaming software, simply because most broadcasters need it. This software converts the RAW video files that your camera captures into a ready-to-stream digital video file.
The benefit of software encoders rather than hardware encoders is that they are generally more cost-effective. Unlike hardware encoders, software encoders can be updated as the software is improved. That means the lifespan of live stream encoding software lives beyond its hardware counterpart.
Simulcasting Software
Simulcasting, which is short for "simultaneous broadcasting," is streaming to multiple destinations at once. This functionality is also referred to as "multi-destination streaming."
For example, if you want to broadcast a live stream on your website, and on a social network like Instagram at the same time, that is simulcasting. You are simultaneously sharing the exact same content across various online platforms.
Simulcasting requires the support of dedicated HLS streaming software.
Many broadcasters use simulcasting software to stream the same content to their sites, apps, and popular social media platforms, all at once. With simulcast streaming, you can reach a larger audience.
Switching Software
When it comes to live streaming at the professional level, a reliable switcher is a must. Switching software allows broadcasters to switch between different live feeds, on-demand video, and other sources instantaneously.
Using different sources throughout your stream can keep things exciting and engaging.
Comparing the 10 Best HLS Streaming Software in 2022
Now that you have an idea of how HLS streaming works and what HLS streaming software is, let's take a look at the best HLS streaming software.
With each option we highlight, we'll share its key features, pricing, and compatibility, as well as pros and cons.
1. Wirecast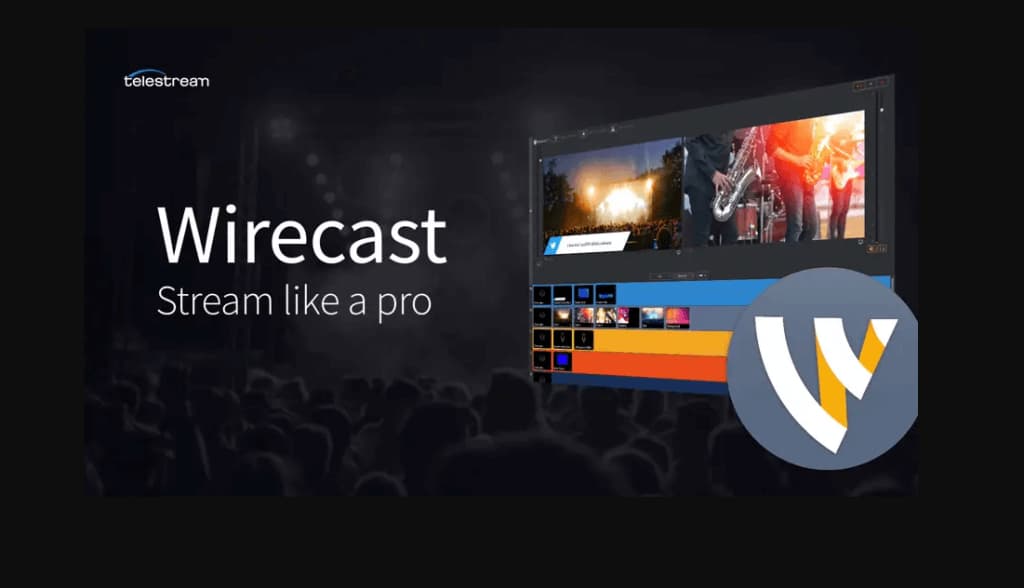 Wirecast is a professional-grade HLS streaming software with a video switcher and encoder that is powered by Telestream.
This HLS streaming software allows you to quickly switch between multiple sources, overlay graphics on the feed, and stream video. With Wirecast, you can record streams locally, as well as mixing mix audio and adding add video effects.
Wirecast features several enhancements and fixes, including Facebook Live polling, re-written WebStream plugin, and Virtual Camera improvements.
To learn more about it, you can check out its tech specs on the Telestream website. 
Key Features:
Support for unlimited sources (cameras, mics, IP cams, capture cards, and NDI)

Built-in graphics and titling tool

Integrates with Facebook Live and Twitter for sharing comments on-screen

Includes instant replay, scoreboard, and timers for sports

Free wireless camera app turns iOS devices into mobile live video sources

Stream to multiple destinations simultaneously

Integrated video chat via "Wirecast Rendezvous"

Local program output
Pros:
Easy-to-use, user-friendly platform

Compatible with most popular operating systems

Fully loaded with valuable features
Cons:
High price point

Many features locked in the "Studio" version

Consumes a lot of computer memory
Pricing:
The HLS streaming software comes in two versions:
Wirecast Studio

for enhanced live production & streaming: pricing is $599 with a free trial

Wirecast Pro

for advanced live production and streaming: pricing is $799 which also comes with a free trial
Upgrading to Pro adds support for:
7 guests via Rendezvous

8-track audio output

Instant replay

Scoreboards

3D virtual sets for green-screen use

Program feed

Support for a wider range of capture devices

ISO camera recording

"Present" version of NewBlue Titler Live.
Additional Wirecast upgrades are available, including:
Premium support

: $299/year

Firewire HDV camera input support: $99 (included in Pro version)

NewBlueFX Titler Live: $245 Standard version, $445 Advance version, $945 Ultimate version

Virtualsetworks: $329
Compatibility:
Wirecast comes in a version for Windows and macOS. The latest version of Wirecast is Version 14.3.4 which was released on November 22, 2021.
These specifications are for the latest version of Wirecast above:
Resolution

: 4096 x 3072 (maximum)

Processor

: Intel i5 dual-core @ 2.3GHz, 6th generation (minimum); Intel i7 quad-core @ 2.8GHz+, 6th generation (recommended)

Input Sources

: Unlimited

Output Destinations

: Unlimited 

Memory

: 4 GB (minimum); 16+ GB (recommended)

Hard Drive

: 2GB, 7200 RPM for record to disk (minimum); 500GB+, Solid State OS Drive (recommended)
Wirecast provides you with quality access to HLS streaming software that you can use to customize your video content, record streams, and mix in special effects. They are an online video platform with professional pricing. 
2. vMix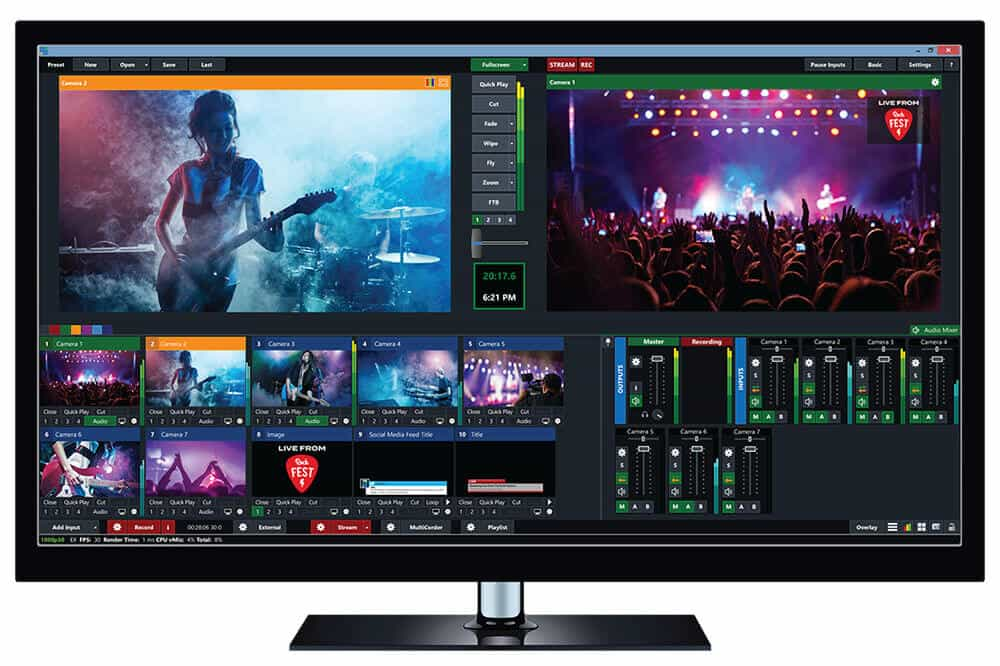 Next up is vMix, another powerful live switcher and HLS software application. Like Wirecast, vMix supports a wide range of inputs and streams to OVPs and CDNs as well as services like YouTube and Facebook.
The latest version of the Windows-specific software is 24.0.0.72 and includes an upgrade to a free 60 day trial of vMix PRO for download. While vMix 24 is for Windows only, the software can be installed on a Mac via Boot Camp if the machine has a Windows partition.
Many broadcasters love this HLS streaming software. Let's look in a bit more detail at vMix's features.
Key Features:
Video support up to 4K resolution

Supports NDI

Source from video, audio, or image files as well as DVD, playlists, and websites

Stream, record, and output video to professional decks and monitors simultaneously

Video transitions and other effects built-in

Support for 3D acceleration reduces the need for a top-end CPU

Virtual sets

PC and Mac desktop source (including audio) via computers on your network

vMix Call teleconference support for up to 8 remote guests

Titling support and four overlay channels

Instant replay support

Touch screen web interface
Pros:
Some limitations on compatibility

Plans for every budget

60-day risk-free trial

Users rave about switcher functions
Cons:
Streams in relatively low bitrate

Some "bugginess" (which users suggest could be fixed with software update)
Pricing:
vMix is available in five different versions, ranging from Basic to Pro. Each version supports a different number of inputs, your purchase never expires, and includes the following versions:
Basic – free, which supports 4 (up to 2 camera/NDI) inputs and video up to 768 x 576 resolution
Basic HD – $60, which supports 4 inputs (up to 3 camera/NDI) and video up to Full HD 1920×1080 resolution
HD – $350, which supports 1,000 inputs, adds vMix call functionality, 4 overlay channels, and supports full HD video in 1920×1080 resolution
4K – $700, which supports 1,000 inputs, 4K resolution video (4096 x 2160), PTZ control, 2 recorders, instant replay, 4 SRT outputs, and much more
Pro – $1200, which also supports 1,000 inputs, includes all 4K features and 2 records, plus up to 8 callers, up to 4 cameras for instant replay, and 4 SRT outputs
The following is a subscription license and includes, and is charged on a monthly basis:
MAX – $50/month, which also supports 1,000 inputs, 1,000 NDI inputs, and includes all 4K resolution video (4096 x 2160), PTZ control, 2 recorders, instant replay, 4 SRT outputs
vMix also offers a 60-day free trial and has all the features of vMix Pro including the ability to use resolutions greater than HD such as 4K, particularly to ensure vMix supports your computer hardware works with it before purchasing.
This is a great perk, as most HLS encoder software offers only up to a 30-day free trial.
Compatibility:
vMix only works natively with Windows, but there are some limited tools from vMix that are supported on macOS. However, many broadcasters use Bootcamp to access vMix on macOS. 
Learn more about how to vMix in our dedicated tutorial.
vMix offers a wide range of pricing, making it appealing for smaller organizations as well as larger ones. If you are looking for a Windows-based HLS provider, they are a good choice.
If you want to know more about the latest changes introduced with the latest version such as color correction features, virtual streaming, and independent streaming control support check out this interview with vMix management team at NAB:
3. VidBlasterX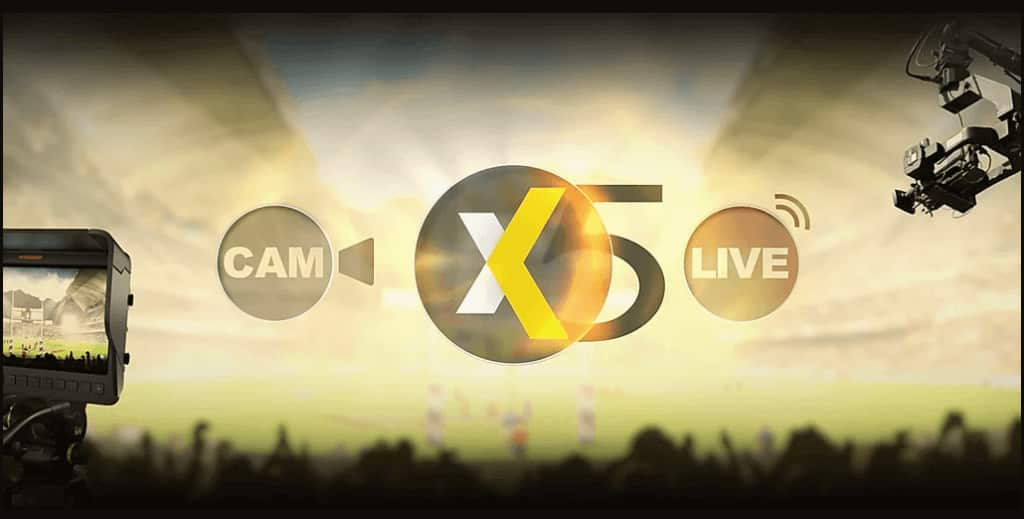 VidBlasterX is a very powerful and capable live streaming software. However, VidBlasterX takes a somewhat different approach, especially when it comes to customization.
This software is an encoder, mixer, stream recorder, and production tool, all in one.
Key Features:
Modular user interface

Everything is customizable

Includes macro and scripting functionality to automate or hot-key actions

Supports overlays and lower thirds

Chroma key support

Live streaming and recording up to 4K resolution

Compatible with social media platforms as well as most OVPs, including Dacast with a direct integration

Audio mixer

Multiview support
Pros:
Offers plans for a wide range of budgets

Feature-rich

Easily customizable
Cons:
Not compatible with macOS

Not well-suited for inexperienced live streamers

Slightly complex
Pricing:
VidBlasterX is available in three versions. Each of the following options is priced with an annual subscription model:
Home version ($9/year) supports 7 modules for basic live streaming
Studio version ($99/year) supports 25 modules.
Broadcast version ($999/year) supports 100 modules. This version also supports multiple recorder & streamer modules in a single profile.
The main difference between the versions is the number of simultaneously active modules you can have.  Additionally, the Broadcast edition also supports UDP streaming, multiple streaming sources, and recorder modules in a single profile, and includes priority support.
Compatibility:
VidBlasterX is available for Windows only.
VidBlaster X offers a low-cost affordable streaming plan for small organizations and supports a broadcast plan for larger organizations. If you need an HLS provider with 4K support, and compatibility with online video platforms, such as Dacast, you should give VidBlasterX a try. 
4. OBS Studio
Now let's take a look at the best free HLS streaming software reviewed in this article. OBS Studio is an open-source, community-based free HLS streaming server project for live broadcasting. It's cross-platform and under active development, with new versions and upgrades released regularly.
This streaming software is a great option for beginners that are still getting the hang of online video streaming since there is no financial investment required.
Key Features:
HLS live streaming and recording functionality

Audio and video mixing, filters, and transitions

Support for hotkeys

Chroma key/green screen support

Scenes allow you to prepare overlays in advance for rapid switching

Support for a wide range of video, audio, and image sources, as well as screenshots

Expandable via plugins to add NDI functionality, remote control via WebSockets, advanced scene switching, and

more

Detailed wiki and highly active user forum for support/help. Many YouTube tutorials are available as well.
Pros:
It's free

Easy-to-use for beginners

Frequent updates

Able to function on lower-quality internet
Cons:
Some limitations on features

does not offer multi-bitrate streaming

Room for improvement for plugins
Pricing:
OBS Studio is open-source and completely free. There is no cost to accessing and using this HLS Streaming Software.
Version 27.1.3 was released on October 4th, 2021, and is available for download here.
Compatibility:
OBS Studio is compatible with macOS 10.13 or newer, Windows 8, 8.1, and 10, as well as Ubuntu 18.04 operating systems. For the Linux version, FFmpeg is required.
Check out our OBS for Dacast guide for Windows users, You can also review this OBS for Dacast guide for Mac users.
Please note that these specifications are based on the latest version above:
Resolution

: unavailable 

Processor

: Dual or 4-Core (recommended)

Input Sources

: unavailable

Output Destinations

: 1

Memory

: 4 GB or more (recommended)

Hard Drive

: unavailable
When you are getting started with video streaming, it is helpful to use some free tools to make the broadcasting process more affordable. OBS Studio is a free HLS player that is integrated with Dacast. 
5. XSplit Broadcaster
XSplit is an HLS streaming software that has five products: Broadcaster, Vcam, Connect Webcam, Presenter, and Capture. The XSplit Broadcaster is the most fitting product for the context of this post, as it works for both HLS live streaming and recording.
XSplit Broadcaster is designed for professional broadcasting use for both businesses and creators who stream niche content like gaming.
Key Features:
Support for a range of inputs including all major capture cards, videos, music, webcams

Display webcam and remove the background

Professional production features, including enhanced audio

Chroma key (green / blue screen)

Remote guests via Skype

Record streams locally

Integrated chat function

Other custom plugins and integrations

Edit and do

secure video upload

recordings
Pros:
Organization by title tags

Streaming and recording tools

Suitable for business needs

24/7 support
Cons:
The platform is a little bit confusing

Requires a bit of a learning curve

Puts strain on some processors

Some features require you to watch an ad before accessing
Pricing:
The pricing plans for XSplit products are priced with a four-tier Premium subscription model.
The Broadcaster Premium license includes the following four tiers:
Premium 1-month license: $15

Premium 3-month license: $30

Premium 12-month license: $60

Premium Lifetime license: $200
Before committing to a subscription, however, a free trial is available for users to test the software. 
Compatibility:
The XSplit site does not specify operating system compatibility, but they do have some system requirements that you can review on their website.
There currently is no integration between XSplit and Dacast.
XSplit is a unique HLS provider. It offers an integrated chat function and allows remote guests to join via Skype. If you are looking for these types of unique features, XSplit may be the right HLS provider for you. 
6. FFmpeg
FFmpeg is an open-source HLS streaming software that includes a library of tools for recording, converting, and streaming audio and video.
FFmpeg compiles, runs, and passes the testing infrastructure FATE across most operating systems under a wide variety of environments, machines, and configurations. This software also comes with FFserver, which is the FFmpeg tool for live streaming.
Additionally, FFmpeg is mainly a command-line application. That means that this streaming software is a bit more complex, which makes it best suited for professional users. There are minimal GUI interfaces available in this tool. 
Key Features
:
Open-source 

Primarily and encoder

Supports all resolutions

Local live stream recording

No mixing features

RTMP ingest makes it compatible with most OVPs
Pros:
Very customizable

Equipped with professional tools

Multiple encoding configurations

Suitable for advanced broadcasting use

Highly compatible
Cons
:
Minimal educational materials, tutorials, or manuals for using the platform.

Highly complex
Pricing:
FFmpeg is free and open-source.
Compatibility:
FFmpeg is compatible with macOS, Linux, Windows, BSD, Solaris, and other popular operating systems.
If you want an HLS provider that is customizable and works with all major operating systems, try out FFmpeg. It is great for broadcasts with more technical skills. 
7. Streamlabs OBS
Streamlabs is an HLS streaming software that offers a wide range of streaming capabilities. The software is open-source and free to download, but users can upgrade to the Prime version for access to advanced features.
Streamlabs has a built-in web-based streaming studio called MelonApp that is designed for simulcasting, which is a nice value add.
The software also has a new multistream feature that is built towards streaming to multiple platforms at once.
Key Features
:
Open-source and customizable

Simulcasting support

Several different production tools

Graphic overlays

Preset themes

Green screen/chroma keying
Pros:
Easy for beginners to use

Stream layout design tools

Stream recording

Gaming-specific tools

Tipping and donations options
Cons
:
Very basic software

Limitations on graphic overlays and effects

Some features are a bit difficult to use
Pricing:
Streamlabs offers two different versions. These include:
Free

: access to basic features

Streamlabs Prime: $19.99/month or $149/year; includes access to more advanced streaming features such as multistreaming
Compatibility:
The Streamlabs website doesn't indicate any limitations on operating system compatibility. However, the platform is suitable for streaming to Facebook, Twitch, YouTube, and more.
Streamlabs offers a free HLS streaming server with a payable subscription with more advanced features. If you want to start with a free HLS software, with the option of getting more access over time, Streamlabs is a great option. 
8. Restream
Restream is an HLS streaming software that specializes in simulcasting. Although simulcasting is the focus, Restream has several products for broadcasters, including Multistreaming, Studio, Analytics, and Chat.
The Multistreaming product is the most popular offering from Restream. It supports streaming to over 30 destinations at once. Streaming to multiple destinations like this helps broadcasters expand their reach and grow their audience. 
Key Features
:
Primarily a simulcasting tool

Analytics and data reporting

In-browser software

Streaming support

Chat tool with filters

Branding customization
Pros:
Simulcasting capabilities

Variety of products for different use-cases

Some production tools

Engagement and interaction tools

Peer-to-peer streaming capabilities
Cons
:
No encoding support

Strong internet required

Minor issues with video quality
Pricing:
Restream works on Windows, macOS, Linux, and some gaming consoles, and has several pricing plans for both individuals and businesses. These include the following plans:
Individuals:
Free: $0/months (for individuals)
Standard: $19/month (for individuals)
Professional: $49/month (for individuals)
Companies:
Premium: $99/month (for businesses)
Business: $299/month (for businesses)
These prices reflect monthly rates when paid monthly, and offer discounts when paid for a full year in advance.
Compatibility:
Restream works on Windows, macOS, Linux, and some gaming consoles.
If you need an HLS solution that will work with gaming consoles and other operating systems, try Restream. 
9. SplitCam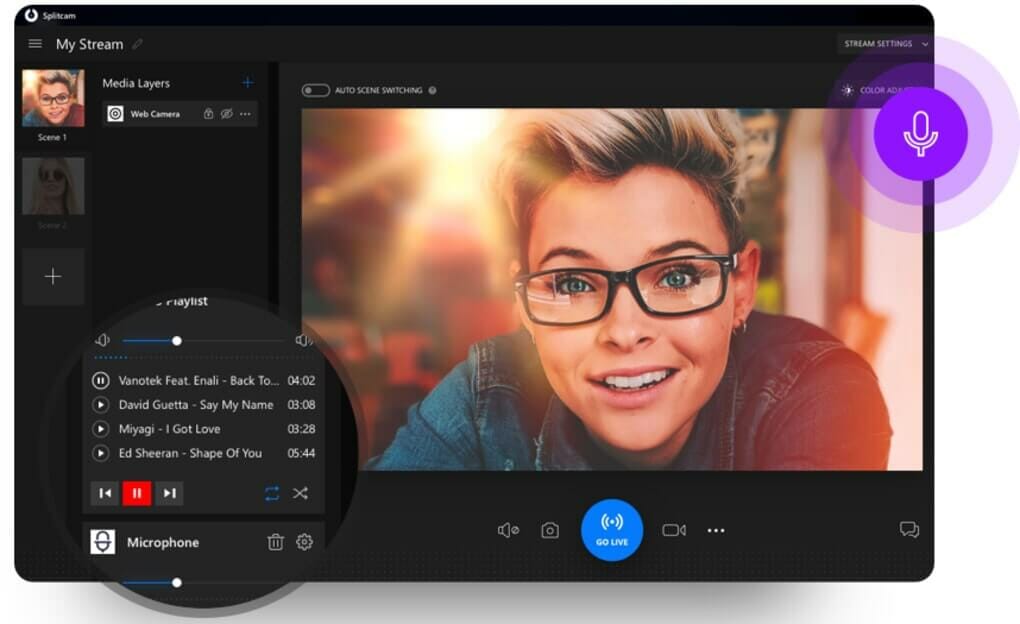 SplitCam is a video streaming software with many functionalities. Its primary purpose is webcam splitting which allows you to stream to an audience while doing peer-to-peer streaming.
Some use cases would be live training sessions, webinars, and other virtual streaming events that involve interaction from viewers.
It is important to note that SplitCam is not an encoder, but it is a tool for simulcasting,  mixing, and splitting. SplitCam is compatible with many major peer-to-peer services and streaming solutions, which definitely is a plus.
Another great aspect of SplitCam is that it offers a community forum for users to share ideas, ask questions, and troubleshoot issues. This sort of community support is great for broadcasters who are still learning the ropes.
Key Features
:
Free to use

Split webcam streaming

Simulcasting support

Audio and video mixing

Wide range of tools and features

HD streaming
Pros:
Split streaming from a single webcam

Wide range of functionality

Very accessible

Supports HD streaming
Cons
:
No encoding tools

No mobile streaming support
Pricing:
SplitCam is free to download and use. 
Compatibility:
SplitCam is compatible with Windows and macOS.
SplitCam is a free HLS live streaming tool that is all about allowing you to share multiple webcams or screen content at the same time. 
10. Switchboard Live
Switchboard Live is an HLS streaming platform that is dedicated to simulcasting to multiple destinations. In addition to simulcasting, Switchboard Live also has tools for video player embedding.
This software is very basic and focuses on simulcasting functionality, but it doesn't offer much in the way of additional features. Switchboard Live is a great option for broadcasters that are simply looking to invest in simulcasting support.
Key Features
:
Specialized simulcasting tool

Video embedding features

Easy to use

New StreamShare tool
Pros:
Preferred simulcasting tool by many major brands

Quick and easy to set up

Unlimited destination streaming

Compatible with major platforms
Cons
:
Very basic tool

No HLS encoding support
Pricing:
Switchboard Live has three different pricing plans, including:
Indie Unleashed: $29/month; includes 1,500 streaming minutes per month and it supports streaming to unlimited destinations
Pro Unleashed: $59/month; includes 4,000 streaming minutes per month and supports streaming to unlimited destinations for unlimited team members
Business Unleashed: $99/month; includes 10,000 streaming minutes per month and supports unlimited as the other plans but also adds a branded StreamShare page
Discounts are available for users who pay quarterly or annually.
Compatibility:
Switchboard Live supports simulcasting to Facebook, Twitter, YouTube, Twitch, YouTube, and more.
Conclusion
Choosing the right HLS streaming software to use for your live video stream event may seem overwhelming. There is more than one "best" software since every streamer has slightly different needs.
However, by comparing the features and pros and cons of each plan, you'll be able to determine which software best fits your individual streaming needs.
Before making a decision, make sure you are working with an RTMP-compatible online video platform. One great option is Dacast.
With very competitive live streaming pricing, Dacast is a feature-rich platform. We offer a free trial to test out all of our great features risk-free for 14 days.
All you have to do to get started is create a Dacast account today. No credit card is required.
For ongoing live streaming tips and exclusive offers, we also invite you to join our LinkedIn group. Additionally, we love to hear from our readers! Have you experienced other issues and challenges related to the HLS software we review here? If so, let us know in the comment section below. We will get back to you.
Thanks for reading, and happy streaming!
Subscribe
Stay up to date with our latest features and product releases