Best Live Chat with HTML5 Video Player Solutions
June 21, 2013
Looking to offer live conversations alongside your streaming project? We are pleased to present a recommended list of the best live chat with HTML5 video player solutions for on demand and live video streaming.
Free Chat Solutions
Implementation
History of DaCast's Chat
Comments
Free Chat Solutions
Below are some of the best text based chat solutions to place alongside your player. Like DaCast, these feature easy to use, do it yourself interfaces that you can integrate on your site, are free, and easy to embed:
ChatWing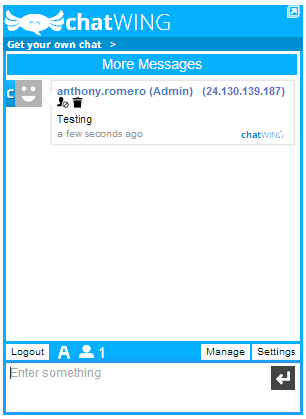 Incredibly easy to setup and embed, ChatWing also offers administration features (remove unwanted chatters) and is easy to customize.
Like a lot of chats, you can have user based "avatar" images to represent you as well. In addition, you can have a live counter for how many people are in on chat at any given time.
The only downside is that it features a lot of/obvious ChatWing branding.
Cbox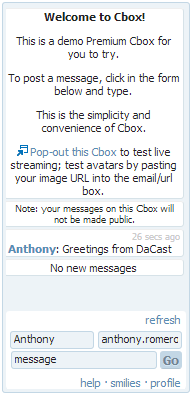 A clean and modern interface.
Cbox doesn't have the bells and whistles that the others do, but is very easy to integrate into any website with minimal customization.
One of their differentiates is the ability to pop out the chat into its own window, which might be useful depending on your video application, while the service has very little branding.
Like others, the chat has a way to boot out spam and unwanted posters as well.
Chatango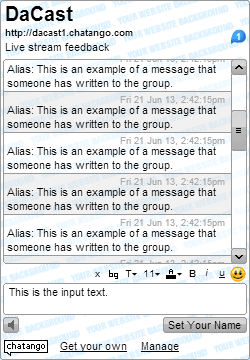 Not a lot of options, but a clean if a little older looking interface.
The chat also features audio settings that can be turned on or off, so noises can be made to notify of a new post (although this might interfere with your audio-visual content).
The embed is light on branding and puts more focus on your own site in bold if needed.
Barc
https://www.barc.com
Barc offers a sleek, slightly more rounder looking interface that you can embed on your website.
The chat is javascript based, avoiding any Flash compatibility problems that might arise from mobiles. There is no limit to the amount of users the chat can support at the free level, and it also includes a nifty word censor as well.
If your site is WordPress based, you can take advantage of a plugin that can be used over the popular CMS.
Unfortunately the free version does not contain any moderator abilities. So if you attract some trouble makers attempting to rain on your parade, the only solution is to upgrade to a paid account.
Implementation
There are many methods to feature both the DaCast player and the chat client of your preference.
If you are new to web development, though, the easiest is through a simple table interface. This is not a preferred method, but rather the easiest to achieve a setup that includes the chat and player on the same area. A sample of this is seen above using ChatWing. Below is example code set to a fixed size of 890 pixels, although dimensions can be changed based on your site. You would have to replace the parts in brackets with your DaCast and chat embed codes:
<table border="0″ width="890″ cellspacing="0″ cellpadding="0″>
<tbody>
<tr>
<td align="center" width="640″>[DaCast Embed Code Here]</td>
<td align="center" width="250″>[Chat Client Embed Code Here]</td>
</tr>
</tbody>
</table>
History of DaCast's Chat
As a product manager here at DaCast, I sometimes give a little Easter Egg at the end of my blogs. This is no different. There was a point where DaCast itself offered an integrated chat solution inside the player. This was discontinued, though.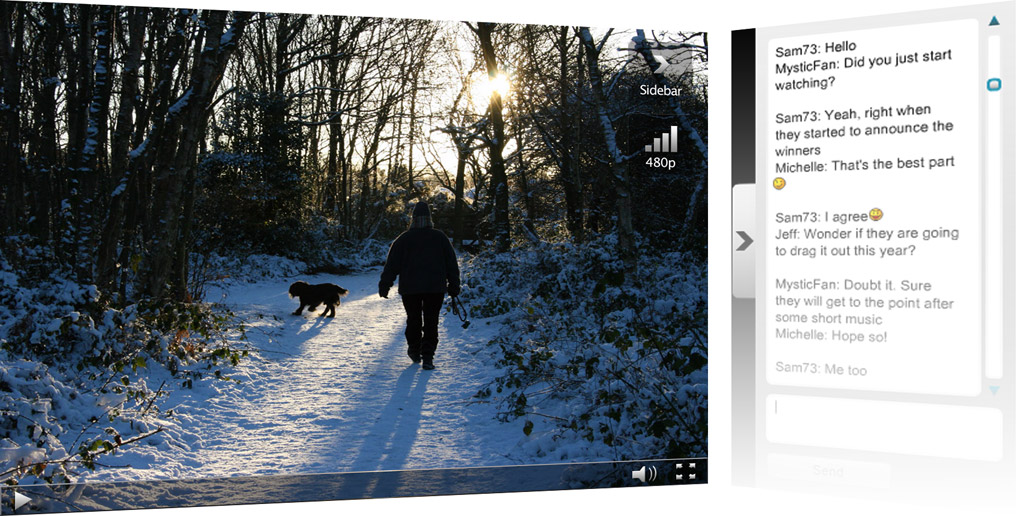 The reason for discontinuing our built-in chat is that it became too hard to keep up with as we were developing our HTML5 mobile streaming. Our new dynamic HTML5 player detects the device and stream accordingly. Building a chat that would work over both and be in sync was too much of a hurdle.
While the decision wasn't easy, we decided to finally pull the trigger under those circumstances because:
1. Bare-bones current state – No administration ability, no saved chat, a lacking ability to see messages before you join… we long realized that the chat was in need of work. Our current offering was unsatisfactory. We certainly received enough feedback from users that told us we had to improve it to bring it up to DaCast's standards.
2. Lack of use – This is in part because it was bare bones, but the chat was rarely used by our clients. The few users we have talked to that wanted chat generally needed a feature that ours didn't have, which leads into the third point…
3. Wealth of alternatives – Most of our users that wanted chat ended up using DaCast Streaming as a Service alongside a widget or extra embed. Ultimately this solution provided a full featured and complete chat offering for use with video.
Comments
We encourage feedback on this article. If you are using a different chat service that you like, please feel free to mention it below. We will test it out and add it to the list.
By Anthony Romero.