Are you wanting to integrate live chat conversations alongside your HTML5 video player? You've come to the right place. This blog will share a recommended list of the best live chat solutions for use with live streaming video.
Specifically, this blog will discuss why live chat is important to use alongside live streams. Then, we'll dive into a list of chat providers. The chat services we will examine are:
Everywhere Chat
ChatWing
Cbox
Chatango
Dead Simple Chat
Mibbit
Rumbletalk
Wisechat
This review will help differentiate between these services so that you can find the best option for your live streaming needs.
Pros of using live chat during your live stream
So why should you integrate live chat alongside video on your website? There are a number of very good reasons.
The first, and possibly most important, is engagement. Live streaming video is already highly engaging. Live chat allows users to interact and respond to the content in real-time. It creates a virtual meeting place where viewers can feel like they are part of a community.
Chat is just fun!
Another important reason for live chat is to gather feedback. Chat allows you to interact with your audience in real-time and get insight into how they respond to your video content. This can be invaluable when refining strategies or gathering analytics data. This is the qualitative data that helps flesh out the understandings that analytics can give you.
Chat solutions for live video streaming
Below are some of the best text-based chat solutions to place alongside your HTML5 video player.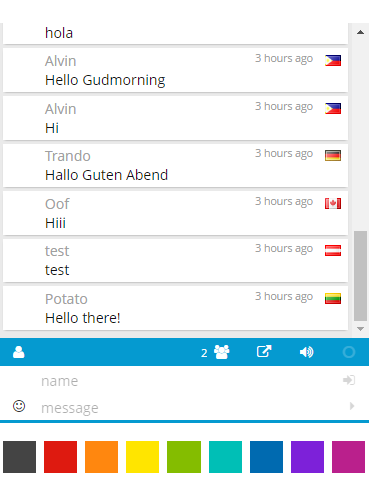 A clean and modern interface.
Cbox doesn't have the bells and whistles that the others do but is very easy to integrate into any website with minimal customization.
One of their differentiates is the ability to pop out the chat into its own window, which might be useful depending on your video application, while the service has very little branding.
Like others, the chat has a way to boot out spam and unwanted posters as well.
Another option is Chatango. This chat solution is a public chat; e.g. messages stay in the group history. Chatango includes the ability to block users, delete messages, and ban certain words. You can also make other people moderators.
Not a lot of options, but a clean-looking interface that can be customized for your site to match your HTML5 video player.
The chat also features audio settings that can be turned on or off, so noises can be made to notify of a new post (although this might interfere with your audio-visual content). The embed is light on branding and puts more focus on your own site in bold if needed.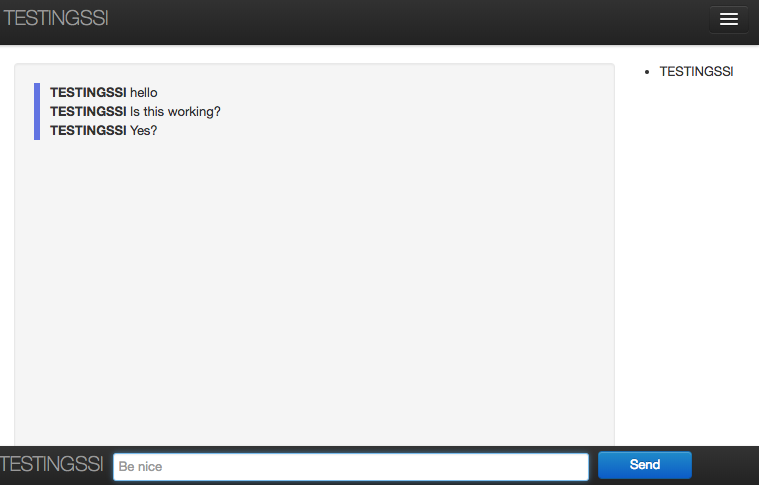 If you want another simple option, Dead Simple Chat is qualified. This free and open-source project allows you to set up chatrooms in seconds via embed codes. It's got a clean, simple, modern look and now supports moderation. However, it doesn't support file sharing nor other such features.
By default, the chats are hosted by Dead Simple Chat on their servers. If you choose, you can host the code on your own server. They are also working to add features such as end-to-end encryption.
The next live chat option is Mibbit, which is based on a unique widget structure. There are two versions available for Mibbit. The free version includes ads but supports ITC, social login, YouTube videos, and Google Translate. It's also easy to install.
The premium version adds support for content filters, custom branding, and SSL support. It also removes advertising. Plans start at $9.99 for a basic 25-user chat and go up to $99.99 per month for 1000+ users on multiple domains.
Both versions are hosted on Mibbit servers and add little load to your website.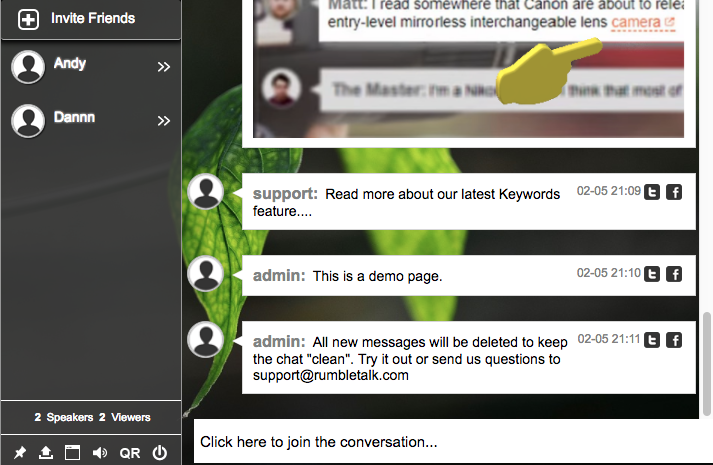 The next option we'll look at here is RumbleTalk. The free version of RumbleTalk is somewhat basic, supporting only five users and 1 admin.
Paid versions start at $8.25 per month for up to 15 users and 1 chatroom. The larger plans support 50+ users and multiple chatrooms starting at $14.25 per month. These plans also include white label custom branding. That's ideal for use alongside the white label Dacast HTML5 video player.
RumbleTalk includes private messages and voice/video calls via WebRTC. The chat supports file sharing, banning via IP address, and allows multiple users to be made moderators. User logins are protected via SSL. A nice feature allows for floating chat windows.
Chats are hosted on the RumbleTalk servers, so there is no need to install anything.
If your website runs on WordPress, another good option is Wisechat. This free plugin is recommended by several Dacast broadcasters for use alongside our HTML5 video player. One advantage of a native WordPress plugin is that there is no need for another server to run the chat module.
The free version includes three customizable themes. Users can register and choose a custom name. Password-protected chats are possible, and the chat can be made read-only for non-registered users.
There is also a Pro version available via a one-time purchase. This version adds support for private messages, avatars, Pro themes, custom emoticons, multisite support, and social login.
Implementation alongside HTML5 video player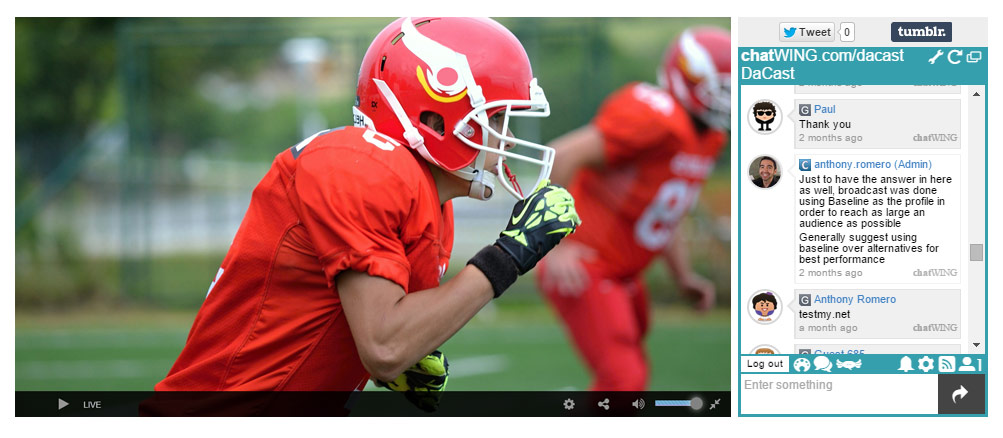 There are many methods to feature both the Dacast player and the chat client of your preference.
If you are new to web development, though, the easiest is through a simple table interface. This is not a preferred method, but rather the easiest to achieve a setup that includes the chat and player in the same area. A sample of this is seen above using ChatWing. Below is an example code set to a fixed size of 890 pixels, although dimensions can be changed based on your site. You would have to replace the parts in brackets with your Dacast and chat embed codes:
<table border="0″ width="890″ cellspacing="0″ cellpadding="0″>
<tbody>
<tr>
<td align="center" width="640″>[Dacast Embed Code Here]</td>
<td align="center" width="250″>[Chat Client Embed Code Here]</td>
</tr>
</tbody>
</table>
Conclusion
That's it! Hopefully, this article has helped you to understand what's out there in terms of live chat offerings. Luckily, there are a number of powerful services available that should be able to meet the needs of any user.
We encourage feedback on this article. If you are using a different chat service that you like, please feel free to mention it below. We will test it out and add it to the list. Leave us a comment and we'll try to get back to you!
Along with a chat service, you may also need an online video platform to host and deliver your live streaming and on-demand video content. Our service, Dacast, is one of the best in the industry. We offer a 30-day free trial (no credit card required) to test all the Dacast features for yourself! Click here if you would like to try it out:
For regular tips and exclusive offers for live streaming, sign up for our LinkedIn group. Thanks for reading, and good luck with your streaming!