The Top 6 Live Streaming Chat Tools for Broadcasting [2023 Update]
With virtual events becoming more popular and necessary for the modern working environment, live chat software is increasingly ubiquitous. Broadcasters, event organizers and organizations of all kinds need fresh, innovative ways to engage their audience. Website chat tools and live chat offer the perfect solution.
Integrating services that support chat tools and features for live streaming is a fantastic way to connect with viewers. Using the right chat tool, you can easily integrate a chat window into the same page as your HTML video player. Whatever the cause, having the right live chat solution can increase live chat conversations and, customer engagement and customer satisfaction. Consequently, it's good for business.
Table of Contents
Why Use a Live Stream Chat?
Top 6 Live Streaming Chat Services
How to Implement Chat for Live Streaming 

Final Thoughts
In this article, we'll discuss why broadcasters in any sphere should incorporate a quality chat tool. Afterward, we'll review six of the best live streaming chat services available for professional broadcasters. Furthermore, we'll compare and contrast the different features and functionalities of the web chat tools and live chat solutions available on the market. Finally, we'll run through a brief and actionable tutorial on how to implement these  live streaming chat tools into your broadcasts.
Why Use a Live Stream Chat?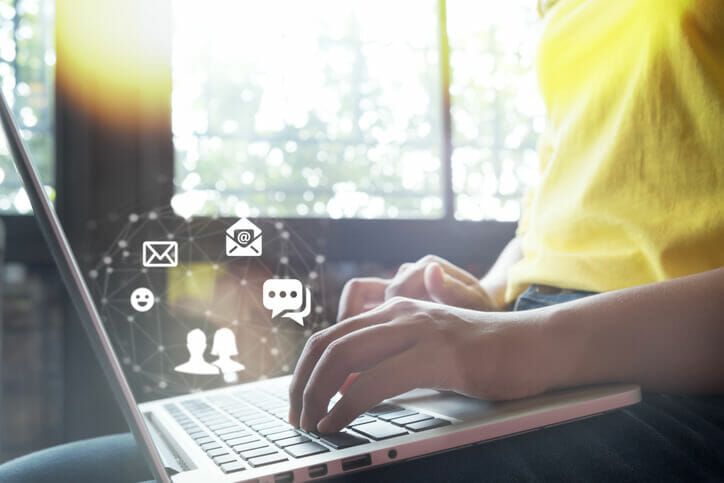 Live streaming chat tools make it easy to engage with your viewers.
Integrating a live chat tool alongside your video content has many perks for professional broadcasters.
The first, and possibly most important, is engagement. Live streaming video is already highly engaging, but live chat allows your viewers to interact with each other in real-time. Consequently, live chat on your streams can increase website visitors over time.
It also gives you the opportunity to respond to questions and comments, which facilitates a two-way dialogue. Using a high-quality live chat software, live video Q&As are also made possible.
Live streaming with chat also creates a virtual meeting place where viewers can feel like they are part of a community. Your website visitors can use screen sharing and the live chat tool together to feel more a part of your stream.
Another important reason for live chat is to gather feedback. Since chat allows you to interact with your audience in real-time, it gives you some insight into how they're responding to your video content. This can improve customer satisfaction and provide you the opportunity to continuously improve your live stream.
This can be very valuable when refining video strategies. Paired with quantitative analytics data about clicks and viewers, this real feedback can be a powerful resource. This is the qualitative data that helps flesh out the understandings that number-based analytics can't give you.
Top 6 Live Streaming Chat Services
Different live streaming chat services are equipped with different tools. Let's take a look at a few of the best text-based chat solutions that you can integrate alongside your HTML5 video player.
1.  RumbleTalk
The first option we'll look at here is RumbleTalk. This chat tool includes private messages and voice/video calls via WebRTC. RumbleTalk supports file sharing, banning via IP address, and allows multiple users to be made moderators. User logins are protected via SSL. A nice feature allows for floating chat windows.
Chats are hosted on the RumbleTalk servers, so there is no need to install anything to use this tool.
There are three versions of RumbleTalk: Free, Professional, and Enterprise.
The free version of RumbleTalk is somewhat basic, supporting only five users and one admin. However, it supports unlimited messaging and 1-on-1 meetings.
Professional plans start at $20/month for 50 participants. These plans are capped at $399/month for up to 800 participants. This plan also includes moderated chats, which is a major value add.
Custom-priced enterprise plans are available for broadcasters that host more than 800 participants.
Dacast has recently formed a partnership with RumbleTalk which means that Dacast users can access this tool right from the Dacast live streaming platform. RumbleTalk offers tools for both side-by-side video and chat and stacked video and chat, so broadcasters can choose their preferred streaming layout.
2. Chatango
Another option is Chatango. This chat service makes it possible to host public chat groups. This means that messages stay in the group history. Chatango includes the ability to block users, delete messages, and ban certain words. You can also make other people moderators.
Chatango also allows broadcasters to opt for a ticker or tab as the default chat display. All of this is presented as a clean-looking interface that can be customized for your site to match your HTML5 video player.
The chat also features audio settings that can be turned on or off, so noises can be made to notify of a new post (although this might interfere with your audio-visual content). The embed is light on branding and puts more focus on your own site in bold if needed.
This tool works on all devices. It is also fast on larger websites which means that it can handle rapid spikes in traffic.
Chatango is absolutely free to use. However, you pay for upgrades if you want to use a premium background or "smileys."
3. Dead Simple Chat
Looking for a more basic option? Dead Simple Chat is a qualified solution. This open-source live streaming chat tool allows you to set up live stream chat rooms in seconds via embed codes.
Dead Simple Chat has a clean, simple look, and it supports chat moderation. This service offers white-label streaming and advanced customizations for a highly professional live streaming chat experience.
By default, the chats are hosted by Dead Simple Chat on their own servers. However, if you choose, you can host the code on your own server. They are also working to add features such as end-to-end encryption.
Q&A tools and private chat functions are some of the most useful features of Dead Simple Chat.
There are five plans for Dead Simple Chat, ranging from free to large, custom-priced enterprise options. These plans include:
Free – Free to use
Basic – $19/month
Plus – $79/month
Pro –  $295/month
Custom – These plans are custom priced to meet your live stream chat needs.
4. Mibbit
The next live chat option is Mibbit, which is based on a unique widget structure. Mibbit supports ITC, social login, YouTube videos, and Google Translate. It's also easy to install.
In addition to a free version, there are five versions of this live stream chat tool. The premium versions add support for content filters, custom branding, and SSL support. It also removes advertising.
Plans range from $9.99 for a basic 25-user chat and go up to $99.99 per month for 1000+ users on multiple domains. The pricing is broken down as follows:
$9.99/month for 25 users
$24.99/month for 100 users
$49.99/month for 250 users
$69.99/month for 500 users
$99.99/month for 1000+ users
Every plan is securely hosted on the Mibbit servers.
5. Cbox
Cbox doesn't have the bells and whistles that the others do but is very easy to integrate into any website with minimal customization.
One way that Cbox varies from the other options is its ability to pop out the chat into its own window. This might be useful depending on your video application. Additionally, this service has very little branding which minimizes distractions on and around your video player.
Cbox is compatible with mobile devices which is great for streaming with the all-device HTML5 video player. Like others, the chat has a system to boot out spam and unwanted posters as well.
There are five Cbox plans, including:
Cbox Free – This plan is free forever.
Cbox Premium- $1.67/month
Cbox Pro – $7.50/month
Cbox Pro+ – $15.00+/month
6. Wisechat
If your website runs on WordPress, another good option is Wisechat. This free WordPress plugin is recommended by several Dacast broadcasters for use alongside our HTML5 video player. One advantage of using a native WordPress plugin is that there is no need for another server to run the chat module.
The free version includes three customizable themes. Users can register and choose a custom name. Password-protected chats are possible, and the chat can be made read-only for non-registered users.
There is also a Pro version available via a one-time purchase. This version adds support for private messages, avatars, Pro themes, custom emoticons, multisite support, and social login.
How to Implement Chat for Live Streaming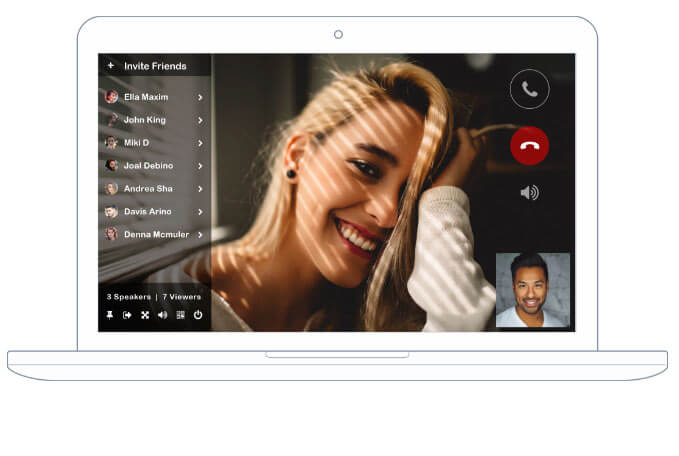 Learn how to implement a live streaming chat tool.
There are many methods that you can use to implement a live stream chat tool alongside your dacast video player.
If you are new to web development, the easiest way is through a simple table interface. This is not the preferred method, but rather the easiest to achieve a streaming setup that includes the chat and video player in the same area.
Below is an example code set to a fixed size of 890 pixels, although dimensions can be changed based on your site. You would have to replace the parts in brackets with your Dacast and chat embed codes:
<table border="0″ width="890″ cellspacing="0″ cellpadding="0″>
<tbody>
<tr>
<td align="center" width="640″>[Dacast Embed Code Here]</td>
<td align="center" width="250″>[Chat Client Embed Code Here]</td>
</tr>
</tbody>
</table>
Final Thoughts
Thankfully, there are many powerful live chat software solutions available that offer business tools, exceptional customer service and other great features for broadcasters. On top of a igh-quality chat tool, you may also need to host and deliver your live streaming with on-demand video content.
If this is the case, consider Dacast. With Dacast, you get the benefit of video and chat tools on one live streaming platform. What's more, Dacast has a solid reputation for a providing fantastic customer experience.
Consider trying Dacast for free today. We offer a 14-day risk-free trial so you can test all of its features for yourself.
If you are using a different chat service that you like, please feel free to mention it below. We will test it out and add it to the list.
For regular tips and exclusive offers for live streaming, sign up for our LinkedIn group. Thanks for reading, and good luck with your streaming!