Top 10 Online Live Streaming Class Platforms for Remote Learning [2022 Update]
Online education has gained unprecedented popularity ever since the pandemic hit. And with that, the demand for high-end, feature-rich, e-learning-focused live streaming platforms has increased tremendously.
Live streaming is one of the most useful technologies for virtual learning because it allows for the feeling of a virtual classroom and real-time interaction. You can deliver live lectures, conduct quizzes, hold debates, and encourage class participation, all without being physically present in a classroom. 
But which live streaming platforms offer you the features you need, that too, within your budget? 
That's exactly what we'll show you in this post. Here, we'll talk about the evolving digital learning industry and compare 10 of the most powerful live streaming classroom platforms for creating an online live class platform for education.
Let's get started.
Please note that live streaming platform technology and pricing change regularly. By updating the post with e-learning specific information and guidelines, this post reflects the most accurate information as of September 2022.
Table of Contents
Online Education at a Glance

The 

Ever-changing

Demand for Digital Learning 

Features to Look for in a Live Teaching Platform

The 10 Best Online Video Education Platforms to Live Stream Classe

s

How to Create an Online Education Platform (With Examples)
Live Streaming Tips for Online Educators
The Future of Education
Conclusion
Online Learning at a Glance
Before we dive into education live streaming and online teaching platforms, let's take a look at some stats and trends that exemplify the state of remote learning:
Due to the pandemic, remote learning has been growing at a fast rate. The quick growth has forced educational video on-demand services to get more competitive to capture the increased demand.  
Increased competition among platforms is good news for streamers and broadcasters. The result is that choosing an education streaming service today looks different from how it did just a few years ago. Features have gotten very advanced, and there'll continue to be many more exciting innovations in the space.
If you're looking to provide greater accessibility and flexibility to your students, this is definitely something you should consider.
The Ever-changing Demand for Digital Learning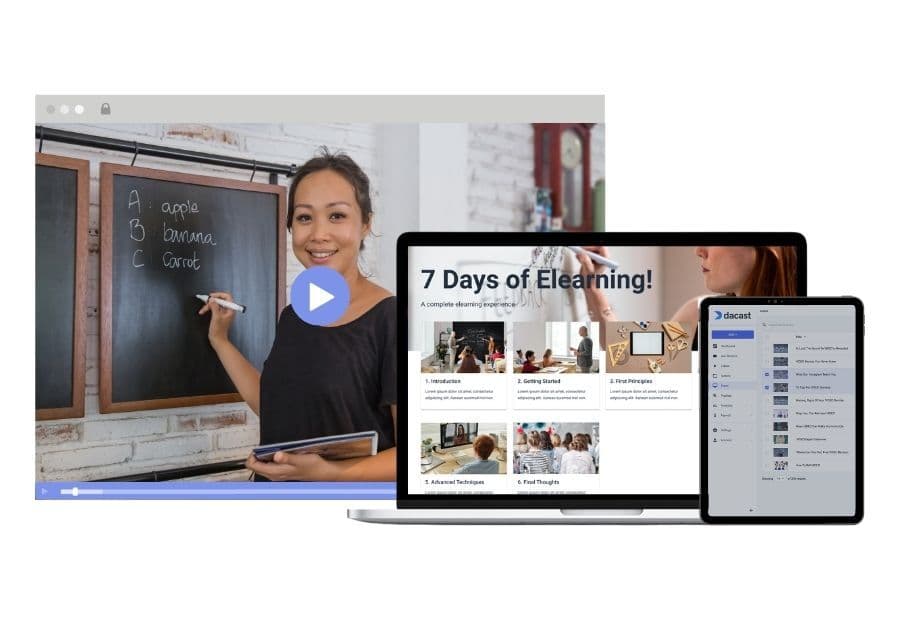 Technology has found its way into classrooms worldwide over the past five to ten years. The old school projectors and bulky televisions have been replaced by interactive smartboards.
Even in traditional classroom settings, homework involves the use of online tools. Many schools require children to have iPads or other tablets as young as elementary school. High schools and universities are even further advanced, with access to a tablet or laptop a necessity for completing work. 
Since the outbreak of COVID-19 in the spring of 2020, distance learning platforms for schools have become very important for students around the globe. At the start of the pandemic, many educators exclusively relied on Zoom live streaming as their online virtual classroom software since most had all of two weeks to shift their curriculums from in-person classes with digital support to fully online learning experiences.
Nearly three years in, educators have now had time to prepare for remote learning. Many have found that the solution for online learning for grade schools and universities requires more than Zoom.
Many schools have created online classroom platforms on their websites with the help of professional online video training platforms with both live broadcasting and VOD streaming capabilities. This allows them to live stream classes and upload lessons to their remote learning platforms for students to access video on demand whenever it's most convenient for them.
A live streaming platform is a cloud-based solution that allows you to live stream, upload videos securely, manage content, and share streams worldwide.
Some video hosting platforms that enable live streaming classes, including Dacast, now support Zoom meeting integrations. This means that they can rely on their own servers and professional streaming tools while accessing Zoom's video conference function with real-time latency.
Though varied in specific features and cost, these live classroom video hosting platforms typically provide a similar range of tools for video broadcasting. Professional online platforms for education give you more control over your content than a free video platform for education, like Youtube, in a lot of cases.
Features to Look for in a Live Teaching Platform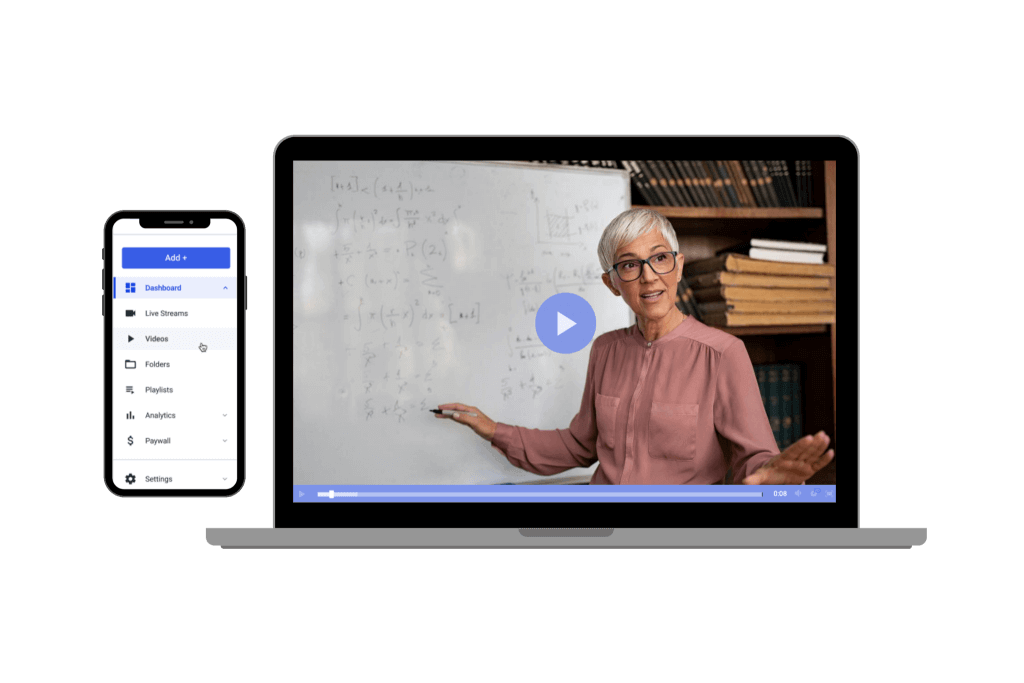 When it comes to hosting and broadcasting videos, educators have several specific factors and live streaming pricing needs that differ from other industries.
Here are a few features that are particularly helpful for creating a platform for live streaming lectures and other educational materials. We urge you to look out for these specific features when choosing the best remote learning platform.
1. Security and Privacy Settings
Educational videos are typically restricted to authorized viewers, which makes privacy and security tools absolutely essential.
Look for a live streaming online video platform that is fully loaded with privacy and security features, including private hosting, password protection, end-to-end encryption, secure video upload, domain restrictions, and more. These tools allow you to control access to content on your own terms. Security and privacy settings are essential for schools that want to retain control over the content produced in their live online classes.
2. White-Label Video Player
White-label video streaming refers to streaming video content that doesn't include branding except for your own. Most paid video hosting software platforms allow you to stream without a single mention of their name to your viewers.
Free video hosting providers, such as Youtube Live and Facebook Live, keep their own branding on the video player and landing page that houses it which is both unprofessional and distracting to students.
White-label video players, on the other hand, also typically do not contain third-party ads unless you set them up for the sake of video monetization. This allows you to set up a more controlled online video education platform. 
3. API Access
Application Programming Interface (API) is a tool that allows broadcasters to integrate external apps and programs. Video API gives you the ability to customize your video content management system, whereas player API allows you to customize the actual video player.
API can also help you integrate video tools into existing web applications, such as virtual classroom platforms, like Canvas, Blackboard, and more.
This feature is now more important than ever since many schools are trying to keep things simple for their students but want to curate a virtual streaming classroom experience that is consistent with in-person learning.
4. Video Monetization
If you operate an educational platform that is not publicly funded or tuition-based, you may consider monetizing your educational video content to generate revenue.
Many independent online educators create packages of video content sold as-is. With monetized content, viewers simply enter their payment information directly in the video player window. After their payment processes, viewers can access the video. This is an easy way to monetize your educational streaming service. 
Monetization tools are key for quickly and easily generating revenue from your educational videos. Again, monetization is used more by independent educators as opposed to grade schools, universities, or even technical schools.
If you operate an accredited institution, video monetization should not matter much to you, since you are either funded by taxpayers or tuition.
The 10 Best Online Video Education Platforms to Live Stream Classes
Many online class platforms that suitable for hosting and streaming online lectures. You should choose the best online live teaching platform based on its ability to meet the specific needs of your institution. For example, the best online learning platforms for elementary students may differ from the best online platform for college students.
Make sure to have a list of non-negotiable features in your head as you evaluate each online class platform below.
Here are a few of the best online lecture platforms for live streaming virtual classes and other educational content.
1. Dacast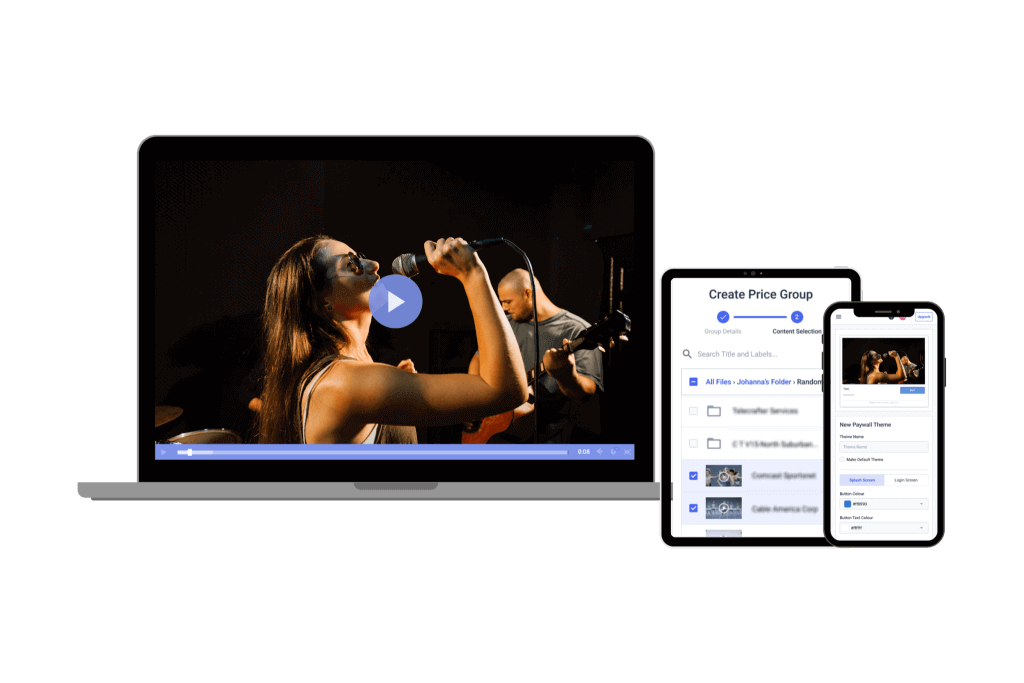 Platform Overview:
Dacast's online video education platform is a great option for small educators and major institutions alike that support both live streaming and on-demand video hosting.
Our unified streaming solution's new Zoom live streaming integration makes real-time latency streaming possible which makes our platform well-suited for conference-style virtual classes.
Key Features:
Monetization features such as pay-per-view, subscriptions, and ad-based on-demand video are supported on all plans. It is also important to note that every plan on Dacast is fully white-label.
Dacast also supports powerful video uploading, optimized CMS, advanced security, and China video hosting. The platform is ideal for institutions and schools with a large video-on-demand library. This is perfect if you have large numbers of instructors creating content for different subjects and courses.
Detailed Features:
New!
Upload Guidelines and Specs:
Minimum dimension: none (but 240p is the recommended minimum)
Maximum dimension: 1080p or 4K (depends on the user's hardware and internet)
Video aspect ratio: no restrictions (but 16:9 is the default)
Max file size: none
Max video length: none
Total file storage: 10-1000GB (depends on plan)
Compatible video formats: MP4 (preferred), MOV, M4V, M2V, AVI, MPG, FLV, WMV, MKV, WEBM, OGV, MXF, ASF, VOB, MT
Pricing:
Pricing for Dacast's live streaming for education solutions starts at $39/month. Pricing plans include:
Starter Plan:

$39/month (billed annually); ideal for small schools; comes with 1,000 TB of bandwidth and 50 GB of storage per month

Event Plan:

$63/month (or $750/year); for educational organizations that would rather not sign a contract, and want to purchase bandwidth separately to

live stream an event

. It offers 6 TB of bandwidth upfront and 50 GB of storage; additional data and storage can be added as needed

Scale Plan:$188/month (billed annually); includes 24 TB of bandwidth per year, with 1 TB of storage; adds phone support, monetization paywall, an M3U8 online player for live channels, ad insertion, white-label video player, and video API access
Custom Plan:

if your school has high volume streaming needs, you can

contact Dacast

for a custom plan tailored to your needs
Dacast also offers custom pricing for higher volume streaming. Dacast provides support for you to create a video education platform that offers both live streaming and on-demand content, while allowing you complete control over privacy, monetization, and presentation.
2. Panopto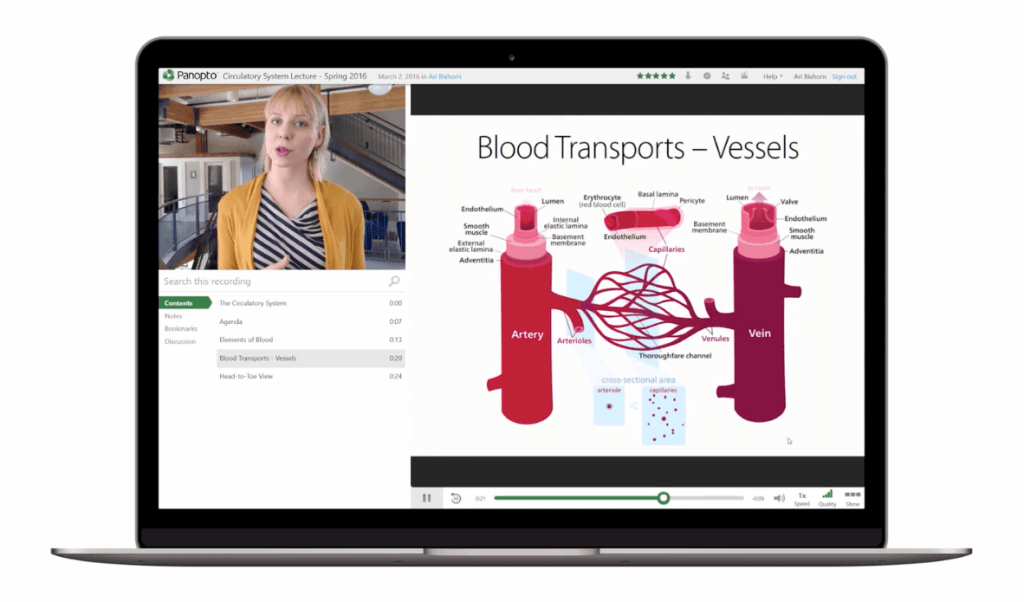 Platform Overview:
Panopto is known as being a leading video platform for the education industry. It was originally designed as an online lecture platform. Both universities and large companies with extensive internal training programs also use this platform. 
Panopto includes easy-to-use software for capturing live lectures. They also have an advanced video search engine.
Key Features:
Panopto is one of the best live streaming solutions with a specific focus on creating an online learning environment. It integrates easily into Learning Management Systems. Many of the tools in Panopto are similar to YouTube, making it easy for people to switch from YouTube to Panopto. 
You can't monetize your videos directly on Panopto; you need to add InPlayer for monetization. They offer a white-label experience as well as API access for those looking for a true custom solution. 
Plus, they offer the option to make content private, which is essential when trying to protect your educational content's value.
Its editing tools are quite easy to use, which is an attractive feature for teachers who aren't tech savvy. Plus, it offers in-video notes, quizzes, and discussions, making the distance learning video courses highly interactive.  
A notable feature of this video education platform is its accessibility tools such as automated transcripts generation.
This online live class platform is also student-friendly. Your students can add bookmarks to the video and make time-stamped notes. The cataloging system is also accurate, allowing them to find the exact lectures they want by typing in some keywords.
Detailed Features:
Lecture-capture and video-search software
Access control & security features
White-label streaming
Integration with LMS systems
APIs for further integrations.
Audio Content
Video engagement analytics
Document Indexing
Customizable Branding
Full-Text Search
Video Content
Asset Categorization
Upload Guidelines and Specs:
Compatible video formats: AVI, MP4, MPG, WMV, MOV, QT, ASF, 3GP, WMA, MP3, M4V
All other upload guidelines and specs are only available to paying customers. 
Pricing:
Panopto recently simplified its pricing packages and includes the following three options:
Basic: Free
Pro: $14.99/month
Enterprise: Please contact Panopto for custom pricing.
Panopto focuses on the education market, and as such has developed tools that allow it to integrate into educational content management systems. However, it doesn't offer the ability to directly monetize your content for your online video education platform; that requires some extra steps. 
3. Muvi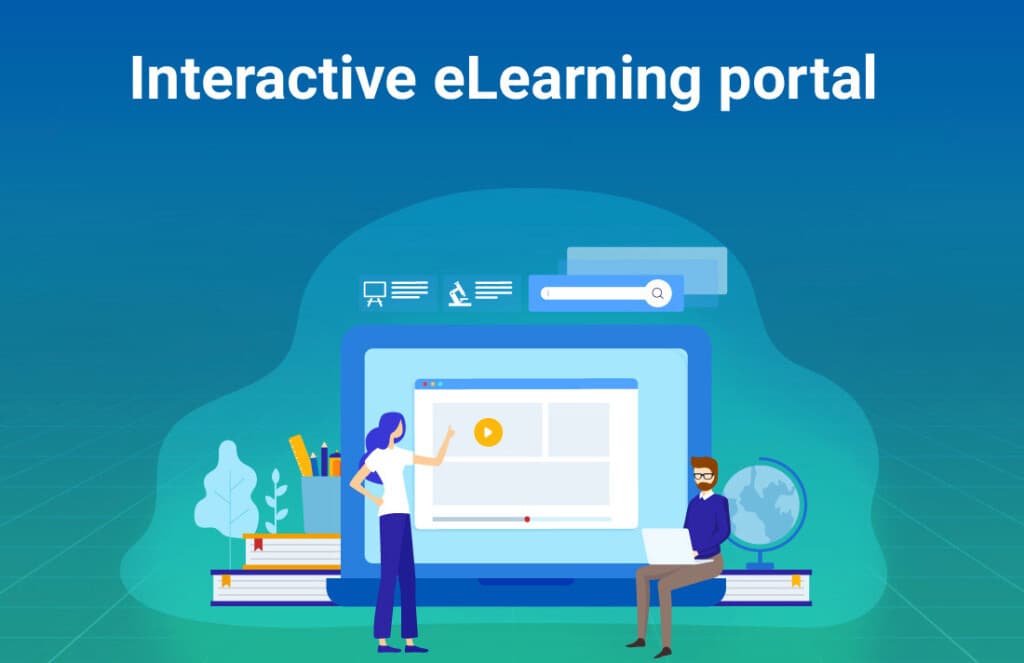 Platform Overview:
If you are looking to monetize your educational content and get it on as many devices as possible, the next online class platform you should consider is Muvi. 
They support all three primary video monetization methods:
Subscriptions

Pay-per-view

Advertising 
Muvi offers the ability to create learning apps for various platforms, including: 
iOS App

Windows app

Android App

LG TV app

Chromecast streaming support

Roku app
If you want to get your learning content on apps, Muvi offers the ability to easily achieve that goal. Everything you need to do happens within a single content management system (CMS). 
Muvi also has a dedicated e-learning video portal to assist with live streaming classes. 
Key Features:
Muvi makes it easy to create a multi-screen platform. In addition to supporting live streaming, they also offer audio streaming and support VOD. They are a robust video streaming solution with a single CMS to simplify organizing your online learning video content.
Its live chat features allow you to interact with your students throughout the lecture.  You can choose to put subtitles in multiple languages and thus drastically increase your reach globally. 
Another key feature of this online class platform is the time-stamped linking. You can add notes, PDF files, and PPTs to specific sections of the online video class. 
We believe it's one of the best video training platforms because you can record multiple lectures simultaneously. So if you're linked to an academic institution, and you buy a membership with Muvi, then rest assured that multiple tutors and users can live stream and record their lectures simultaneously. And store them in the library for specific students to watch on-demand.
Detailed Features:
White-label with branding customization

HTML5 video player

Video analytics

DRM and security features

Live and on-demand hosting

Powerful CDN

Video CMS

Transcoding

Secure streaming

Website and Apps for Mobile and TV
Upload Guidelines and Specs:
Minimum dimension: 144p (256 x 144)
Maximum dimension: 4K (3840  x2160)
Aspect ratio: 16:9, 4:3
Max file size: not available
Max video length: not available
Total file storage: 1TB, 2TB, 5TB (depending on plan)
Compatible video formats: MP4, MOV, MKV, FLV, VOB, M4V, AVI, 3GP, MPG
Pricing:
Muvi prices its plans at the following five levels:
Standard plan: $399/month (+ $299/month per app + infra fees), allows 2000 concurrent viewers, 1TB each of bandwidth and storage, and API support.
Professional plan: at $1,499 per month (+ $499/month per app + infra fees) increases limits further and adds premium support.
Enterprise plan: $3,900 per month (+ $499/month per app + infra fees) adds a dedicated server with auto-scaling.
Ultimate plan: $8,900/month (+ $499/month per app + infra fees) doubles the bandwidth and storage of the enterprise plan and adds your own CDN and unlimited API calls.
Black plan: this is a custom solution and includes everything in the Ultimate plan plus premium services and project management.
If you are looking to launch your own education platform, and you want an easy-to-use solution, Muvi is a great choice for your online class platform if you have the budget for their plans. 
4. Hippo Video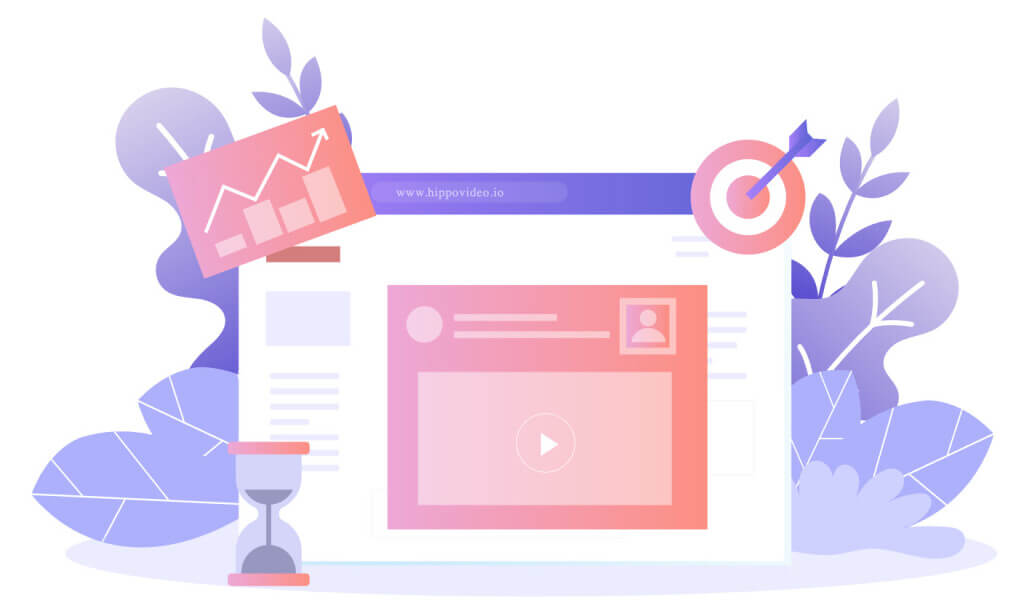 Platform Overview:
Hippo Video is a professional video streaming hosting provider that focuses on marketing and sales. However, they also have virtual classroom software specifically for educational live streaming. It was founded by Lyceum Technologies in 2016. 
Hippo Video offers plans for broadcasters at all price points, making it great for both small and large learning needs.
Key Features:
Hippo Video has unique virtual classroom software you can download as a Chrome extension. You can use the extension to record videos and then edit them. With their video editing tools, you can: 
Merge

Cut

Crop

Trim

Add emojis
What makes this online live class platform one of the best is its integration with Google Docs, Google Slides, and Gmail. We all know these tools are widely used for sharing documents, so this integration is quite useful. 
It's designed with different levels of expertise in mind. They offer simple editing tools for regular users and have complicated pro editing ones for tech-savvy instructors. 
You also have markup tools for highlighting text or images while recording, focusing on certain screen areas, and erasing information. 
Thanks to its guest recording feature, your students can also record presentations or assignments and send them to you without signing up with this education platform.
Detailed Features:
Editing and video creation tools

Customization options

Marketing tools (CTAs, analytics, etc.)

Screen recording

Hosting tools (transcoding, closed captioning, organization)

Collaboration tools
Upload Guidelines and Specs:
Minimum dimension: 480p
Maximum dimension: 1080p
Aspect ratio: not available
Max file size: 3 GB
Max video length: 5 minutes on Free plans, 2 hours on Premium plans
Total file storage: n/a
Compatible video formats: not available
Pricing:
Hippo Video has a complex pricing structure since it offers a variety of solutions for different use cases. Here's a breakdown of pricing for the most popular categories:
Sales
Free: 500 MB file size limit; 15-minute video length limit; streaming with a watermark and end card; 100GB of bandwidth
Starter: $15/month; 1 GB file size limit; 30 minute video length limit; white-label streaming; 200GB of bandwidth
Pro: $30/month/user; 2 GB file size limit; 60 minute video length limit; white-label streaming; 200GB Bandwidth
Growth: $48/month/user; 3 GB file size limit; 120 minute video length limit; white-label streaming; 200GB of bandwidth
Enterprise: $79/month; contact Hippo Video to learn more
Marketing
Free: 500 MB file size limit; 15-minute video length limit; streaming with a watermark and end card; 100GB of bandwidth
Starter: $23/month; 1 GB file size limit; 30 minute video length limit; white-label streaming; 200GB of bandwidth
Pro: $49/month; 2 GB file size limit; 60 minute video length limit; white-label streaming; 200GB of bandwidth
Growth: $99/month; 3 GB file size limit; 120 minute video length limit; white-label streaming; 200GB of bandwidth
Support
Free: 500 MB file size limit; 15-minute video length limit; streaming with a watermark and end card; 100GB of bandwidth
Starter: $10/month; 1 GB file size limit; 30 minute video length limit; white-label streaming; 200GB of bandwidth
Pro: $29/month; 2 GB file size limit; 60 minute video length limit; white-label streaming; 200GB of bandwidth
Growth: $49/month; 3 GB file size limit; 120 minute video length limit; white-label streaming; 200GB of bandwidth
Team Communications
Free: 500 MB file size limit; 15-minute video length limit; streaming with a watermark and end card; 100GB of bandwidth
Starter: $4/month; 1 GB file size limit; 30 minute video length limit; white-label streaming; 200GB of bandwidth
Pro: $15/month; 2 GB file size limit; 60 minute video length limit; white-label streaming; 200GB of bandwidth
Growth: $20/month; 3 GB file size limit; 120 minute video length limit; white-label streaming; 200GB of bandwidth
Other Solutions
Education: Free to $9/month OR $1/user
Personalization: Starting at $109/month + fees
Recorder API: Contact Hippo Video for a custom quote
*Users can contact Hippo Video directly for recorder API pricing.
All of the prices above reflect the rate when billed annually. Please check out the Hippo pricing page for more quarterly and monthly pricing information.
Hippo is a great live streaming education video hosting service if you need flexibility with pricing and budget. They offer a wide range of plans that can work for educational organizations of all sizes. 
5. Kaltura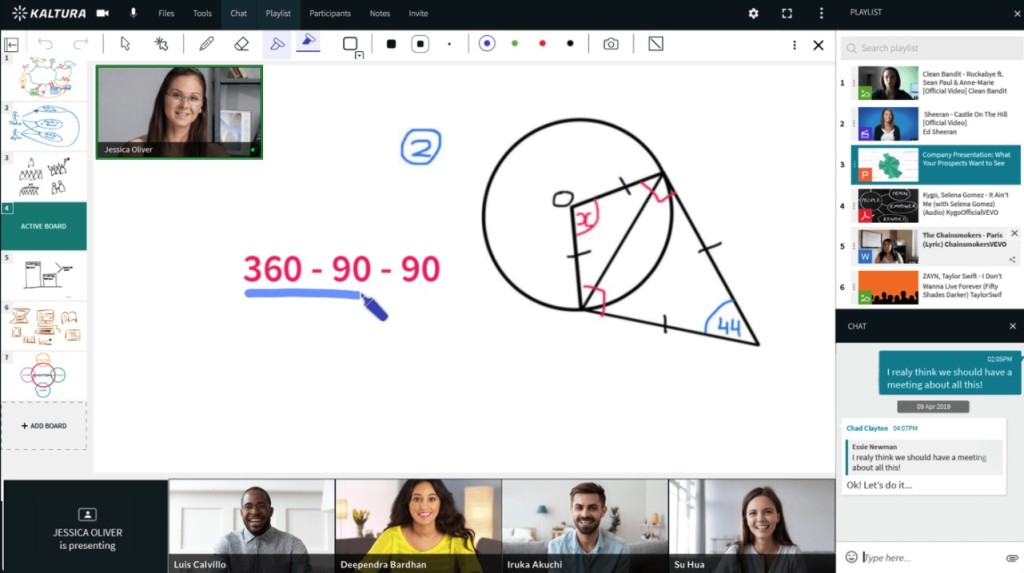 Platform Overview:
Kaltura offers a cloud-based video service for large educational institutions. With their cloud-based solution, you can host both live and on-demand learning experiences. Kaltura's platform is specifically designed for educational purposes, making it a strong video platform for education. 
Kaltura is open-source, which means there are almost endless plug-ins and integration possibilities. This allows you to create a custom eLearning experience.
Key Features:
If you are looking to keep your educational content secure, Kaltura offers a wide range of security features, such as:
DRM

Access control 

Encryption
Educational content holds a lot of value, and Kaltura also offers a full array of monetization tools. The service is white-label, with APIs for custom programming, allowing you to create the educational learning experience that fits your goals.
This online class platform is built for institutions that cater to millions of students daily. It has excellent collaboration tools, so you can invite other professors or students to engage with you on the virtual whiteboard. 
You can also go to breakout rooms and have quality discussions in small groups. 
With Kaltura's advanced analytics, you can easily keep track of attendance and engagement throughout your lectures. 
This educational streaming service is optimized for mobile screens, tablets, and PC so your students and staff can log in for their classes from anywhere.
Detailed Features:
Security features (password protection, encryption, and watermarking)

Cloud TV service

Closed captioning available for accessibility

Monetization options include advertising, subscriptions, and one-time transactions

Video looping available

Allows bulk video uploading

Chat tools 
Screen sharing
Upload Guidelines and Specs:
Recommended dimensions: 180p (320×180) to 1080p (1920×1080)
Supported aspect ratios: 16:9, 4:3
Maximum file size: 2 GB
Maximum video length: Unknown (No limits are published)
Total file storage: 10 GB to unlimited, depending on the plan
Accepted video formats: MOV, MP4
Pricing:
Pricing for Kaltura is not available on their website. Users negotiate contracts on a case-by-case basis. In general, these range from $500 to $1000 and up per month.
If you are looking for a platform that is all about customization, Kaltura is open-source and focused on education, which means there are a lot of unique tools and features that the platform offers. You can also customize the platform to work for you. 
6. Zype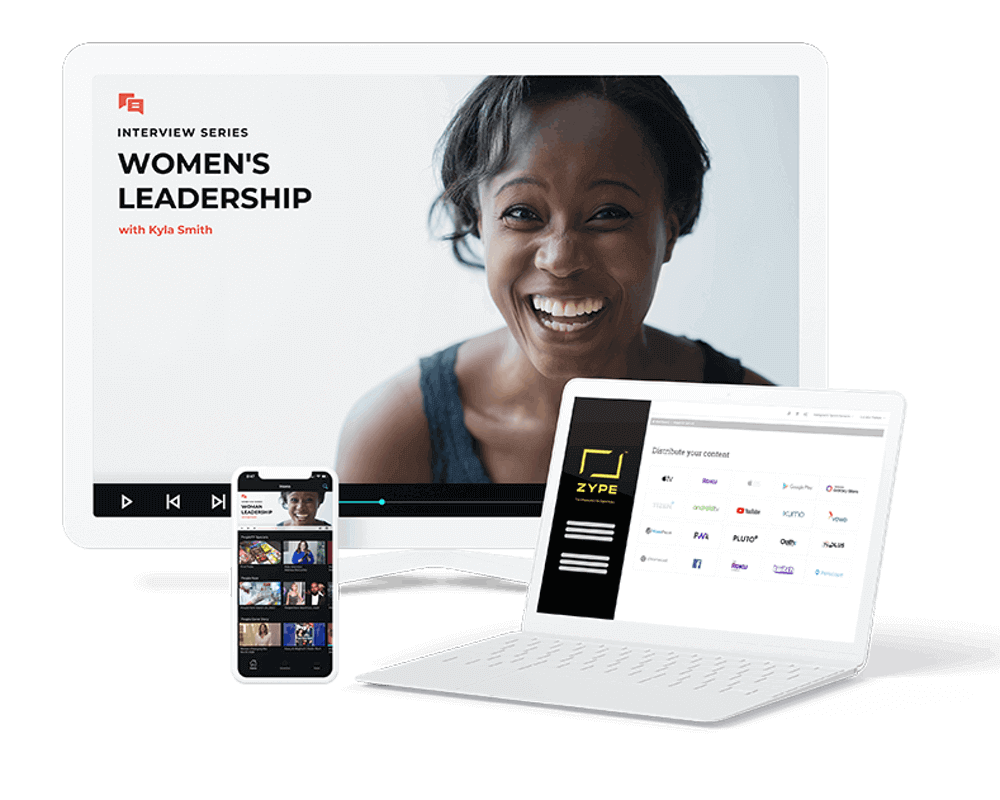 Platform Overview:
Zype is a live streaming solution for educational institutions and freelance educators with large budgets and vast video hosting needs. They offer a simple content management system that allows you to manage, organize, and monetize your content in one place. 
One of their top features is the ability to create and launch mobile and TV apps for your learning video content.
Key Features:
Zype is one of the best platforms for live online classes, with a focus on managing, hosting, and delivering high-quality live streams for education purposes.
Zype offers a wide range of monetization methods, such as: 
Class passes

Subscriptions

Pay-per-view events

Rental abilities

Single transaction
The best part of their monetization system is that you get to directly accept payments and keep 100% of your revenue.
This live video streaming education platform provides bulk importing tools to import files, media, and text to your video presentation. That helps you avoid doing repetitive tasks over and over again for every class. 
This feature is great because teachers are generally quite busy, and we're sure you would love to optimize your time.  
You can also fit a lot of metadata in each live stream's description on this platform. So you can add notes, links, and additional explanations without worrying about running out of space. 
It also allows you to customize your cataloging system. So each educator can make their own files and workflows.
Detailed Features:
High ticket streaming packages

Scalable platform

CRM tools for streamlined teamwork

Monetization tools

App building support

Self-publish to Amazon TV and mobile apps
Upload Guidelines and Specs:
Dimensions: 1920x1080p (suggested)

Aspect ratio: 16:9

Max file size: 100 GB

Max video length: unavailable

Total file storage: unavailable

Compatible video formats:  3GP, AVI, FLV, MP4, MPEG-2, ProRes, M4V, WMV
Pricing:
Zype offers four pricing plans, including:
Zype X: $500/month
Network: $2500/month
Premium: $3500/month
Enterprise: $5000/month
Zype X offers a free trial. For more information on what sets these plans apart, please refer to the Zype pricing page.
Zype offers the ability to manage your videos across multiple platforms, and offers the support to help you build your own educational learning app. 
7. Cincopa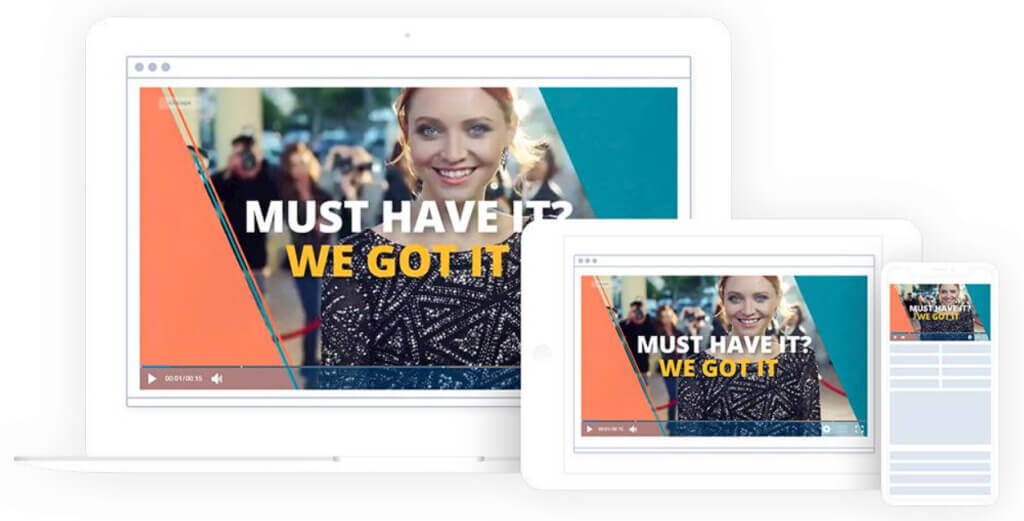 Platform Overview:
Cincopa is an online education video platform that offers unique multimedia hosting services for storing and managing video, photo, and audio content. The platform enables teachers to capture lectures and create engaging video presentations with a single, easy-to-use tool.
Among Cicopa's streaming offerings, video and media solutions for education are an integral part of the video platform. Many businesses prefer a dedicated video hosting service, but Cincopa is a great option for educational organizations of all sizes.
Key Features:
Cincopa is a multimedia hosting platform that is capable of hosting video, audio (podcasts and music), photos, and more. Cincopa's online live class platform provides educators with instant insights regarding how specific videos are performing. 
A key feature of this online video education platform is the AI-backed auto-tagging and closed captioning options. It improves the quality of search results and storage of a large number of classes. 
Its HTML5 player works perfectly on all devices. You can add chapters, quizzes, and annotations to the video for a better learning experience for your audience. 
This online class platform is great for courses requiring many high-quality pictures because you can create an extensive digital gallery canvas for all your images in Cincopa.
Detailed Features:
Live Video Learning & Recording

Video & Media CMS

Leading LMS & CMS Integrations

Mobile-Ready Interactive Video

Video Capturing Solutions

Captions, Accessibility, and In-Video Search

Adaptive Streaming (HLS) & CDN

Flexible Deployment Options

Extensive analytics
Upload Guidelines and Specs:
Minimum dimension: 144p
Maximum dimension: 4K
Aspect ratio: 4:3, 16:9
Max file size: 1, 2, 20GB (depending on the plan)
Max video length: not available
Total file storage: 5 videos, 40 videos, unlimited videos (depending on the plan)
Compatible video formats: AVI, MOV, WMV, MP4, M4A, F4A,  F4B, F4V, F4P, M2TS, MTS, VOB, MKV, RMVB, M1V, QT, DIV, DIVX, DV, 3GP, 3GPP, 3G2, MPG, MPEG, MPE, FLV
Pricing:
Cincopa offers three distinct pricing plans:
Plus: $25/month; includes marketing tools (CTAs, email integrations, etc.)
Corporate: $99/month; advanced broadcasting tools
Agency/Enterprise: $350/month; advanced broadcasting tools with more flexibility
Please check out Cincopa's pricing page for a further breakdown of storage and capabilities that come with each plan.
Cincopa is a platform that is made for hosting all types of content; if you need an educational hosting video service that can host video, audio, and pictures, this is it. 
8. VPlayed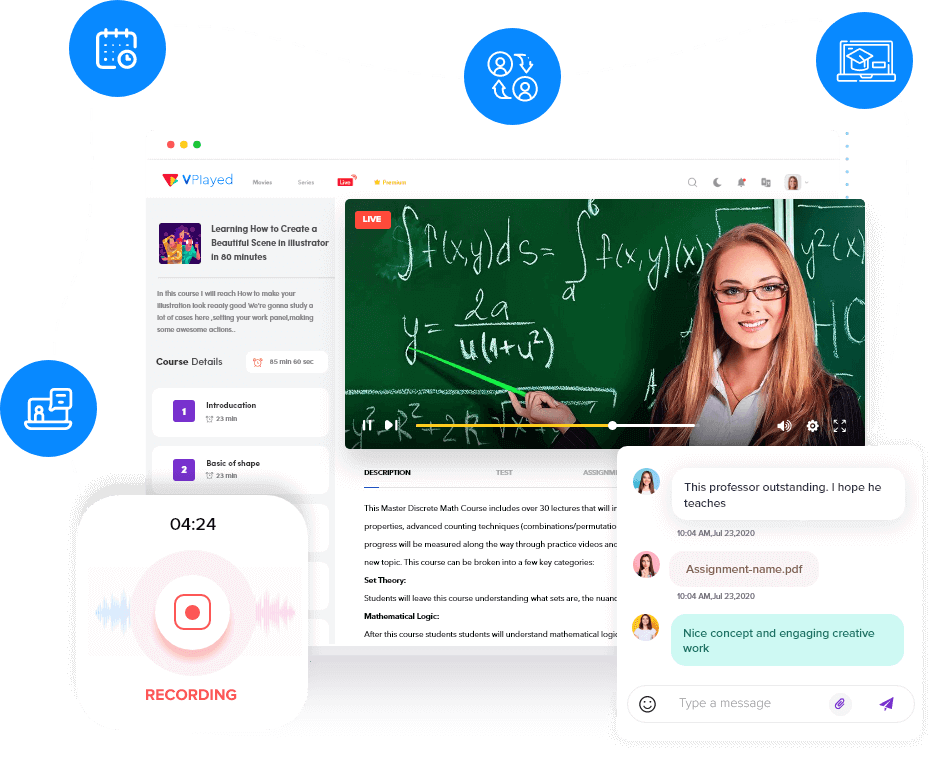 Platform Overview:
VPlayed is a streaming solution powered by CONTUS that supports live streaming and VOD hosting. This video platform for education offers a dedicated educational streaming service that supports online learning.
This software is equipped with many advanced streaming features which make it well-suited for broadcasters with great streaming needs.
Key Features:
VPlayed is a unified streaming solution for educators and professionals in other industries. The platform supports the hosting and management of live and on-demand content.
This video education platform has adaptive bitrate streaming and cloud transcoding, allowing you to stream your live classes without lag. 
If some of your viewers have a bad internet connection, this education platform will automatically adjust their video quality instead of buffering.  
Another key feature of VPlayed is scheduling and automated reminders. You can use it to alert students to log into the platform before the class starts. 
It offers various tools for increasing your interaction with your students. These include a collaborative whiteboard, polls, and micro lectures that you can also share ahead of the class.
Detailed Features:
HTML5 all-device video player

Live streaming and VOD

Video monetization

Video security

Tools for security

100% customizable experience

CMS to segregate your videos and organize your classes
Upload Guidelines and Specs:
Minimum dimension: unavailable

Maximum dimension: no larger than the source dimension

Aspect ratio: 4:3, 16:9 (suggested)

Max file size: No limits

Max video length: unavailable

Total file storage: unavailable

Compatible video formats: not specified
Pricing:
VPlayed does not publish pricing on its site. Contact their sales team for more information.
VPlayed has over 100 integrations, six monetization tools, free migrations, and 150+ powerful streaming features, making it a customizable solution for large educational enterprises. 
9. Livestream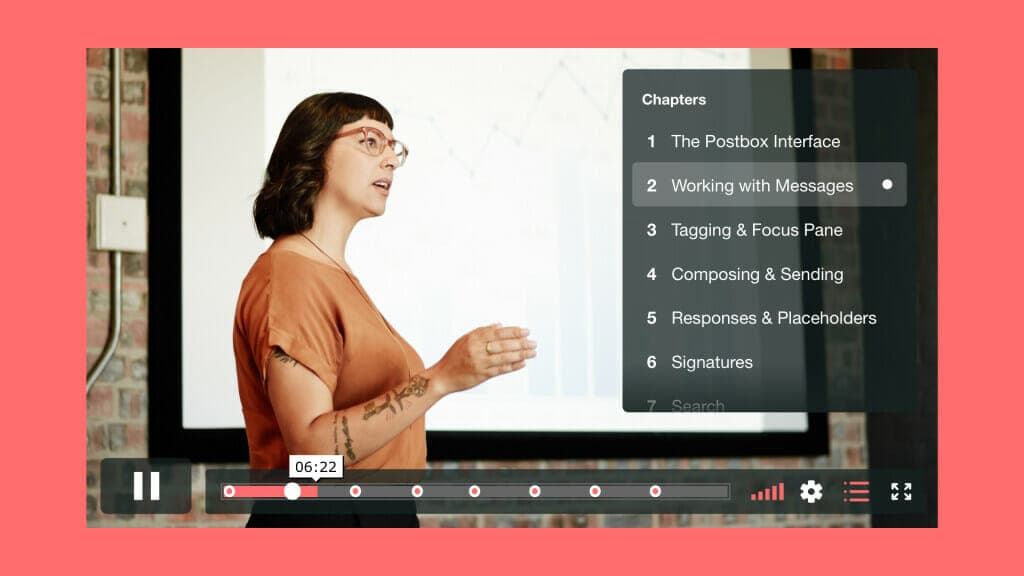 Platform Overview:
Vimeo started as a consumer-grade streaming platform, but it acquired Livestream in 2017. Because of this acquisition, the service now provides a live streaming solution under the Livestream name.
Their online video education platform includes powerful content management features for both live streams, as well as hosting video lectures for on-demand playback. However, most of these are only available with the most inclusive plans.
Key Features:
Livestream offers some interesting educational live streaming tools.  These include security tools, white-label branding, video monetization, and API access.
This video education platform allows you to password-protect your videos and live streams or embed them into your website for a select audience. You can also replace the video on your website with another one without changing the URL link to your page. 
It has various accessibility features, such as closed captions and audio-to-text automated features.
Detailed Features:
Multiple security features

Additional marketing capabilities

Audience interaction tools

Detailed video analytics

Works with YouTube

Excellent security features

Easy-to-use for both users and viewers

Add call to action buttons in your video 
Add chapters to your live stream
Upload Guidelines and Specs:
Recommended dimensions: 720p (1280×720)
Supported aspect ratios: 16:9, 4:3
Maximum file size: 3 GB
Maximum video length: Unknown
Total file storage: Unknown
Accepted video formats: MP4 (recommended)
Pricing:
Vimeo Livestream offers three main pricing plans, including:
1) Vimeo Premium:
Premium pricing: $75/month
Their Premium plan includes both live streaming and VOD support. This plan is the best option for professional broadcasting on this platform.
2) Vimeo Enterprise:
Enterprise Pricing: Please contact Vimeo for custom pricing information
The Enterprise plan includes white-label service, monetization, and video API access. It also includes branding control and added security features.
3) Vimeo OTT:
Starter Pricing: $1/subscriber per month
Growth Pricing: starting at $500/month
This OTT-specific pricing package comes with the Vimeo.com relationship. These plans include all the basics for starting your web-based OTT channel, as well as growing your OTT business online.
If you are focusing on live video streaming educational content, Livestream is a solid solution with affordable pricing. 
10. IBM Cloud Video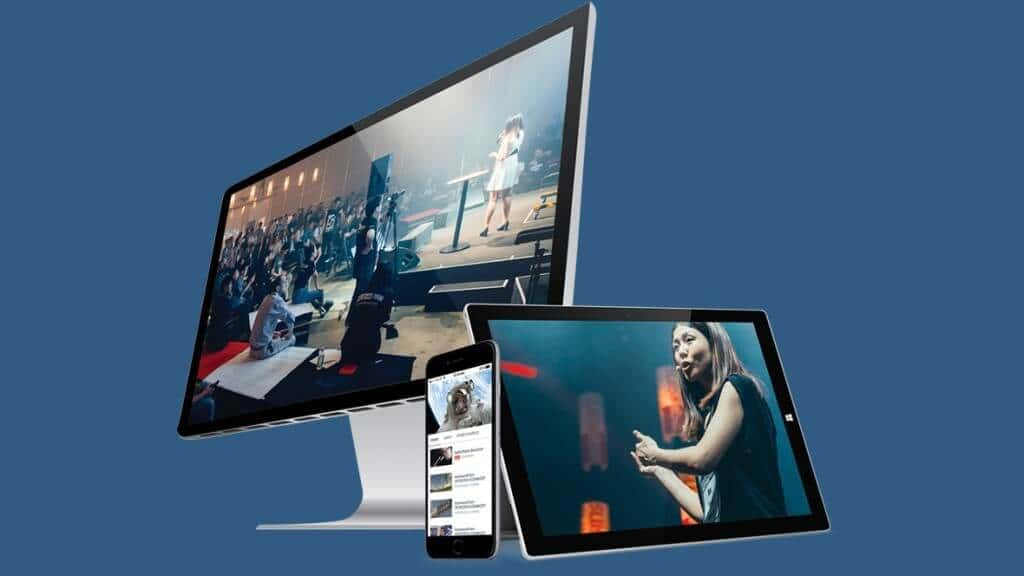 Platform Overview:
IBM Cloud Video is an online video education platform that uses the technology behind the service formerly known as UStream. Due to its years of experience in online streaming, the platform features many powerful options and supports academic solutions included in its live streaming and broadcast tools.
Key Features:
IBM Cloud Videos' native features include webcasting, content management, password protection, worldwide delivery, cloud transcoding, and HD streaming. Advanced e-learning features include AI-based speech-to-text, automated closed captioning, live polling, real-time monitoring, and video analytics and insights.
Video monetization is included through ad integration. Full white-label branding control starts with the $999/month Platinum plan, and the IBM Cloud VideoAPI is included on custom Media and Enterprise video plans.
A great feature of this online video education platform is that it offers much more storage than other educational streaming services. You can even request them to design a customized package that works for your business.
Detailed Features:
Highly reliable
Superior customer support
Video is delivered using an internal VOD server
Suited for larger businesses

Powerful features

for education live streaming

Works on web, Android, and iPhone
Exceptional security features
Upload Guidelines and Specs:
Recommended dimensions: 4K (3840×2160)
Supported aspect ratios: Unknown (Not published)
Maximum file size: 4 GB
Maximum video length: Unknown (No limits are published)
Total file storage: 1 TB – 5 TB, depending on the plan
Accepted video formats: MKV, MP4, MOV, FLV, AVI, WMV, MPEG2, H264, H263, MPEG4, VP6, VP8, THEORA, WMV, MP3, AAC-LC, NELLYMOSER, PCM, SPEEX, VORBIS, WMA
Pricing:
IBM Cloud Video pricing plans range from $99 to $999 per month and include the following:
Silver: Starts at $99/month
Gold: Starts at $499/month
Platinum: Starts at $999/month
Custom: Please contact IBM Cloud video for custom plan pricing.
IBM Cloud offers a solid array of tools to support your educational streaming service goals and needs. 
How to Create an Online Education Platform (With Examples)
Once you choose a platform, then what? Now it's time to bring it all together. 
Now that you know the top video platforms for education let's talk about how to create a platform to stream your own videos using the top online learning course platforms we've discussed.  
1. Choose an Approach 
There are various ways to go about creating an online education platform. Let's discuss four popular approaches.
This model is 100% online. With an eLearning platform, all your students are remote learners. You can choose to make your classes free, require payment, or both. An example of an eLearning website that offers a mix of free and paid classes is Udacity. Not everyone who takes free classes will upgrade to paid classes, but many will. Free classes provide a way for those on the fence to get a feel of an instructor's teaching style before deciding to make an investment. 
Hybrid of in-person and online
Under this model, you'll commonly host in-person educational events. However, you also add an online component to reach a larger audience or anyone who couldn't make it. In university, for example, this allows remote students to enroll in classes while still appealing to local students. 
An example of an institution that uses a hybrid approach is Gresham college. They allow you to register to watch various lectures online while also allowing locals to attend these lectures in person. 
Educators in K-12 or universities may choose this approach to maximize their students' time in person. Under this approach, it's common to stream lectures or post pre-recorded lectures for on-demand access. That way, in-person time is better spent answering questions, working in group projects or activities, and getting hands-on experience. 
Businesses commonly use the training approach for internal purposes, partners, or customer product training. More specifically, a company might use a live streaming class platform to teach salespeople across the organization how to sell a new product or service. In the same way, the business might set up a platform for current users to learn how to use the product or service better. Doing so helps your customers use your product and increases their chances of renewing or upgrading.
2. Create a Website
To have more control over your online live class platform, creating a website is a good idea. You can create a website name (domain name), register it with a web hosting platform like GoDaddy or Bluehost, and then use WordPress to build the website and customize it the way you want to.
If you're taking the eLearning route, keep in mind that it's a very competitive space, so you need to choose a niche and figure out what makes you unique from all the other educators in the same space. 
Once you've done this, communicate it clearly and repeatedly on your website. You can communicate it through your design, pictures, and text. 
Make sure to add a detailed About Page. A good About Page can help people quickly figure out what your online video education platform is about. Besides the home page, it's one of the most popular pages for businesses or entrepreneurs. A great example of a detailed About Page is MorningCME, which provides live lectures and recorded training for those interested in Continuing Medical Education(CME). 
Next, let's cover how to create an online class setup.
3. Set Up Your Online Class
Organization is key when learning how to set up an online class. 
Here are some best practices: 
Organize by topics or channels: For example, if your business has four main products, create different channels for each. A website that has done this well is Outschool. Generally, the fewer hurdles you can give your learners, the more engaged they'll be. 
Add a search function: Make it easy for students to find past, current, and future videos. 
Make registration pages for your students to RSVP: This can be either a monetary commitment or as simple as replying to an email. For example, Outschool limits its classes to a certain number of students. That's why their registration page takes a payment. On the other hand, Gresham college allows people to register and join live lectures with simply an email address. 
Put a detailed description of lectures under the video: Build up curiosity and interest by taking time to write detailed descriptions about what exactly the audience can expect to get from each live stream or on-demand video. Also, state the length of time so that students have an idea of what to expect beforehand. 
4. Gather Equipment and Digital Tools
Having the right setup will make the whole live experience much better.
For a very basic setup, you'll need the following:
(optional) Simulcasting tool
(optional) Mixing and production software
Camera
Laptop, computer, or smartphone
Video platform for education
OBS Studio is a popular encoder for a basic setup. It's also free. If you're streaming with a phone or webcam, you can get away with skipping the encoding software and camera, but the stream quality will not be as high. 
5. Choose an Online Video Teaching Platform
Choose from the top video-sharing platforms for education we've evaluated. Make sure the equipment and digital tools you choose are compatible with the online instruction platform you choose. 
Generally, online live class platforms make it easy to embed videos onto your website. It's generally a matter of just copying a piece of code from your online video platform and pasting it onto the HTML of your website. Check out our comprehensive guide if you need more help with this step.
6. Stream!
Now that you know how to make an online class, you're ready to create online teaching videos and live stream lectures.
Live Streaming Tips for Online Educators
Online education is very valuable, but it requires a bit of a learning curve for educators. Teachers who have been in the classroom for even decades may find that this brand new role can be quite overwhelming.
We've put together a few broadcasting tips to help educators navigate these new waters.
1. Plan with Technology in Mind
This may sound like a no-brainer, but preparing presentations for a live stream is different from presenting them on a large projector in front of a class. You'll need to make sure that your presentations are easy to read on a small window.
If you're going to be screen sharing, make sure that any tabs with private information are closed out so that you don't accidentally expose something that you shouldn't.
For example, if you know that you'll be switching screens to show different presentations and documents during your live class, make sure that your online grade book is closed out so that it doesn't accidentally show on the screen.
For a more detailed tutorial, check out our step-by-step guide on how to set up live streaming on any website.
2. Have a Backup Plan
The internet has proven to be a phenomenal tool for online learning. However, the internet and related technology are far from perfect.
Always have a backup plan in case something goes awry. For example, have your presentations available for download at a later time so that students have access if their internet connection fails in the middle of class.
Let students know in advance what to do if the stream stops working on your end. Perhaps have extra reading assignments or a supporting worksheet available so they are not left confused if they cannot connect with you.
3. Incorporate Pre-Recorded Media
Showing a movie or other pre-recorded media in your live class is possible as long as your streaming platform or encoder supports multi-source streaming.
The ability to show a movie in an online class is valuable since sometimes a documentary or film adds context to a topic that would be difficult to do with the resources you have access to.
Setting up a movie should be as simple as adding a second source and then switching to that source when it is time to present it. This will look a little differently on each live streaming platform. We recommend contacting the tech support team of each video education platform for specific instructions.
4. Don't Put Too Much Pressure On Yourself

Online teaching may not be your preference, and it may be way out of your comfort zone. The same likely applies to your students.
Don't stress about doing everything "right" because teaching over the internet comes with a bit of a learning curve. Keep in mind that your students are learning with you.
Guide them with grace, and try to redirect your frustration if your students are not grasping things as well as you'd expect them to in a traditional classroom setting.
The Future of Education
While the current state of the world has created instability for many industries, online learning has proven to be valuable for helping students to make it through these changing times.
Live streaming classes help students to truly digest the materials, especially if they are used to watching their teachers' lectures in person. This style of teaching provides significant advantages compared to simply uploading notes for students to read through on their own.
Even if online education is not the preferred option for all students, it is necessary to keep students on track when schools are closed down or it's safer for them to learn from home. Consider implementing live streams, lectures available for playback, and other tools to provide greater access to education. 
Conclusion

Even as the world begins to reopen, education live streaming is here to say. Online learning techniques can continue to be combined with traditional education practices. Luckily, there are so many online education video platforms to bring eLearning to life.
Interested in live streaming solutions for your organization? We recommend signing up for our 14-day free trial. That way you can test out all of our features for yourself before you commit.
Subscribe Now
Stay up-to-date with the latest features and product releases. Cool tips, expert advice and more.