Live Streaming Classroom – How to Live Stream Classes Online [2022 Update]
Online education has never been more important than it is today. The ability to learn online gives more flexibility to both educators and students. Live streaming classes allow students to access education content wherever they are. 
While pandemics are not the typical cause for school emergency closures, the need for live streaming classrooms and online education solutions has made itself known in the past year since the coronavirus has made its way around the world. Digital distant learning would also be useful during blizzards, hurricanes, and other natural crises. Additionally, live online classes eliminate geographic and financial barriers that prevent access to education. 
The internet and live streaming have been key players in the accessibility of online education. With the proper online video education platform and equipment, live streaming classrooms, online lectures, webinars, and other educational content are quite simple. Class streaming makes sharing educational content easier than ever before. 
Even in the absence of a crisis, distant learning is changing lives for many. It truly is opening the doors to the future of education.
In this post, we're going to take a closer look at the setup and tools required to create an online live streaming classroom. We will also discuss how virtual classrooms are the future of education and why live streaming classes are important.
You will walk away with the knowledge of how to live stream a class, and share educational video content online. 
Table of Contents
Live Streaming Classrooms: The Future of Education

The Importance of Live Streaming Classes

How to Live Stream Classes

Gather Your Equipment 

Choose a Live Streaming Classroom Platform

Securing Your Internet Connection

Tailor Your Educational Content

Start Your Live Stream

Top 10 Live Streaming Classroom Platforms

Tips for Successful Live Stream Classes

Final Thoughts
Live Streaming Classrooms: The Future of Education
Over the past year and a half, the importance of live streaming in education has become very clear. The pandemic forced many educators to jump into the realm of virtual lectures and remote learning.
Although many schools have resumed their in-person classes, eyes were opened to the value of live stream classes and virtual classrooms. Teachers, students, and administrators recognize that virtual live streaming can be effective with the proper planning and preparation. Live streaming courses open up access to the content for learning, and allow schools to reach more students. 
Even schools that go back to in-person learning will likely continue to incorporate live streaming in their classes. It is a useful tool for situations where lecturers are out of town and still want to hold their lecture. It is also valuable for inviting guest speakers or lecturers who are not local. It is also a vital tool for allowing additional students who can't make it in-person to attend using a live classroom. 
The Importance of Live Streaming Classes
There are many benefits of teaching in live streaming classrooms as opposed to in-person. One of the main benefits is that remote learning makes education accessible, even in the face of natural disasters.
Virtual learning also provides flexibility for students that want to attend schools that are far from their homes, even if they cannot afford to make the move. This sort of accessibility creates opportunities for students around the world to follow their dreams. Access to education is the key to economic growth, and schools that offer live streaming help facilitate economic growth and personal success. 
Live streaming classes are also great for students who thrive without the distraction of other students. The traditional classroom environment isn't the best learning environment for everyone. 
Some other interesting benefits of remote learning via live streaming classes are that it saves time for all parties involved, and it conserves energy. Both teachers and students have to travel to school for in-person lectures. Between the commute and finding parking on campus, the time adds up. Live classes save everyone time.
Avoiding travel to and from campus also cuts back on energy consumption. Although the conservation may seem small for one person, looking at it through a wide lens shows that the combined effort is significant.
A study by Dita Academy found that switching to remote learning can decrease carbon emissions by up to 85% per student. The same study found that the switch to remote learning can cut energy consumption by 90% per student. This impact is significant. This impact is significant. If you want to have a positive impact on students and the environment, this is a great way to achieve that goal.
How to Live Stream a Class
Learning is no longer restricted by physical limitations. With the support of a professional streaming platform, educators like you can easily host live steam classes. 
There are a few boxes you need to tick before you get started with your first live streaming classroom or online lecture. We will help you quickly learn how to live stream a class.
Here's the rundown:
Collect the proper equipment.

Choose an

online video education platform

.

Check your internet connection.

Prepare your content.

Start your live stream class.
As long as you carefully follow each step, you're bound to create educational materials that make your student's virtual streaming experience feel like they are attending a live lecture.
Now that we've covered the basics, we're going to talk a bit more about each of the five major steps on how to conduct live online classes. At the end of this tutorial, you will know how to live stream lectures and other educational content. 
1. Gather Your Equipment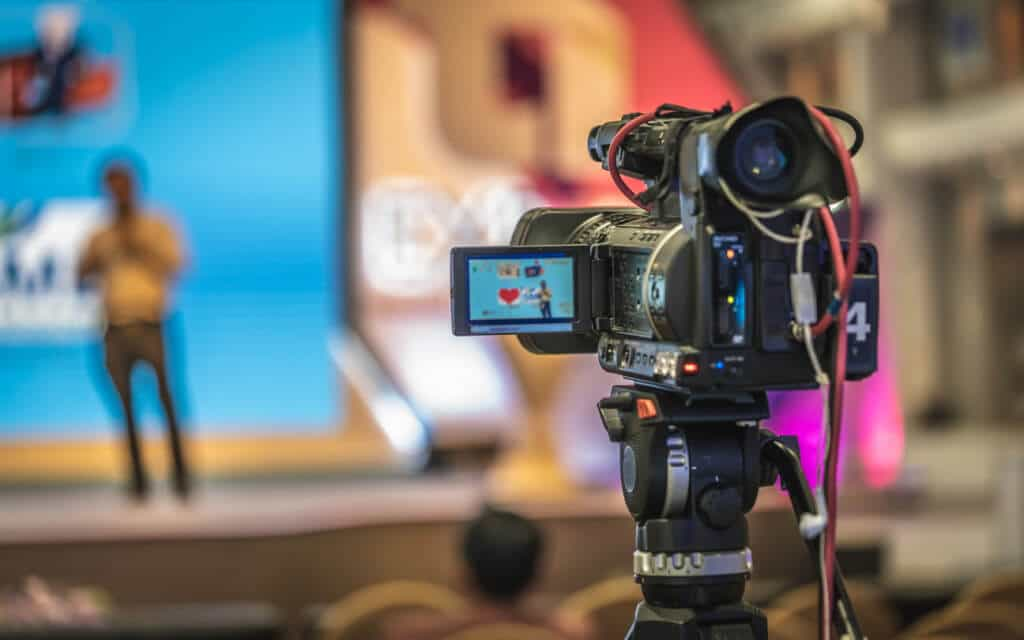 To host live stream classes, you will need a camera and a microphone. Since an online live streaming classroom is a replacement for real-world learning, the quality should match that of a real classroom. 
Here are a few pieces of live streaming equipment that you will need to invest in:
Unlike many professional live streaming verticals, investing in professional-grade recording equipment is not absolutely necessary in the education realm. If you have 100 teachers recording live classes from their own homes, providing everybody with thousands of dollars of equipment will get both expensive and complicated.
Do note, however, that some online courses don't even have presenters on screen. Sometimes an online class will only have a slideshow presentation on-screen and live audio commentary. If you don't plan to present yourself on camera, then you only need good audio equipment.
You can also use the Wirecast Desktop Presenter plug-in. This plug-in facilitates the live audio stream with screen sharing capabilities, perfect for capturing and lecturing with a visual presentation.
There is no one best way to live stream a class; the key is to create an educational environment that is best for the material you are presenting. 
How to Choose a Streaming Encoder
A high-quality camera and audio capturing equipment are both pretty self-explanatory. However, if you are new to live streaming, you may not know what an encoder is.
A video encoder is either a device or hardware that creates compressed versions of your video as it is recorded. The purpose of having a compressed version is so that it can be streamed without buffering or getting grainy, especially if a viewer doesn't have a strong internet connection. Low latency streaming is essential for a positive viewer experience. 
Whether you use encoding software or a hardware encoder depends on your budget and computer speed. Hardware encoders are much more expensive. They are independent of your computer and run on their own processor. However, they are really powerful.
There are several streaming encoders we recommend, including the free and open-source OBS Studio software encoder. Other RTMP options work with Dacast, including VMix and Vidblaster. If you want a more professional software encoder, one of the best available is Telestream's Wirecast. You can download a free trial before purchasing.
For more information on setting up live encoders, check out the Dacast Encoder Configuration guide.
2. Choose a Live Streaming Classroom Platform
With that equipment in place, the most important part of live education broadcasting is selecting the right streaming provider. You want to choose a reliable streaming solution with a content delivery network (CDN). 
Video CDNs guarantee that your content is distributed all over the globe without clogging your own servers. Dacast partners with the Akamai CDN, one of the best and largest CDNs in the industry to provide you with a multi-CDN network. Akamai also works with popular and successful companies like Apple and Facebook.
You want to pick a streaming platform that is affordable and easy to use. If you're new to live streaming, choose a provider that doesn't require any technical knowledge to use their system. 
Streaming platforms like Dacast help you start live education broadcasting with just a few clicks. With our highly affordable platform, you can easily stream live video on your website while maintaining control of and rights to your content. Additionally, we have a Zoom live integration which gives you access to peer-to-peer streaming and opens up the possibility of dialogue with students. When video streaming classes, interaction can help improve the learning experience. 
A powerful streaming solution also provides a monitoring and analytics feature. You want to have access to viewer numbers, behaviors, and engagement. When you're teaching an online class, it's helpful to know if your students stayed on the stream the whole time or if they left before the end. With the right live streaming platform, you will get access to analytics that will allow you to learn how to create the best live stream class.
Also, you want to know if your lesson or material is engaging enough for your students. You can use this information to tailor your future lesson plans according to your students' needs and preferences. Video streaming analytics can improve your educational content.
It is a good idea to think beyond the live stream. Determine whether you plan to make the videos available for playback after they have finished. If this is a capability that you're looking for, make sure your online video platform has video-on-demand (VOD) capabilities. 
Another thing you should take into consideration is the privacy and security capabilities of your OVP. Some broadcasters choose to make their live streams public, others choose to give access to specific students only. The decision ultimately comes down to whether a public or private live stream classroom makes sense for you.
We will compare 10 of the best live streaming classroom platforms later in this post.
3. Tailor Your Educational Content
Educators work hard on their lesson plans. They use their years of training and experience to create engaging materials and lectures that resonate with their students. However, switching from traditional lessons at school to live-stream classes takes a little extra work.
Think about the way you present information. If you use whiteboards or smartboards, you're going to have to figure out how to get that all in the camera's view without distorting it. Perhaps, you could do screen-recorded lectures with voice-overs, or maybe you just need to adjust your whiteboard so that the camera captures it.
Only small tweaks are required, but these are things that should be tested and prepared before you go live.
In addition to preparing the content, it is important to remain confident. The uncharted territory might be intimidating, but you need to present confidently because your students will feed off of your attitude. When video streaming classes, your confidence in your material enhances the classroom experience. 
Even if creating video lessons is not the norm for you and your team of teachers, online learning can certainly be effective. This is definitely something to keep in mind, especially if you're feeling skeptical about the transition.
For example, video in an educational context can facilitate learning and improve collaboration. It can also increase student engagement and the teacher's effectiveness. 
According to the American Public Broadcasting Service's (PBS) annual teacher survey on media and technology, the majority of teachers believe that video is an effective great learning tool:
68% believe that video stimulates discussions 

66% believe that video increases student motivation

41% believe that video increases student achievement
Among other use cases, we can observe this trend in the increasing popularity of massive online open courses (MOOCs). Companies like edX and Coursera, for example, have offered free online classes from top educational institutions like Stanford, Harvard, and MIT. 
The preference towards this style of learning should be taken as reassurance that young students do enjoy learning online, and no students learn better than those who are eager for class. Students today are ready for live stream teaching environments.
4. Secure Your Internet Connection
A stable internet connection is vital for any live stream. Live education broadcasting is no exception. You want to ensure that all of your content reaches your audience without any glitches or latency issues.
Blank screens, lagging, and sudden interruptions to the stream can be a source of great distraction for both students and educators.
In order to stream at a high quality, your internet connection needs to reach certain speeds. We recommend that you reach at least 750Kbps to 2Mbps. We also advise that your internet connection be twice as fast as the speed at which you want to stream.
For example, if you want to stream at 1Mbps, your upload speed should at least be 2Mbps. You can test your internet speed at SpeedTest.net for free. A quality internet connection is important for a low latency classroom live streaming experience. 
5. Start the Live Classroom Stream
Once you have collected and set up your gear, set up your online video education platform, checked your internet connection, and prepared your lesson, it is time to start your live stream.
Here are some broadcasting tips for how to conduct live online classes:
Speak slowly and clearly

Consider simultaneously running a discussion board so students can ask questions and participate

Pause to check interactions

Use the restroom before you get started

Have water nearby

Make sure your devices are charged

Wear a plain shirt (no stripes, plaids, or anything distracting)
Once you've ticked all these little boxes off your list, the most important thing is to relax and have a little fun. Your goal is to educate, but letting your personality shine through will help students better connect with you.  The best live streaming classrooms feel authentic.
Top 10 Live Streaming Classroom Platforms 
Let's take a look at 10 of the best platforms for hosting live streaming classrooms.
1. Dacast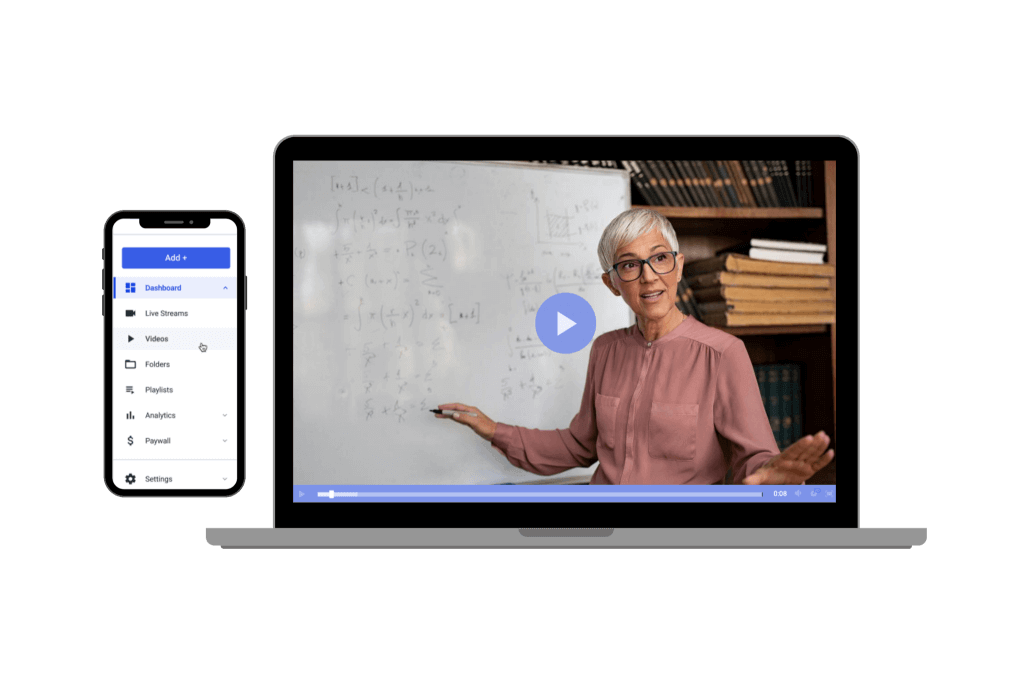 Dacast's online video education platform is a great option for small educators and major educational institutions alike that need video hosting support to set up a live streaming classroom.
Our Zoom live streaming integration with real-time latency makes peer-to-peer streaming possible. This makes our platform well-suited for conference-style virtual classes. Dacast offers the right integrations to create the best live streaming classrooms. 
Key Features:
Monetization features such as pay-per-view, subscriptions, and ad-insertion are supported on our platform. It is also important to note that every plan on Dacast is fully white-label.
Dacast also supports batch video uploading, optimized CMS, reliable security, powerful content delivery, and China video hosting. Our unified streaming solution is ideal for institutions and schools with a large video-on-demand library. This is perfect if you have large numbers of instructors creating content for different subjects and courses.
Detailed Features:
Upload Guidelines and Specs:
Minimum dimension: none (but 240p is the recommended minimum)

Maximum dimension: 1080p or 4K (depends on the user's hardware and internet)

Aspect ratio: no restrictions (but 16:9 is the default)

Max file size: none

Max video length: none

Total file storage: 10-1000GB (depends on plan)

Compatible video formats: MP4 (preferred), MOV, M4V, M2V, AVI, MPG, FLV, WMV, MKV, WEBM, OGV, MXF, ASF, VOB, MT
Pricing:
Pricing for Dacast's live streaming for education solutions starts at $39/month. Pricing plans include:
Dacast also offers custom pricing for higher volume streaming. Please contact us for more information. With Dacast, you can create a custom live streaming classroom experience.
2. Panopto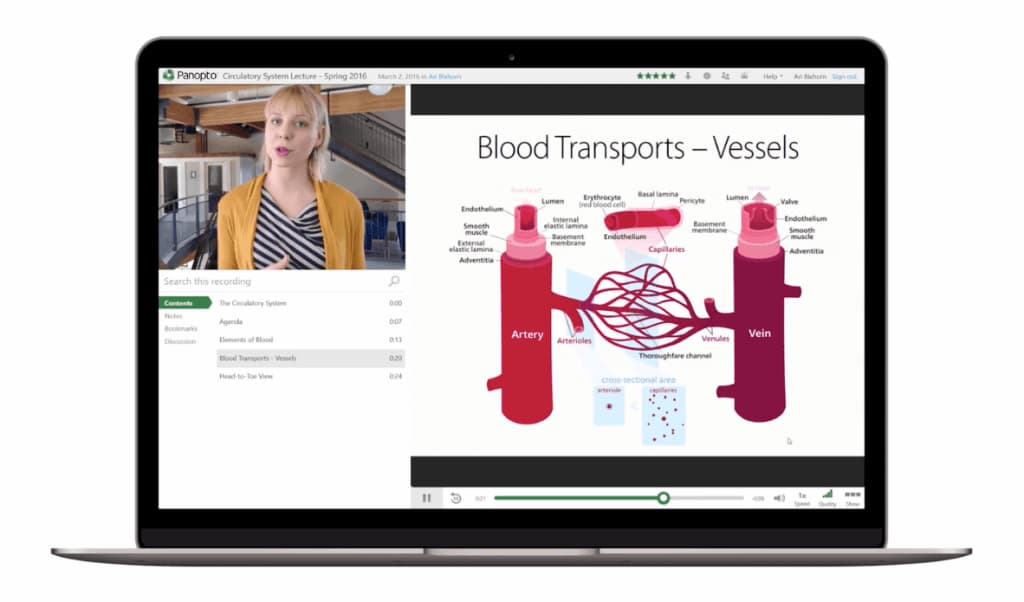 A leading video platform for education, Panopto is an online lecture platform that was designed to serve universities and other large institutions, which makes it a great option for educators that are creating virtual classrooms. 
Key Features:
With a focus on online education, Panopto provides tools similar to YouTube and integrates with Learning Management Systems. Overall, Panopto is a more focused online video organization than the other best live streaming solutions considered here. That means it's easy to create a library of course for your students to access.
Unfortunately, the Panopto platform doesn't include video monetization. Security features include the ability to make live and event content private. Additionally, users can integrate with existing authentication systems. All plans are white-label, and API is available. This solution includes dedicated software for lecture capture and video search.
Detailed Features:
Auto-archiving and automatic library building

Access control & security features

White-label streaming

Integration with LMS systems

API

access for customizing your experience 

Video analytics

Document Indexing

Branding customization

Asset Categorization
Upload Guidelines and Specs:
Compatible video formats: AVI, MP4, MPG, WMV, MOV, QT, ASF, 3GP, WMA, MP3, M4V

All other upload guidelines and specs are only available to paying customers. 
Pricing:
Panopto recently simplified its pricing packages and includes the following three options:
Basic: Free

Pro: $14.99/month

Enterprise: Please contact Panopto for custom pricing.
For educators, pricing depends on full-time equivalent student pricing. Plans are available starting at 500 users.
Panopto has a lot of unique features focused on livestreaming the classroom experience. However, you can't monetize your content via Panopto, which can be a big drawback if you are looking to make money with your educational content. 
3. Muvi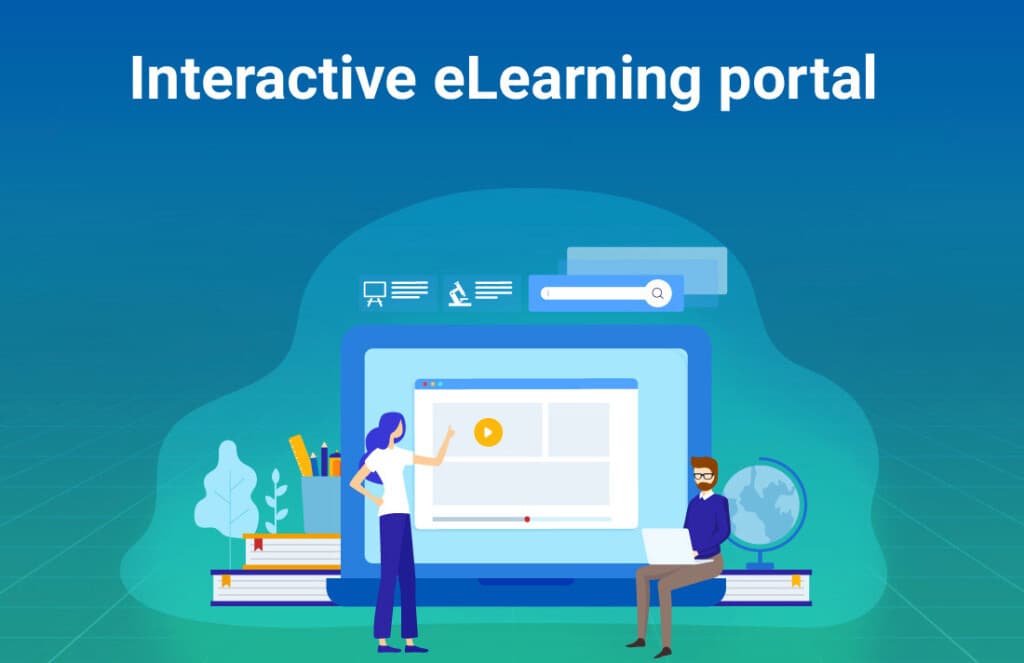 Muvi is another great option for hosting virtual classes in a live streaming classroom. Muvi's e-learning solution has a wide range of features to help educators stream with success.
This platform supports multiple video monetization methods. Muvi also provides access to API and white-label video players. The platform also supports on-demand video and audio streaming. 
Muvi is fully managed and all controlled from a single CMS.
Key Features:
Muvi makes it possible to create a multi-screen live streaming classroom relatively quickly. This streaming solution comes with a wide range of functionalities and capabilities. They also provide VOD and audio streaming. It's fully managed and all controlled from a single CMS.
Detailed Features:
White-label HTML5 video player

Insightful analytics

Multiple

video monetization options

DRM and security features

Live and on-demand hosting

Reliable CDN

Easy-to-use video CMS

Video security tools

Website and Apps for Mobile and TV
Upload Guidelines and Specs:
Minimum dimension: 144p (256 x 144)

Maximum dimension: 4K (3840  x2160)

Aspect ratio: 16:9, 4:3

Max file size: not available

Max video length: not available

Total file storage: 1TB, 2TB, 5TB (depending on plan)

Compatible video formats: MP4, MOV, MKV, FLV, VOB, M4V, AVI, 3GP, MPG
Pricing:
Muvi offers five different pricing plans:
Standard plan: $399/month (+ $299/month per app +

infra fees

), allows 2000 concurrent viewers, 1TB each of bandwidth and storage, and API support.

Professional plan: at $1,499 per month (+ $499/month per app +

infra fees

) increases limits further and adds premium support.

Enterprise plan: $3,900 per month (+ $499/month per app +

infra fees

) adds a dedicated server with auto-scaling.

Ultimate plan: $8,900/month (+ $499/month per app +

infra fees

) doubles the bandwidth and storage of the enterprise plan and adds your own CDN and unlimited API calls.

Black plan: this is a custom solution and includes everything in the Ultimate plan plus premium services and project management.
If you are looking for a multi-screen classroom experience, Muvi can get you there. 
4. Hippo Video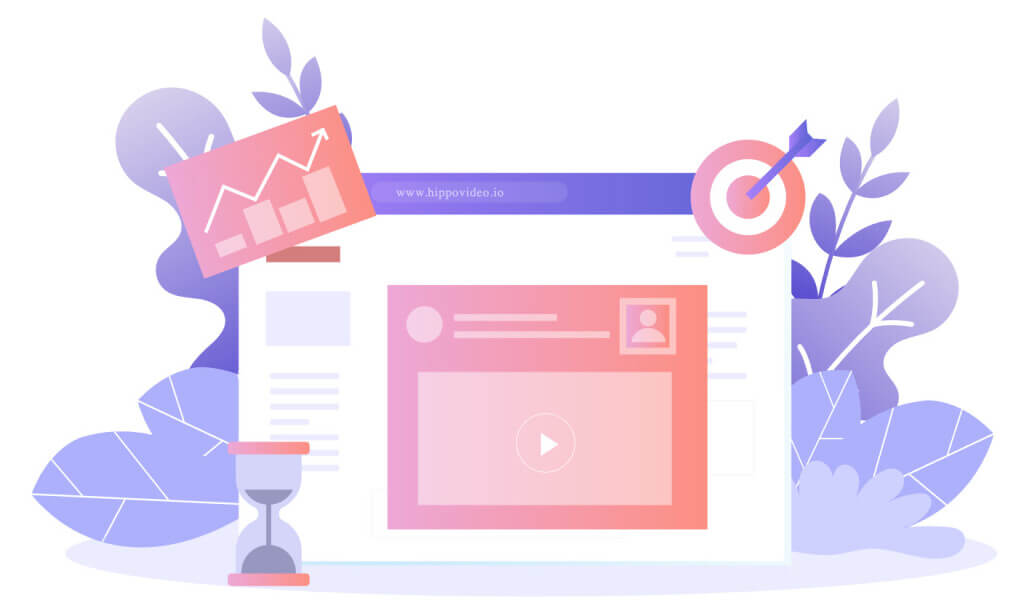 Hippo Video is a professional video streaming hosting provider that offers live streaming classroom software for education, as well as marketing, sales, and more. It was founded in 2016 by Lyceum Technologies.
This company is unique in the sense that it has plans for broadcasters with a wide range of budgets.
Key Features:
In addition to hosting live stream classes, Hippo Video is equipped with tools for video editing and creation. This makes it easy for educators to create engaging virtual classes.
Detailed Features:
Built-in tools for video editing and enhancing

Tools for customization  

Marketing features (CTAs, analytics, etc.)

Screen capture capabilities

Video hosting and management

Tools to facilitate collaboration 
Upload Guidelines and Specs:
Minimum dimension: 480p

Maximum dimension: 1080p

Aspect ratio: not available

Max file size: 3 GB

Max video length: 5 minutes on Free plans, 2 hours on Premium plans

Total file storage: n/a

Compatible video formats: not available
Pricing:
Hippo Video has a complex pricing structure since it offers a variety of solutions for different use cases. Here's a breakdown of pricing for the most popular categories:
Sales
Pro: $30/month

Growth: $48//month

Enterprise: $79/month
Marketing
Starter: $23/month

Pro: $49/month 

Growth: $99/month
Support
Starter: $10/month

Pro: $29/month

Growth: $49/month
Team Communications
Starter: $7/month

Pro: $15/month

Growth: $23/month
Hippo Video also has special pricing plans for Personalization and Education. Users can contact Hippo Video directly for recorder API pricing.
If you need video editing and creation software as well as a live class streaming platform, Hippo Video may be a good option for you. 
5. Cincopa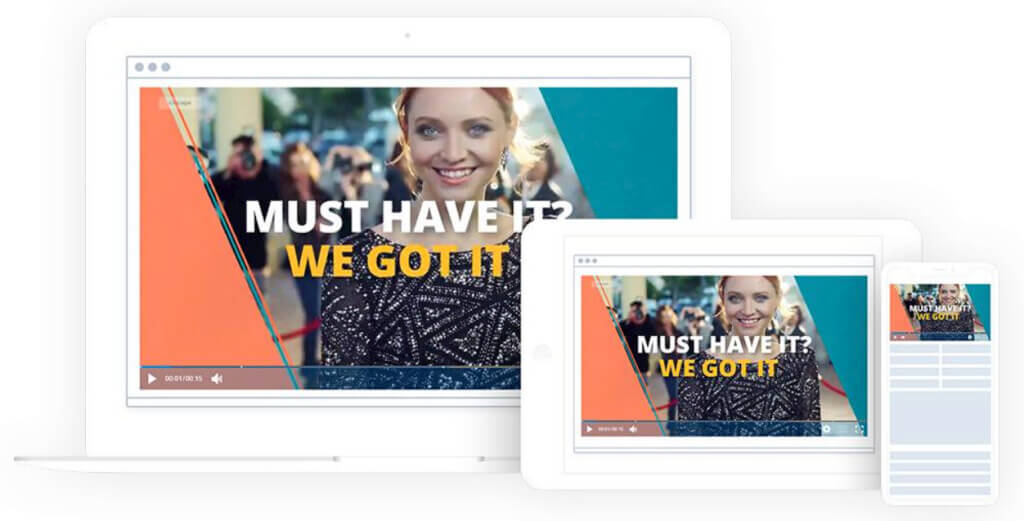 Cincopa is a streaming solution that specializes in storing and managing video, photo, and audio content. The platform is equipped with the tools that educators need to host live stream classes and create engaging video presentations.
Among Cicopa's streaming offerings, video and media solutions for education are an integral part of the video platform. This platform offers plans for institutions with a wide range of budgets, which makes Cincopa is a great option for creating live streaming classrooms at any scale.
Key Features:
Cincopa is a multimedia hosting platform that is capable of hosting video, audio (podcasts and music), photos, and more. This makes it possible for teachers to create a well-rounded virtual classroom.
Cincopa's online live class platform provides educators with instant insights regarding how specific videos are performing. 
Detailed Features:
Auto-archiving

Well-equipped content management system

Mobile-friendly video player

Video capturing tools

Tools for enhanced accessibility

Adaptive bitrate streaming 

Reliable content delivery
Upload Guidelines and Specs:
Minimum dimension: 144p

Maximum dimension: 4K

Aspect ratio: 4:3, 16:9

Max file size: 1, 2, 20GB (depending on the plan)

Max video length: not available

Total file storage: 5 videos, 40 videos, unlimited videos (depending on the plan)

Compatible video formats: AVI, MOV, WMV, MP4, M4A, F4A,  F4B, F4V, F4P, M2TS, MTS, VOB, MKV, RMVB, M1V, QT, DIV, DIVX, DV, 3GP, 3GPP, 3G2, MPG, MPEG, MPE, FLV
Pricing:
Cincopa offers four different pricing plans ranging from $9 to $350 per month:
Startup: $9/month; designed for a team of 1; limited hosting tools

Plus: $25/month; includes marketing tools (CTAs, email integrations, etc.)

Corporate: $99/month; advanced broadcasting tools

Agency/Enterprise: $350/month; advanced broadcasting tools with more flexibility
Please check out Cincopa's pricing page for a further breakdown of storage and capabilities that come with each plan. If you plan on creating a big video library, Cincopa's content management system will help you keep your live classroom recordings organized. 
6. Zype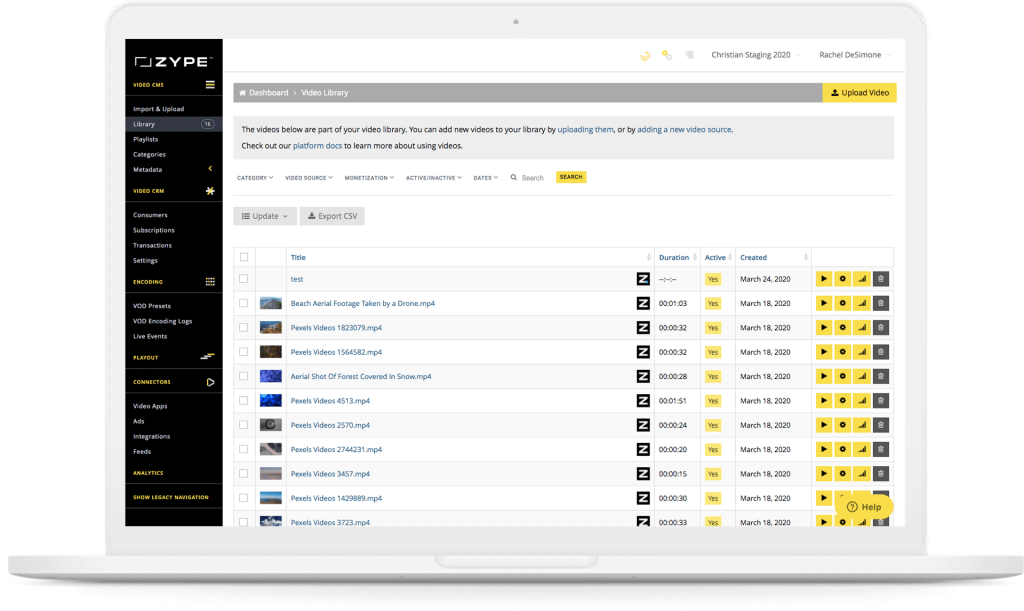 Zype is a powerful live streaming solution for educational institutions with great needs and equally great budgets. The platform is known for making it easy to manage content and subscriptions. Zype also offers tools for building apps to create live streaming classrooms with virtual lectures and more.
Key Features:
Zype is a platform for managing, hosting, and delivering high-quality live streams, especially for educational purposes. 
Detailed Features:
Packages at high price points

Support for scalability

Team-based content management system

Tools for course monetization

App building support

Batch importing tools
Upload Guidelines and Specs:
Dimensions: 1920x1080p (suggested)

Aspect ratio: 16:9

Max file size: 100 GB

Max video length: unavailable

Total file storage: unavailable

Compatible video formats:  3GP, AVI, FLV, MP4, MPEG-2, ProRes, M4V, WMV
Pricing:
Zype offers four pricing plans for hosting a live streaming classroom, including:
Zype X: $500/month

Network: $2500/month

Premium: $3500/month

Enterprise: $5000/month
Zype X can be tested with a free trial. For more information on what sets these plans apart from one another, please refer to the Zype pricing page. Zype X is priced for larger educational institutions with bigger budgets for classroom streaming. 
7. Kaltura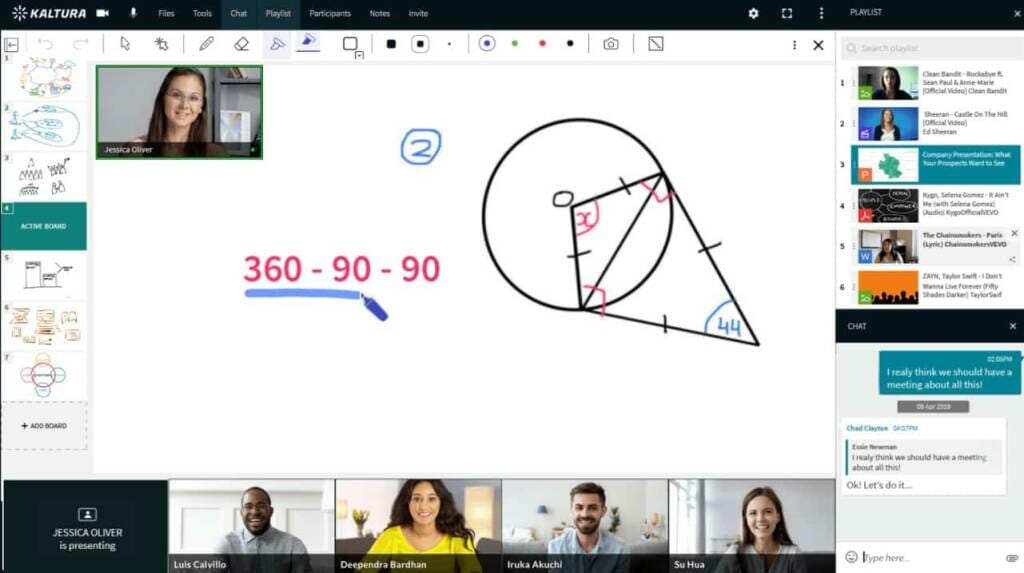 Kaltura is an open-source video hosting platform geared towards large educational institutions. Kaltura's software supports live and on-demand learning experiences through its cloud-based video education platform.
Since this platform is open-source, you can integrate quite a few different programs to customize your live streaming class experience.
Key Features:
Kaltura's features are as expansive as the programs that you choose to integrate. Access security, monetization, and more, all in a fully white-label HTML5 video player.
Detailed Features:
Security features

Cloud TV service

Closed captioning tools

Multiple monetization options (AVOD, SVOD, TVOD)

Video looping available

Bulk video uploading
Upload Guidelines and Specs:
Recommended dimensions: 180p (320×180) to 1080p (1920×1080)

Supported aspect ratios: 16:9, 4:3

Maximum file size: 2 GB

Maximum video length: Unknown (No limits are published)

Total file storage: 10 GB to unlimited, depending on the plan

Accepted video formats: MOV, MP4
Pricing:
Kaltura uses a pay-as-you-go pricing structure. That's why rates are different for each broadcaster since it depends on their unique needs.
As an open-source environment, Kalture allows for a custom live online class environment if you have a team with the knowledge on how to integrate tools into their software. 
8. Livestream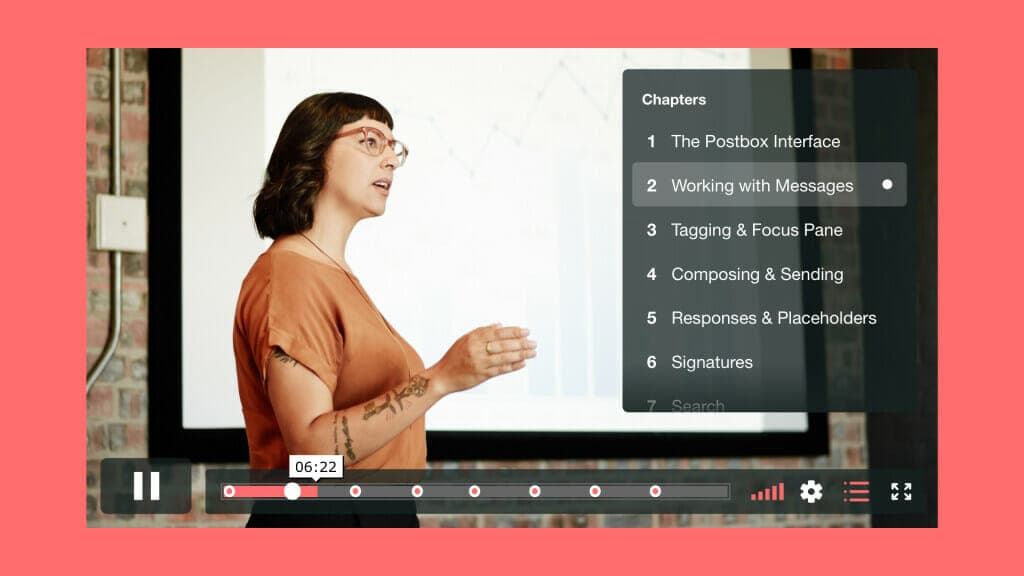 Vimeo was once a consumer-grade streaming platform. However, the company acquired Livestream in 2017 which opened doors to more premium offerings.  
Livestream's education video solution includes powerful content management features for both live streams, as well as hosting virtual classes for on-demand playback. However, most of these are only available with the most inclusive plans.
Key Features:
Livestream has quite a few professional broadcasting features that come in handy for educators. 
However, security features, including advanced privacy controls and password protection, are supported only on the Enterprise plan and above. The same goes for white-label branding and monetization options. The Vimeo Live API is available on this plan, and custom plans are priced at even higher levels. 
Features like monetization, security, white-label, and branding control, require upgrades to the Enterprise plans. Custom plans are also available at higher rates on a case-by-case basis.
Detailed Features:
Reliable video security 

Marketing tools

Features for improving engagement

Detailed video analytics

Works with YouTube

Excellent security features
Upload Guidelines and Specs:
Recommended dimensions: 720p (1280×720)

Supported aspect ratios: 16:9, 4:3

Maximum file size: 3 GB

Maximum video length: Unknown

Total file storage: Unknown

Accepted video formats: MP4 (recommended)
Pricing:
Vimeo Livestream offers three main pricing plans, including:
1) Vimeo Premium:
Premium pricing: $75/month

Their Premium plan includes both live streaming and VOD support. This plan is the best option for professional broadcasting on this platform.
2) Vimeo Enterprise:
Enterprise Pricing: Please contact Vimeo for custom pricing information

The Enterprise plan includes white-label service, monetization, and video API access. It also includes branding control and added security features.
3) Vimeo OTT:
Starter Pricing: $1/subscriber per month

Growth Pricing: starting at $500/month

This OTT-specific pricing package comes with the Vimeo.com relationship. These plans include all the basics for starting your web-based OTT channel, as well as growing your OTT business online.
To access Vimeo for live streaming classrooms, you need the budget to invest in the top subscription levels. 
9. Vplayed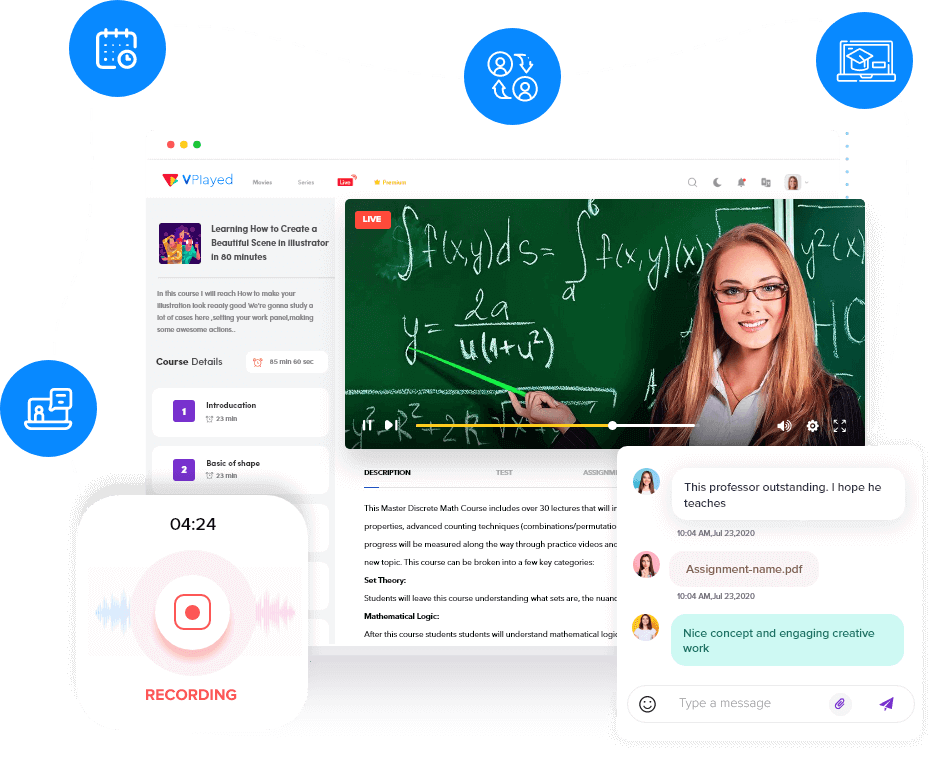 Vplayed is a classroom education streaming solution powered by Contus that supports live streaming and VOD for educators and professionals in other industries. 
This platform offers support for everyone from broadcasters with small projects to large-scale operations.
Key Features:
The Vplayed streaming solution supports both live and on-demand video hosting. The platform supports the hosting and management of live and on-demand content.
Detailed Features:
White-label HTML5 video player

Live streaming and VOD

Video monetization tools

Reliable privacy and security

100% customizable experience
Upload Guidelines and Specs:
Minimum dimension: unavailable

Maximum dimension: no larger than source dimension

Aspect ratio: 4:3, 16:9 (suggested)

Max file size: No limits

Max video length: unavailable

Total file storage: unavailable

Compatible video formats: not specified
Pricing:
Vplayed does not publish prices on its site. Please contact their sales team for custom pricing.
Vplayed allows for video monetization and a customizable experience for your school live streaming environment. 
10. IBM Cloud Video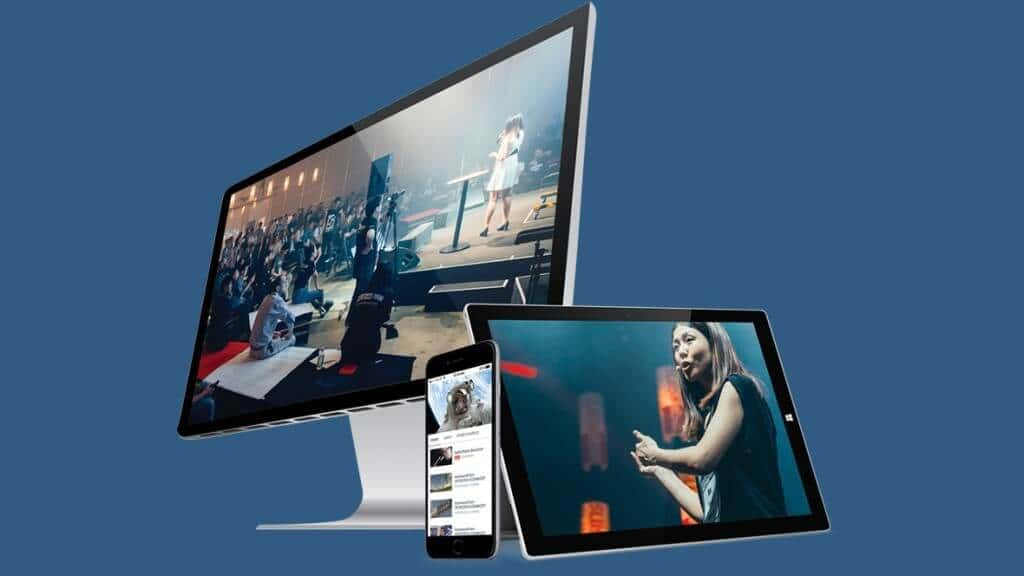 IBM Cloud Video, formerly known as UStream, is another platform that supports live class streaming thanks to their professional broadcasting tools.
This platform is pretty costly since their most inclusive plans run up to about $1000/month. With that considered, the software may be a better option for educational institutions with larger budgets.
Key Features:
Some of IBM Cloud Video's broadcasting features include webcasting, content management, password protection, worldwide delivery, cloud transcoding, and HD streaming. Some of their advanced virtual classroom features include AI-based speech to text, automated closed captioning, live polling, real-time monitoring, and video analytics and insights.
Video monetization is available through ad integration. However, full white-label branding control starts with the $999/month Platinum plan, and the IBM Cloud VideoAPI is included on custom Media and Enterprise plans.
Detailed Features:
Highly reliable

Superior customer support

Video is delivered using an internal VOD server

Suited for larger businesses

Exceptional customer support

Powerful features great for broadcasters
Upload Guidelines and Specs:
Recommended dimensions: 4K (3840×2160)

Supported aspect ratios: Unknown (Not published)

Maximum file size: 4 GB

Maximum video length: Unknown (No limits are published)

Total file storage: 1 TB – 5 TB, depending on the plan

Accepted video formats: MKV, MP4, MOV, FLV, AVI, WMV, MPEG2, H264, H263, MPEG4, VP6, VP8, THEORA, WMV, MP3, AAC-LC, NELLYMOSER, PCM, SPEEX, VORBIS, WMA
Pricing:
IBM Cloud Video offers four  pricing plans include the following:
Silver: $99/month

Gold: $499/month

Platinum: $999/month

Custom: Please

contact IBM Cloud video

for custom plan pricing.
Tips for Successful Live Stream Classes
Once you've chosen an online video platform to host your live streaming classroom and you get everything set up streaming a lecture is quite simple.
That said, there are a few things you can do to enhance the experience for all parties involved. Let's review the top tips for successful live streaming classes.
1. Plan Ahead
Planning ahead is key when it comes to live streaming classes. As an educator, you're probably used to lesson planning, so this should come naturally to you.
Outline the points you'd like to cover during your lecture. It is a good idea to stick to bullet points rather than creating a detailed script.
2. Incorporate Pre-Recorded Content
Although you're hosting a live lecture, your stream could benefit from incorporating pre-recorded content. This could be pre-recorded content from another source or slides that you made ahead of time.
This move can help to break things up, especially if your class is scheduled to last an hour or more. Using pre-recorded content can help to keep your students engaged. This will help you keep your live classroom moving smoothly.
No student wants to listen to someone talk for an hour, regardless of if the class is happening online or in person. Incorporate best practices into your online learning environment. 
3. Do a Test Run
Consider blocking off some time at an earlier moment to run through your lesson. It is a good idea to record the video so that you can go through and make any changes or additions when you live stream to your students.
While you are preparing for your first live stream, it is smart to check the lighting at the filming location about 24 hours before you plan to go live. Let's say you're live streaming at noon on Tuesday. Set up your camera on Monday between 11:00 AM and 1:00 PM to make sure the lighting is adequate.
Doing a test run before you start the semester or quarter will ensure that when your live classroom starts, you don't have any technical issues. 
4. Have Fun
Many people tend to get nervous on camera, even if they are used to lecturing in front of dozens of students. However, there is no need to worry. Just present your lesson like you would if you had an in-person class.
Remember to have fun with it. Your students will feed off of your energy, so if you're enjoying yourself, they will, too.
Final Notes
No matter if it is because of school closures or personal preference, distance learning is such a great alternative for students outside of the classroom. Live streaming classes expand educational opportunities. 
Following these five steps will help you create the most effective live streaming classroom possible. Your students will pick up on your preparedness and take your live streaming classes much more seriously than if you simply conferenced everybody in on a basic video chat platform.
Choosing the best live streaming classroom platform for both your school and your students is essential if you want to achieve the most with your virtual classes. We recommend taking advantage of free trials to find the best platform for your institution's needs.
Why not start with Dacast's free trial? You can live stream with Dacast's online video education platform for free for 14 days. Create an account today to get started. No credit card is required. No strings attached.
Did you find this article helpful, or do you have other comments or feedback? Let us know what you think in the chatbox below.
Thanks for reading, and good luck choosing the right live streaming classroom solution for your online classes!
Subscribe Now
Stay up-to-date with the latest features and product releases. Cool tips, expert advice and more.