Immersive Video: Everything You Should Know About VR Videos in 2021
Immersive video is becoming a hot topic across many industries as the technology becomes more consumer-friendly and accessible. Businesses and organizations are using immersive video to reach their audiences in many different ways.
In this post, we're going to cover the basics of immersive video before we dive into some industry shifts that are making this technology more valuable than ever. From there, we will take a look at some specific use-cases for immersive video before we wrap things up with five tips on creating engaging immersive video content of your own.
Without further ado, let's break down what exactly immersive video is.
Table of Contents
What is Virtual Reality (VR)?

What is Immersive Video?

What is the Difference Between Immersive Video and 360 Video?

Recent Shifts in the VR Industry 

How Businesses are Using Immersive Video in 2021

5 Tips for Creating Engaging Immersive Videos

Final Thoughts
What is Immersive Video?
Immersive video, which is often used with virtual reality (VR) technology, is a type of video content that is designed to make viewers feel like they are inside the video. The idea is to give viewers a lifelike perspective. VR headsets are often used to deliver immersive video content. Users can put the goggle-like gear on to experience the simulation.
Some VR experiences are more interactive than others in the sense that users are able to interact with things in the virtual realm as opposed to simply being an observer. 
Since the virtual reality experiences that allow for active participation require more advanced development, we're going to focus on the use of immersive video and VR technology that brings viewers into the virtual realm as observers throughout this post.
Immersive videos can be uploaded to streaming platforms like standard videos. What makes it immersive is mostly the filming style and the technology that is used to access it.
What is Virtual Reality (VR)?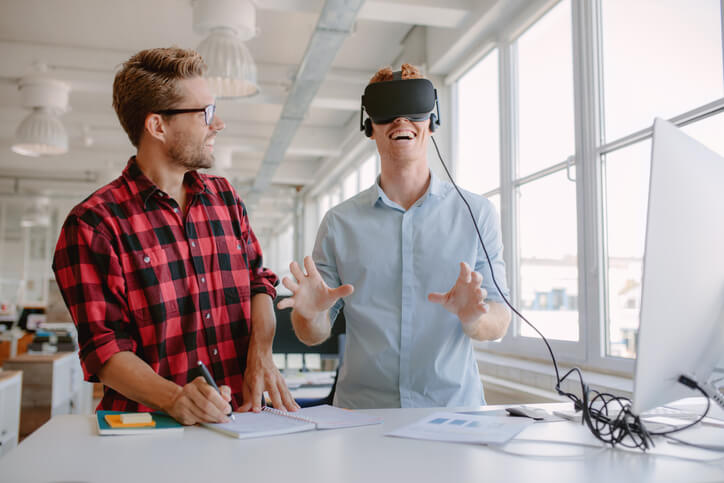 Virtual reality (VR) refers to technology that creates a simulation of an experience. This experience could be totally fictional or depictive of a reality that is slightly different than your current situation.
This technology has been around since the middle of the 20th century, but it has rapidly developed in recent years, consumers have interacted with VR in amusement park rides and simulations for years, but it is becoming more accessible to people in their own homes or other casual settings.
An example of VR in action is Google Maps Street View. It allows users to check out a location with a 360-degree view. This was launched back in 2007 and is really quite basic compared to today's uses of the technology.
VR streaming technology can be used to watch video content, play video games, work out, and more.
What is the Difference Between Immersive Video and 360 Video?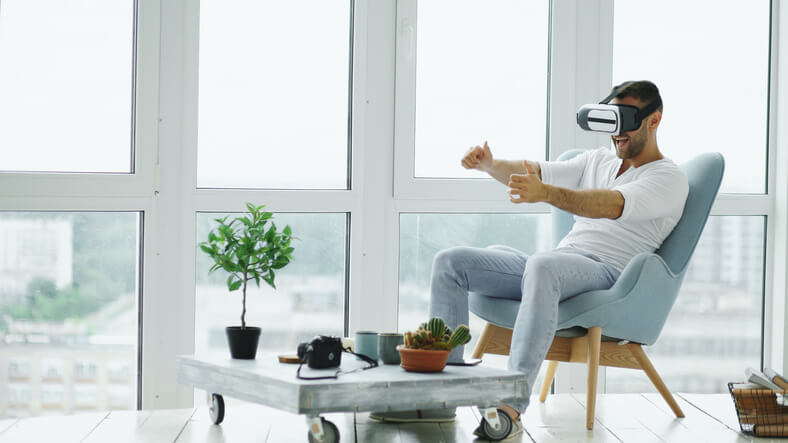 Although the terms "360 video" and "immersive video" are often used interchangeably, the two technologies are a little bit different. 360 video allows users to navigate within the virtual environment to get a 360-degree view. They can see what is above, below, and all around them, depending on how they move.
Immersive video alone, on the other hand, does not necessarily give viewers the ability to actively participate.
360 video is useful, but it can be a bit more difficult to produce than a simple immersive video.
Recent Shifts in the VR Industry 
Up until recently, virtual reality sets were relatively expensive. 
The first consumer-grade virtual reality set was the VIVE SteamVR, which was launched in 2016. This product went for nearly $1000. At the end of 2020, Oculus, which is owned by Facebook, released the Quest 2, which is a more advanced virtual reality headset that is going for only $299.
The VIVE SteamVR required a connection to a powerful computer and a bulky setup that required mounted sensors. The Quest 2, which is about a third of the price, requires a simple headset and two handheld controllers. Furthermore, the Quest 2 has much better graphics, has more power, and is totally wireless.
The wireless setup and lower price point make this technology more accessible than ever. Consumers can easily get a set for personal use. Businesses can easily invest in a set to use for sales pitches, meetings, and more.
Since the Quest 2 is wireless, it is easier to do product demonstrations outside of the showroom.
How Businesses are Using Immersive Video in 2021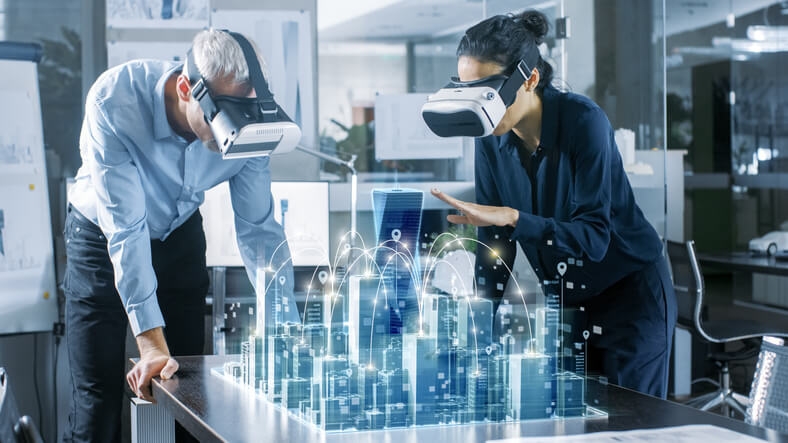 There are several different uses for immersive video in the business world, and as this technology develops, the possibilities are constantly expanding. There is so much room for creativity.
Let's take a look at a few of the main uses for immersive video in business.
Sales
Immersive video is been major for sales for both B2B and B2C businesses. It gives buyers the ability to experience a lifelike demonstration of a digital rendering, even if the product is difficult to bring to a showroom or is still in the development or prototype phase
Some particular industries that have been using immersive video are auto and real estate. With auto sales, buyers can get a feel of a vehicle without taking it for a real test drive. This can be good for car dealerships since it minimizes the obvious implications that could come with having people take cars out on the open road.
With real estate, on the other hand, potential buyers can tour houses without having to travel between them. That way they can several to narrow down their list of the ones that they'd like to go see in person. This saves time for both buyers and realtors, and it is also safer in
Marketing 
Immersive video takes video content marketing to the next level. It includes all of the benefits of regular video content and amps it up to a higher degree.
By using immersive video, you can pull your audience in and give them a viewing experience that feels more hands-on and engaging.
eCommerce
Although online shopping has been popular for several years, COVID-related lockdowns have forced many people to shop online whether they liked it or not.
The hesitation that some people have with shopping online is the fact that the pictures do not always give a clear image of how the products look in real life. This is especially true for clothing items that people would prefer to try on to get a better idea of the fit.
Retailers are beginning to use a mix of VR and augmented reality (AR) to better present their products to consumers that are shopping on the internet, which enhances the online shopping experience.
Virtual Events
Since COVID-19 began to spread across the world, virtual events have become more popular than ever. Since many events that are typically held in person are being live streamed, coordinators can encourage remote attendees to tune in with a VR set to make it feel like they are really there.
This concept could be applied to corporate events, sporting events, music festivals, and more.
Tourism and Hospitality
Some luxury resorts allow guests to do virtual walkthroughs of their properties before they decide to book. This is particularly useful for guests that are booking these venues for destination events, like weddings, retirement parties, retreats, and the like.
Since many businesses, especially in the tourism and hospitality industry, have had to halt tours and excursions because of the pandemic, they have been forced to get creative with digital offerings to keep their businesses afloat. 
These businesses are using immersive video to create adventures and activities that "tourists" can experience from their own homes. Some examples include jungle tours, landmark exploration, underwater adventures, and more. Nasa, Netlfix, and National Geographics have all participated in this trend over the past few months.
5 Tips for Creating Engaging Immersive Videos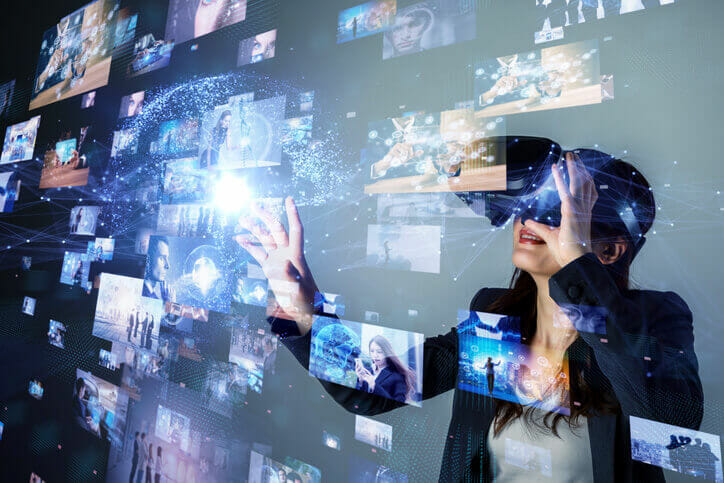 Immersive video can be very engaging when done right. Let's take a look at a few tips for ensuring that your immersive videos come out as well as possible.
1. Use a 360 Camera 
One of the most basic components of creating an immersive video is using a 360 camera that captures a wider angle.
There are some reliable 360 cameras from GoPro, VUZE, Garmin, Ricoh, and Insta 360.
2. Create a Storyline
Depending on the purpose of your immersive video, it is a good idea to incorporate a storyline. This is not to say that you need to create a script or narrate every move, but your content should be displayed in a way that feels meaningful.
With immersive video, the viewer isn't necessarily able to control movement throughout the scene, so you're going to have to do it for them.
For example, if your video involves exploring a landmark, you're not going to want to simply walk in a circle around the subject. Think of how a tourist would approach it in real life. They'd likely step back for a full view, get close to example details or plaques. They may even grab a brochure about the place.
Create the story around the experience that you're trying to create for the viewer.
3. Be Strategic with Point of View 
As you film your immersive video, you have to be very strategic with your point of view (POV). Since the goal is for viewers to feel like they are in the scene, it is a good idea to record at eye level, which would create a first-person POV.
Either a head mount or chest point can help you achieve this. A neck camera or glasses with a built-in camera would work, as well.
4. Incorporate Lifelike Movement
Although you want to keep the camera relatively steady to avoid shakiness in your end result, it is a good idea to incorporate some natural movements that will make the video more lifelike. For example, a little bit of sway as you walk will make it feel real. Also, reaching out to touch or adjust things with your hands will make it feel more "real," as well.
5. Add Unexpected Turns
Since many immersive videos are structured as a walkthrough or involve some other sort of "journey," adding unexpected turns can make it more lifelike. 
Let's say that you are walking through a city. It's not likely that you'll walk perfectly straight and keep your head looking directly ahead the entire time. Naturally, you're going to see what's going on around you. You may move to the side to dodge a person coming your way.
Incorporate these turns and pivots as you record your content.
Final Thoughts
There is so much you can do with immersive video, especially since virtual reality technology is becoming more accessible than ever. You can use it for sales, marketing, or even as a remote service or paid activity.
We believe that this technology will continue to adapt to create even more possibilities in online video and the professional world.
Looking for a platform to host your online video content and live streams that are both reliable and easy to use? Why not give Dacast a try? Our unified streaming solution is a great option for businesses and organizations that want to use video content to connect with our audience.
Our platform offers an Expo feature that allows you to present your content to your viewers in an organized video gallery. You could easily upload your collection of immersive videos for your audience to access on demand.
We also offer tools for monetization, video management, reliable content delivery, video security, and more. Access all of these tools risk-free for 14 days by signing up for a free trial.
All you have to to get started is create a Dacast account. No credit card is required.
We hope this article has helped you to both better understand and to distinguish between encoding programs.
For regular tips on live streaming, you're welcome to join our LinkedIn group. Any questions or comments?
Let us know! We love to hear from you, our readers. Sound off in the chat section and we'll get back to you as soon as we can. Thanks for reading, and, as always, good luck with your live streams!
Subscribe Now
Stay up-to-date with the latest features and product releases. Cool tips, expert advice and more.