Thanks to the development of technology over the past decade, live streaming has become easier and more powerful than ever before. Evidence of this appears all around us in our daily lives. 
Research shows that the global enterprise video market should reach $25.6 billion by 2025. If you do the math, that's an annual growth rate of more than 20%.
Today, we're going to explore one essential tool for professional live streaming in 2021: the best broadcasting software. We'll cover what you can do with encoding software for live broadcasts and a comparison of top live streaming software options. Since some broadcasts require hardware encoding, we will cover a few of the best options for that, as well.
Please note that the Dacast team has updated this comparison to reflect improvements and version updates in broadcasting software as of January 2021.
Table of Contents
What is Broadcasting Software?

What Does Broadcast Software Do?

Encoding Software for Live Streaming

Live Streaming Software vs. Hardware Encoders

Comparison of the Top 5 Broadcasting Software Solutions

Conclusion
What is Broadcasting Software?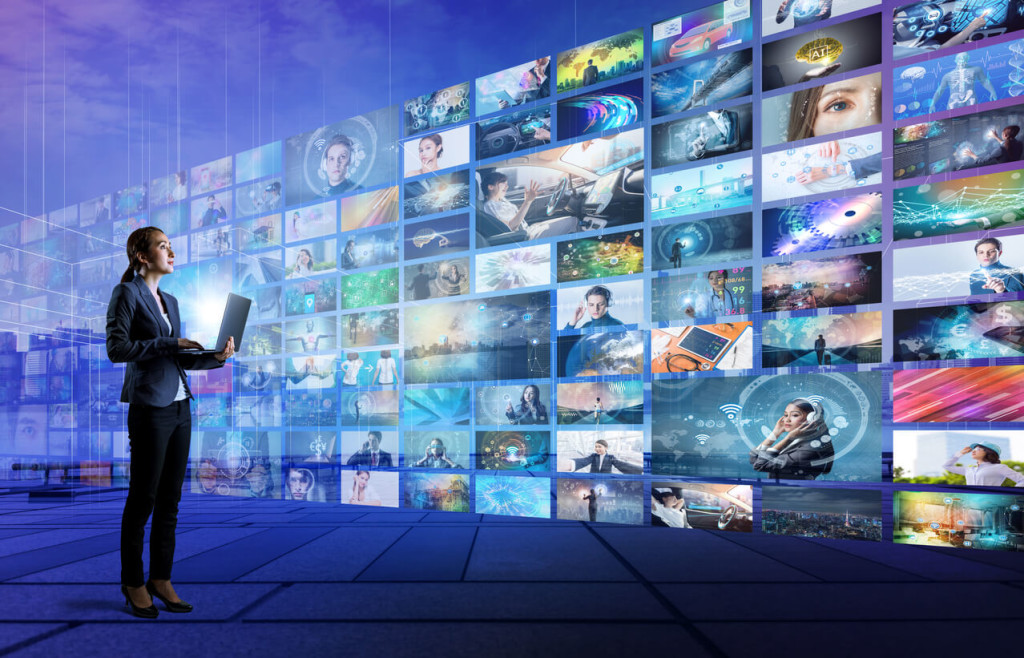 Not to be confused with a live stream host or live streaming solution, live streaming software is another essential program for streaming live video.
Live streaming software performs a number of tasks, including encoding your video into a format suitable for streaming. 
Additionally, live broadcasting software enables you to mix together multicam sources to create a professional-looking HD broadcast. The beauty of most streaming software solutions is that they help you produce those professional-grade live streams without much broadcasting experience.
What Does Broadcast Software Do?
There are a few things that most live streaming software can do. Typically, it serves two main purposes: encoding and mixing/production.
1. Encoding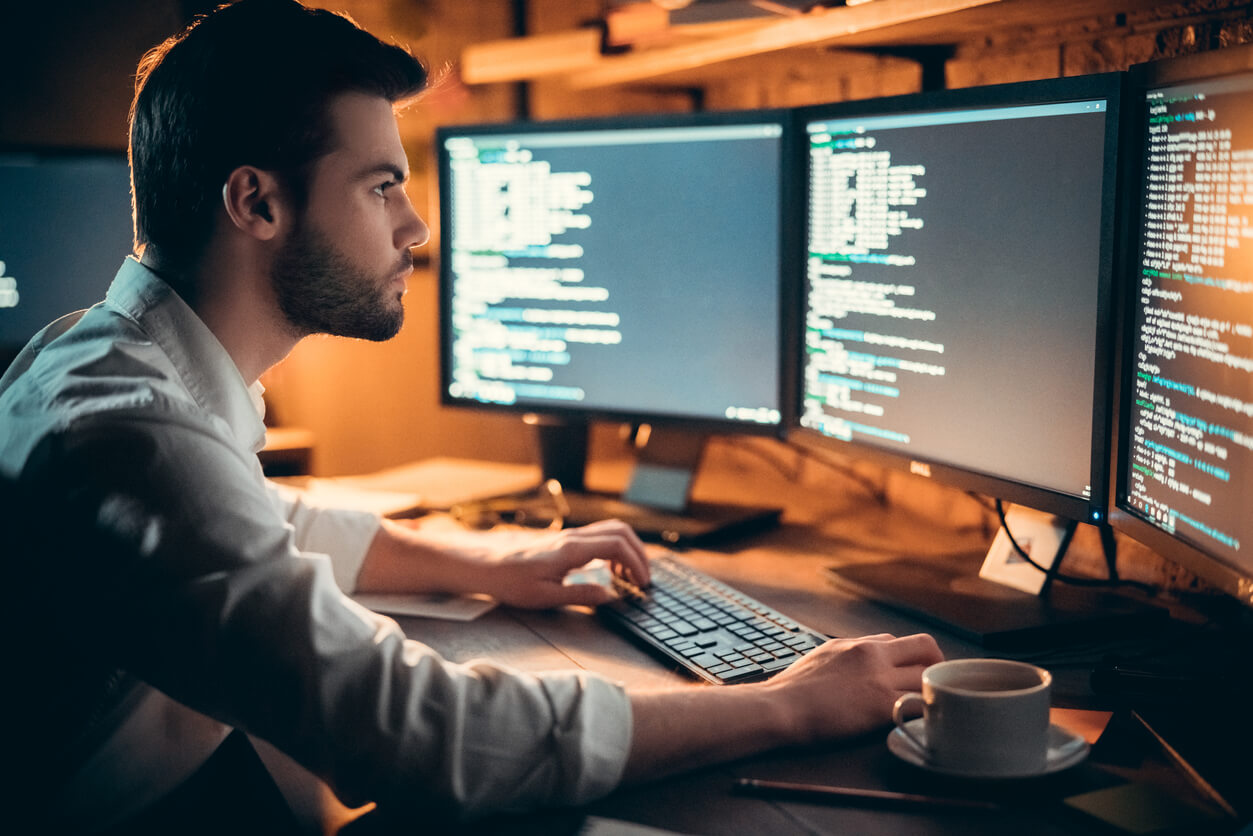 Live broadcasting software converts your video feed into a suitable format for live streaming.
Video cameras typically use formats designed for recording, but they're not optimized for internet transmission. Broadcasting software is also crucial for video transcoding or making replicas of the video file in different sizes and qualities. This typically uses RTMP encoders or the HLS streaming protocol.
Given that encoders perform this function, the best HLS-enabled broadcasting software applications are often also called live stream encoding software.
2. Mixing and Production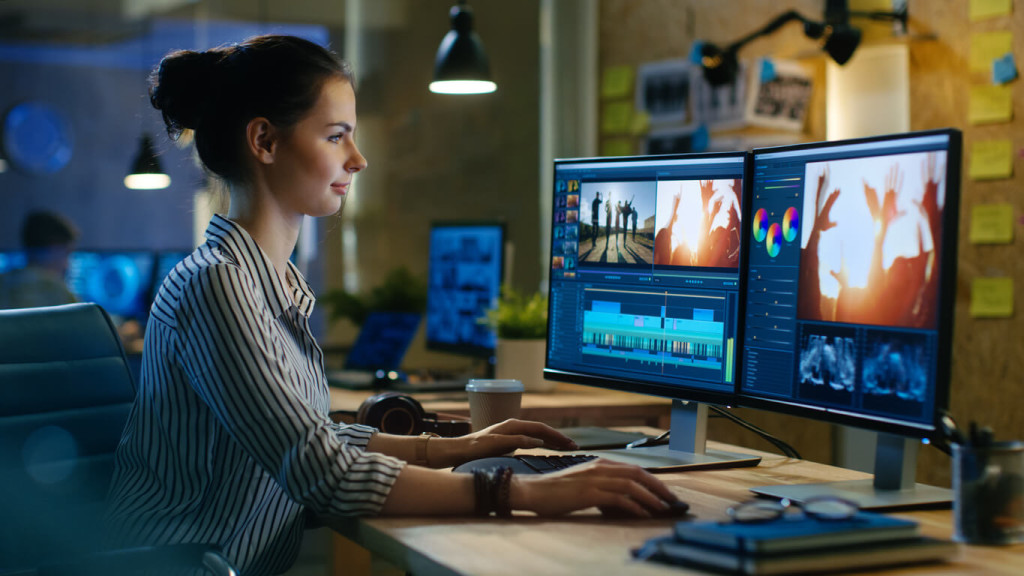 The second function of this software is both a broadcast overlay and live video mixing. 
The main purpose of live video mixing software, otherwise known as live video switching, involves selecting and displaying multiple sources while a live broadcast is underway. In short, mixing is a kind of on-the-fly editing that the TV industry has used for many decades.
All the streaming software that we'll cover below can mix software as well. These encoders allow you to do many tasks rapidly during a live broadcast, which is crucial to a successful live stream.
You can use the broadcast overlay software to do the following:
Switch between

multiple cameras

Live stream between multiple sources including video and audio

Insert a still image or a pre-recorded video during a live broadcast

Overlay graphics or titles on top of the video feed

Add transitions and video effects, such as "green screen" virtual sets
As you may already know, mixing is essential to creating an engaging and well-crafted live stream. The alternative–a single-camera feed without titles, images, cuts, overlays, or other finishes–may be sufficient on occasion. However, that approach is usually neither professional nor feature-rich enough for a good-quality broadcast.
Encoding Software for Live Streaming
In order to use live encoding software, you generally need to install and run it on a desktop. For more mobile situations, you can use a laptop computer. 
You need a computer with a consistently fast internet connection. Once you have your computer in place, you can easily connect video cameras via capture cards. The same goes for other dedicated hardware.
For more advanced live streaming situations, you may want to use multiple computers with distinct roles. For example, one technician could work to create graphics on an additional computer. From there, you can feed these graphics, for example via an NDI (network device interface) to the main mixing computer. That way, graphics display immediately with no lag time for your viewers.
Although it is not ideal, it is possible to use a mobile device to run encoding software, as well.
Live Streaming Software vs. Hardware Encoders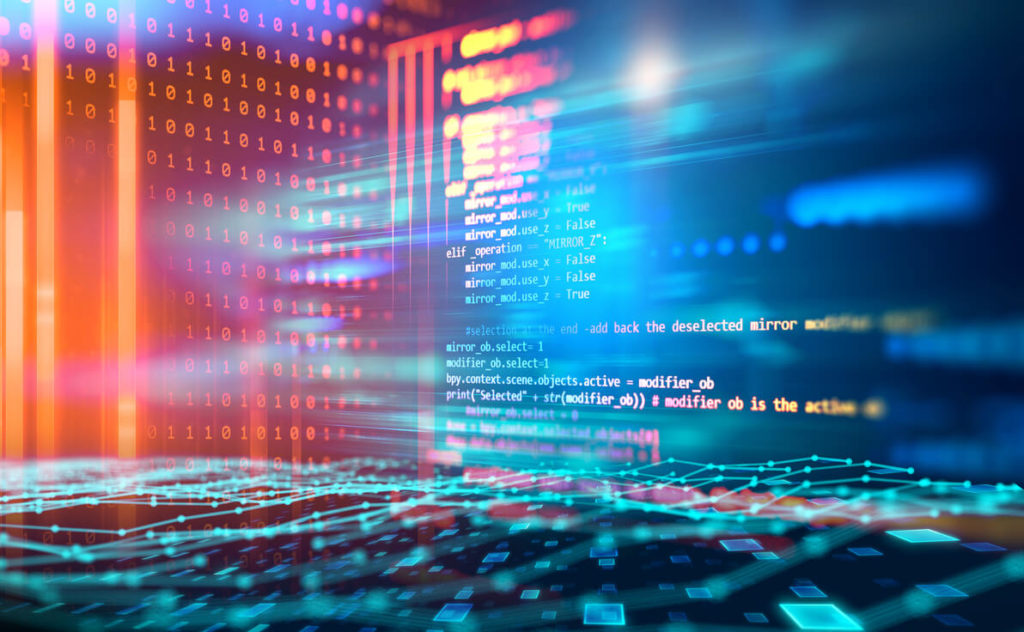 In this article on live broadcast software, we'd be remiss to leave out a brief mention of hardware vs software encoders.
Some broadcasters have needs that exceed broadcasting software and may require a hardware encoder.
As the name suggests, a hardware video encoder is a dedicated physical device (rather than a downloadable software) that functions in some of the same ways as a software encoder.
Some individual broadcasters opt for hardware encoders when setting up access to mobile streaming. Why? Hardware encoders can connect to cell networks.
Note that hardware encoders tend to be much pricier than software encoders. In a similar vein, they can be physically cumbersome, depending on your particular setup. However, since they are dedicated devices, they are typically more effective.
Comparison of the Top 5 Broadcasting Software Solutions of 2021
We've covered what broadcasting software is, what it does, and the difference between hardware and software encoders. Now it's time to review a few of the best software for streaming options in more detail. Specifically, we'll review and compare Wirecast, vMix, VidBlasterX, OBS Studio, and Dacast. 
Let's get to it.
1. Wirecast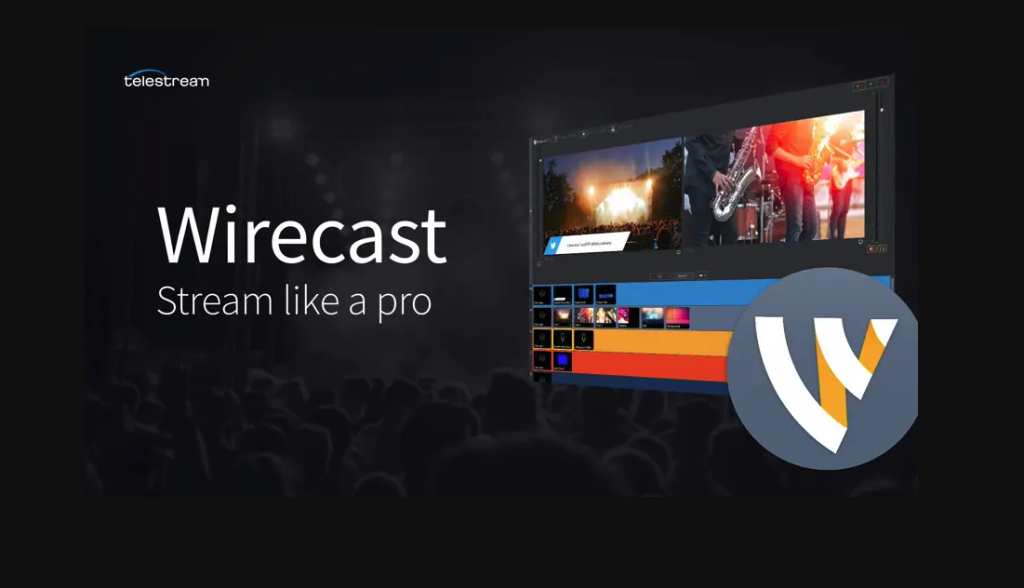 Built by Telestream, the Wirecast live broadcasting software enables live streaming to any RTMP destination. This software also supports recording streams locally.
Wirecast software is compatible with a wide range of capture cards, devices, and camera inputs. This encoding option includes live switching, picture-in-picture composition, titles, audio delay, and other similar features. 
If you need to use pre-recorded video within your live broadcast, Wirecast makes this aspect easy, as well.
Wirecast supports a range of other technologies, including:
Support for multiple video capture and live inputs simultaneously (USB, Capture Card, NDI, Wirecast Go, Webstream IP sources)

GPU-accelerated encoding

Pro Audio FX Built In

RTMP, RTP multi+unicast

Multi-channel audio ingest

Green screen

Instant replay
Compatibility:
Wirecast is compatible with both macOS and Windows.
Pros:
Easy-to-use, user-friendly platform

Compatible with most popular operating systems

Fully loaded with valuable features
Cons:
High price point 

Many features locked in the "Studio" version

Consumes a lot of computer memory
Pricing:
Wirecast 14.0.4 is the newest full version as of October 14, 2020. It features several enhancements and fixes, including FBLive polling, re-written WebStream plugin, and Virtual Camera improvements. 
The software comes in two versions:
Wirecast Studio for enhanced live production & streaming: pricing is

$599 with a free trial

Wirecast Pro for advanced live production and streaming: pricing is $799 which also comes with a free trial
The Pro version includes a number of features not available on the Studio version. These include:
Up to 7 guests via built-in video conferencing solution

ISO Record individual sources

NDI output

8-track audio output

Wider device support

Live scoreboards

Multi-track audio recording
Setting up Wirecast with Dacast:
Please check out the posts that we've previously written about how to set up Wirecast with the Dacast video streaming software.
User Reviews:
"The best part of Wirecast is how easy it is to use. Being able to set up and plan a live stream is very simple. The user interface is intuitive. And it offers a lot of solutions and flexibility of it's set up." – Steven K.
"We use it for training and online learning. It works great and is relatively easy to use, even for non-experts on our team." – Anonymous G2 Reviewer
2. vMix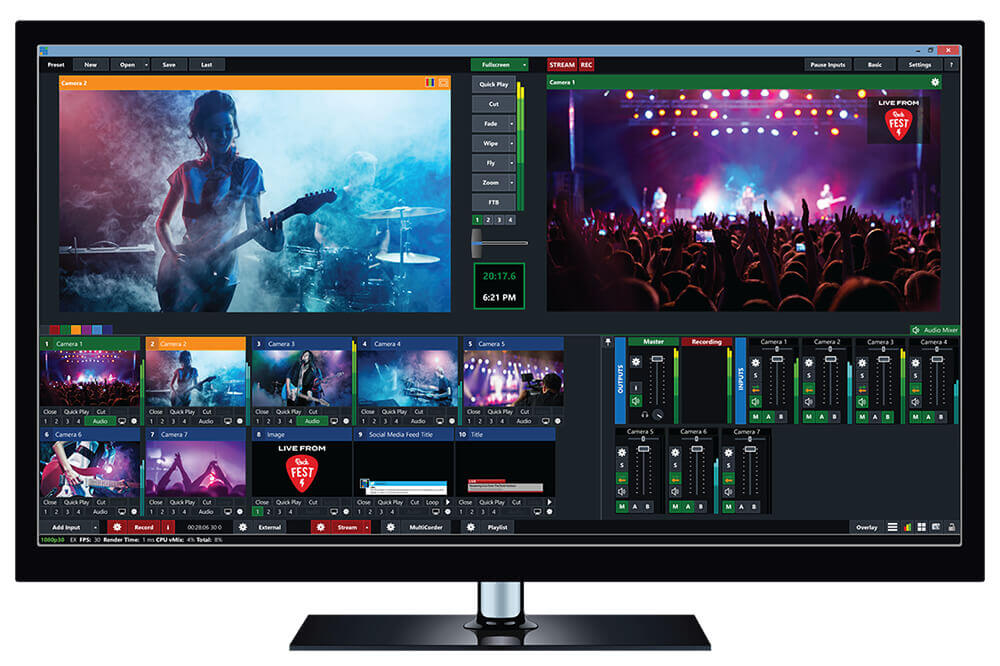 vMix is a highly powerful encoder. Like Wirecast, vMix software supports a wide range of inputs. These include:
Video cameras (

supported capture cards

) at up to 4K resolution

NDI: send and receive HD low latency video and audio

Video Files: AVI, MP4,

H264

, MPEG-2, WMV, MOV and MXF

Audio Files: MP3 and WAV

Web Browser, RTSP, PowerPoint, Photos, Solid Colour, and more.

Webcams, DVDs, playlists, PowerPoint, and other sources
vMix includes native support for multi-bitrate streaming which is very useful for professional broadcasters who place a high value on user experience. 
Additionally, this software supports the Network Device Interface (NDI). NDI sends your secure video upload over gigabit ethernet networks and green screens. 
vMix also includes a built-in titling tool that includes animation support. Additionally, it offers an instant-replay and slow-motion feature.
Compatibility:
vMix is only available for Windows PCs. However, it is possible to run it on a Mac using a certain technique. While vMix cannot be installed directly on OSX, the solution when using a Mac is to install it on Windows via Boot Camp.
Pros:
Some limitations on compatibility 

Plans for every budget

60-day risk-free trial

Users rave about switcher functions
Cons:
Streams in relatively low bitrate

Some "bugginess" (which users suggest could be fixed with software update)
Pricing:
vMix is available in five different versions, ranging from Basic to Pro. Each version supports a different number of inputs, your purchase never expires, and includes the following versions:
Basic (free), which supports 4 (up to 2 camera/NDI) inputs and video up to 768 x 576 resolution
Basic HD ($60), which supports 4 inputs (up to 3 camera/NDI) and video up to Full HD 1920×1080 resolution
HD ($350), which supports 1,000 inputs, adds vMix call functionality, 4 overlay channels, and supports full HD video in 1920×1080 resolution
4K ($700), which supports 1,000 inputs, 4K resolution video (4096 x 2160), PTZ control, 2 recorders, instant replay, 4 SRT outputs, and much more
Pro ($1200), which also supports 1,000 inputs, includes all 4K features and 2 records, plus up to 8 callers, up to 4 cameras for instant replay, and 4 SRT outputs
vMix also offers a 60-day free trial and has all the features of vMix Pro including the ability to use resolutions greater than HD such as 4K, particularly to ensure vMix supports your computer hardware works with it before purchasing. This is a great perk, as most encoding software offers only up to a 30-day free trial.
Setting up vMix with Dacast:
vMix has integration with Dacast's online video platform that is easy to set up. To learn how to check out our Dacast/vMix tutorial.
User Reviews:
"I like vMix because it is very easy to set up various shots by assigning various camera inputs, adding videos, presentation[s], and other graphics. It is an all in one solution for mixing video and streaming." – Abhishek D.
"vMix filled a hole for us several years ago where we didn't want to spend the money required for a full production switcher but needed a Multicam switcher for our live stream broadcasts that were budget-friendly but was still feature-rich. vMix has only grown leaps and bounds since then, adding a multitude of features that have kept it competitive while still keeping the price low. The support team is great, and the community is excellent if you have questions" – Anonymous Reviewer on G2
3. VidBlasterX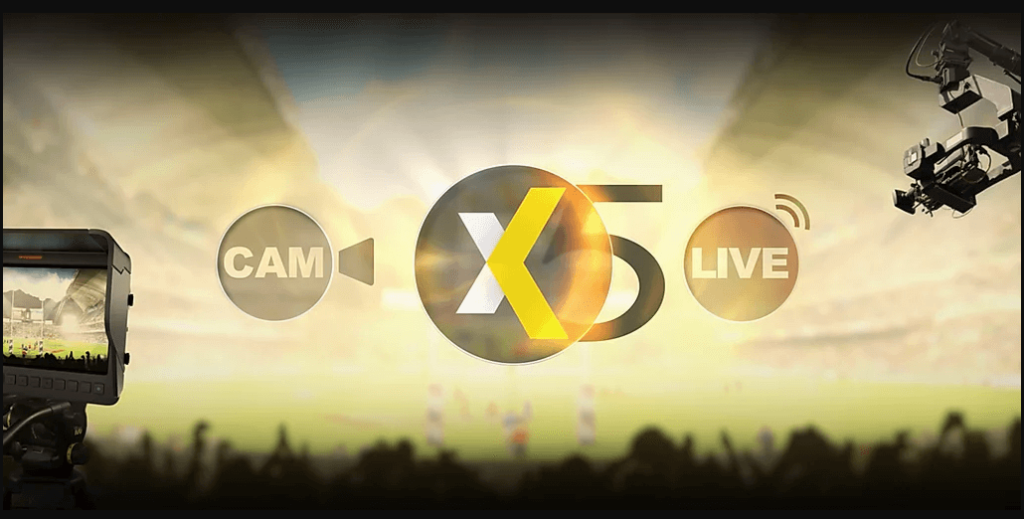 Next up on our list of encoding software is VidBlasterX, an RTMP-enabled live video production software. VidBlasterX enables streaming to most streaming platforms (including Dacast). The input support and other available features are similar to Wirecast and vMix.
For studio users, VidBlasterX supports:
Video routing

Recording streams to local disks

Displaying outputs on a monitor of your choice

Outputting to a Blackmagic DeckLink video card
VidBlasterX utilizes a unique modular design. For example, broadcasters can add each feature via a "module." You can then add, rearrange and remove these at your discretion.
Compatibility:
VidBlasterX is compatible with Windows PCs.
Pros:
Has plans for a wide range of budgets

Feature-rich

Easily customizable
Cons:
Not compatible with macOS

Not well-suited for inexperienced live streamers

Slightly complex
Pricing:
VidBlasterX is available in three versions. Each of the following options is priced with an annual subscription model:
The Home version ($9/year) supports 7 modules.

The Studio version ($99/year) supports 25 modules.

The Broadcast version ($999/year) supports 100 simultaneous modules. This version also supports multiple recorder & streamer modules in a single profile.
Setting up VidBlasterX with Dacast:
Check out our tutorial to learn how to set up VidBlasterX with Dacast.
User Reviews:
There are no user reviews available for VidBlasterX.
4. OBS Studio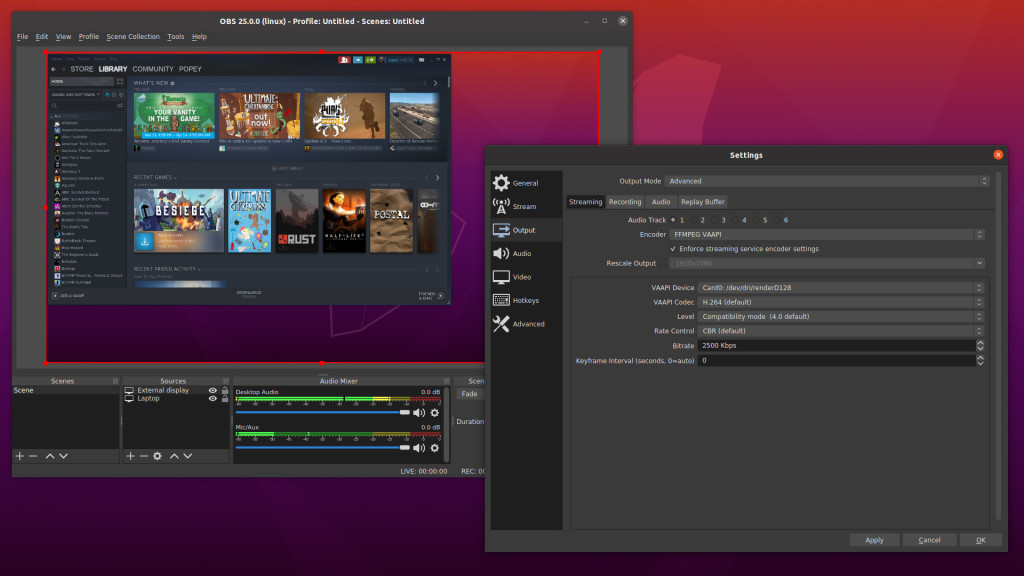 Now, let's discuss OBS Studio. This encoding option is a free and open-source live stream broadcasting software package. OBS supports RTMP streaming, switching between multiple sources, capture cards, webcams, chroma-key (green screen), video and audio files, and application windows. 
Though it's light on features, it's quite easy to use, even for those new to live broadcasting. Note that OBS does not natively support any plugins. However, community members have developed a wide range of plugins that broadcasters can use to add features to the more basic OBS Studio. 
These plugins include NDI, a feature formerly only found on high-end encoders. Another notable plugin supports pulling Tweets into your streams in real-time. 
Please note that OBS does not support multi-bitrate streaming.
Compatibility:
OBS is available for Mac, Windows, and Linux.
Windows Vista is no longer supported by OBS Studio.
Pros:
It's free

Easy-to-use for beginners

Frequent updates

Able to function on lower-quality internet
Cons:
Some limitations on features

Room for improvement for plugins
Pricing:
OBS Studio is open-source and completely free. There is no cost to accessing and using this software.
Version 26.1.1 was released on January 6th, 2021, and is available for download here. for both macOS and Windows operating systems.
Setting up OBS Studio with Dacast:
We offer a customized version of OBS Studio live broadcasting software to our customers. This version makes it easier to directly connect to your Dacast live streaming service account. 
With this option, you don't need to manually enter details. Instead, simply login to your Dacast account via OBS to start streaming live in minutes.
Check out our OBS for Dacast guide for Windows users, You can also review this OBS for Dacast guide for Mac users.
User Reviews:
"OBS has allowed our organization to enter the video streaming and recording arena. In a day where face-to-face interaction is limited by the government due to the COVID-19 pandemic, video interaction has become so important. OBS provides an easily accessible way to develop effective video communication." – Michael A.
"From simple streaming to bigger events, OBS has been able to handle all of it with full confidence from us. Have never questioned if it was going to be unreliable in a specific situation, even with minimal training. Software identified the external input source easily and had no issues setting that up (Blackmagic Mini Recorder), and great for pulling in separate audio from the computer input." – Travis G.
5. Bonus Broadcast Platform: Dacast's Live Streaming Software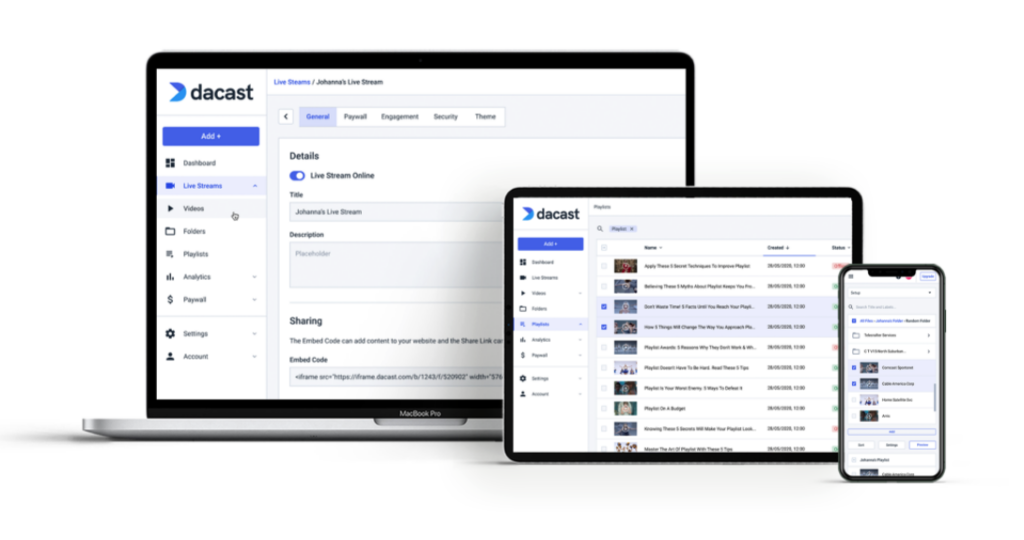 Video streaming software is important for professional broadcasting, but an online video platform is absolutely essential.
Dacast is equipped with the tools you need to host and your video content. Our unified live streaming platform integrates with OBS Studio, VidBlasterX, vMix, and Wirecast to provide the resources you need for a high-quality broadcast.
Compatibility:
Dacast is compatible with both macOS and Windows.
Some of the detailed features include:
Pros:
Cons:
Requires a bit of a learning curve
Pricing:
Dacast's plans start at $39/month and come with all the features required for professional broadcasting. Plans include:
Starter Plan: $39/month (includes 1,000 GB of bandwidth & 50 GB of storage)
Event Plan: $63/month (includes 6 TB of bandwidth upfront and 50 GB of storage)
Scale Plan: $188/month (includes 24 TB of bandwidth per year and 1 TB of storage)
Custom plan: Contact us for custom pricing plans
You can try all of these features 100% risk-free for 30 days with the Dacast free-trial.
Conclusion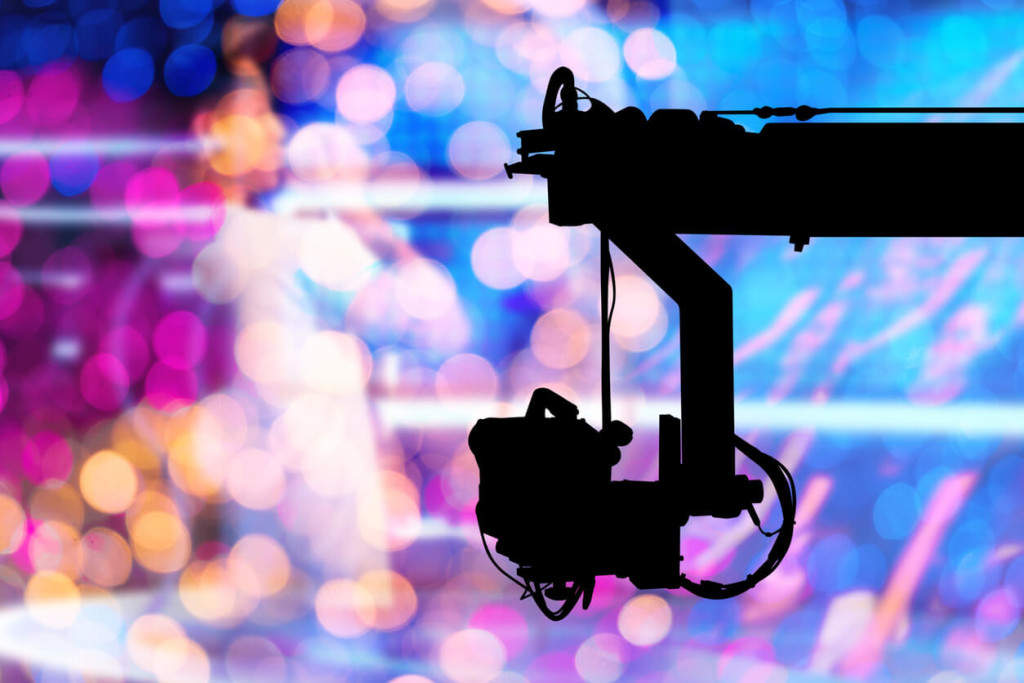 Those are our picks for the best live broadcasting software of 2021! As a professional broadcaster, streaming software is essential. It is what allows you to add those professional touches that you'd see on traditional television broadcasts.
We hope this article has given you a starting point for picking the best live broadcasting software for your streaming needs. We also hope that our review of top streaming video software helps you choose one that works well for you.
If you are new to broadcasting, we recommend starting with OBS Studio since it's free and easy to use. If you find that you need more, you'll be equipped with the experience you need to navigate a more advanced broadcasting software.
Interested in testing your chosen software with a streaming platform and professional-grade video hosting features? Sign up for the free trial on Dacast to see how your live streaming software of choice works in action.
Our trial is 30 days long, and it provides access to nearly every Dacast feature. No credit card required.
Any questions, comments, or ideas? Let us know in the comment section below. We appreciate hearing from our readers, and we will get back to you. For regular tips on live streaming and exclusive offers, you can also join our LinkedIn group. 
Thanks for reading, and as always, best of luck with your live broadcasts!