Nowadays, live streaming is easier and more powerful than ever before. In fact, we can see evidence of this everywhere around us in our daily lives. Research, too, shows that the global enterprise video market should reach $19.8 billion by 2023. Do the math–that's an annual growth rate of more than 20 percent! In this article, we'll explore one essential tool for professional live streaming in 2020: live broadcasting software.
First, we'll review what you can do with encoding software for live broadcasts. Next, we'll compare live streaming software with hardware encoders. (Some situations call for the latter.) After exploring that topic, we'll review examples of live broadcasting software for you to compare and consider. Finally, we'll outline the pricing plans, compatibility, and features for each, before leaving you to your own decision-making process.
What can you do with live broadcasting software?
Live broadcasting software is essential to stream live video.
Live streaming software performs a number of essential tasks, one of which includes transcoding a video into a format suitable for streaming. Additionally, live broadcasting software enables you to mix together multiple sources to create a professional-looking broadcast, whether or not you have a lot of technical expertise yourself!
Note: you generally need to choose from available streaming solutions (for example, the Dacast OVP) to do video broadcasts, whether live or on-demand.
Now, let's begin with a review of what live broadcasting software actually does. Typically, it serves two main purposes: encoding, and mixing/production.
1. Encoding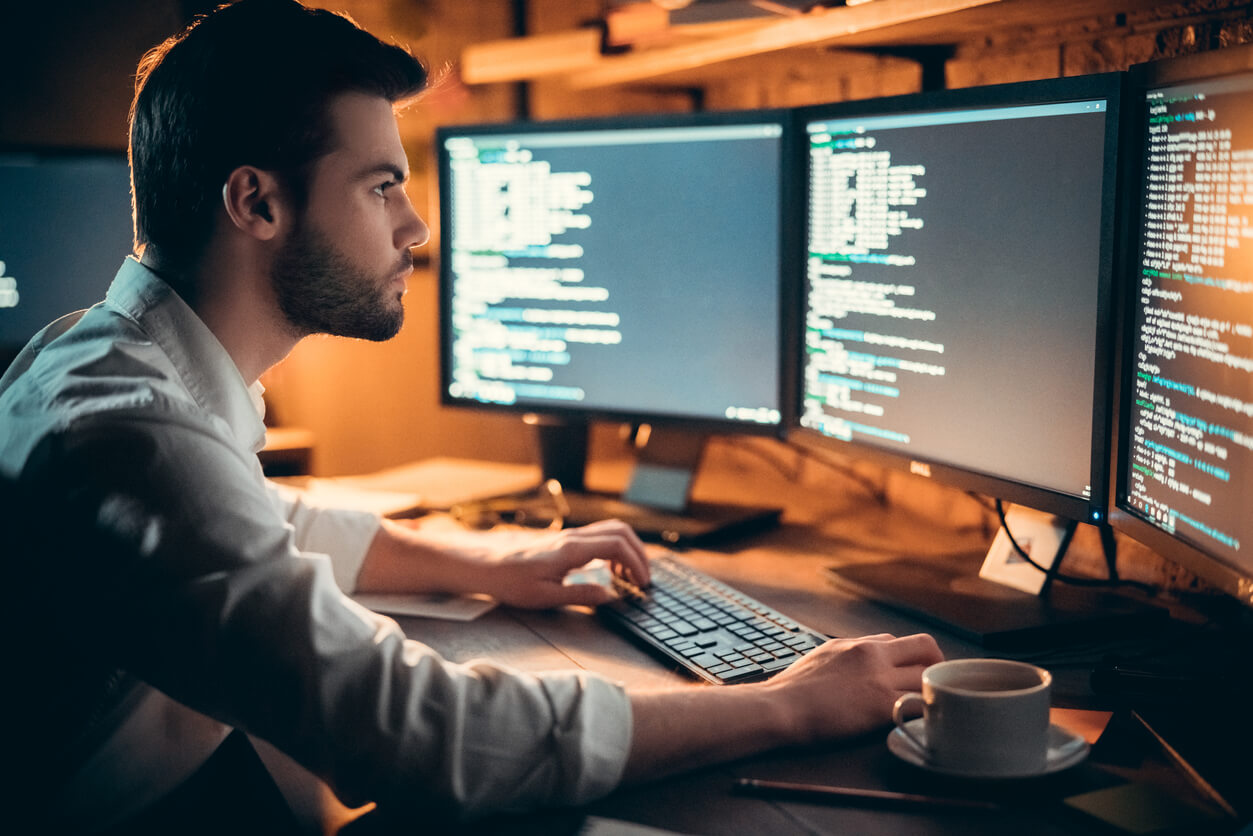 First, live broadcasting software converts your video feed into a suitable format for live streaming.
Video cameras typically use formats designed for recording, but they're not optimized for internet transmission. Broadcasting software, then, is crucial for video transcoding. It typically converts a video feed into RTMP or the HLS streaming protocol, for instance.
Given that encoders perform this function, live broadcasting software applications are sometimes called live stream encoding software.
2. Mixing and production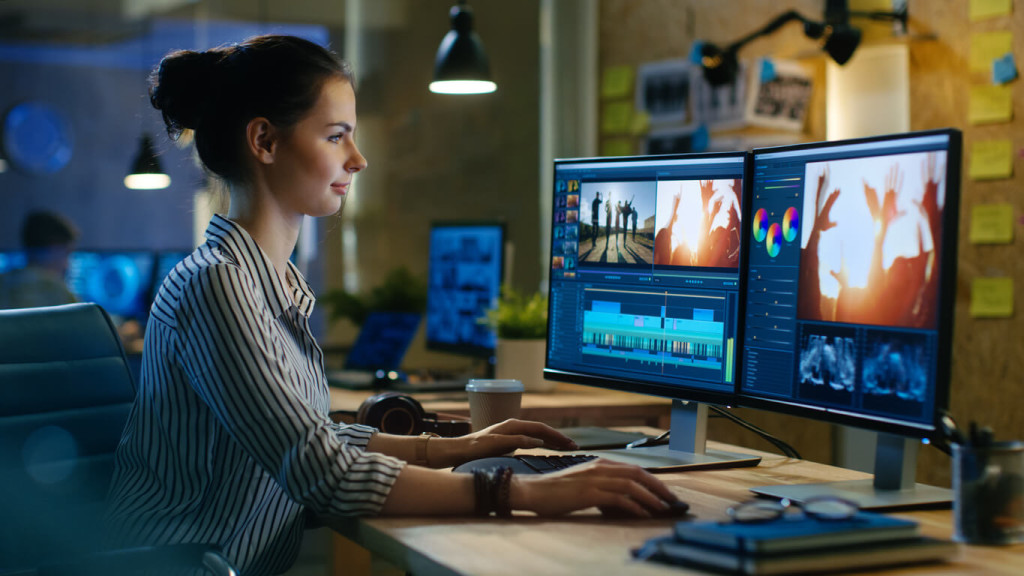 The second function of broadcasting software is live video mixing. The main purpose of live video mixing software, otherwise known as live video switching, involves selecting and displaying multiple sources while a live broadcast is underway. In short, mixing is a kind of on-the-fly editing that the TV industry has used for many decades.
All the software (also called software encoders) we list below can mix software as well. These encoders allow you to do many tasks rapidly during a live broadcast, which is crucial to a successful live stream. For example, you may need to:
Switch between multiple cameras;
Switch between multiple audio sources;
Insert a still image or a pre-recorded video during a live broadcast;
Overlay graphics or titles on top of the video feed; and
Add transitions and video effects, such as "green screen" virtual sets.
As you may already know, mixing is essential to creating an engaging and well-crafted live stream. The alternative–a single-camera feed without titles, images, cuts, overlays, or other finishes–may be sufficient on occasion. However, that approach is usually neither professional nor feature-rich enough for a good-quality broadcast.
3. How to run encoding software

You generally install and run live broadcasting software on a desktop. For more mobile situations, you can use a laptop computer. You need a computer with a consistently fast internet connection. Ideally, you also want (at least) a moderately powerful computer. Once you have your computer in place, you can easily connect video cameras via capture cards. The same goes for other dedicated hardware.
For more complex live streaming situations, you may want to use multiple computers with distinct roles. For example, one technician could work to create graphics on an additional computer. From there, you can feed these graphics, for example via an NDI (network device interface) to the main mix computer. That way, graphics display immediately with no lag time for your viewers.
Finally, it is possible to use a mobile device to run encoding software as well.
Best live broadcasting software of 2020
So we've covered live broadcasting software in general. Now, let's turn to a review of several encoding software options in more detail. Specifically, we'll review and compare Wirecast, vMix, VidBlasterX, and OBS Studio. Let's jump right in!
Wirecast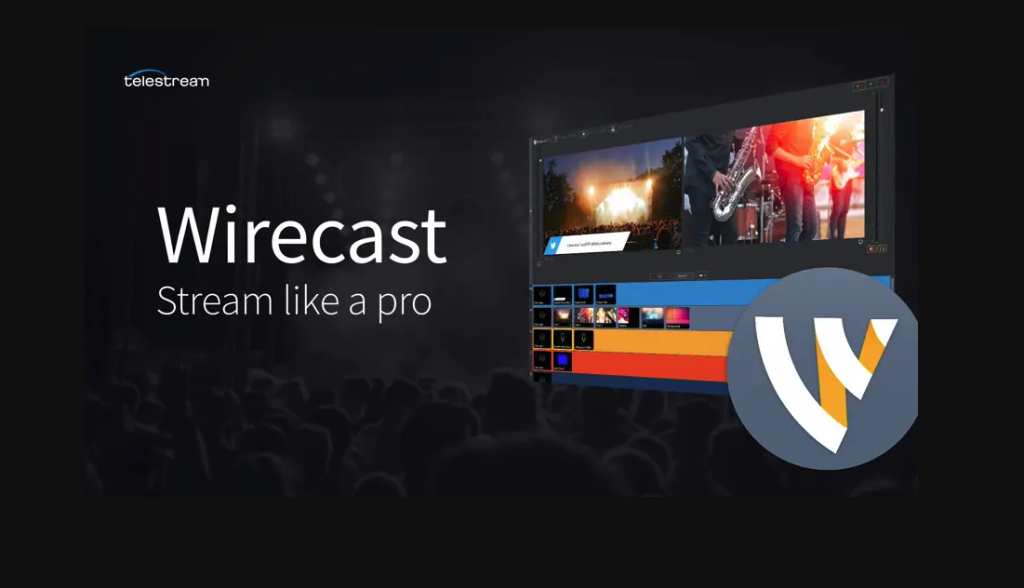 Key features
Built by the company Telestream, the Wirecast live broadcasting software enables live streaming to any RTMP destination. This software also supports recording streams locally.
Wirecast software is compatible with a wide range of capture cards, devices, and camera inputs. This encoding option includes live switching, picture-in-picture composition, titles, audio delay, and other similar features. If you need to use pre-recorded video within your live broadcast, Wirecast makes this aspect easy as well.
Wirecast supports a range of other technologies listed on their site, including:
Support for multiple video capture & live inputs simultaneously (USB, Capture Card, NDI, Wirecast Go, Webstream IP sources)
GPU-accelerated encoding
Pro Audio FX Built In
RTMP, RTP multi+unicast
Multi-channel audio ingest
Green screen
Instant replay
Compatibility
Wirecast is available for macOS and Windows.
Pricing
Wirecast 12 is the newest full version as of August 2019. It features several enhancements and fixes, including FBLive polling, re-written WebStream plugin, and Virtual Camera improvements. The software comes in two versions: One ($249), the basic version with 1 input; Studio (now $449) and Pro (now $699) with no limits on inputs. The Pro version includes a number of features not available on the Studio version. These include:
Up to 7 guests via built-in video conferencing solution
ISO Record individual sources
NDI output
8-track audio output
Wider device support
Live scoreboards
Multi-track audio recording
Bonus: Setting up Wirecast with Dacast
For reference, we've previously written about how to set up Wirecast with the Dacast video streaming software.
vMix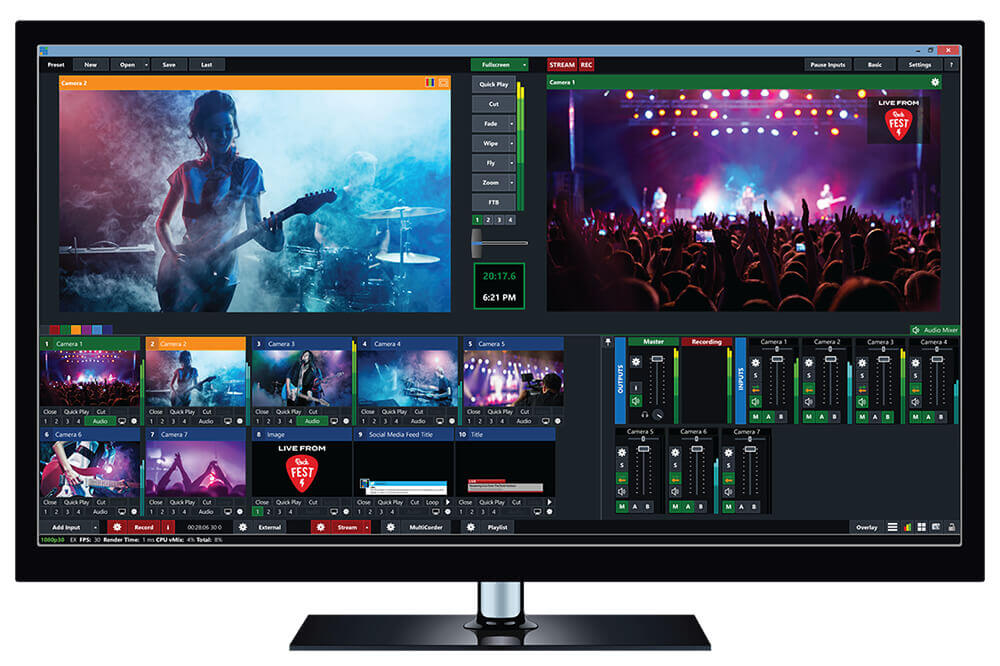 Key features
vMix is a highly powerful encoder. Like Wirecast, vMix software supports a wide range of inputs. These include:
Video cameras (supported capture cards) at up to 4K resolution
NDI – send and receive HD low latency video and audio
Video Files: AVI, MP4, H264, MPEG-2, WMV, MOV and MXF
Audio Files: MP3 and WAV
Web Browser, RTSP, PowerPoint, Photos, Solid Colour and more.
Webcams, DVDs, playlists, PowerPoint, and other sources.
vMix includes native support for multi-bitrate streaming. Additionally, this software supports NDI (Network Device Interface).  NDI sends your secure video upload over gigabit ethernet networks and green screens. vMix also includes a built-in titling tool that includes animation support. Additionally, it offers an instant-replay/slow motion feature.
Compatibility
vMix is only available for Windows PCs, however, it can also run on a Mac using Boot Camp. While vMix cannot be installed directly on OSX, the solution when using a Mac is to install on Windows via Boot Camp.
Pricing
vMix is available in six different versions, ranging from basic to pro. The Basic version is free; it supports only very simple streaming. At the other end of the spectrum, the $1200 Pro version supports very complex studio setups. Each version supports a different number of inputs. The Basic and Basic HD versions of vMix only support four total inputs. Note that every camera, audio source, or other input counts toward that limit.
vMix also offers a free 60-day free trial, particularly to ensure vMix supports your computer hardware before purchasing. This is a great offering, as most encoding software offers only up to a 30-day free trial.
Setting up vMix with Dacast
vMix has an integration with Dacast's video streaming platform that is easy to set up. To learn how to check out this Dacast/vMix tutorial.
VidBlasterX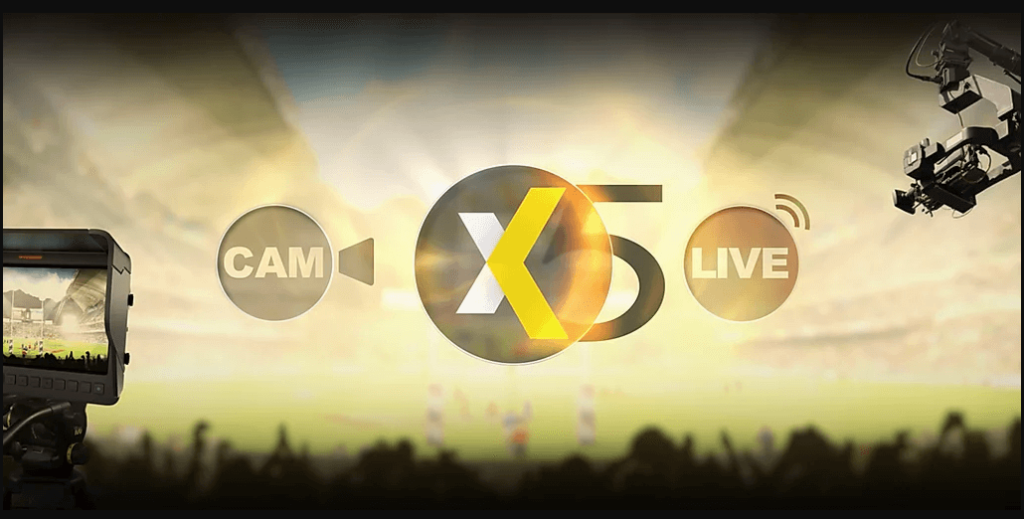 Key features
Next up on our list of encoding software is VidBlasterX, an RTMP-compatible live video production software. VidBlasterX enables streaming to most streaming platforms (including Dacast). The input support and other available features are similar to Wirecast and vMix.
For studio users, VidBlasterX supports:
Video routing
Recording streams to local disks
Displaying outputs on a monitor of your choice
Outputting to a Blackmagic DeckLink video card
VidBlasterX utilizes a unique modular design, which in turn influences pricing. For example, broadcasters can add each feature via a "module." You can then add, rearrange, and remove these at your discretion.
Compatibility
VidBlasterX is compatible with Windows PCs.
Pricing
VidBlasterX is available in three versions. Each of the following options is priced with an annual subscription model:
The Home version ($9/year) supports 7 modules
The Studio version ($99/year) supports 25 modules
The Broadcast version ($999/year) supports 50 modules
Setting up VidBlasterX with Dacast
Check out this tutorial to learn how to set up VidBlasterX with Dacast.
OBS Studio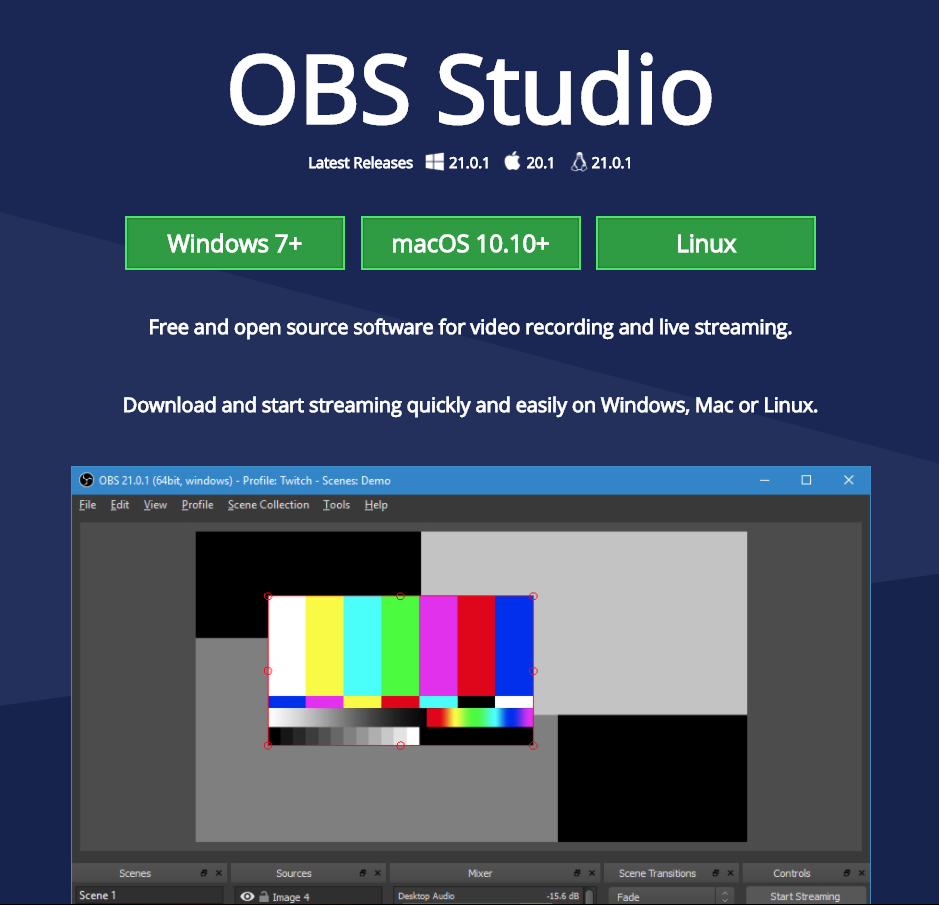 Key features
Last up in our live broadcasting software review, let's discuss OBS Studio. This encoding option is a free and open-source live streaming video software package. OBS supports RTMP streaming, switching between multiple sources, capture cards, webcams, chroma-key (green screen), video and audio files, and application windows. Though it's light on features, it's quite easy to use, even for those new to live broadcasting. Note that OBS does not support any plugins.
However, community members have developed a wide range of plugins that broadcasters can use to add features to the more basic OBS Studio. These include NDI, a feature formerly only found on high-end encoders. Another notable plugin supports pulling Tweets into your streams in real-time. Finally, do note that OBS does not support multi-bitrate streaming.
Compatibility
OBS is available for Mac, Windows, and Linux.
*Note: Windows Vista is no longer supported by OBS Studio.
Pricing
Free! OBS Studio is open-source. There is no cost to accessing and using this software.
Version 23 is available for download here.
Setting up OBS Studio with Dacast
Check out this OBS / Dacast guide for Windows, You can also review this OBS / Dacast guide for Mac.
Custom Dacast version of OBS Studio
Looking for a free option that is super easy to set up with your Dacast account?
We offer a customized version of OBS Studio live broadcasting software to our customers. This version makes it easier to directly connect to your Dacast live streaming service account. With this option, you don't need to manually enter details. Instead, simply login to your Dacast account via OBS to start streaming live in just moments.
Live broadcasting software vs. hardware encoders
We'd be remiss to conclude this article on live broadcasting software without at least briefly mentioning hardware encoders.
As the name suggests, a hardware encoder is a dedicated physical device (rather than a downloadable software) that functions in some of the same ways as a software encoder.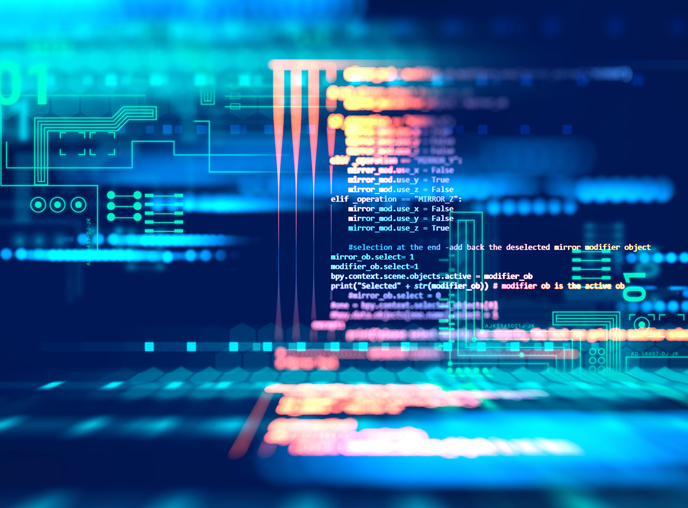 Likewise, some individual broadcasters opt for hardware encoders when setting up access to mobile streaming. Why? Hardware encoders can connect to cell networks.
Note that hardware encoders tend to be much pricier than software encoders. In a similar vein, they can be physically cumbersome, depending on your particular setup.
Conclusion
And there you have it! Those are our picks for the best live broadcasting software of 2018! We hope this article provides you with a useful context and a starting point for picking the best live broadcasting software for you.
Interested in testing your chosen software with a live streaming platform with VOD and professional-grade video hosting solutions? You can sign up for the Dacast free trial. Our trial lasts for 30 days, and it provides access to nearly every Dacast feature. No credit card necessary!
Any questions, comments, or ideas? Let us know in the comment section below. We appreciate hearing from our readers, and we will get back to you. For regular tips on live streaming and exclusive offers, you can also join our LinkedIn group. 
Thanks for reading, and as always, best of luck with your live broadcasts!
By Max Wilbert.