This paywall section of your Dacast account gives you access to the main tools you need to monetize video content. Some of the paywall functions include:.
Access to your saved

pay-per-view

/subscriptions/promo codes presets (section "Presets" of your Paywall

Creation of price groups and

promo codes

(section "Groups" of your Paywall)

Access to your Pay Per Views and Subscriptions balance lines (section "Transactions" of your Paywall)

Access to your balance (section "Withdrawals" of your Paywall)

Customization of your paywall using paywall themes (section "Theming" of your Paywall)

Payment requests and managing your payment settings (sections "Settings" of your Paywall)
Types of Monetization Available with Dacast
There are three methods of monetization offered by Dacast: SVOD, TVOD, and AVOD. 
SVOD is a subscription-based method that allows viewers to have unlimited access to a video library for as long as their subscription lasts. Subscriptions are typically weekly, monthly, or quarterly.
TVOD is most commonly known as pay-per-view. As the name suggests, viewers pay for what they want to watch. 
AVOD refers to ad-based monetization. You have the option to serve ads on your content. Ads are funded by your advertisers, so rather than paying out of pocket, your viewers pay for the content with a minute or so of their time.
What are the Biggest Advantages of Dacast's paywall?
There are several advantages of using a secure paywall like the one offered with Dacast. Some of the biggest Dacast paywall advantages include:
Group pricing

: Sell one ticket and give access to multiple content options (VODs, Live Streams, Playlists).

Powerful subscription system

: Offer your customers a recurring pricing option with several frequencies available.

Multiple currencies

: More than 135 currencies are available. If you do not see your currency on the list, please contact us.

Multi-language interfaces

: Choose among 10 different languages when using the paywall.

Video Preview

: Promote an event by showing a video teaser on the paywall before your viewers purchase the content.

Live event support for your viewers

: One of our professional services (contact us if you are interested).

Authenticate only (Registration):

Allows content owners to gate the content only with a data wall (no payment).
Dacast's paywall is secure, fully white-label, and offers unlimited prices and promo codes for all your video content.
Who Can Access Dacast's Paywall?
Dacast's paywall is available to users with the following plans:
Free trials

Scale plans and above

Event plans of $750/year or more
How to Use Dacast's Paywall
You can set up your secure paywall in the "Paywall" tab of your chosen video content on the left side menu, as shown below:
When you click the "Paywall" tab, you'll see something like this:
How to Select the Payment Method
To select a payment method for your viewers, go to the "Paywall" section, under "Settings":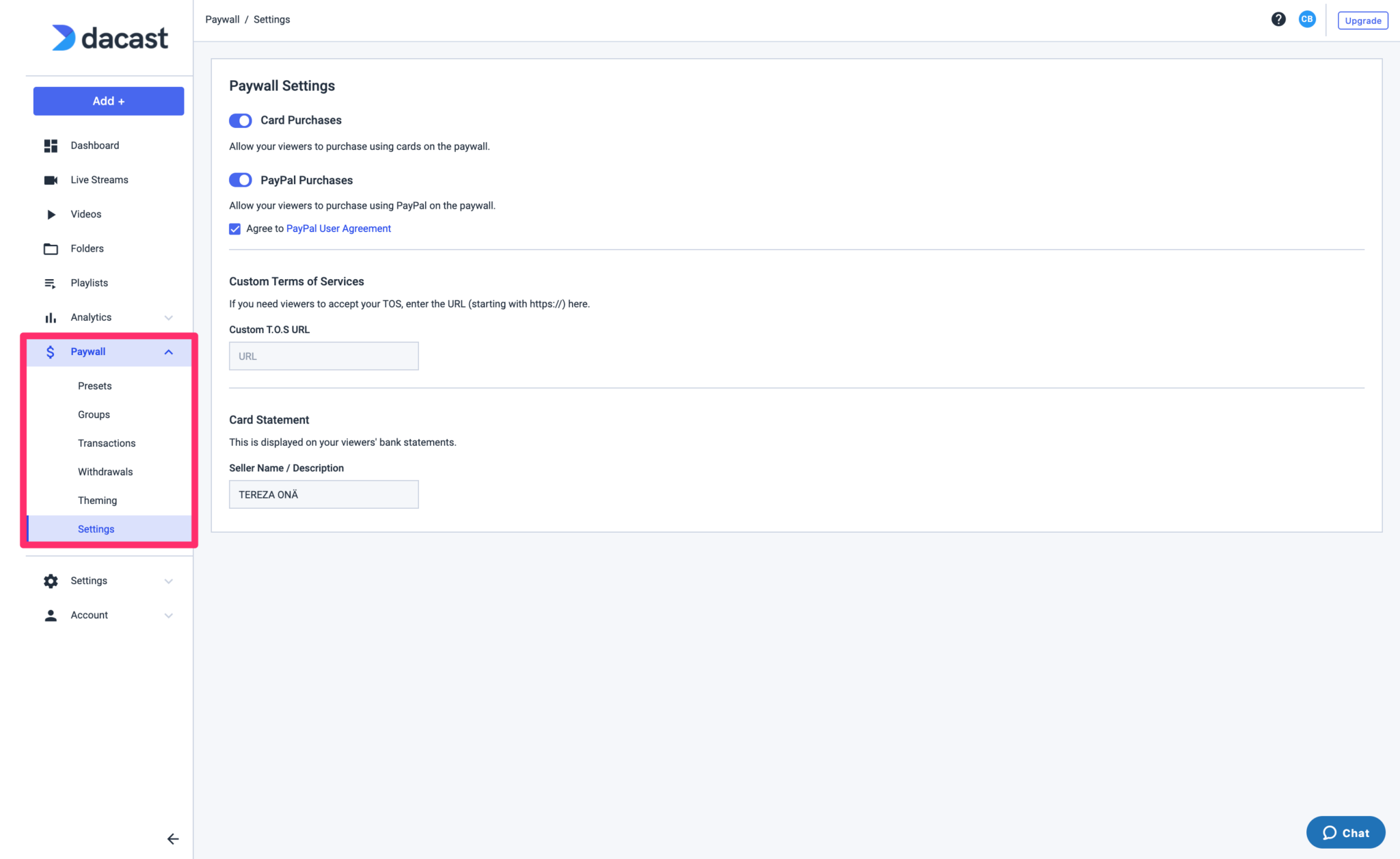 Select the available payment method(s). You can give your viewers the option to pay via credit card, PayPal, or both.  Please note that PayPal has limited currency options. For more information on using PayPal, please contact us.
What is the Paywall "Authentication only" feature:
This feature allows content owners to gate the content only with a data wall without asking for payment. This is very popular with brands or those wanting to move audiences from social platforms to their own and operated. It can be used to run competitions to entice users to sign up to watch content. We also see it often in sports where clients offer one match for free at the start of a season or per week as an enticer.
How to use it?
You just need to go to your selected content, then go to the Paywall tab and enable the Authentication only as shown below.
When the viewer access the content, it will just ask for them to register by typing in their email, username, and password so you can still keep track the data or information of your audience.
How to Customize my Paywall
Under the "Paywall" section, select the "Theming" tab. Once you're there, you will find a list of all your themes. You can create a new theme or edit an existing one. To create a new theme, click on "New Paywall Theme" in the top right corner. Within the Splash Screen tab, you can change the button color and the button text color: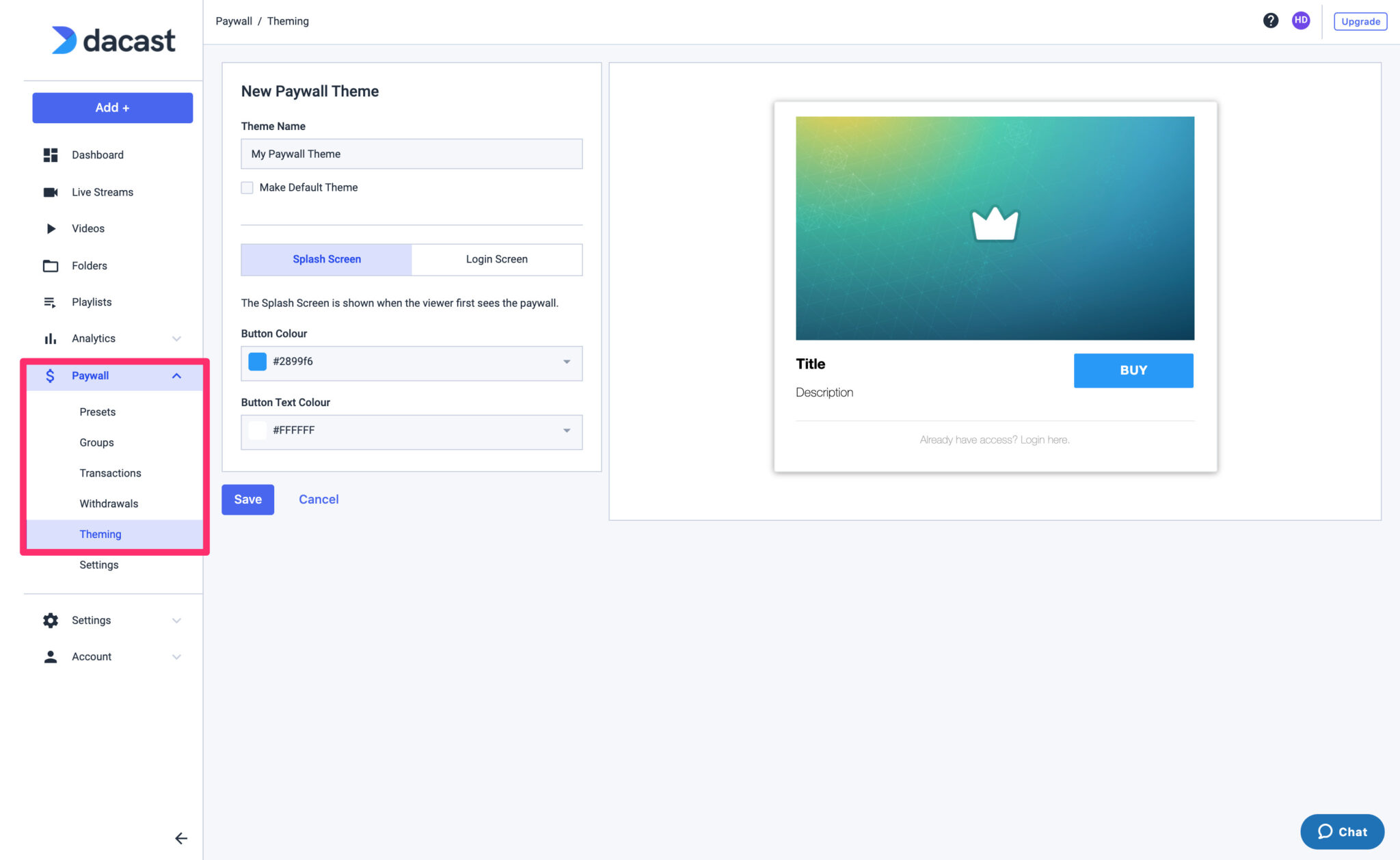 Within the Login Screen tab, you can edit the following elements:
the button color

the primary color

the header color
You can also decide whether or not to display your logo on top of the form with the "Company logo" toggle. See below: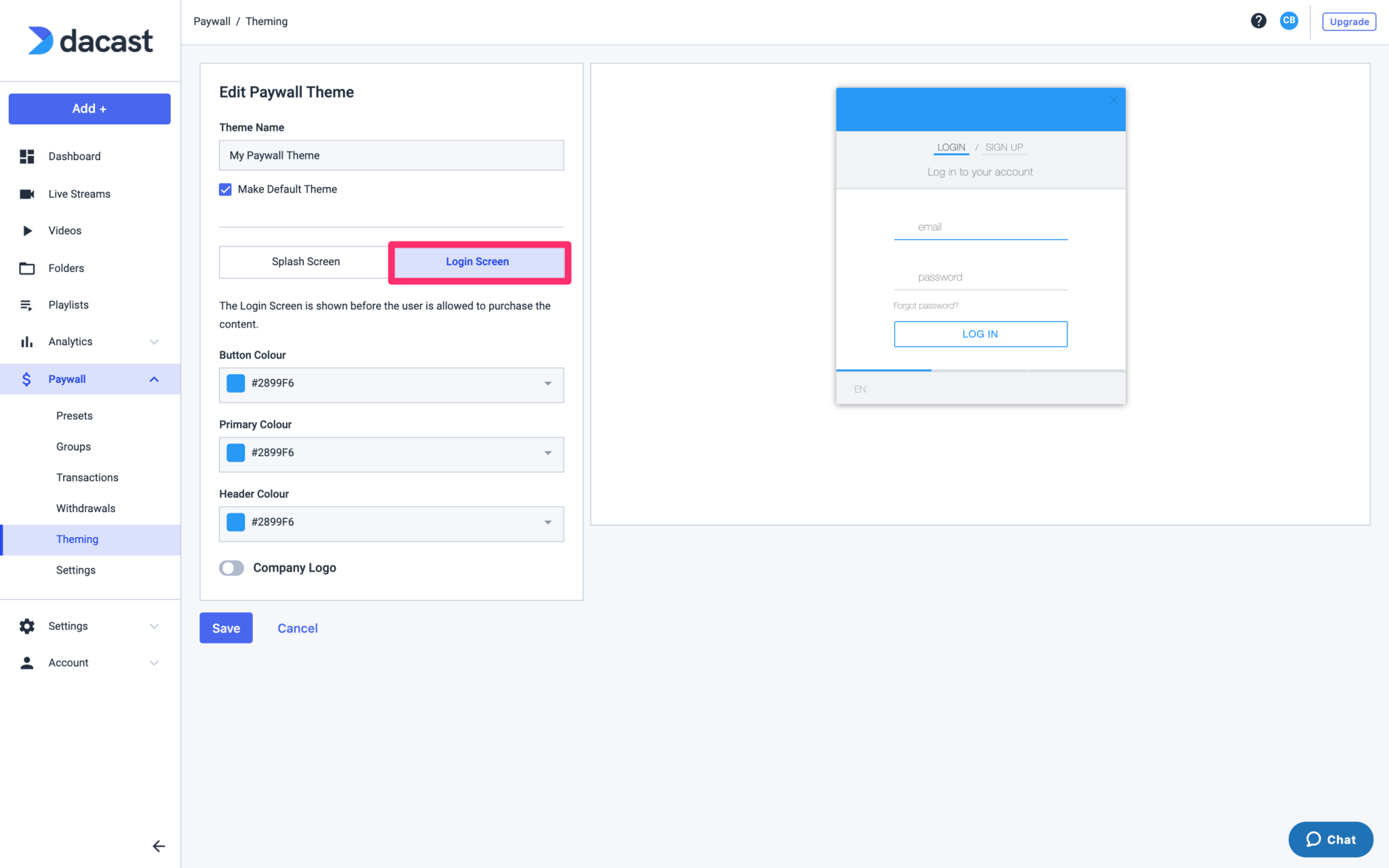 Rename your theme. Once you have made your selection, click on "Save".  
If you have more questions relating to the Dacast paywall, please check out our FAQs dedicated to Dacast's paywall Want to familiarize yourself with Dacast's platform and video monetization capabilities before committing? Try risk-free for 14 days.
Additional Resources: