Here at Dacast, we believe in always taking care of your customers. That's why we offer an easy-to-use video promo code feature that you can use to show some appreciation to your customers. We've put together this guide to help you set up a promo code for your video monetization. For more information on how to set up a PPV or subscription price on a video, please check out pay-per-view subscription guide instead.
Which Plans Have Access to this Feature?
The promo codes and new paywall are accessible to users with the following plans:
Free trial (with some limitations)

Scale plan

Starter plan (with paywall add-on)

Event plan

Premium (legacy) plan

Enterprise (legacy) plan

Event (legacy)

plan > 5TB
Free trials have the ability to set up some prices per video content and some promo codes per video content. After the free trial has ended, you will need to purchase a plan to get access to the paywall.
Getting Started
Navigate to the "Paywall" section of a live channel, VOD, or playlist, as shown below.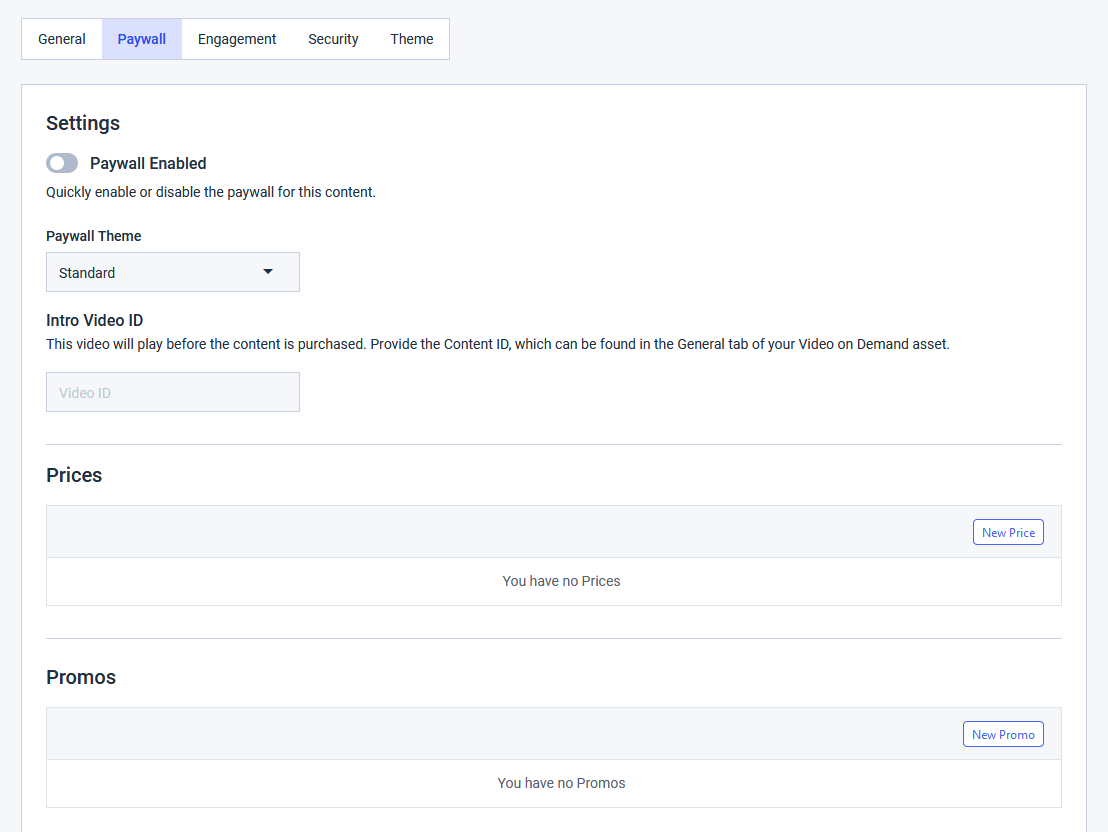 Once you have clicked on "New Promo," the following pop up will appear: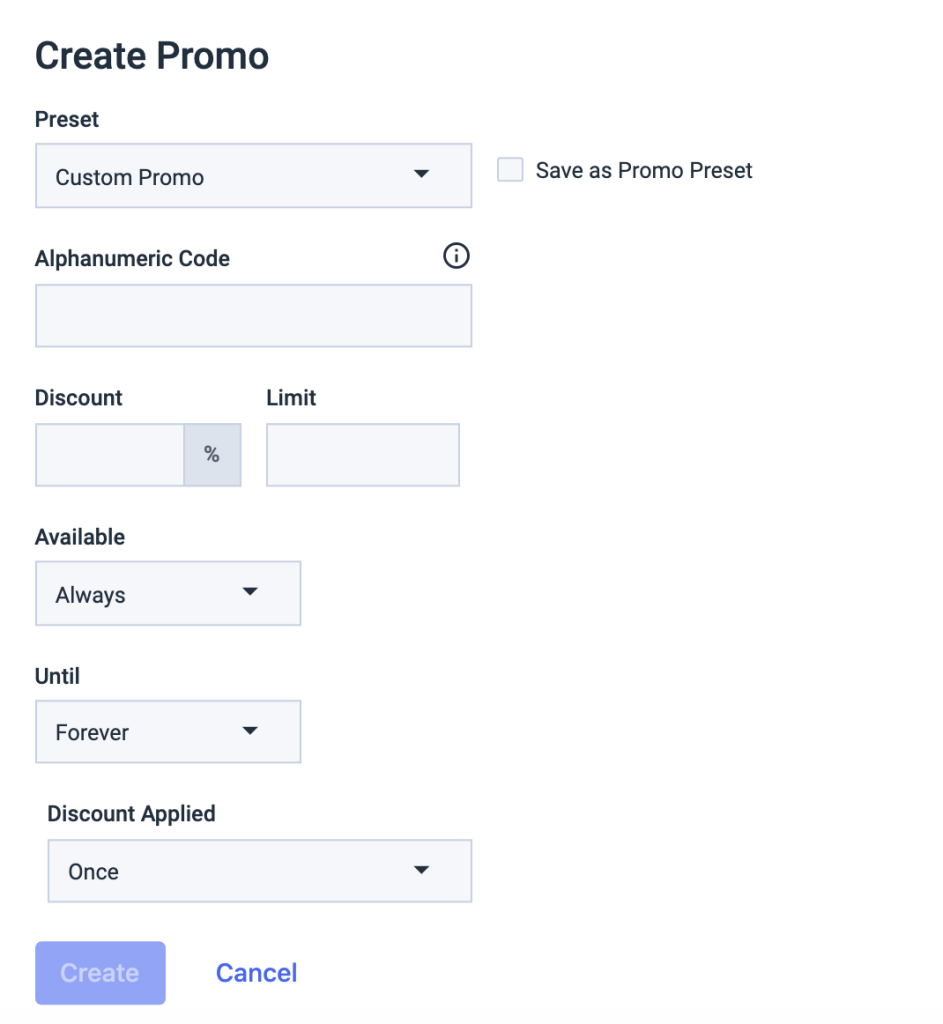 Set Up Your Promo Code
You can set up your promo code in just a few simple steps.
1. Alphanumeric Code
Set your alphanumeric code. This will be the code you will give to your viewers so they can apply it when purchasing your video. This code has a minimum of 5 characters. It can be a series of digits, letters, or a mix of both.
2. Type
There are two types of promo codes available for our paywall.
% Discount

: The first discount is a %, and when the viewer enters the code they get an amount off equal to the percentage. For example, entering "30" would give 30% off a $10 pay-per-view price, which would be $3 off for a final price of $7.

Free Pass Code:

To grant a select group of people who know the code-free access to what is otherwise paid content, put 100 in the "Discount" field.
3. Limit
A limit controls how many people can use the code before it expires. For example, a code with a limit of "3" means only three viewers can successfully enter the code before it becomes unusable.
How to Use a Promo Code
Viewers will have to log in or enter an email and password if they have not created a viewer account yet. Once your viewers have selected the price in the paywall, they will see the following: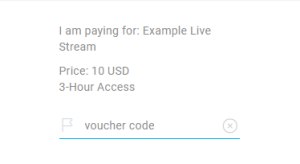 They will be able to enter the code you gave them in the "voucher code" field. If the code is valid, your viewers will see the following: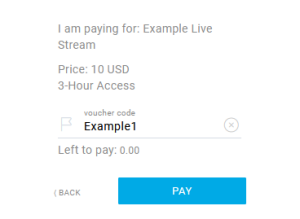 If the code is not valid, your viewers will see the following: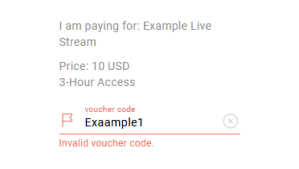 Then, they will click on "Pay" to apply their promo code.
How to Delete a Promo Code
Navigate to the "Paywall" section of a live channel, VOD, or playlist and go to the promo code you want to delete. Click on the trash icon as shown below:

The following pop-up will appear as confirmation that your promo code has been deleted:


Any questions on our pricing plans or do you want to learn more about Dacast? Please contact us. Not yet a Dacast user, and interested in trying Dacast risk-free for 14 days? Sign up today to get started.
Additional Resources: