How to Live Stream an Event: A Step-by-Step Guide [2023 Update]
Live streaming events is one of the best ways to connect with audiences worldwide. It's so effective that everyone from influencers to technology startups and even the world and government organizations are streaming live video. In a world increasingly going virtual, live streaming events has proved incredibly beneficial and lucrative for businesses around the world.
Live streaming a virtual event has numerous benefits. Since 2019, 58% of marketers say they use the power of social media to stream live video events. And that's just social media platforms. There are streaming platforms dedicated to providing the highest quality live video streaming for events such as Dacast.
Today, streaming live video is a strong strategic move for businesses and organizations of all shapes and sizes. Further, there's been a dramatic increase in demand for virtual access to live events. According to one 2021 survey, 16% of UAE-based consumers and 14% of European consumers shared interest in stream live events while shopping. This ilucidates the potency and increasing reliance on the internet for everything from shopping to attending classes.
From small businesses to startups to corporations, streaming events on everything from conferences, webinars and even sporting events strengthens connections with customers and increases brand loyalty.
In this article, well cover some of the major benefits of live streaming events. We'll guide you with an in-depth tutorial on the best methods for live streaming events. Finally, we'll wrap up with a practical discussion on how to live stream and event with Zoom.
Table of Contents:
Why Live Stream an Event?
How to Live Stream an Event – A Step by Step Guide

Identify Goals & Intentions
Plan Your Live Stream
Choose an Online Video Platform
Set Up Equipment
Configure Your Encoder
Input Your Sources
Create a Live Channel
Embed Your Stream
Do a Test Run
Prepare Your Audience
Start Streaming
Add a CTA
Replay your Live Stream

How to Live Stream an Event with Zoom
Bonus: How to Live Stream a Virtual Holiday Event

Final Thoughts
Why Live Stream an Event?
Organizations can live stream events for numerous benefits. You can live stream an event to increase brand awareness, create a sense of community, or provide a paid experience for an exclusive audience. Live streaming provides your organization with another means of generating revenue.
Live streaming an event online can help you continue to connect with your audience even when they can't be there in person. Lockdowns related to COVID-19 proved the value of live streaming technology, with about 41% of artists going live more than once a month as of March 2021.
Since it offers the option of enjoying live events even from within the comfort of the home, the demand for live event streaming doesn't appear to be going down.
Live-streaming events can strengthen your connection with your audience, whether you're a business, an influencer, a gamer, or a content creator. It offers a great way to take your brand to the next level.
Expand your reach: Connect with audience members interested in your event but can't attend it live. You have the potential to connect with way more people virtually than could ever attend your event in person. The live streaming of events is a great way to expand your reach to the masses.
Increase participation: Not everyone who wants to attend your event in person will be able to due to health reasons, time constraints, and financial concerns. With a live stream, many of those barriers disappear, allowing you to increase participation in your events. The connectivity enhances even more if you place a Q&A or interactive session within your stream.
Learn about your audience: When you live stream your event with a professional video hosting service that provides analytics, you can learn about your audience's location and how they engage with your content in real time. That can allow you to create more customized events in the future with live event streaming analytics.
Motivate your in-person audience: If you have ever seen the crowd camera at a sports event, you know how people love to be on camera. When you live stream your event, you give your in-person audience a chance to be on camera. Use your live stream to get more in-person audience engagement.
Include your virtual audience: Create engagement with your virtual audience. Ask them to tweet or respond to questions during the event to create more engagement.
Share the moment: Event live streaming is a great way to share special moments with viewers worldwide. Don't limit who can attend a graduation ceremony, product launch, or other events by keeping them in-person only; make all special moments virtually accessible.
Live streaming allows you to expand your reach, increase participation in your event both in-person and online, learn about your audience, and share special moments with a bigger audience.
How to Live Stream an Event – A Step by Step Guide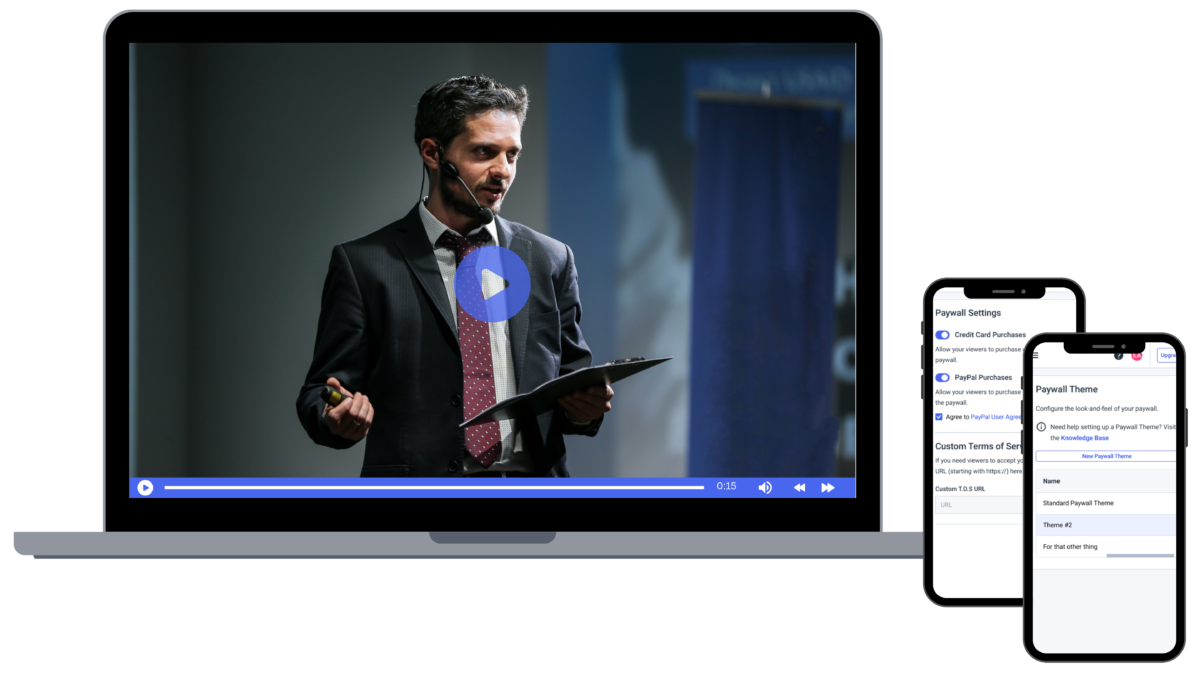 Choosing a professional streaming solution makes broadcasting live events easy for professionals.
Live streaming an event may appear tricky if you're new to the field. However, it's pretty straightforward once you get the hang of it. The main thing is to invest in the right gear and create a solid plan; the rest comes easily.
Wondering about the best way to live stream an event? We got you covered! Let's take a look at the main steps you can follow to stream events live like a pro.
1. Identify Goals & Intentions
Since live streaming requires several moving parts, it's a good idea to identify your goals and intentions from the start.
Answer the following questions:
What sort of event will you live stream?
What is the purpose of live streaming that event?
What do you hope to achieve?
What is your intended return on investment?
Will you monetize the event?
What's your budget?
You need to know what you are live streaming, who you're streaming it to, and your overall goal for the next event. That'll help you move on to the next step, creating a plan for your next event too.
2. Plan Your Live Stream
Now that you know what event you will be streaming, its purpose, intended audience, budget, and desired outcomes, you can create a detailed plan for the streaming event itself.
Where will it be held?
What is the agenda for the event?
Who will be speaking? What is the form of entertainment?
What type of sound system will you use?
Who will you invite to the in-person event?
How will you communicate and share the event with your virtual audience?
Planning lays out how your event planners entire live event will go. So, devise a foolproof plan aligned with your event planners goals and resources.
3. Choose an Online Video Platform
A streaming solution is a platform that hosts your live stream. When considering how to live stream an event, you'll need to choose a streaming solution capable of bringing your vision to life.
Many professional-grade live streaming platforms are equipped with HTML5 video players that are white-labeled and can easily be embedded on your own website,, app, and social platforms.
When using one of the professional video streaming platforms, you and your viewers have access to specialized servers and sufficient bandwidth, among many other features, to ensure successful broadcasts. A professional broadcasting platform can typically handle large volumes of viewers, thereby allowing you to live-stream events remotely to reach a larger audience.
Choose a full streaming event solution that uses a global content delivery network with incredible streaming quality. That way, your virtual streaming event can accommodate large volumes of viewers in remote locations
In short, the better the service you select–in terms of features, support, and cost–the better the broadcasting experience for you and the better the viewing experience will be for your audience.
We recommend comparing several streaming solutions and taking advantage of free trials before deciding on the right plan. Dacast, for example, offers a feature-rich free trial to give you a chance to test out our service for yourself when comparing it against broadcasting alternatives
There are a few main features to consider when comparing live streaming services
Monetization opportunities: If you plan to generate revenue from your streams, you'll want to ensure your streaming video platform offers monetization opportunities. Professional platforms (including Dacast, IBM Cloud Video, and Livestream) offer features such as , subscriptions, and advertisements. Dacast's secure , for example, is integrated into the live-streaming platform.
Ad-free streaming experience: Another benefit of professional streaming platforms is the absence of unapproved ads. With free broadcasting services like YouTube, your viewers experience a constant stream of unwanted and untimely advertisements.
Addition of watermark: With a white-label video player, you can create and embed your watermark or logo onto your original content.
A professional online video platform will provide you with the live online event broadcasting environment you need for a professional facebook live show setup and experience.
4. Set Up Broadcasting Equipment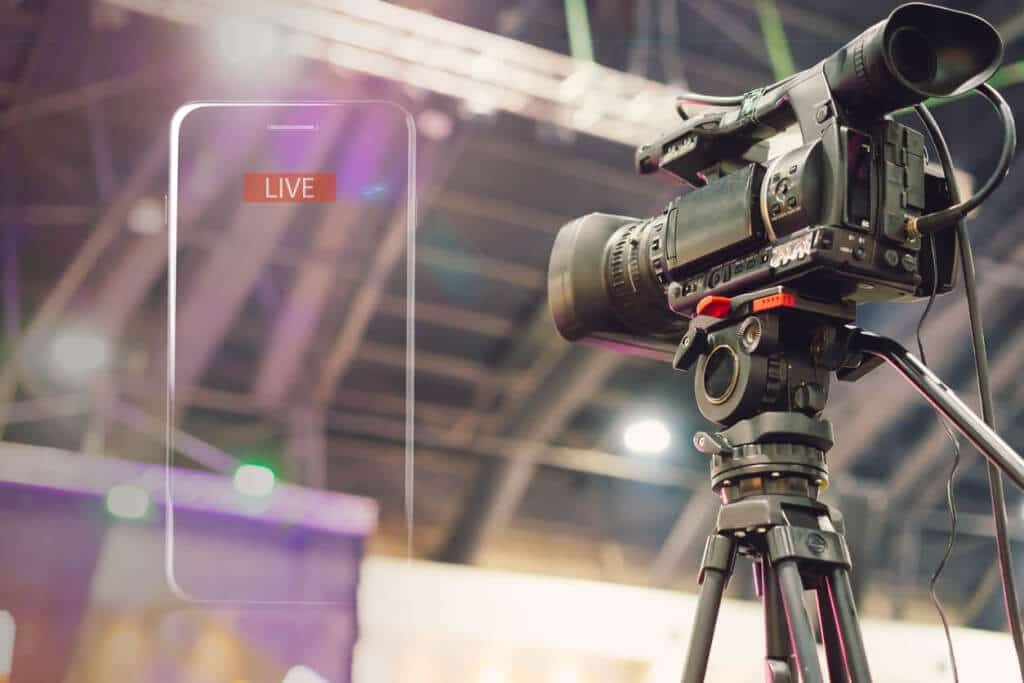 Using a professional-grade camera will yield a high-quality live event stream.
Once you've chosen the live-streaming solution that meets your needs, it's time to consider what recording equipment to invest in.
That's a crucial component for streaming video, and it can be overwhelming to weigh all the options. We recommend taking the time to research a few different options before making a decision. That way, you can be sure the equipment you invest in is truly the best fit for your streaming goals.
Recording Camera
If it's within your budget, we strongly recommend investing in a fully-featured live-streaming camera to ensure a professional-grade streaming experience. A super high-quality camera will do wonders for your broadcast. Moreover, it'll improve the quality of both the audio and visual aspects, which will help to attract and retain new viewers.
We recommend three streaming cameras based on Engadget reviews:
Canon Vixia HF R300 ($350)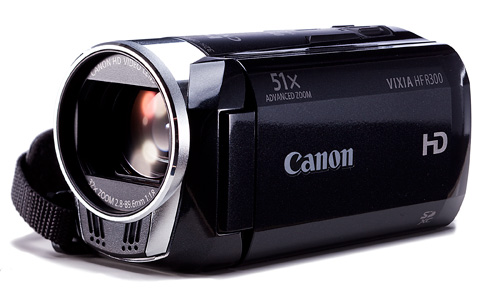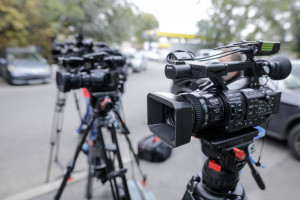 Canon Vixia HF G30 ($1,349)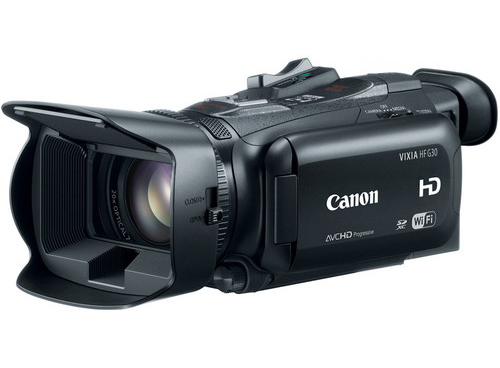 Engadget features regular reviews of new technology, including cameras, so we recommend heading over there to compare your options. B&H Photo Video is another helpful site for technology comparisons and purchases.
We want to point out that smaller-scale streams may be able to make do with lower-cost webcams and capture devices. Live streaming a lecture or small conference-style event may not require a hefty investment in professional equipment. It's up to you to determine what streaming quality you need to best suit your audience and deliver your message.
Capture Card
When live streaming with a camera, you often need a capture card to convert the video into streamable content. You can purchase a capture card and install it on your computer. Once installed, you can plug the camera into the capture card to get ready to stream live events.
For those who are recording live events through your laptop's webcam and not using a camera, you will most likely not need to purchase a capture card. That's true for most "webcam" methods, as they're already stream-friendly.
Not sure if your webcam is compatible? Open Skype on the computer with which you plan to stream. If the video feature shows up, your computer/webcam does not require a capture card.
Microphone 
It is also a good idea to invest in an external microphone to improve the stream's audio quality. As for microphones, there are a few different ways you can go. We recommend checking out the list of best professional microphones by The Techlounge.
Also, get a microphone arm that supports your audio source. If you're using a collar mic or a clip-on mic, there would be no need for a microphone arm.
Lighting Setup
Now that your technical gear is sorted, it's time for another critical aspect: lighting. Well-lit surroundings can enhance your streaming quality and attract more viewers. People quickly lose interest in a video where they can't see the subject clearly; hence, perfecting your lighting is critical for retaining viewers.
Fortunately, there are many ways you can do that. For beginners, we suggest using sunlight or a ring light. You can't get a lighting source better than sunlight, and that too for free. Experiment with different angles, the direction of the light source, the right time, and the placement of shadows to get that perfect lighting setup.
Ring light offers an excellent, budget-friendly way to perk up the lighting for your streaming events. The circular shape helps remove the shadow from your face. Another piece of lighting equipment is a three-point light kit. However, it's expensive and better suited for a professional setup. If you're a beginner-level streamer, you can cover all bases with sunlight or ring light.
5. Connect Your Encoder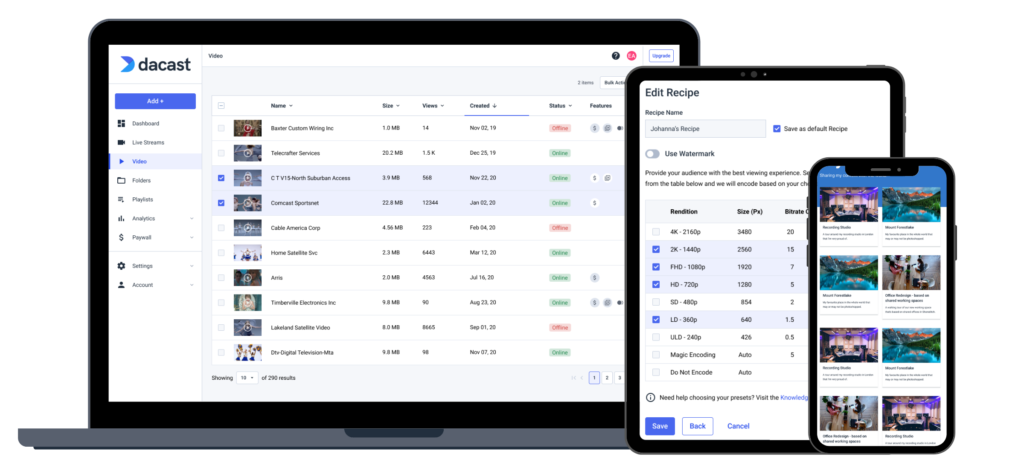 Encoding, which is compressing video files so that they are not saved as individual images but as fluid video, is essential to high-quality streaming.
Whether using an external camera or a webcam; you'll need to use a video encoder to convert RAW video files to streamable digital video files. You can use either hardware or software encoder. There are several options available for either type.
If you're new to live-streaming, we recommend OBS Studio. It is a free, open-source software encoder that is relatively easy to navigate. More advanced alternatives typically cost between $500 and $1000. Some hardware encoders range beyond $3000.
Choosing an encoder compatible with your chosen online video platform is essential so you don't run into any issues when configuring your settings. If your online video platform uses RTMP ingest, pretty much any RTMP encoder will do the trick.
How you configure your encoder will affect the quality of your live stream. Please check out our encoder setup guide for more information on how to successfully connect and configure your encoder.
Required Encoder Setting Configurations
If you're streaming on Dacast, you must use the following live encoder configurations if you want your stream to work properly.
VIDEO CODECH.264 (x264 may work)FRAME RATE25 or 30KEYFRAME INTERVAL2 secs (or 2x frame rate)SCANNINGProgressiveRATE CONTROLConstant (CBR)AUDIO CODECAAC-LCAUDIO BITRATE128 kbpsAUDIO CHANNELS2 (Stereo)AUDIO SAMPLE RATE48 kHz (48,000 Hz)
6. Input Your Sources
Once you've got your encoder setup, it's time to input your source. Source inputs are different for every encoder and online video platform, but this is important for every stream
At this stage, you must connect your camera, microphone, and other sources to your encoder or switcher to incorporate them into the stream.
Please check out our dedicated guide to multiple source input
7. Create a Live Channel
Next, it's time to create a live channel on your online video platform. Each platform's process is a little different, but it's easy on Dacast.
If you're streaming with Dacast, you can use the following steps to create a live channel:
Log into your Dacast dashboard.
Click the purple "Add +" button on the menu on the left-hand side.
Select "Live Stream."
Give your live stream a name, indicate the source region, and select the number of renditions you'd like to create.
You'll be directed to another page where you should fill out the fields as prompted.
Save your changes.
It just takes six simple steps to learn how to stream a live event with Dacast.
8. Embed Your Stream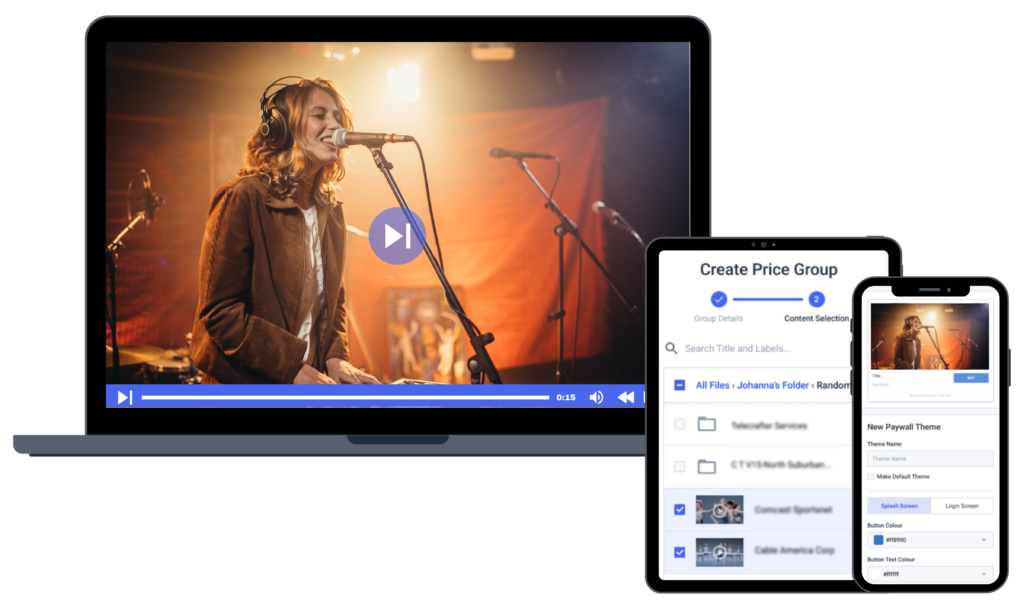 With a professional video solution like Dacast, embedding your video player only takes a quick copy-paste.
Fortunately, embedding video is quite simple when streaming via a professional service like Dacast. Simply copy the embed code on the live broadcast channel you created and paste the code into the code of your website. That'll allow you to share your live event stream wherever you want.
Broadcasters can choose between two embed codes: JS and iframe. Both work for playback on your website or app via desktop and mobile devices as long as the content supports it.
The JS embed code is the default embed code for Dacast and supports most features. That includes being responsive if the elements are designed inside a different size and working with the referrer restriction feature.
The iframe embed code is the most universally compatible. The caveat is that some features do not work with it. This embed code is not responsive, which means it's a fixed size. The full-screen feature is also sometimes removed. However, it usually happens only if you're using iframes within iframes.
If you want full access for your audience while streaming video content from your event, use a professional video hosting service that supports JS embed codes.
9. Do a Test Run
Once you have everything set up to live-stream an event, it's time to conduct a test run. Test runs are crucial because once you're live, you have an audience. So it is difficult to troubleshoot and fix mistakes quickly. The best way to learn how to live stream an event is to practice before the big day.
It is also a good idea to test your streaming setup so that you can identify any weak links. By doing so, you know where you need backup options on hand. With a live stream event, you want to have solid backup options in place.
It would be best if we watch you run through your entire stream. Presenters can use this opportunity to practice their parts. This trial run should take place at the same time of the day you plan to broadcast your first facebook live streaming event so that you have a good idea of what the lighting will be like.
We also recommend testing your internet speed to ensure it is sufficient. The upload speed should be about double what you need for your stream. A solid enough internet connection speed and internet connection itself is vital for a successful live-streamed event.
10. Promote Your Event
Now that you have put all this work into planning and preparing for your live event; you need to make sure people show up! Prepare a plan to promote your event.
There are many different platforms and ways you can promote your event.
Utilize your email list: If your company has a developed email list, put it to use! Send out an invitation to your live event, upload teasers to generate more interest, and send out a reminder email before you go live!
Add it to the newsletter: If you send a weekly or monthly newsletter, have a section where you promote and share information about upcoming live events.
Share it on social media: Social media is one of the best ways to catch people's attention in the moment. Announce your event on your social media platforms, share teaser clips about your event, and run a countdown to the event's start. Draw people into your event from your social media accounts.
Create an invite: Create a formal invite where people can RSVP to your event. Then, send out reminders to everyone who RSVPed to your event before going live.
Make teasers: Create short video teasers or trailers for your event. People love visual content, and teasers are a great way to drum up interest in your event.
Send a press release: Hosting a massive event? Send a press release to the local paper and to industry websites and news outlets that could be interested in your event.
Advertise: You can also run paid advertisements to increase interest in your event. Be sure to narrow down your target audience before running advertisements. That way, you can reach your target audience without wasting your resources.
You must invest in the promotion if you want people to show up to your live stream events. Use a countdown timer, so people can join the event before it goes live. A countdown timer generates interest and allows your audience to gather, so everyone is ready when the event goes live!
11. Start Streaming
It's time to switch your live channel to "Online" and click "Start Streaming." With that click, you are live. As you present, staying confident and having fun with the stream is important vital.
Encourage viewers to participate if you have a chat or Q&A plugin, to keep everybody engaged throughout the event. Having some interactive elements within your live stream can boost the watch time by 50-70%. Live stream events are more entertaining when your audience feels engaged in what is happening.
12. Add a CTA
The primary purpose of streaming events is to connect with the audience, increase brand recognition, and make them take action. Buying anything and becoming a customer, subscribing to your channel, following your social media, or signing up for your newsletter. Your live stream should end up with people inclined to take an action you want them to take.
In 2020 live streaming brought $6 Billion in sales in the 11.11 Global Shopping Festival. In 2022, Mitsubishi used Amazon live to reveal the new Mitsubishi Outlander. The event got double the targeted views, and their test drives were booked for an entire month. That shows how much impact live streaming events can have on your business.
Place a clear call-to-action that pushes viewers to take more control the desired action to achieve your intended goal.
13. Replay Your Live Stream
A great way to strengthen your relationship with your audience is to provide something to fall back on if they miss a live event. Many of your audience members can miss the live video stream for various reasons. When they can watch a live video replay, it automatically makes them feel you care about your audience.
Moreover, you also can generate views even after the streaming of youtube live show has ended. Use a the linkedin live streaming platform to save and download your youtube live video. You can share it across social media or publish it on your website.
How to Live Stream an Event with Zoom
Some events, like webinars, conferences, and private streams, call for participation from the audience. Peer-to-peer video conferencing, which is the technical way to describe a video chat, is a valuable technology that allows viewers to participate in virtual live-streaming events
Zoom is among the most popular peer-to-peer audio conferencing tools. But on its own, it's not as capable as the advanced streaming professional online video platforms. However, some of these online video platforms, including Dacast, can be integrated with Zoom to give broadcasters access to the best of both tools.
Please note that this tutorial requires you to have a Zoom Pro, Business, Education, or Enterprise account to access the "
, and go to the "Live Stream" section on the left-side vertical menu.
Click "Create Live Stream" on the right side of your screen. Enter a stream name, then select the type of stream. Click "Create":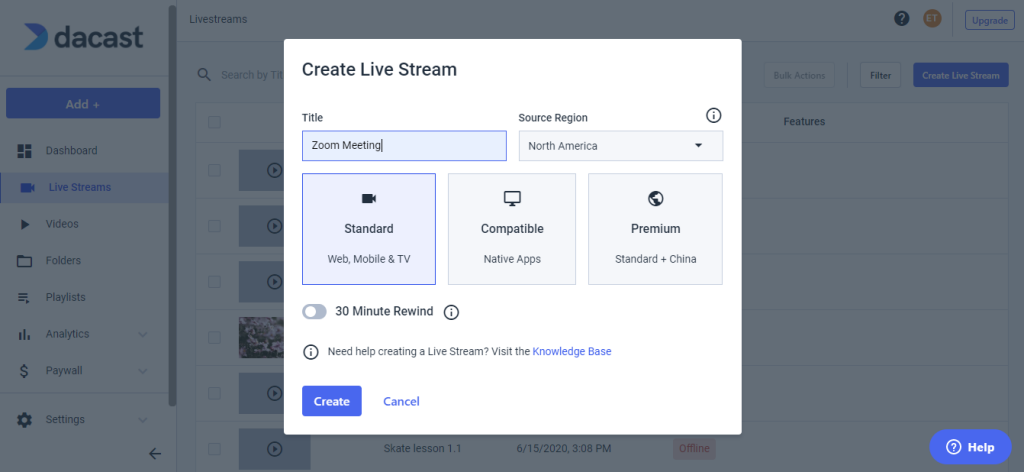 Your live stream should now appear in your live streams list. You can manage the stream by clicking the "Edit" icon on the right side.
Log in to your Zoom account. On the vertical menu to the left, navigate to Admin. Click "Account Management" then "Account Settings."
In the section "In Meeting (Advanced)" under the meeting tab, turn on the option "Allow Live Streaming Meetings," and check the sub-option "Custom Live Streaming Service":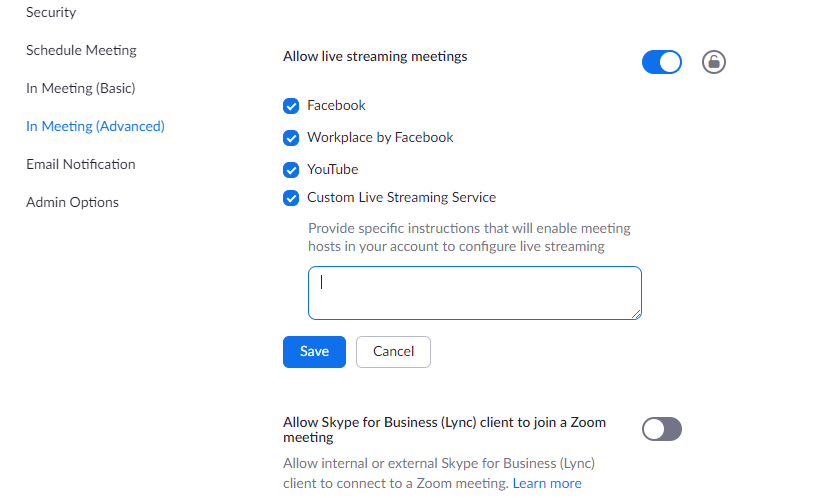 Update the instructions so that the meeting organizer can configure the required settings when scheduling the meeting. You can find these instructions in your Dacast account. Edit the live channel you want to use to stream the Zoom meeting.
Under the "General" tab, click "Encoder Setup," and use the copy icon to copy and paste the required values into your Zoom account: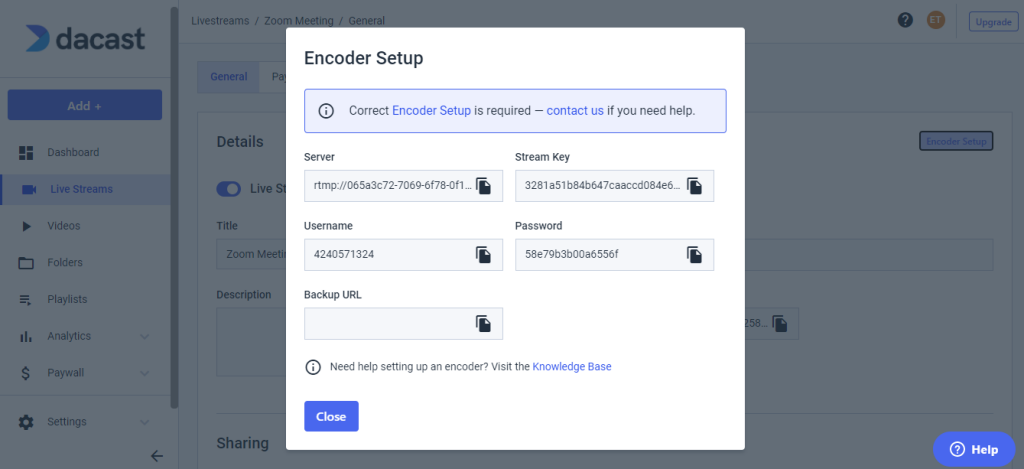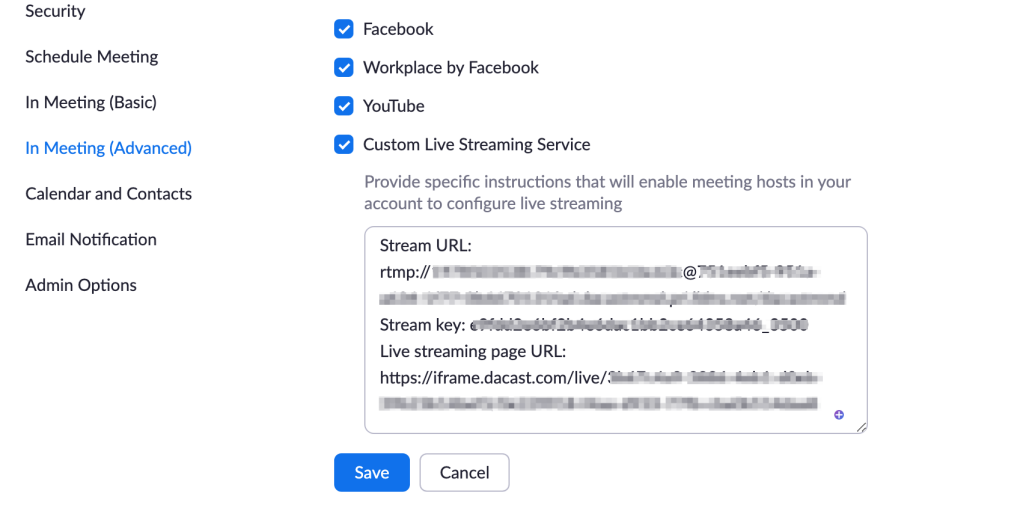 On your Zoom account, click "Meetings" then "Schedule a New Meeting." Enter the required information, and click "Save" to display advanced options:

At the bottom of the page, click the "Live Streaming" tab. Then, click the "Configure Live Stream Settings" link:

Apply the information in the green box following the format we provided in Step 2: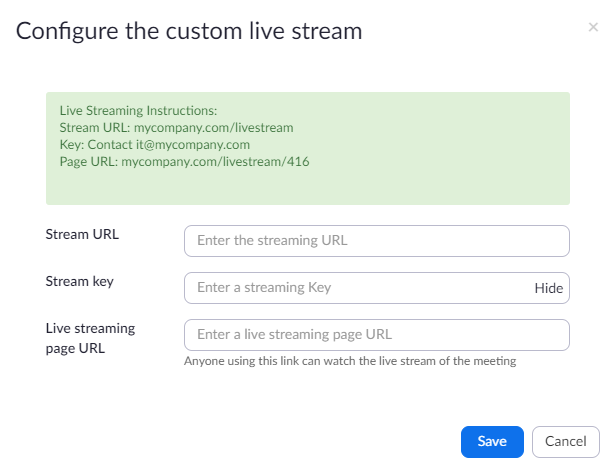 Click "Save" to save your live streaming settings. Now, the host will be able to live stream this meeting in person event, without having to add these settings after the beginning of the event.
On your Dacast account, make sure that the live stream used for the meeting is set to "Online":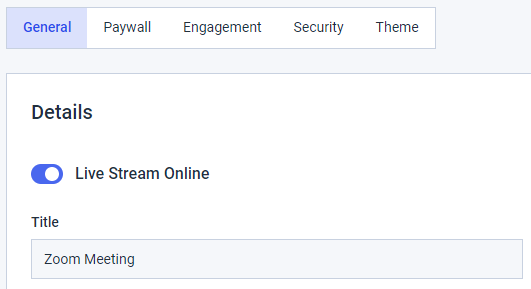 Open the Zoom application on demand, or web portal, and start your meeting. At the bottom of the Zoom window, click the "•••" icon and select "Live on Custom Live Streaming Service."
Now that your Zoom meeting is ready, you're ready to live stream it to your website
Bonus: How to Live Stream a Virtual Holiday Event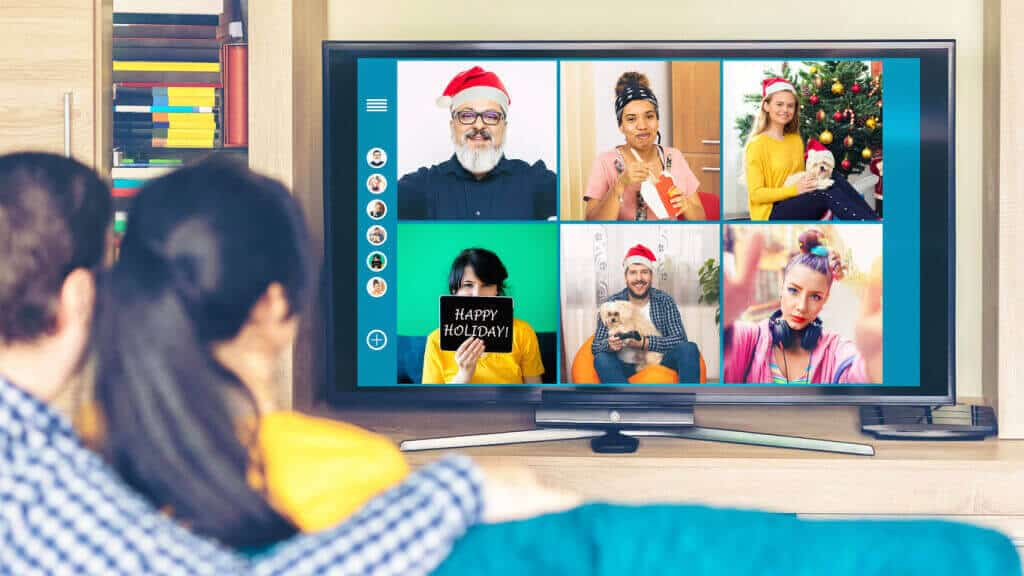 Share the holiday spirit with family, friends, or coworkers by a virtual event or hosting a virtual event by a a virtual event or holiday live stream for remote attendance.
Holiday season is the best time to meet people and organize events with friends and family.
During this season, there's also an increased demand for virtual events, as they help people get together during unpredictable winter weather and connect with friends and family in other places.
Organizations, from grade schools to churches to corporations, put on special events during the holiday season, such special events as:
Christmas pageants
Holiday concerts
Holiday sing-alongs
Religious ceremonies
Holiday awards
Holiday parties
More businesses and organizations are turning to live streaming, including more members of their community in these heart-warming events. Live streaming allows people who can't travel or face other restrictions to participate in important holiday events.
Web conferencing holiday parties help friends and co-workers come together to celebrate. Light-up nights, New Year's countdowns, Santa sightings, and a host of other cheerful events can also easily be streamed.
Here's a detailed tutorial on how to live stream a holiday event in 6 steps:
Prepare Your Audience
Set Up Equipment
Choose an Online Video Platform
Configure Your Encoder
Create a Live Channel
Start Streaming
For more information on hosting a virtual Christmas event, we recommend checking out our dedicated virtual holiday event streaming guide
Final Thoughts
The benefits of live streaming events for business are endless. Especially when using professional, dedicated streaming platform.
As we've outlined, while it takes some preparation, the process is straightforward. It's even quicker and simpler to start broadcasting your live video events when you use a streaming platform specifically designed to help businesses succeed. With the right platform, you get the tools you need, your streaming performance is enhanced and your audience pleased.
Why not give Dacast's platform a go? It comes with a 14-day free trial. No strings attached. Test out all its features for the highest quality live streaming of events.
Professional hosting of live stream events has many benefits for businesses, especially when engaging a remote audience. Live streaming an event takes a bit of preparation and setup, but the process is very straightforward. And it reaps tons of benefits for your brand in terms of engagements and revenue.
Choosing the right online video platform plays a significant role in the success of your live-stream event. We suggest taking advantage of free trials to test different various streaming tools and platforms and familiarize yourself with their features.
Not sure where to get started? Why not give the Dacast platform a try? Test out all our great features risk-free for 14 days to see how our platform can help you achieve your live streaming goals. No credit card is required.
You can also join our LinkedIn group for exclusive offers and regular tips on live streaming.