How to Use Zoom: A Step-by-Step Guide for Getting Started
Zoom has been an important tool since the start of the pandemic. It has made it possible to keep businesses and organizations running even when it wasn't safe to meet in person.
There are a few ways to use Zoom's web conferencing tools, including hosting meetings, sharing presentations, and more.
In this post, we are going to discuss everything you need to know about using Zoom. We will discuss what Zoom is, what it is used for, and how to use Zoom. We'll dive into specific Zoom tutorials related to scheduling and hosting meetings and webinars.
To wrap things up, we will discuss some Zoom alternatives and instructions for streaming Zoom meetings with Dacast.
Table of Contents:
What is Zoom?

Top Zoom Use Cases

Zoom Pricing

The Rise of Zoom: Statistics and Trends

How to Use Zoom: The Basics

How to Start a Meeting on Zoom

How to Schedule a Meeting on Zoom

How to Join a Zoom Meeting

How to Screen Share on Zoom

Advanced Settings on Zoom

Zoom Alternatives

Streaming Zoom Meetings with Dacast

Final Thoughts
What is Zoom?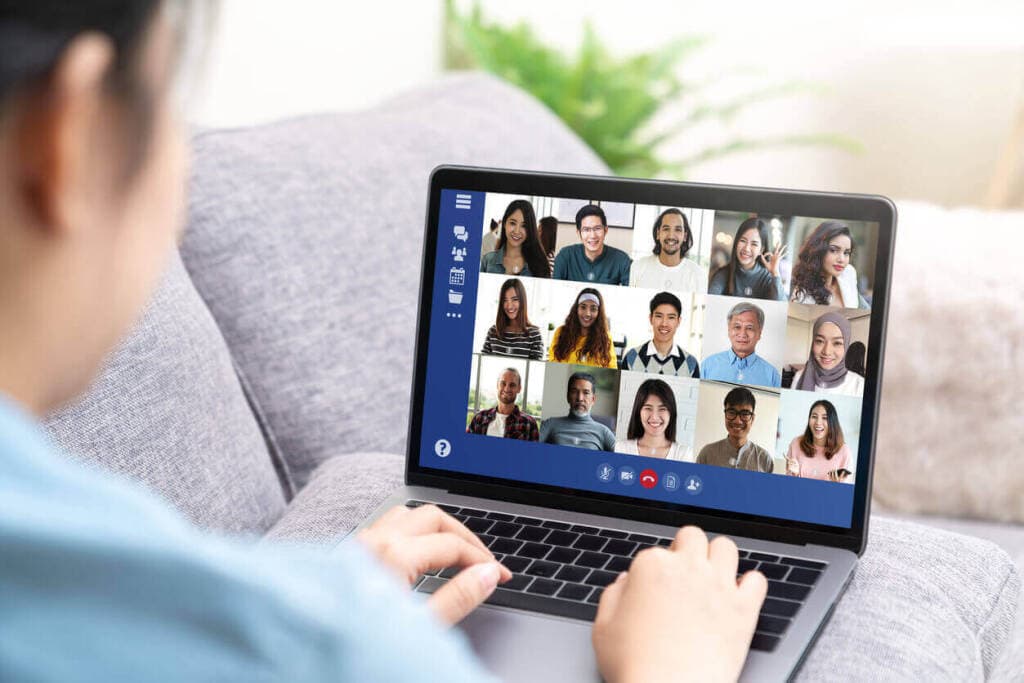 Zoom is a popular web conferencing platform that uses peer-to-peer streaming technology to host virtual meetings and webinars. This platform is used by both individuals and professional organizations, such as businesses, government organizations, health care providers, and schools.
Zoom was initially released in 2012, and it is compatible with most major operating systems, including Windows, macOS, iOS, Android, and Linux. It can be used on both desktop and mobile devices.
This web conferencing platform is considered "freemium" since it has both free and paid plans. Users can access many functions with the free plans, but access to more scalable conferencing requires paid upgrades.
Top Zoom Use Cases
Zoom can be used for both personal and professional use. Some of the popular use cases for Zoom include:
Webinars

Business meetings

Virtual panels

Classes and training sessions

Telehealth 
Zoom is particularly useful for helping people stay connected and continue life with some sense of normalcy during different 
Zoom Pricing
Zoom has different pricing plans for different use cases, ranging from free to $8,440+/month. You can see a full breakdown of the plans and prices on Zoom's pricing page.
Let's take a look at the starting prices for each Zoom plan.
Zoom Meetings:
Basic: Free

Pro: $14.99/month/license

Business: $19.99/month/license (10 license minimum)

Enterprise: $19.99/month/license (50 license minimum)
Zoom Phone:
US & Canada Metered: $10/month/user 

US & Canada Unlmimted: $15/month/user

Pro Global Select: $20/month/user
Zoom Events and Webinars:
Video Webinar: $79/month/license

Event Platform: $99/month/license 
These rates reflect support for up to 500 participants. Support for participants is available at a higher rate.
Zoom Rooms:
Zoom United:
Pros: $25/user/month

Business: $30/user/month

Enterprise: $30/user/month
The Rise of Zoom: Statistics and Trends
Video conferencing, especially via Zoom, has recently seen a major surge in popularity. Here are a few stats that exemplify how valuable Zoom and web conferencing has become in the past year:
This surge in peer-to-peer streaming will likely last longer than the pandemic. Now that businesses and other professional organizations have seen how video conferencing 
How to Use Zoom: The Basics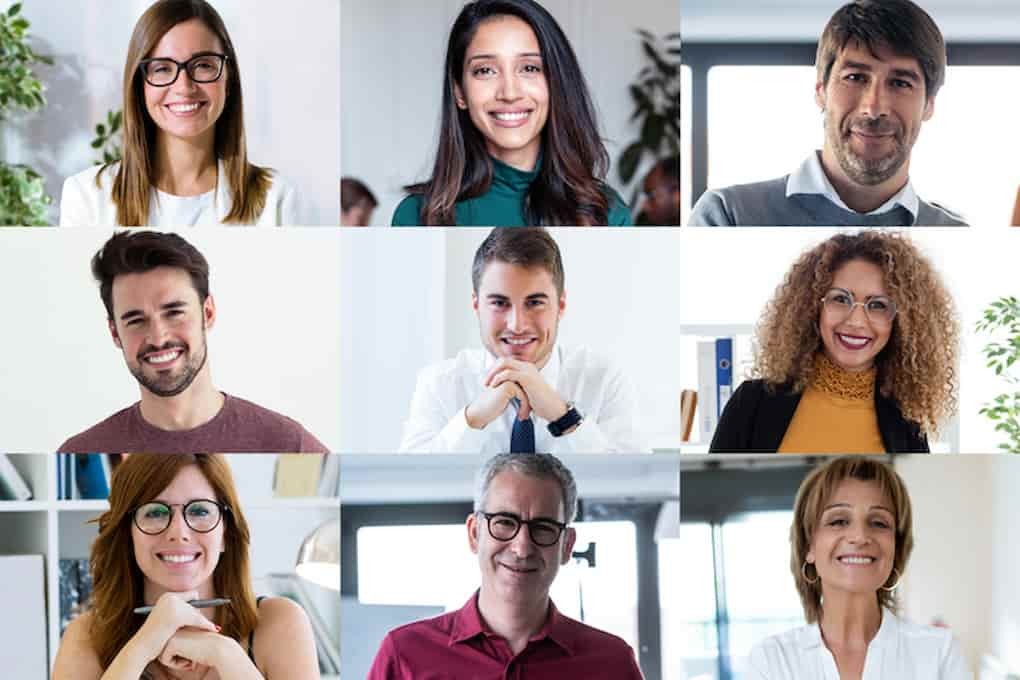 Now that you understand what the platform does and how you could use it for your business, it's time to learn how to get started with Zoom.
1. Create a Zoom Account
Open up Zoom.us, and click the orange button in the top right-hand corner that says "Sign Up, It's Free."
You'll be prompted to input your date of birth. Once you fill that in, you'll be directed to the signup page. You can either enter your email address or you can create an account with your existing Google, Facebook, or company sign-on.
The next steps will depend on the signup method that you choose. If you choose to sign up with your email, for example, you'll receive a link to your inbox with the code. If you sign up with Google, you'll have to complete the standard Google account verification process.
2. Download Zoom
Go to the Zoom Download Center and choose the version of the software that fits your streaming needs. Click the appropriate button to start the download.
When the file is finished downloading, click the file that pops up in the lower lefthand corner of your screen that says "Zoom.pkg." When prompted, click "Continue."
The next page will give you the option to set up your app for all users of the computer or just for you. Choose appropriately, and click "Continue." When you reach the next page, click "Install."
3. Open the App
Once you have Zoom downloaded, it is time to open the app. If it's not saved on your desktop or home screen, you can open it by going to Finder (on Apple devices) or My Computer (Windows devices).
Log in with the credentials you used to sign up.
4. Start, Schedule, or Join a Meeting
Once you're signed in, you will be presented with four options: New Meeting, Join, Schedule, and Share Screen. Choose the option that you'd like to use.
Each of these processes is a little different, so let's take a look at how each works.
How to Start a Meeting on Zoom
To start a meeting on Zoom, you have to first complete the steps we covered above.
Once you've opened the app and signed in, click the dropdown arrow beside "New Meeting." This can be found under an orange box with a camcorder icon. There are two boxes that you can check. The first is "Start with video" and the second is "Use My Personal Meeting ID (PMI)." You can select either or both of these boxes to set your preferences.
You'll also see your PMI in this drop-down menu. If you hover over the code, you'll be given the option to copy the ID, copy the invitation, or open PMI settings.
Opening the PMI options will allow you to configure settings for your stream, such as changing the passcode, choosing if there will be a waiting room, video controls for the host and participants, and some advanced settings.
Once you are confident with the settings, you can save them and click the orange "New Meeting Button" to start your stream. You can share the meeting invitation before you start the stream or invite users after you get started.
Once you start the stream, you'll be presented with a lot of functions. You can mute or unmute your microphone, start or stop your video, edit security settings, view and manage participants, chat, share screen, record the meeting, and end the meeting.
How to Schedule a Meeting on Zoom
Some people opt to schedule Zoom meetings beforehand because it helps to avoid any frantic scrambling or confusion when the meeting is supposed to start.
Scheduling a meeting is simple. You'll start with the basic steps that we discussed before.
Click the "Schedule" button, which is a blue logo with a calendar icon on it. You'll be prompted to configure the following settings:
Meeting Topic

Date and time (and timezone) 

Meeting ID (choose between Generate Automatically or PMI)

Passcode

Whether or not there will be a waiting room

Host and participant viewer settings

Calendar invite settings (iCal, Google Calendar, or "Other Calendar")
You can also configure Advanced Settings, which include:
Enable join before host

Mute participants upon entry

Automatically record meetings on the local computer
Once these settings are configured, click "Save." You'll be redirected to a digital calendar event (iCal, Google Calendar, or whatever other option you chose).
For example, if you are using Google Calendar, you can invite participants by typing their email addresses into the "Add guests" field. Once you've added all of your guests, click the blue "Save" button at the top of the screen. 
A popup will appear that says "Would you like to send invitation emails to Google Calendar guests?" Click "Send."
You can access this meeting by clicking the link in the calendar invite or on the Home page of your Zoom app.
How to Join a Zoom Meeting
There are a couple of ways to join a Zoom meeting. You can either join through the app or directly with the link on an invite.
To join through the app, click "Join" on the Zoom home page. You'll be prompted to enter either a Meeting ID or a Personal Link Name. You'll also be able to add your name and choose whether you'd like to join with video and/or audio.
Joining with a link is an easier option. If you received an invite via email, clicking the link will also take you to an in-browser page.
With both methods, the meeting should launch in the app automatically, but if it does not, click "Launch Meeting." You can choose whether you'd like to join with the computer audio or test a different microphone.
At this point, you should be able to participate in meeting and access the chat function.
How to Screen Share on Zoom
There are a couple of ways that you can share your screen on Zoom. If you are already in a meeting, it is as simple as clicking "Share Screen" at the menu along the bottom of the screen. The other option is clicking the "Share Screen" button on your Zoom home page and entering your Sharing Key or Meeting ID.
Next, you'll be prompted to choose the screen that you'd like to share. The options include:
Any open window

Whiteboard

iPhone or iPad screen (via AirPlay or a cable)

Slides as a virtual background

Portion of Screen

Music or Sound Only

Content from 2nd Camera

Files from Microsoft One Drive, Dropbox, box, or Google Drive
Once you've chosen an option, click "Share" to start sharing your screen.
Advanced Settings on Zoom
Zoom has many advanced settings that can be accessed by clicking the gear icon in the top right-hand corner of the Zoom app home screen.
These advanced settings allow you to customize and control aspects related to different Zoom functions, including:
Video

Audio

Screenshare

Chat

Background & Filters

Recording

Profile

Statistics

Keyboard Shortcuts

Accessibility
Within each of these settings, there are many options and possibilities. We recommend going through these settings before you start your first stream so that you're familiar with all of the options available to you.
Zoom Alternatives
While Zoom is a powerful live streaming platform that is used in many professional settings, it may not be the perfect solution for all use cases. That creates the need for additional peer-to-peer streaming options.
Here are 10 of the best Zoom alternatives on the market:
Skype

Livestream

Google Duo

GoToMeeting

ZoHo

Cisco Webex Meetings

Adobe Connect

Live Webinar

Bluejeans

Vidthere
For a more in-depth comparison of these Zoom alternatives, please check out our dedicated guide.
Streaming Zoom Meetings with Dacast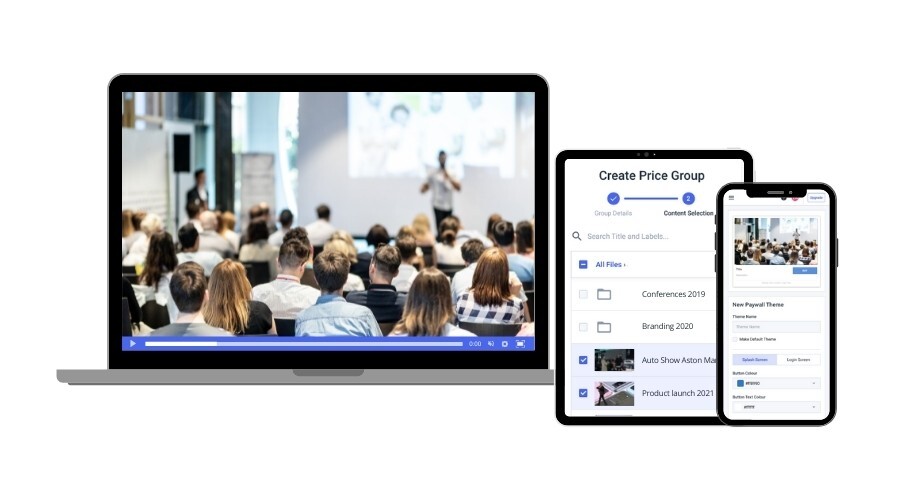 Streaming a Zoom meeting with an online video platform, like Dacast, allows you to open attendance to more viewers while bypassing participation limitations on Zoom. Using a third-party video platform also gives you access to professional streaming features, such as enhanced security, monetization, and more.
It is possible to stream Zoom meetings with Dacast's Zoom integration. This functionality comes in handy for broadcasters that are looking to stream virtual panels, Q&As, round table discussions, and other similar live events.
The process of streaming a Zoom meeting with Dacast looks something like this:
Log into your Dacast account

Create a stream

Navigate to the new stream's encoder setup

Copy down the credentials provided (URL, Username, Password, and Stream Name/Key)

Log into Zoom

Click on "Schedule a Meeting" and fill in the information as prompted

Click "Start This Meeting"

Choose either "open Zoom meetings" or "Launch Meeting"

Click "More" (three dots) then click "Live on Custom Live Streaming Service"

Input the encoder credentials that you copied from the encoder settings in Dacast

Click "Go Live" to start streaming
Please note that this tutorial requires you a Zoom Pro, Business, Education, or Enterprise account since it requires access to the "Custom Live Streaming Service" Zoom feature.
For a complete tutorial on streaming a Zoom meeting with Dacast with some additional tips and approaches, please check out our dedicated guide.
Zoom FAQ
We've covered how to use many different functions on Zoom, but you might be left wondering about some other aspects of the platform. Here are a few frequently asked questions about hosting meetings on Zoom.
Do you have to download Zoom to use it?
Zoom supports in-browser video conferencing, but it tends to be finicky. Your best bet is to download Zoom before your meeting is supposed to start.
How many people can be on Zoom?
The number of people allowed on your Zoom call depends on the plan you've purchased. Free and Pro plans support up to 100 participants, Business plans support up to 300 participants, and Enterprise plans support up to 500 participants.
The highest tier of Zoom Events and Webinars plans is capable of supporting over 10,000 participants. Plans of this magnitude are custom priced.
How long can a Zoom meeting last?
Zoom calls on free accounts are capped at 40 minutes. Meetings on paid plans are capped at 24 hours.
Final Thoughts
Zoom is a powerful tool for businesses since it makes remote collaboration not only possible but efficient, as well. Whether you're hosting a Zoom meeting of your own or you're joining as a participant, we hope that this guide has given you the knowledge to use Zoom with confidence.
If you want to stream your Zoom meetings with the support of a professional online video platform, we recommend giving Dacast a try. Our Zoom integration makes it easy to share your Zoom meeting with your audience in just a few clicks.
Want to make sure that Dacast is the video hosting platform for your streaming need? Sign up today to take advantage of our 14-day risk-free trial to test out all of our professional features. 
No credit card is required.
For regular tips on live streaming and exclusive offers, we invite you to join our LinkedIn group.