Did you recently create a Dacast account for the first time? Wondering how to do live streaming successfully? Looking for some tips and tricks to have more success with your live broadcasts?
This article serves as a quick guide on the nuts and bolts of how to stream live video, in general, and with Dacast. Whether you're brand new to live to stream, or looking for a refresher, our streaming solutions have you covered!
We'll start with a review of the required components to do successful live broadcasts. Then, we'll walk you through how to do live streaming with Dacast from setting up to broadcasting live. Let's jump right in!
How to Live Stream Video: Required Components

There are four things you need to begin broadcasting live. These key components include:

A reliable internet connection
A camera
An RTMP encoder
A live channel on your Dacast account
Let's address each of these in order or click to jump ahead to set up your encoder.
1. Reliable Internet Connection
First, you'll need an internet connection to broadcast live. More specifically, live streaming requires a connection with sufficient upload speed. Ideal upload speed is 1MB per second and greater. To test your actual speed, we suggest doing an upload speed check here. TestMy.net generally gives the most accurate results, which are often much lower than advertised peak internet speeds.
The quality at which you plan to stream your video content determines whether or not your upload speed is sufficient. The general rule of thumb is not to exceed half of your upload speed. So, let's say your upload speed is 2MB per second. In that case, you don't want your bitrate quality to exceed 1MB per second. You can choose that setting inside your encoder, which we'll cover below.
2. Camera for Streaming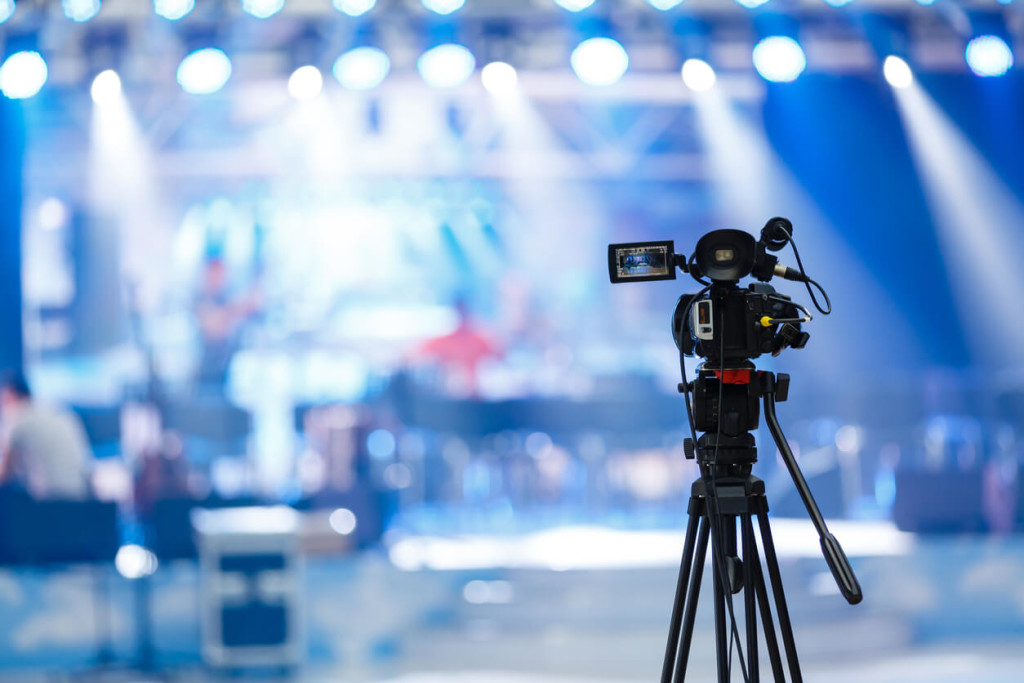 If you plan to do audio-only streaming, or you plan to broadcast using pre-recorded content, then you can skip this step. Otherwise, you'll need some kind of camera to stream live.
The easiest approach is to use a webcam, either built-in to your laptop or attached to your computer by USB. These are web-ready cameras that you can quickly plugin on the spot. Also, your chosen encoder can readily connect to a webcam. In short, if a program like Skype can pick up your camera signal, so can your encoder.
If you opt for a camcorder instead of a webcam, note that you will need a capture card. Blackmagic is one solid example, and you can purchase their products online. If you are using a hardware encoder (instead of encoding software), you can bypass the capture card step. Not sure about the difference in encoder types? Not to worry, as RTMP encoders are next up on our list of key components!
3. RTMP Encoder
Next up in our review of how to do live streaming, you'll need an RTMP encoder. In general, an encoder receives your camera signal and presents the streamed content in a web-friendly format that people can view. In addition, encoders allow you to control the quality at which you stream or the bitrate. Dacast is an RTMP protocol based service, and as such requires an RTMP-enabled encoder.
There are two types of encoders available to broadcasters: software-based and hardware-based. In general, hardware encoders are more expensive, more technically complex, and offer more features. Each encoding approach has its pros and cons, which you can read more about here.
If you opt for a software encoder, you can read about the best options available here. OBS (Open Broadcaster Software) Studio offers a free encoding software, which you can download from your Dacast account. Later in this post, we'll cover how to set up your live stream channel over Dacast with OBS Studio encoding software.
4.  A Live Streaming Platform
Finally, you'll need a professional-grade live streaming platform with the ability to host your content, encode and transcode files, and stream live or on demand content through live channels. All Dacast trial account users can create one live channel to test this step. For this part of the process, you can either watch the video below or read on for more details.
To set up live streaming through your own channel, you must first need to login to your Dacast account. Click on the "Add +" button, and select "Live Stream":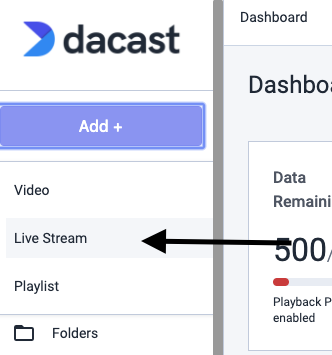 A pop-up will appear. Here you can name your channel and select "Standard":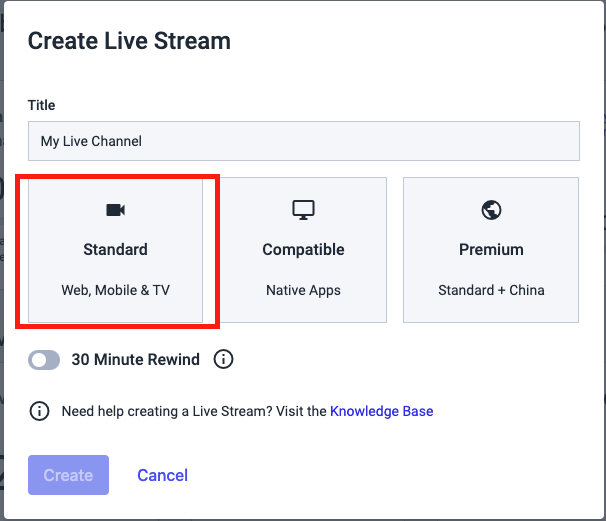 Please contact us, if you need to stream via an unsecured m3u8 link for Roku or if you would like to have your VOD available in China. 
This is the first page you should see after you've created your new channel: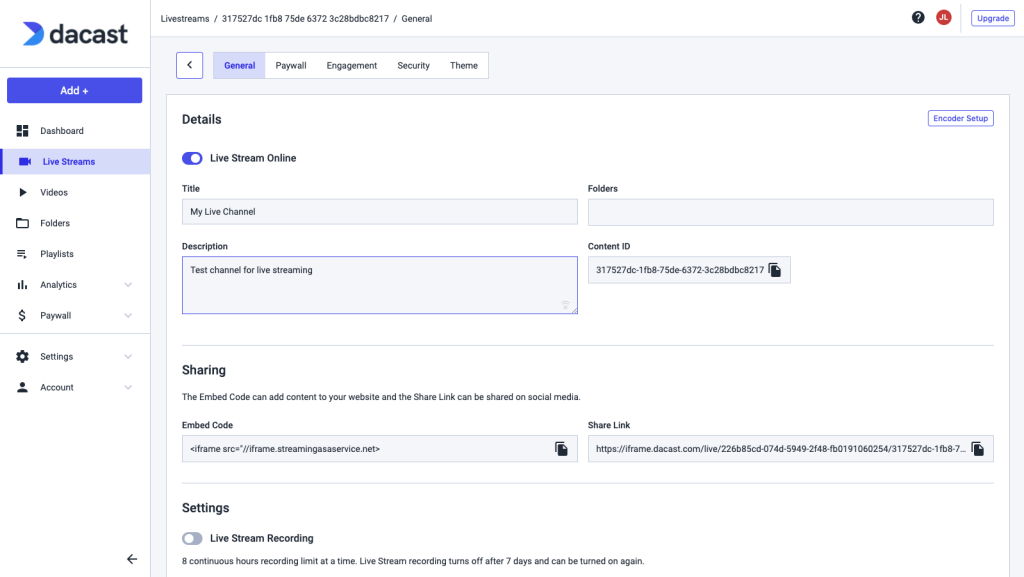 The most important feature on this page is the following one: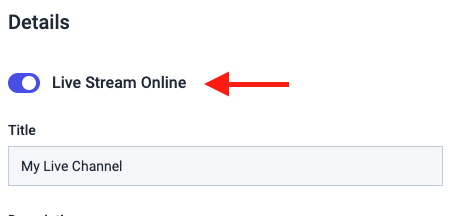 Please note that your live channel is turned OFF by default. You can turn it ON whenever you want to put your channel online. The rest of the settings are optional. Folder and Description relate to how your content will be displayed on your dashboard.
The rest of the settings are optional. Category, Description, and Splash Screen relate to how you'll share your content over the Dacast Viewer Portal. If you plan to only share the content on your own site, you can ignore these options. However, please note that if you want your content to display on the Dacast Viewer Portal, you'll need to add a description and splash screen.
The splash screen will display when content is offline for live streams. The thumbnail, on the other hand, will represent your content inside packages and on the viewer portal.
Please click SAVE once you enter your information in this step.
Publish Settings:
The next step in the process involves the Publish Settings, which control embeds and advanced features.
Advanced features include geographic and website restrictions. Player themes are also selected here, and you can turn autoplay on or off as well. In addition, you can utilize the viewer counter, Google Analytics tracking, and publication on the Dacast portal.
Encoder Setup:
This portion of the live channel setup has three subsections:
1. Publishing Point and Bitrate
2. Select an Encoder
3. Start Streaming
Step 1: Setup Publishing Point and Bitrate
Publishing point: you have the option to choose between Auto-detect and Custom IP. Please note that the latter option can take up to two hours to take full effect.

Multi-bitrate: Please note that we automatically encode the bitrate, resolution and aspect ratio that you set up in your general video preferences. You have the ability to change these according to the speed of your internet connection. Be considerate of your viewers' download speed as well. In general, we recommend offering something at 900kbps or lower. If you also want to offer several stream qualities to your viewer (and have a really fast upload speed), you can set up as many multi-bitrates as you want within your own encoder.
*Please note that this is very taxing on your upload speed, though, as it requires doing multiple streams all at once.
Please click on the "Go to next step" button once you are done with step 1.
Step 2:

Select and Encoder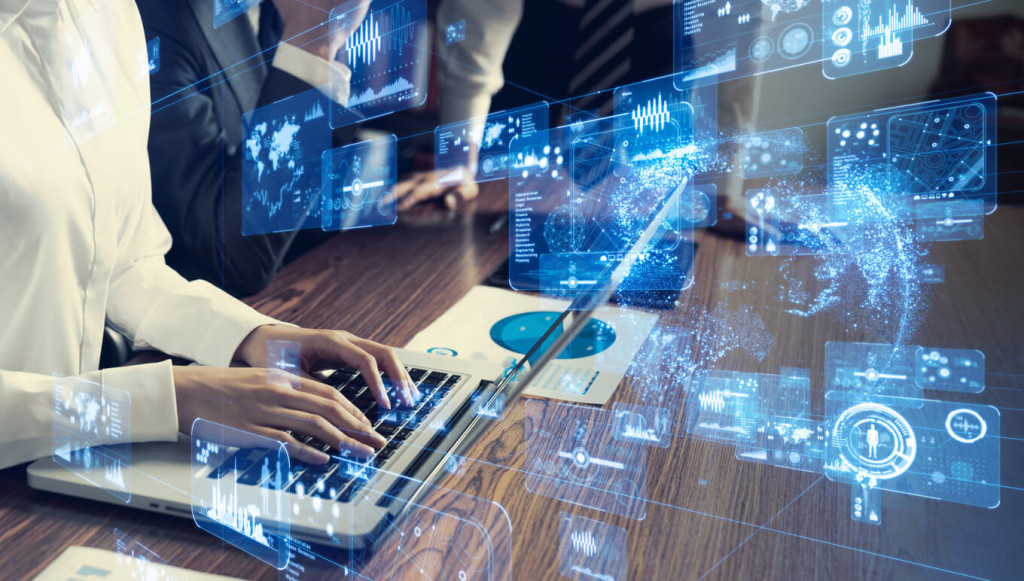 You will now have to select your encoder. If you have never used an encoder before, you are likely better off selecting OBS Studio. This is a feature-rich encoding software that is free-of-charge, and it does work well for initial tests and long-term use.
Once you have selected your encoder, the process will launch you into the final step: using your encoder.
Step 3: Start Streaming
Now, it's time for the most extensive part of the how-to-do live streaming set up. This step involves linking your Dacast account to your encoder. This will vary based on the encoder you use. Since OBS Studio is a free solution, this guide will use that approach to describe the process. If you are using an encoder that is not OBS Studio, please reference other encoder guides located here. For this part of the process, you can either watch the video below or read on for more details.
Now, the first matter of business is downloading the encoder, if you haven't already. This is available in both Windows and Mac formats.
After downloading the program, click the DOWNLOAD XML PROFILE TO COMPUTER button. This will save your Dacast channel profile to your computer and help you configure your encoder. Remember where you saved this, as you will need to open it shortly.
Finally, jot down the login and password circled in red in the screenshot above and located below the profile button. These are a series of six numbers each.
Nex, if you are using OBS for Dacast, click "Start Streaming":


To test the stream, copy the link in your "Share Link" field and paste it into your browser.

You should see your live stream within a minute. If you are having issues please check the encoder is configured correctly. 
Launch OBS Studio: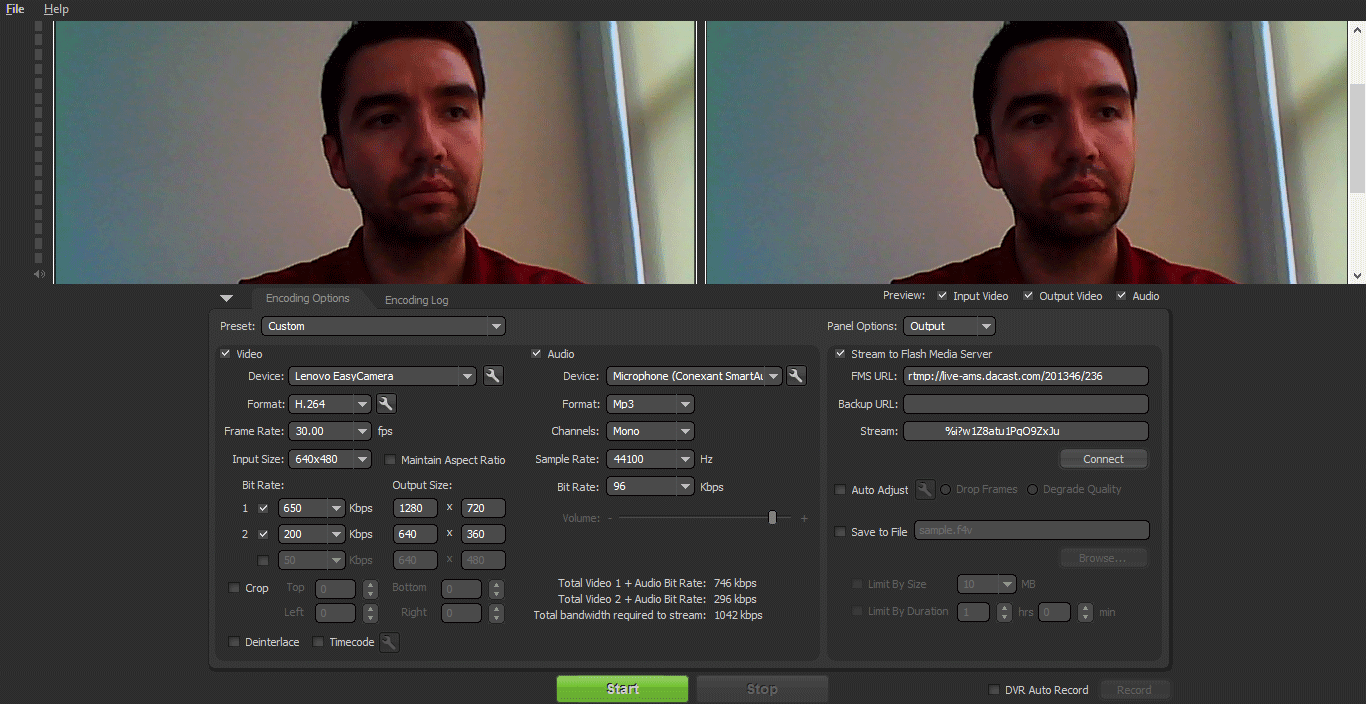 The setup process might seem complex, but you won't have to worry about most of it.
To start, click the FILE option in the upper left and go to OPEN PROFILE. Now browse your computer until you find the XML profile you just saved.
You will likely get a profile validation error. Click OKAY on this message. Now, make sure your format is set to H.264 on the video side. You can find this section under the device field, as pictured below: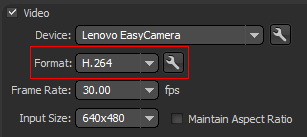 When you are ready to stream, click the green START button. This will launch a window asking you to enter your username and password, as shown below: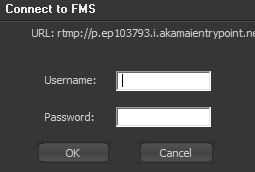 Enter the login and password credentials you wrote down earlier. Please note that this step does not refer to the email and password you use to log in to your Dacast account. Then click OK, and you should have started to stream.
Finally, return to your Dacast account, click PREVIEW, and…success!
Please note it may take 30-45 seconds for your image to first appear in the video preview. This is due to the process of making the stream compatible over a wide range of viewer devices.
Also, you can now go back to the PUBLISH SETTINGS section to get the embed codes for that stream. That way, you can start sharing your streams with others.
Video Monetization:
This area offers the option to set up a paywall for your live channel. In other words, viewers will have to do pay-per-view before gaining access to your content.
Please note that you can also set up a promo code to offer discounts to your viewers.
Live Streaming Analytics:
This section provides the usage and performance of your live stream.
Please note that you can find many detailed guides on our support website, and our team is always available 24/7 for any question within your Dacast account.
Conclusion
And there you have it! We hope that this guide has helped you to feel confident about how to do live streaming through your Dacast account. We love to hear from our readers, so share your feedback and questions in the comment section below. We'll get back to you!
Not yet streaming over Dacast, and interested to learn more about our streaming solutions? Why not take advantage of our 30-day free trial (no credit card required) to test out all our great features for yourself? Just click the button below to get started today!
Finally, for exclusive offers and regular tips on live streaming, you can also join our LinkedIn group.
Happy broadcasting!