Why and How To Use a Church Streaming Service
Churches and religious organizations of all types are operating in a changing modern world. Starting four years ago, young millennials ages 14-25 began watching more video on digital devices than on television. Live streaming video online is now easier and more affordable than ever before. Using a church live streaming solution allows congregations to reach a large new audience.
This blog will look at how to use a church streaming solution to maximize your audience. Church streaming is getting very popular. In fact, one of the fastest-growing uses of live streaming video is found in churches and other religious institutions. According to TheChurchOnline, the #1 reason people use church websites is to watch sermons and services online.
We'll begin by briefly examining how streaming benefits churches. Then we'll dive into 5 ways to increase viewership and maximize your audience.
How Streaming Benefits Churches
Before diving into how to increase viewership, let's first touch on the benefits of broadcasting church services in the first place. The most immediate benefit is that live streaming your service allows you to reach a much larger congregation (potentially) than if your audience is confined to those physically in the building.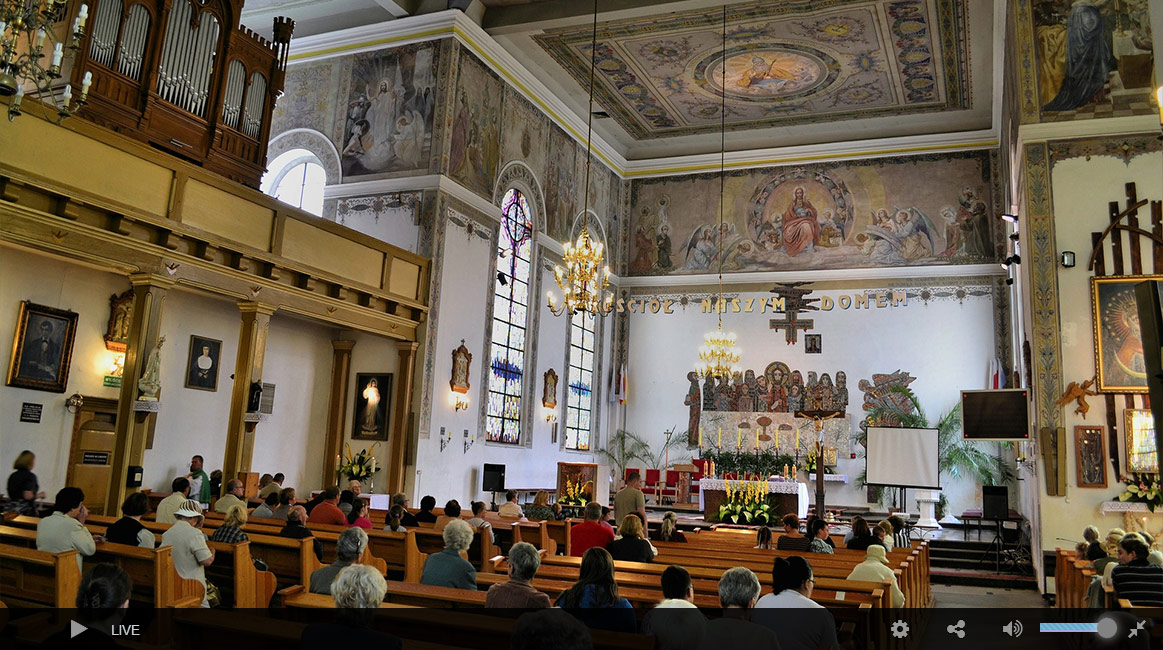 Live streaming can be used to broadcast regular services or special events such as weddings, holidays, confirmations, and baptisms.
Choosing to broadcast live video lets people attend church services virtually who can't make it in the flesh. People of faith benefiting from streaming video can include:
Older people who have trouble making it to services every week.
Those recovering from illness or injury.
People with contagious diseases who shouldn't attend services even if they can.
People who are out of town for business or vacation and want to stay connected.
Live stream virtual Christmas programs for those who want to worship but cannot due to the 2020 pandemic
Young people away from home for college.
Missionaries, social workers, and others who travel regularly.
Anyone else who, for whatever reason, can't attend services in person.
Some churches are seeing 5x growth in reach via live streaming. So with the spirit of 5x growth in mind, let's look at 5 ways to intelligently use online video to grow your congregation.
5 Ways to Increase Viewership and Maximize Your Audience
Live streaming video of religious events faces the same challenge as other streaming videos: how to build an audience. Religious live streaming, however, is somewhat different from other videos in the makeup of the likely audience. Therefore, the best approach to building an audience may be somewhat different.
1. Use Analytics to Understand Your Audience and Get Actionable Insights
Modern church streaming services allow broadcasters to gather video analytics information about their audience. These tools gather basic information, such as the cities and countries where your videos are being watched. Other data includes what type of devices people tend to use and how long they watch for.
Analytics data is regularly used by businesses for marketing, but it can also be very useful for church live streaming. Determining where your audience is located can help you determine where to allocate resources, travel for events, or even consider starting a new congregation.
The data provided by analytics is very valuable for helping you take informed action. For example, based on the number of viewers you get on your live stream and recorded events, you can review your schedule according to when and where your audience is concentrated.
2. Stream to Multiple Platforms to Reach People Anywhere
The digital world is fragmented. Some of your congregants are on Facebook all the time. Others browse YouTube regularly. And others use your website. You want to reach all of these people to maximize your audience.
The best way to do this is to use a church streaming service that makes it easy to stream on multiple platforms simultaneously. For instance, Dacast has partnered with Switchboard Live so you can easily stream on your website while streaming on Facebook Live and Youtube Live at the same time. You can also use other services such as Restream to achieve the same goal.
3. Use a Top-Tier CDN to Maximize Quality
We've all experienced the frustrating experience of trying to watch online video&#8230; and the loading icon just spins and spins. Most people just close the tab after a minute. And having had that negative experience, they may be reluctant to try again in the future.</p> <p>In other words, video stream startup and playback quality are important to viewers. The best way to maximize video quality and minimize buffering problems is to use a church streaming service that partners with a <a href="/blog/streaming-live-akamai-server-benefits-using-cdn/" target="_blank" rel="noopener noreferrer" class="dacast-link">top-tier live streaming CDN</a>.</p> <p>A &#8220;CDN&#8221; is a &#8220;Content Delivery Network,&#8221; a network of thousands of computer servers located all around the world. These platforms use sophisticated load-balancing software and cutting-edge technologies to intelligently route internet traffic. The result is a much better viewing experience for users, with no configuration or technical knowledge required on your end.</p> <h2><strong>4. Broadcast Content 24/7 to Keep Your Community Engaged</strong></h2> <p>Many <a href="/blog/top-10-video-live-streaming-solutions-for-pros/" target="_blank" rel="noopener noreferrer" class="dacast-link">live streaming solutions</a> today restrict your broadcasts to 4-6 hours in length. However, it is often to your advantage to provide <a href="/blog/best-live-event-streaming-solution-with-24-7-support/" target="_blank" rel="noopener noreferrer" class="dacast-link">24/7 continuous programming</a> to your audience. Like traditional TV, broadcasting all the time allows your congregation to tune in anytime they need to hear your message.</p> <p>Using a platform like Dacast that supports 24/7 broadcasting doesn&#8217;t mean you have to be on-camera all the time. It&#8217;s easy to queue up a playlist of pre-recorded content to fill in alongside live sermons and other events. That way old events, plays, movies, sermons, and other materials can be used and reused again and again. This is a great way to keep your audience more engaged and attentive.</p> <h2><strong>5. Multi-Language, All-Device Video Playback</strong></h2> <p><img loading="lazy" class="alignright wp-image-12528" src="https://www.dacast.com/wp-content/uploads/2015/05/How-to-Increase-Viewership-From-Your-Church-Audience-crew.jpg" alt="How to Increase Viewership church streaming service" width="300" height="273">Many churches have international relationships and programs. This means you may have a multi-lingual audience. Using online video is a great way to reach these people, but you have to do it in a way they can understand.</p> <p>There are a few ways to solve this issue. For example, you can <a href="/blog/closed-captioning-for-web-video-support/" target="_blank" rel="noopener noreferrer" class="dacast-link">embed captions</a> in multiple languages. This can include the spoken language to help you reach hundreds of millions of deaf and hard-of-hearing people worldwide.</p> <p>Alternatively, you can even embed multiple audio tracks into the same broadcast. This can allow your congregants to listen in their native language.</p> <p>Using a modern church streaming service like Dacast allows you to address these issues proactively. Plus, all Dacast streams are delivered via an <a href="/blog/how-to-broadcast-live-video-in-html5/" target="_blank" rel="noopener noreferrer" class="dacast-link">HTML5 video player</a>. This means your videos will playback automatically on any device, whether it&#8217;s an affordable android smartphone or a high-definition internet-connected TV.</p> <h2><strong>Dacast Church Streaming Service</strong></h2> <p>If you&#8217;re looking for an affordable, easy-to-use church streaming service, you should consider Dacast. We include all the features discussed in this article. And that&#8217;s just the beginning. We also include a wide range of other tools, plus <a href="/blog/best-live-event-streaming-solution-with-24-7-support/" target="_blank" rel="noopener noreferrer" class="dacast-link">24/7 tech support</a> for your Sunday morning broadcasts and <a href="/professional-services/" target="_blank" rel="noopener noreferrer" class="dacast-link">professional services</a> in case you need technical support getting up and running.</p> <p>Prices start at just $39 per month for the Starter plan. Our live streaming pricing plans include:</p> <ul> <li>Starter Plan: $39/month (includes 100 GB of bandwidth &amp; 50 GB of storage)</li> <li>Event Plan: $63/month (includes 6 TB of bandwidth upfront and 50 GB of storage)</li> <li>Scale Plan: $188/month (includes 24 TB of bandwidth per year and 1 TB of storage)</li> </ul> <p>Interested in testing out the Dacast platform? We invite you to sign up for our <strong>30-day free trial</strong>. No credit card is required for the trial. Or if you have more questions, feel free to <a href="/contact/" target="_blank" rel="noopener noreferrer" class="dacast-link">contact us</a>.</p> <div style="text-align: center;"><b><a class="dacast-btn dacast-btn--primary" href="/signup/">YES, SIGN ME UP</a>&nbsp;</b></div> <div> <p>Any questions, comments, corrections, or ideas? Let us know what you think about this article by leaving a comment below. We love to hear from our readers and look forward to responding to your comments. Thanks for reading!</p> <p>For regular live streaming tips and exclusive offers, you can also join our&nbsp;<a href="https://www.linkedin.com/groups/6629370" target="_blank" rel="noopener noreferrer" class="dacast-link">LinkedIn group</a>.</p> </div> <p></body></html></p>
Subscribe
Stay up to date with our latest features and product releases