How to Live Stream to Multiple Platforms Simultaneously [2022 Update]
Even though broadcasting videos on your website through a professional online video platform (OVP) gives you the most control over your video content and live streams, multi-platform streaming comes with its own benefits.
You might already have an audience on Youtube, Facebook, and other social media platforms with live streaming functions, so why not stream your content there? You can extend your reach to a broader audience without compromising the limitations that come with these free platforms by simulcasting – or live streaming to multiple platforms simultaneously.
Multistreaming used to be a complicated endeavor until a few years ago, but third-party tools and integrations of software with each other have made it a lot easier. 
In this article, we'll discuss the easiest way to multi-stream if you're a Dacast user. But for those who aren't, we'll discuss the top five headache-free platforms you can use to multistream. 
New to Dacast and interested in trying out our live-streaming  platform for yourself? Sign up today for a 14-day trial to test out all of our features for free. No credit card is required.
Table of Contents
What Is

Multistreaming

?

Benefits of

Multistreaming

When to Use Streaming on Multiple Platforms

What are the reasons not to multi-stream? 

Switchboard Live's Integration with Dacast

About Switchboard Live 

How to Live Stream to Multiple Platforms

Connecting Dacast to Switchboard Live

Connecting Facebook to Switchboard Live

What if I'm Not a Switchboard Live Customer?

Multistreaming

with OBS Studio

Downsides of

Multistreaming

with Encoder

Switchboard Live Vs. Other

Multistreaming Software

Multistreaming

Considerations

Conclusion
What Is Multistreaming?
Streaming is a process we are all very familiar with, where one video broadcast can reach lots and lots of different screens simultaneously. Imagine a streaming system like Facebook Live, for example. Using one platform, lots of people can stream the same content simultaneously.
Now instead of having one platform, picture multiple platforms. Instead of just Facebook Live, imagine streaming the same content to Youtube, Twitch, and LinkedIn Live — all at the same time. Multistreaming is expanding the streaming process to include multiple systems. In other words, you can stream simultaneously to multiple audiences instead of just your audience on one platform.
So that you don't get confused, multistreaming gets referred to as "simulcasting", "multicasting", or "multi-destination streaming" as well. These terms refer to the same concept of streaming to multiple destinations simultaneously.
Benefits of Multistreaming
Let's briefly cover the countless benefits of multistreaming. The benefits of going live on multiple platforms include multiplying your audience, avoiding technological problems, and attracting new viewers.
Multiply your audience

: Although there's potential overlap in audience members, you're likely to have unique followers on any individual platform where you could live stream. By broadcasting your stream on multiple platforms simultaneously, you maximize your potential audience while also giving your core fan base additional chances to catch your live stream.

Avoiding tech problems:

If you are live streaming and something goes wrong with the tech, whether it's your fault or not, people aren't going to sit around and wait for the problem to sort itself out. You spread the risk out when you stream on multiple platforms at once. If one platform has problems, your stream won't be interrupted completely.

Potentially attracting new viewers

: Every platform that allows users to live stream has its own system to keep users engaged. When you live stream on Youtube, for example, they will suggest your content to people who might like it. Increasing the number of simultaneous live streams increases the likelihood that new users will have the chance to engage with it.

Great for those just getting started

: It's harder for individuals and businesses just getting started with streaming to gain followers on specific platforms. For example,  Twitch makes it much tougher than other platforms for newbies to gain some momentum. So if your end goal is to have a strong Twitch following, it might not be a bad idea to multi-stream to other platforms that make it easier to build a following in the early days.

It makes you censor-proof:

You are at risk of being shut down or issued warnings/ strikes if your content doesn't satisfy the regulations of a specific platform. Even if you don't talk about or show controversial topics, you might still suffer the wrath of sensor boards if you have music in the background or specific copyrighted images. By

multi-streaming,

you can continue broadcasting even if you've been temporarily blocked from one platform. 
When to Use Streaming on Multiple Platforms
Streaming on multiple platforms allows you to reach a wider audience with much less time and work. One of the biggest reasons to use multistreaming is to grow your audience by giving the most people access to your live stream.
Common use cases for streaming on multiple platforms include webinars, live worship, gaming, speeches, sporting events, and live Q&As.
What Are the Reasons to Not Multi-Stream? 
The pros of multi-streaming outweigh its cons. Remember that every platform in your multi-stream list isn't the same. For example, some offer the freedom to add your brand assets, such as your logo and graphics, into the live stream, while others have the streaming software's branding. 
If branding is critical for your stream and you can't afford the plans that offer such customizations, then sticking to one platform and exclusively streaming on your website might be a better option. 
Similarly, suppose you aim to increase views or followers on a specific platform. In that case, you might be better off live streaming on only that platform and doubling down on marketing your stream on social media platforms. 
Switchboard Live's Integration with Dacast 
To help you bring your live streams to larger audiences, Dacast has developed a new method for simulcast streaming so you can stream on multiple platforms at once. 
We have equipped our streaming solution software with the capability to integrate with Switchboard Live. This integration allows Dacast users to live stream to multiple platforms, including Facebook Live.
This new partnership will make it faster than ever for Dacast and Switchboard Live users to go from secure video upload to streaming on multiple platforms simultaneously. 
Let's talk about the perks of this integration and how to use all of Dacast's resources to stream on multiple platforms simultaneously.
About Switchboard Live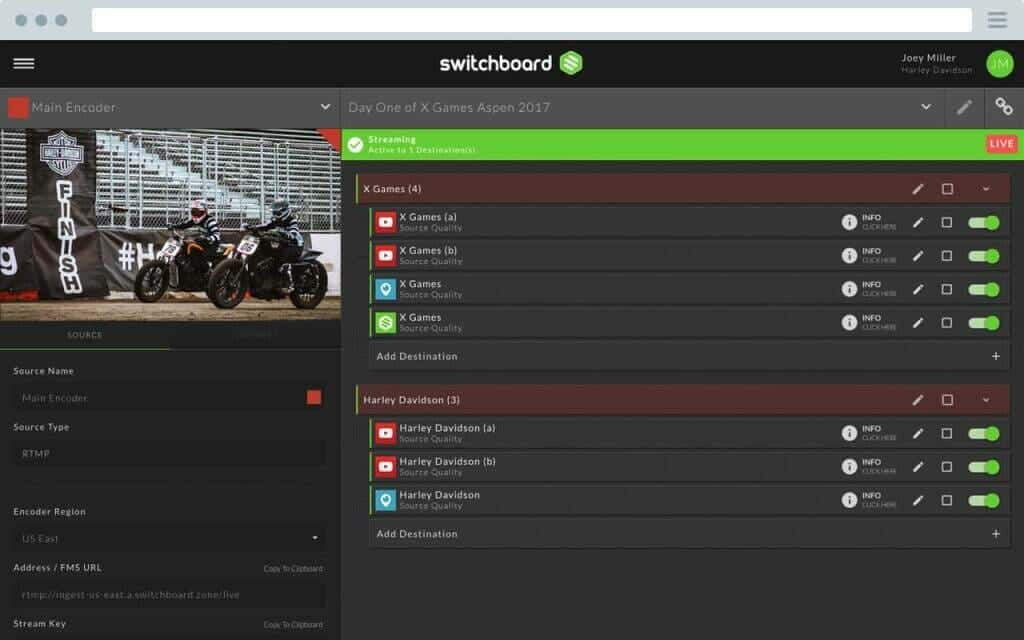 Switchboard Live is a video distribution platform that allows you to simultaneously live stream across your OTT video provider—such as Dacast—and all of the most popular social media channels, including Facebook and Youtube.
Switchboard Live describes its service as "set it and forget it." You can pre-load your social channels and metadata for quick and easy streaming. You can also use the encoding software of your choice, send streams to custom RTMP destinations, and brand your content with your logo or other watermarks.
Switchboard Live's most basic plan, Indie Unleashed, costs $29 per month, and that gives you the ability to have unlimited destinations at once. Indie Unleashed gives you 1,500 streaming minutes per month.
The main difference between all of their plans is the number of minutes you get. They also have customized plans if you require a lot of minutes.
Switchboard Live is one of the most useful integrations for Dacast users. We highly recommend investing if you plan on multi-platform streaming.
How to Live Stream to Multiple Platforms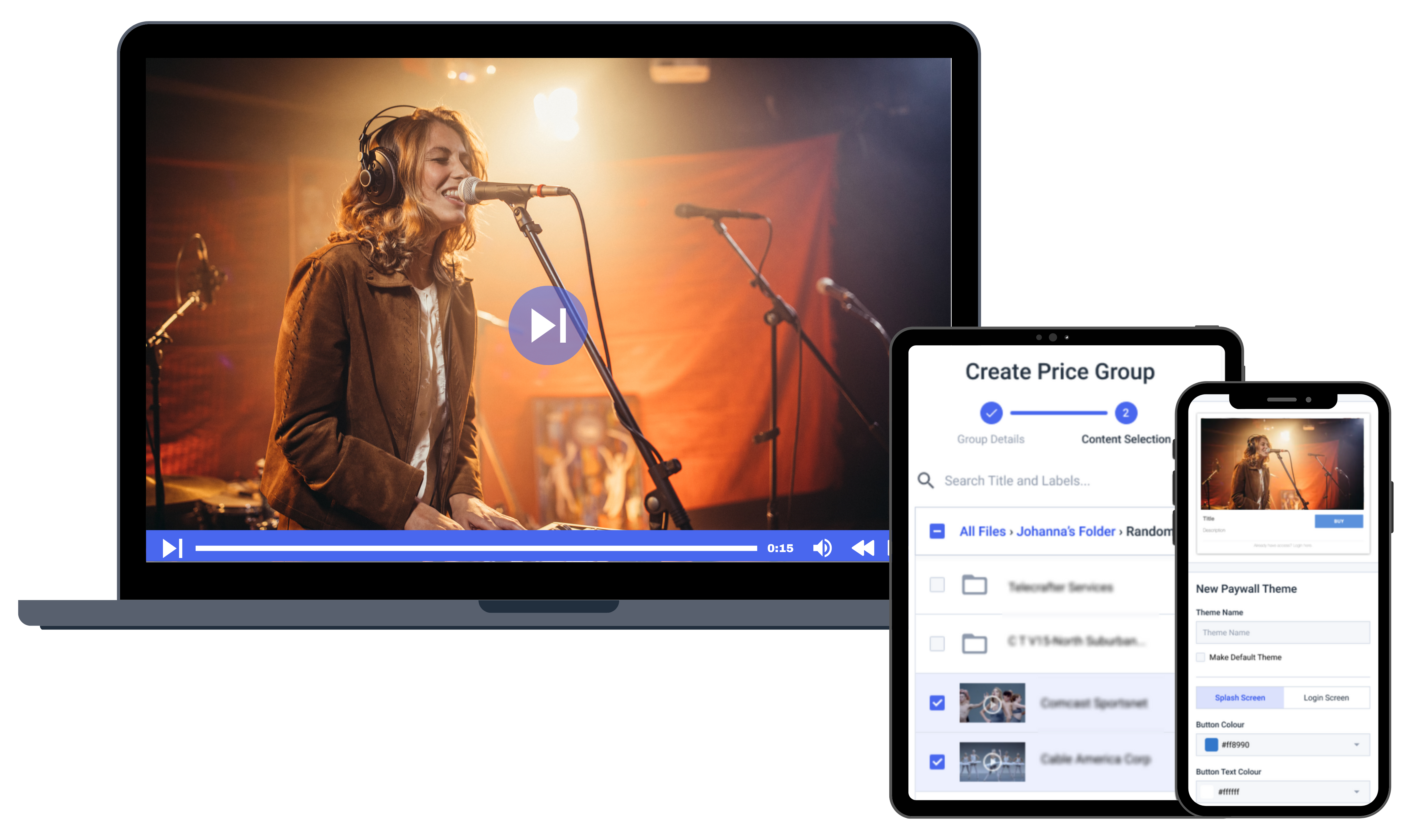 Live streaming to multiple platforms can be daunting without the right tools and software.
Learning how to go live on multiple platforms at once is a lot easier when using a third-party system like Switchboard Live. As we mentioned above, Switchboard Live seamlessly connects to Dacast, so you can stream simultaneously to your website, Facebook Live, Youtube, or Twitch simultaneously.
One of the biggest advantages of using Switchboard Live is that it's swift and convenient. Once you connect your Dacast account and all of your social streaming platforms—including Facebook, YouTube, Restream, or Twitch—you can start doing multi-destination and multi-camera live streaming in just a few clicks.
Can you stream to multiple platforms at once without using Switchboard Live? Yes, although the process is a bit longer. Below, we will discuss step-by-step instructions on how to connect your Dacast account and social media destinations to Switchboard Live, and how to stream to multiple platforms if you do not have a Switchboard Live account.
Connecting Dacast to Switchboard Live
Log in to Switchboard Live.

Click "Add Destination." 

Click "New Destination."

Select "Dacast Channel" as the platform, and give it a name.

You'll need your Dacast API key. You can find it by logging into the Dacast

account

and visiting your preferences. Under "API," you will see an API key. Click "Regenerate" if there is no API key.

Back in Switchboard Live, paste your Dacast API key. The list of channels will populate in a few seconds. Select the live channel you wish to broadcast on from the dropdown menu. Dacast integration with Switchboard Live works with all Dacast live channels: HTML5, low latency, and m3u8.

Click "Finish."
Once you complete these steps, you should see your Dacast live channel in your list of available destinations.
Connecting Facebook to Switchboard Live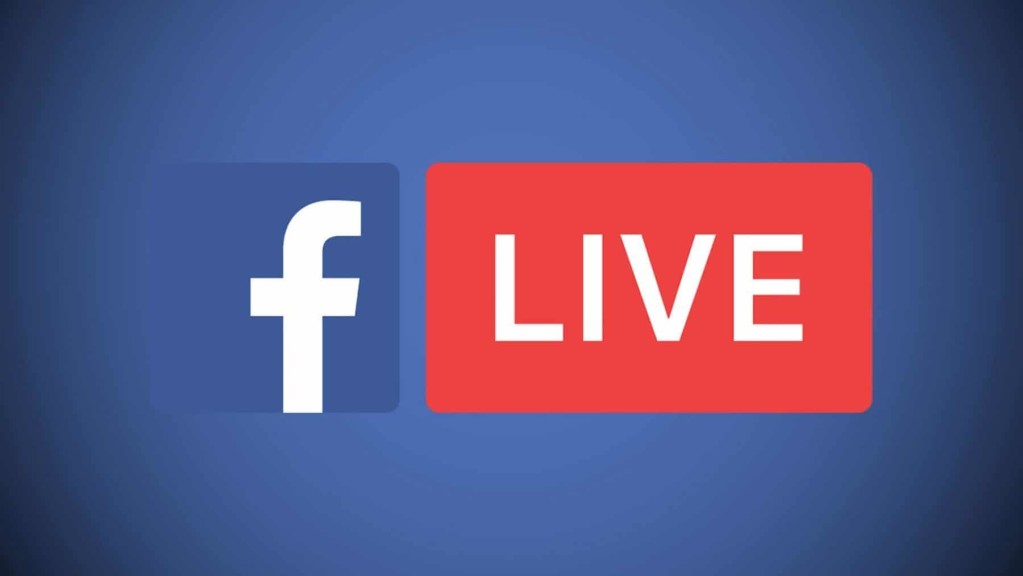 Log in to your Switchboard Live account.

Click "Add Destination."

Choose "New Destination" and "Facebook" in the drop-down menu. 

Name your new destination and click "Next."

Follow the prompts to connect with your Facebook account. Select the right profile or page where you want to stream.

Set up your encoder. In your Switchboard account, you will see a preview window with fields for "Stream Server / URL." Select the stream server of your choice. We recommend you choose the one located closest to your audience.

Copy the stream URL and stream key from this page.

Open your software/hardware encoder configuration page.

Set a new stream/output destination. 

Select a

custom

RTMP

streaming server

as the type.

Enter the URL and stream key you copied from Switchboard Live.

Set up your encoder as usual.
Repeat this process for any other destinations you'd like to add. Youtube, Twitch, and LinkedIn Live are other big ones.
Once you've connected your social streaming platforms, streaming is easy. 
To begin your stream, go live on Dacast using your live streaming encoder. Next, visit your Switchboard Live account and turn on the destinations you want to live stream to.
What if I'm not a Switchboard Live Customer?
Live streaming platforms are video hosting solutions that allow users to upload and broadcast video content to their audience.
If you're not a Switchboard Live user, you wonder, "can I still stream on multiple platforms?" Yes, you can still use a couple of methods to stream to multiple live streaming platforms with your Dacast account.
You can either use your Dacast Share Code or you can use your live stream encoding software. 
Here's how each method would work for you.
Method 1: Dacast Share Code
The Dacast online video platform makes sharing your live streams and VODs on social networks easy. The fastest way to make this happen is to use the Dacast social share code. 
To use this method, visit the "publish settings" for your live stream. Then look for the Facebook share code on this page. 
The code will look like this:
Copy this code, and then go to your Facebook page. Paste this code where it says: "Write a post…" The title and a splash screen of your video content will appear. 
You can add any text you want. Once satisfied with your post, click "Post" to publish. Users will be able to click the play button. That'll launch the live stream or video in a new tab.
Using this method to share your video allows you to reach your social media followers. It also preserves monetization methods and password protection. If you're monetizing with a paywall, this is the only method that works.
Method 2: Multi-destination Streaming at the Encoder Level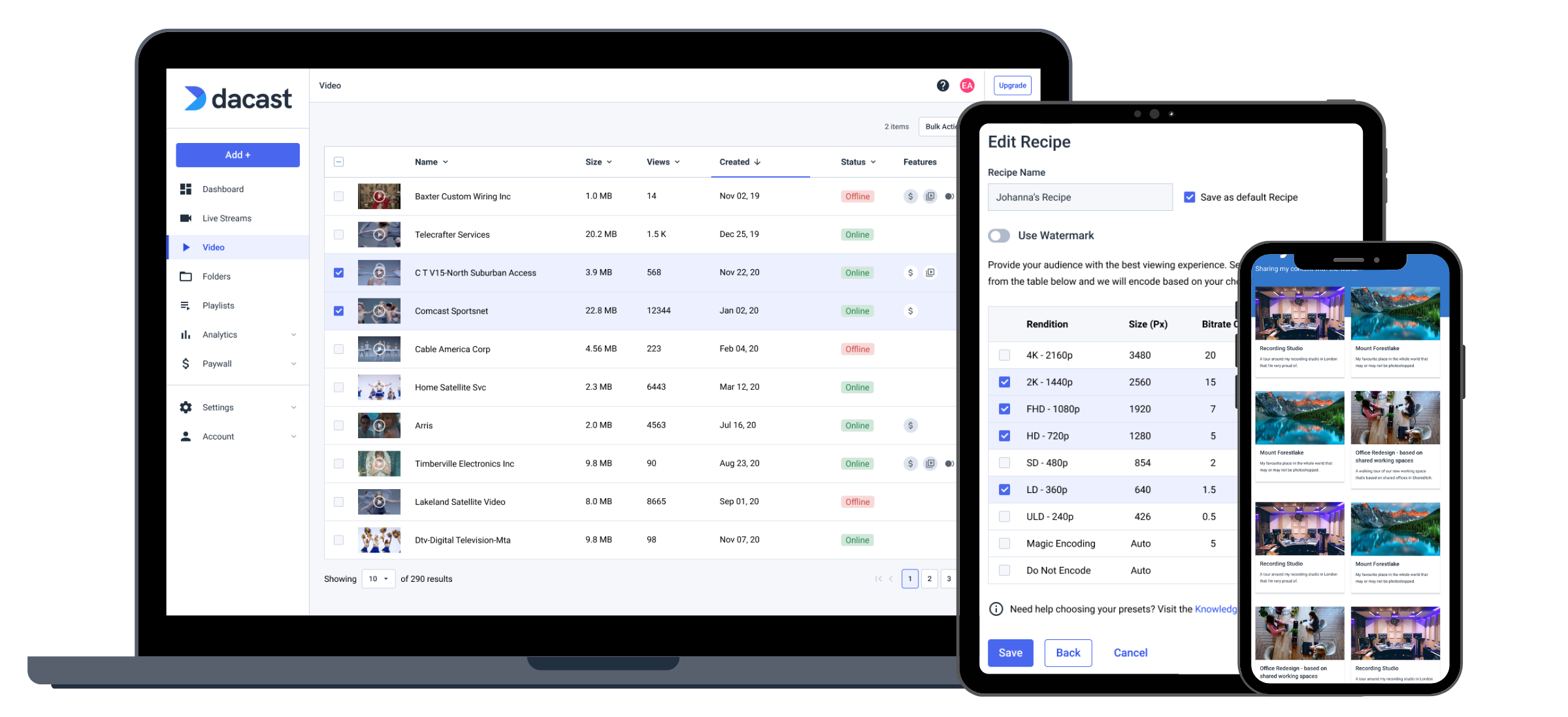 The second method for streaming on multiple platforms is at the encoder level. Essentially, this involves setting up multiple stream destinations in your encoder settings.
It's very easy if you're using a software encoder like Wirecast, VidBlasterX, or vMix.
When you live stream, it will broadcast to both Dacast and Facebook simultaneously. 
It's a native streaming method, which is a plus. However, this also means restrictions on stream length, branding, video monetization, etc., will apply.
Use the same method to stream to Dacast and Twitch, YouTube, Restream, and other online video platforms.
Here is an overview of setting up your encoder on Wirecast for multi-destination streaming:
Set your Output Settings to "

RTMP server

."

Select an encoding profile.

Enter an address and a stream.

Click "Set Credentials" and follow the steps to log in as prompted.

Click "Add" and select "

RTMP

Server" as your output destination.

Choose an encoding profile.

Enter your Facebook Server URL for your address.

Copy and paste your Facebook Stream Key

Click "OK" and press the "+" symbol to add your video source.
Bonus: We've created a more detailed step-by-step guide for multi-destination streaming using a software encoder. This guide will teach you how to set up your encoder so you can stream on all your favorite platforms. Learn More Here.
Multistreaming with OBS Studio
In the past couple of years, OBS has also added the ability to stream to multiple platforms. However, you may still run into some guides with outdated information telling you that OBS only allows you to live stream to only one streaming platform. That's no longer true.
Here's an overview of the steps needed to use OBS for multi-destination streaming:
Download the "Multiple RTMP outputs" plugin from SoraYuki on the

OBS website

.

Once downloaded, open up OBS. Then go into the Settings menu and click on the Stream tab. Double-check that the stream is set up correctly with your preferred settings.

Next, click the Output tab under Settings. You should see the multiple output options tab from the plugin on the screen.

Click "Add new target"

Give the new target a name (e.g., Facebook, Twitch)

Enter RTMP server info

Enter your RTMP key

When choosing the encoder options under Video Settings and Audio Settings, people will most commonly choose "Get From OBS".

Click "Sync start with OBS", if that's what you want. You wouldn't click this

if, for example,

you want only one stream to go live for the introduction. Keep in mind that you'll be able to manually start and stop additional streams easily once you're up and running.

Rinse and repeat for every other platform you want to stream on.
Downsides of Multistreaming with Encoder 
If multistreaming with a software encoder, you'll need a strong computer and internet speed. For example, when streaming to multiple platforms with the Multiple RTMP Streaming plugin for OBS, your ability to stream to X number of platforms is limited by what your computer and internet speed allows.
On the other hand, this is not the case when you multistream with a third-party service like Switchboard Live or Restream. Because third-party services tend to be cloud-based, you can offload the necessary processing power and upload bandwidth requirements of multistreaming onto them.
Switchboard Live Vs. Other Multistreaming Software
Switchboard Live is a top platform for multistreaming, but there are a few other options. Let's cover five main ones.
Switchboard Live vs. Restream
The most popular alternative is likely Restream. When comparing Switchboard and Restream, you'll find that they have some similarities, but a few key differences.
Both platforms are cloud-based and support streaming to major platforms like Facebook, Twitter, LinkedIn, and Twitch.
One downside of Switchboard Live compared to Restream is that it doesn't yet support an integrated live chat feature for all your live streams. With Restream, you can engage with viewers from multiple platforms with one central chat. 
However, Switchboard Live makes up for this downside by supporting live polling, video annotations, and a multi-camera feed, which Restream doesn't yet support.
Key Features of Restream
On-screen captions 

Overlay templates that you can personalize for reuse

You can view user analytics across all platforms 

It works with third-party

streaming software,

including Zoom and OBS 

You can store recordings for up to 15 days in the paid plans 

The Professional plan supports 10 hours long

video streaming

 
Pros of Restream vs. Switchboard Live
Offers HD

video streaming

while Switchboard Live doesn't 

API support is available 

There's a free plan with several interesting features including 30+ platforms for

multi-streaming

 
Cons of Restream vs. Switchboard Live
Doesn't support a multi-camera feed 

Doesn't offer video annotations which Switchboard Live offers 

The streams in the free plan can only have 6 participants
Switchboard Live vs. Castr
Another popular alternative to Switchboard Live is Castr. They both are similar because they are cloud-based, and both support a multi-camera feed stream. They also support multi-destination streaming to the most common platforms like Facebook, Youtube, and Twitch.
One downside of Switchboard Live compared to Castr is their lack of chat support. However, Castr doesn't support live polling, video annotations, and Q&A features like Switchboard Live.
Key Features of Castr
Storage of 2 – 10 GB of pre-recorded files depending on your plan 

An embedded player so you can add video stream to your website 

Turn live streams to video on demand (VOD) for more views 
Pros of Castr vs. Switchboard Live
Integrates with Fastly and eight others which is more than what Switchboard offers 

It offers an HD video feed which isn't available in Switchboard Live 

Works on Android and iOS apps designed for mobile devices unlike Switchboard 

You can have unlimited cloud storage even in the most basic plan 
Cons of Castr vs. Switchboard Live
There is a free trial, but no free version in Castr

Plans start at $50 a month which is higher than Switchboard Live (plans start at $29 per month)
Switchboard Live vs. StreamYard
The next popular alternative to Switchboard Live is StreamYard. Some similarities between the two platforms are that they are both cloud-based and support Q&A features and multistreaming to the most popular destinations like Facebook, Youtube, Linkedin, and Twitch.
They differ because Switchboard Live doesn't support live chat features, while StreamYard does. However, Switchboard Live does support video annotations and live polling, unlike StreamYard.
Key Features of Streamyard
Multiple screens while simulcasting

Event scheduling 

Recording of live streams 

Multiple camera feed support  

Private chat for live-stream hosts 
Pros of Streamyard vs. Switchboard Live
Offers a free trial and a free version 

It's easy to add multiple guests to your live stream 

Multi-stream to 8 destinations at a time 

Customized RTMP destinations 

You can multi-stream pre-recorded videos as well 

Much more customizable than Switchboard Live. These include the freedom to add branding assets, control how the comments appear on screen, and change the color of on-screen elements. 
Cons of Streamyard vs. Switchboard Live 
People find it less user-friendly than other popular

multi-streaming software

 

Logging in for a live stream gets complicated if you have multiple hosts or want to invite guests on the live stream
Switchboard Live vs. Vimeo Livestream
Vimeo Livestream is a close competitor of Switchboard Live. It has many similar features and works great with multiple platforms where you'd want to live stream. 
A unique feature of this streaming software is that you can embed the Vimeo video player in any website and simulcast it. 
Another feature that differentiates it from Switchboard Live is the video auto-archiving feature that stores your video in the highest quality so your users can download it after the live stream ends. 
You can go live from multiple cameras while multi-streaming and managing each camera's settings individually. 
Key Features of Vimeo Livestream
You can set passwords and embed permissions to allow only certain people to view your content 

Real-time performance analytics 

It works with multiple

social media platforms,

including Facebook, Twitch, YouTube, and LinkedIn so you can multi-stream to any or all of these. 
Pros of Vimeo Livestream vs. Switchboard Live 
You have options such as chats, polls, and Q&As to make your live stream more interactive 

You can customize live streams, add your logo, mix audio, and create overlays. 

Works with mobile, desktop, and APIs. 
Cons of Vimeo Livestream vs. Switchboard Live
The

multistreaming

feature is available for Vimeo Enterprise and Premium users 
Switchboard Live vs. XSplit 
XSplit is a live-streaming software that allows multi-streaming across various social media platforms. It has fewer features as compared to Switchboard Live. 
Although XSplit is primarily marketed to gamers, it's excellent for larger enterprises and medium to small businesses that prefer pre-recording videos and streaming them on various platforms. It only works on Windows OS and desktops. 
It has a subscription-based pricing model and no free trial. You can multi-stream with Broadcaster Premium ($15 per month) or Premium Bundle ($20 per month) packages. That's cheaper than Switchboard's packages which start at $29 per month. 
Key Features of XSpit
Limitless customizations on screen while

multistreaming

such as overlays 

You can add multi-track audio in post-production 
Pros of XSpit vs. Switchboard Live
You can migrate OBS files to your broadcast 

Multi-stream to Facebook

and YouTube 
Cons of XSpit vs. Switchboard Live
No Q&A feature 

No video analytics 

Fewer audience engagement options 

No event scheduling 

No monetization option 
Multistreaming Considerations
There are a couple of points to be mindful of when you're considering multistreaming for the first time.
For starters, you should know that if you run into a lagging problem or your video is abruptly taken down on the Facebook Live or Youtube platform; it's not something Dacast has much control over. That'll be an issue specific to Facebook and Youtube's network and platform. With this in mind, you'll also be bound by the rules of the other platforms, such as Facebook's eight-hour live stream time limit and Youtube's music copyright rules.
Also, if you are a Twitch affiliate, please be mindful of their exclusivity policy when deciding to simulcast. This policy is not for all Twitch streamers, just affiliates. The policy states that content streamed on Twitch can't be streamed on other platforms for 24 hours, and many people have not realized this and mistakenly lost their channels because of it.
Conclusion
Whether you use Switchboard Live, your Dacast share code, or the encoder method, streaming on multiple platforms is straightforward.
We're confident that our Switchboard Live integrations will provide great flexibility to those using Dacast's professional video hosting and live streaming platform.
You can broadcast your first stream on multiple platforms with the help of Dacast today.
Did you know that you can try Dacast risk-free for 14 days? No credit card or commitment is required.
What have your experiences with multistreaming been like? If you've had a success story multiplying your audience using multistreaming, we'd love to hear from you in the comments below.
Thanks for reading, and good luck with your live-streaming endeavors.